The capital city of Catalonia is not only famous for its rich history but also its immense beauty. There are Roman ruins, a historical city center, unique examples of architecture, and several of the world's most important modern art museums to explore. But the best way to view this iconic city in its entirety is aboard a sailing boat.
There are many organized cruises from Barcelona, but they are not all equal. Some include added value through the chance to sip locally produced wine, eat traditional Catalonian dishes, and snorkel in the warm, crystal-clear water of the Mediterranean Sea.
To save you time, we have reviewed the 7 top-rated cruises from Barcelona. Each of these Barcelona sailing excursions offers different features. Take your time to read through the reviews so that you can choose the best boat trip from Barcelona to suit you and your family.
And you also might like to check out our Spain Travel Guide.
Best Sailing Cruises From Barcelona
| | Barcelona: 2-Hour Sunset Sailing Tour from Port Vell | Barcelona: 2-Hour Sailing Experience with Refreshments | Barcelona 3-Hour Sailing Experience |
| --- | --- | --- | --- |
| | | | |
| | | | |
| Departure Point: | Sailing Experience Barcelona Office, Port Olimpic | Vehicle access barrier, Port Olimpic | Sailing Experience Barcelona Office, Port Olimpic |
| Departure Time: | 7:00 PM – 8:00 PM, depending upon sunset times | 9:00 AM, 10:00 AM, 11:00 AM, 12:30 PM, 3:00 PM, 5:30 PM | 9:30 AM, 12:00 PM, 2:30 PM, 4:30 PM |
| Duration: | 2 hours | 2 hours | 3 hours |
| Includes: | Sunset view, sailing tour, expert local skipper, light snacks, and a celebratory drink | Sailing tour, English-speaking skipper, ambient music, local snacks, Catalan cava drink, towel or blanket | Sailing tour, English-speaking skipper, sailing tips, swimming opportunity, light snacks, and drink |
| | | | |
---
Quick Answer: The 7 Best Rated Sailing Tours in Barcelona For 2023
---
Barcelona Sailing Cruises Reviews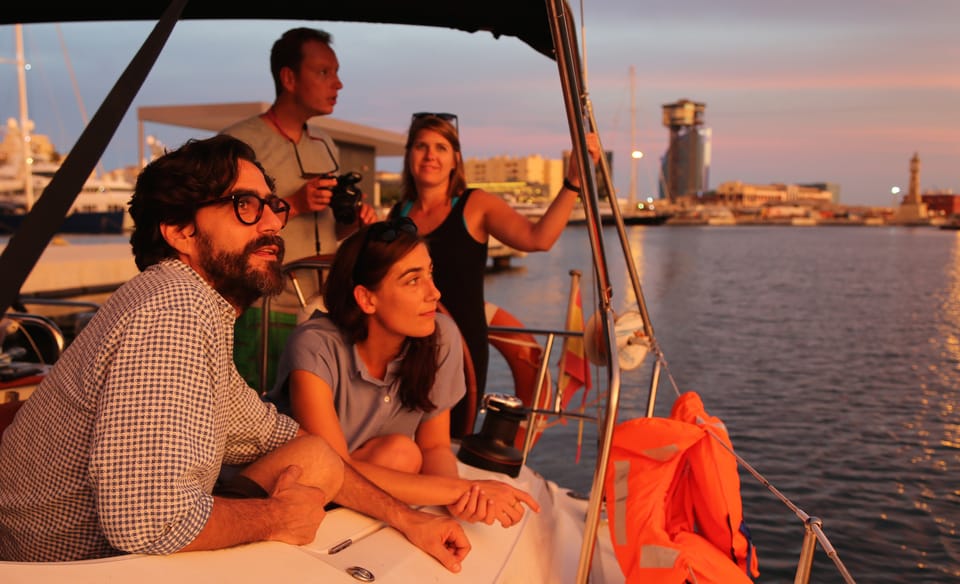 Tour Highlights at a Glance
:
---
Departure Point: Sailing Experience Barcelona Office, Port Olimpic
Departure Time: 7:00 PM – 8:00 PM, depending upon sunset times
Duration: 2 hours
Includes: Sunset view, sailing tour, expert local skipper, light snacks, and a celebratory drink
Experience a real sailing boat adventure in Barcelona aboard a 39-foot yacht. If you are on a romantic getaway, this is a perfect romantic cruise where you and your lover can sip local sangria and nibble on cheese or traditional cured meat while admiring a Mediterranean sunset.
The best way to view Barcelona's old harbor is from the water on a sailing trip from Port Vell. Your professional skipper is an expert on the local history and culture, so he will entertain you with stories, snippets of history, and point out the most interesting landmarks along the way.
If you're feeling courageous, you can have a go at steering the yacht. Don't worry because your expert skipper will watch over you and the boat to ensure you're never in danger.
This boat tour from Barcelona begins with a safety briefing, so you can feel confident you'll come to no harm. If the weather turns chilly, blankets are provided to keep you comfortable.
This Barcelona sailing cruise is a fantastic way to round off a romantic weekend or a relaxing vacation with close friends. Relax, enjoy the breathtaking views, and experience the sunset from a unique perspective.
100% refund for cancellations within 24 hours of tour experience
---
Tour Highlights at a Glance
:
---
Departure Point: Vehicle access barrier, Port Olimpic
Departure Time: 9:00 AM, 10:00 AM, 11:00 AM, 12:30 PM, 3:00 PM, 5:30 PM
Duration: 2 hours
Includes: Sailing tour, English-speaking skipper, ambient music, local snacks, Catalan cava drink, towel or blanket
This is the best Barcelona boat cruise for viewing interesting landmarks from the Mediterranean Sea. This sailing boat tour from Barcelona begins with views of some of the world's most luxurious billionaire's mega yachts moored at Port Vell.
Get closer than you ever will again to the luxurious lifestyle enjoyed only by the 1% of the 1%. At the same time, you can view the World Trade Center, Center Maremagum Mall, and Christopher Columbus' statue.
Leaving the port, you'll pass below Spain's largest drawbridge guarding the entrance to the harbor. Once out on the open sea, you'll see even more spectacular landmarks, such as the Tibidabo mountain, Sagrada Familia basilica, the Olympic Towers, the Castle of Montjuic, the Modern W Hotel, and the beach.
Experience the exhilaration of sailing by wind power (as long as there is wind to power your yacht). While admiring the scenery, you can sample a selection of local delicacies and sip the famous Catalonian cava wine produced only in the northeastern Catalonian region of Spain. Just relax and listen to the music as the waves gently rock the boat.
Take this opportunity to learn about Barcelona's history and culture from your expert local skipper. By the end of this Barcelona sailing tour, you'll have seen all the most wonderful famous landmarks of the city from a unique and interesting vantage point.
100% refund for cancellations within 24 hours of tour experience
---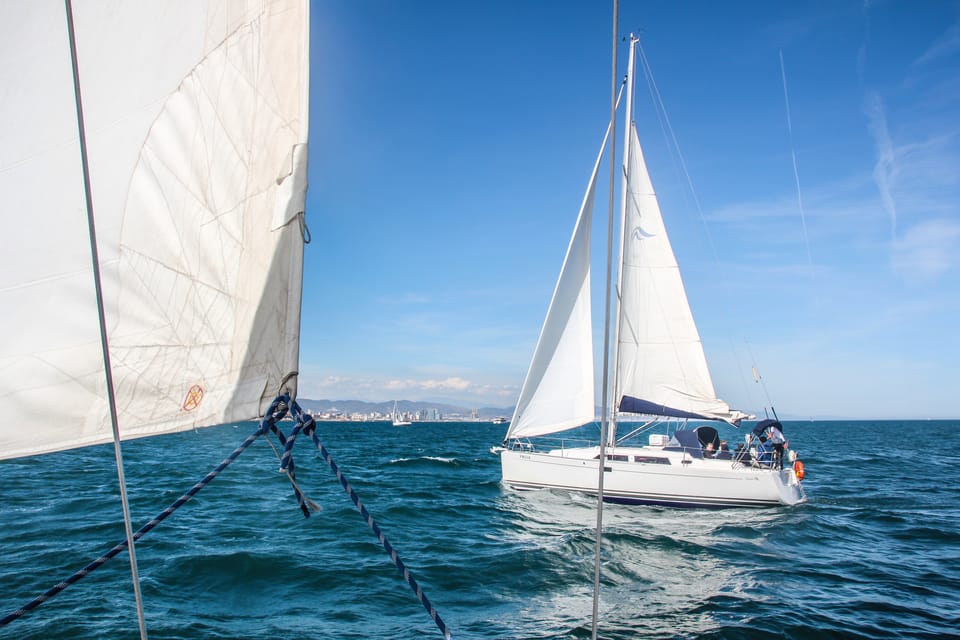 Tour Highlights at a Glance
:
---
Departure Point: Sailing Experience Barcelona Office, Port Olimpic
Departure Time: 9:30 AM, 12:00 PM, 2:30 PM, 4:30 PM
Duration: 3 hours
Includes: Sailing tour, English-speaking skipper, sailing tips, swimming opportunity, light snacks, and drink
Enjoy more time sailing across the Mediterranean Sea on this 3-hour sailing adventure from Barcelona. This is the best Barcelona sailing experience for visitors who want to do more than just watch while they're touring the Catalonian coastline.
With more time to enjoy the water, you'll have the opportunity to pick up a few sailing tips and possibly even splash around for a while in the warm and welcoming water. Alternatively, you can lounge on the deck and sunbathe while sipping locally produced wine and sampling traditional Catalonian snacks.
If you're traveling with a larger group, you can book this tour as a private party. With built-in speakers, you can hook up your own electronic devices and enjoy music of your choice while sailing past Barcelona's most iconic landmarks visible from the sea.
If you're planning a stag party or hen night, this is an ideal boat charter from Barcelona. Earlier in the day, it's also ideal for large family groups so your kids can enjoy the water while the adults enjoy the local delicacies and Catalan cava. And if you're interested in Barcelonan history and culture, your knowledgeable captain is happy to answer all your questions and point out the most notable sites.
100% refund for cancellations within 24 hours of tour experience
---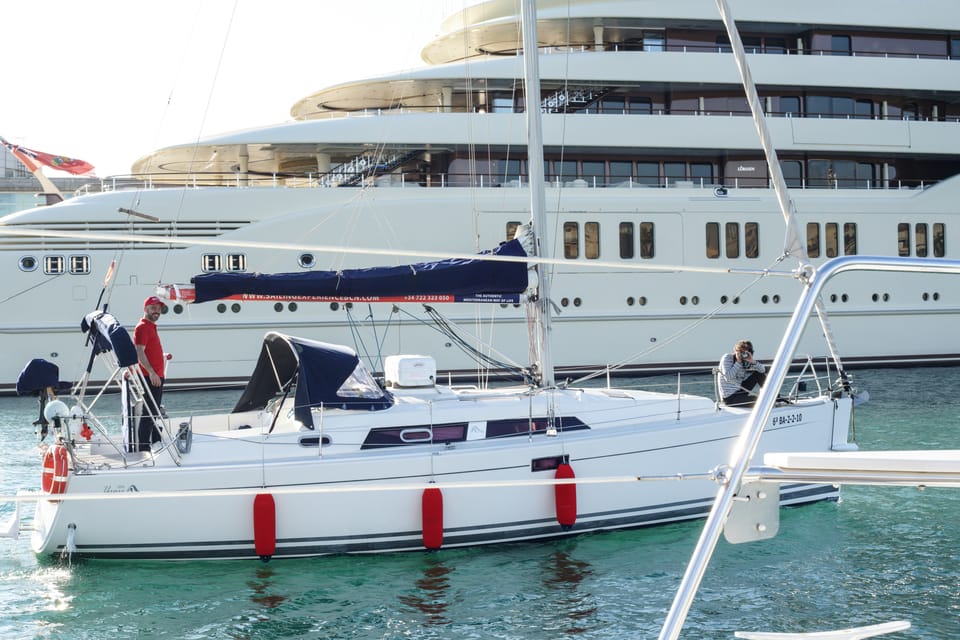 Tour Highlights at a Glance
:
---
Departure Point: Sailing Experience Barcelona Office, Port Olimpic
Departure Time: 9:30 AM, 12:00 PM, 2:30 PM, 4:30 PM
Duration: 1.5 hours
Includes: Sailing tour, expert local skipper, light snacks, and a celebratory drink
If you want to enjoy the highlights of Barcelona from the water, this is the best value sailing tour from Port Vell. Aboard a 39-foot luxury yacht, you will experience sailing across the Mediterranean Sea and view Barcelona's main landmarks from a unique perspective.
This tour is aimed at adults who want to sample the local foods and alcoholic beverages as well as learning about Catalonia's history and culture. After you are greeted by your friendly skipper and listen to a brief safety talk, you'll be provided with a frozen vermouth and light Mediterranean snacks, such as traditional cured meat (fuet), cheese, and olives. Relax and enjoy the live commentary from your knowledgeable captain as you sail past the iconic monuments visible from the sea.
As this is the shortest Barcelona sailing experience, it is especially suitable for visitors who have never experienced sailing in a small boat and want to try. If you do become seasick, you won't have to wait too long before you're back on solid ground. However, given the positive feedback from many happy tourists, it is more likely that you'll want to experience the sea again and book a longer Barcelona sailing tour for later on in your vacation.
100% refund for cancellations within 24 hours of tour experience
---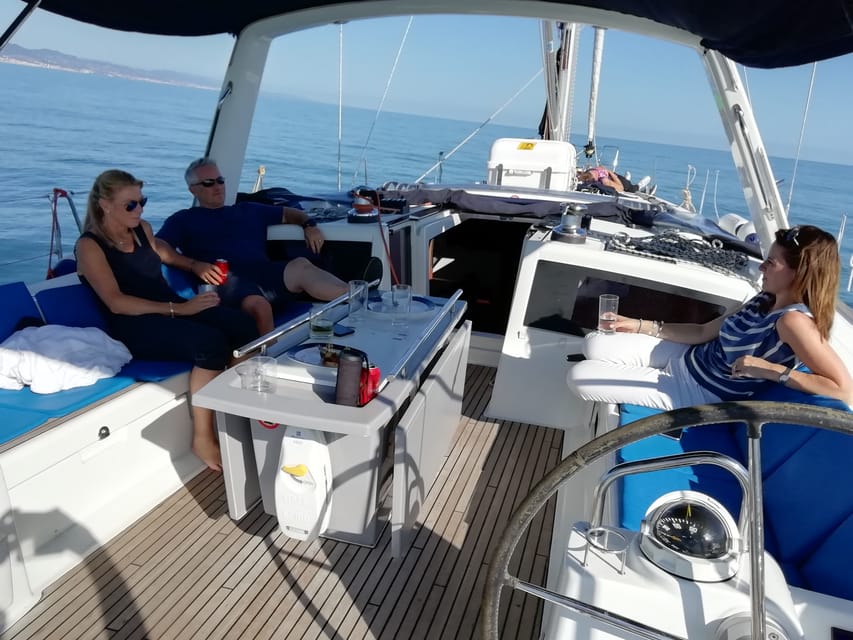 Tour Highlights at a Glance
:
---
Departure Point: Vehicle access barrier, Port Olimpic
Departure Time: 9:30 AM, 10:30 PM, 11:30 AM, 1:00 PM, 2:00 PM, 3:30 PM, 4:30 PM
Duration: 2 hours
Includes: Sailing tour, English-speaking skipper, ambient music, local snacks, Catalan cava drink, towel or blanket
This is the best private yacht cruise from Barcelona if you want to experience cruising on a luxury 49-foot sailing boat. With 2-hours to explore the Mediterranean Sea along the Catalonian shore, you will be able to view all of Barcelona's most iconic landmarks from the water.
Before you set sail, your professional skipper will provide a brief safety talk. Then he will provide expert live commentary as you sail past such landmarks as Christopher Columbus' stature, the Maremagnum Mall, Montjuic Castle, and the billionaires' mega yachts anchored in the harbor.
Once out at sea, you can take in Barcelona's cityscape from a unique perspective. The Sagrada Familia looks completely different from this vantage point, and landmarks difficult to appreciate from close by are better appreciated from the sea, such as the Olympic Towers and the W Hotel.
If you're looking for a private boat excursion for a larger group of family or friends, this is an ideal Barcelona private yacht cruise. You haven't fully experienced all that Barcelona has to offer until you've seen the city from this viewpoint.
100% refund for cancellations within 24 hours of tour experience
---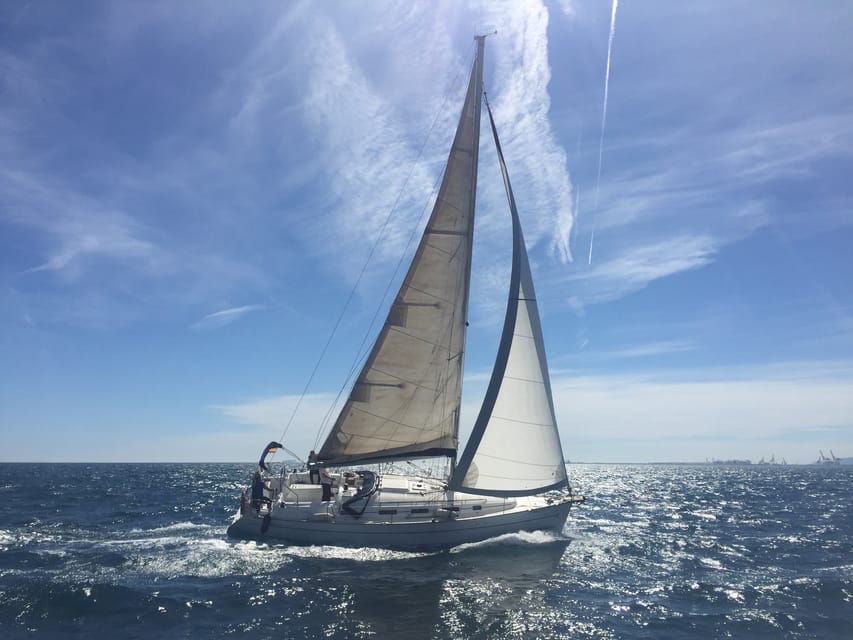 Tour Highlights at a Glance
:
---
Departure Point: Blue Magic Cat Boat Office, Port Olimpic
Departure Time: 10:00 AM, 12:30 AM, 3:00 PM, 5:30 PM
Duration: 2 hours
Includes: Sailing tour, 2 English-speaking skippers, Wi-Fi, snorkeling equipment, music, snacks, fruit, soft drinks, water, and alcohol
This is the best Barcelona private sailing boat cruise for visitors who enjoy water sports and fun. With two crew members dedicated to ensuring your safety and enjoyment and snorkeling equipment supplied, you can experience both below and above the Mediterranean waves along the Catalonian shore. Discover the wealth of sea life found near the city.
Alternatively, you can relax and enjoy fruit and snacks while your professional skippers entertain you with stories about Barcelona and the landmarks you'll see during this Barcelona Mediterranean cruise. Choose soft drinks or locally produced wines and listen to music as the scenery floats by.
From the comfort of this luxury yacht, you'll witness all the iconic landmarks of Barcelona. And with Wi-Fi onboard, you can upload your photographs straight to your Instagram or Pinterest account. Unique images of the Sagrada Familia viewed from aboard your yacht will amaze your friends and family back home.
If you're interested in sailing, you'll have the opportunity to learn how to sail and maybe even take charge of steering for a while. But don't worry about your safety. With 2 professional crew members, you'll always be under expert supervision. If you want to do more on your Barcelona sailing adventure, this private cruise is the best choice for you.
100% refund for cancellations within 24 hours of tour experience
---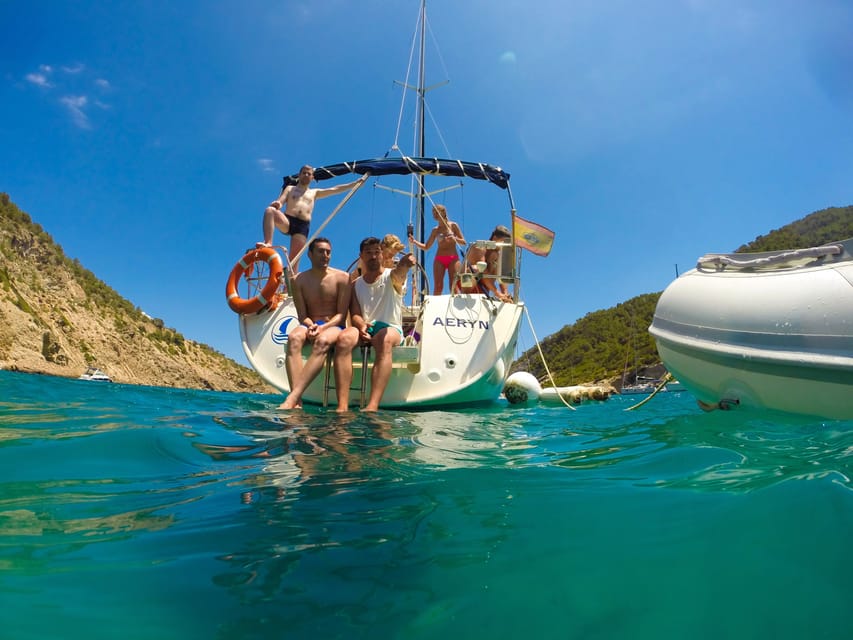 Tour Highlights at a Glance
:
---
Departure Point: Various locations depending on time selected
Departure Time: 10:00 AM, 12:30 PM, 3:30 PM, 6:00 PM, 8:00 PM
Duration: 2 hours
Includes: Sailing tour, English-speaking skipper, lifejackets, snacks, and drinks
This is the most intimate Barcelona boat trip. Take your family and friends on a cozy Barcelona sailing boat excursion on the Mediterranean Sea. Aboard this beautiful little boat, you can forget all your cares and worries and relax with a glass of Catalonian cava and enjoy local snacks.
Safety is a main priority, so first your crew will give you a safety briefing and then you will be provided with lifejackets. After that, it's time to enjoy your scenic boat trip from Barcelona.
Aboard this luxury sailboat, you'll see many unique landmarks. Barcelona is a beautiful city, and the view from the sea is one that must be seen in person to be fully appreciated.
While sailing along the coastline, you'll benefit from expert live commentary and learn about Barcelona's traditions and culture. Catalonian history comes to life when you can see the famous landmarks that contributed so much to Barcelona's rich history.
Ensure you take a good camera along because this Barcelona sailing cruise will provide you with countless photo opportunities you won't want to miss. You're certain to capture images that go viral when posted on your social media accounts.
100% refund for cancellations within 24 hours of tour experience
---
Spain Travel Guide
During its long and fascinating history, Spain has done more to shape the modern world than any other country. Though nobody today would condone the actions of the Conquistadors in America, Spain did form the first major global empire and forever change the world map.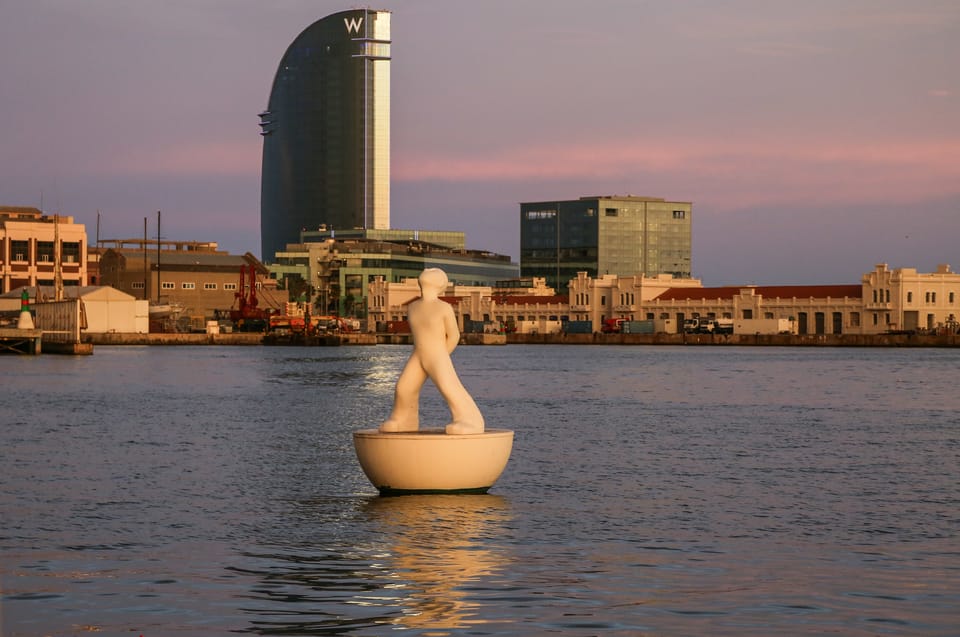 From Santa Cruz de Nuca in British Columbia down to Santiago de Chile in the far south, Spain left its footprint across the whole of the Americas. Yet the nation itself is relatively small, with a population or only 47 million, not all even identifying as Spanish or speaking Spanish.
Spain is in fact a divided nation. The northeastern autonomous community of Catalonia contains 8 million people who identify as Catalan not Spanish. As recently as 2017, this region attempted to become fully independent from Spanish rule. This region contains Barcelona, Spain's second largest city, as well as much of Spain's industry.
When visiting Spain, most people head first for three cities. In the north, Barcelona is the cultural and historical capital and the most popular destination. In the south, Granada is a focal point, featuring the ancient Moorish palace of the Alhambra. And in the center, you will find the capital city — Madrid. There are other wonderful places to visit in this diverse and culturally rich nation, notably Seville and Salamanca, but those three cities are by far the most interesting.
Traveling in the time of COVID
Like many destinations, some tours and visitor attractions in Spain have adopted special precautionary measures during the pandemic.
Face masks are mandatory in some locations, notably in enclosed public areas such as travel hubs and shopping malls. You are expected to supply your own mask and wear it when you enter buildings.
It is in your own interest to keep your distance from other visitors who are not in your family group or bubble. You are expected to keep your distance inside boats, coaches, train compartments, and other vehicles and when seated in restaurants.
At the time of writing, Spain welcomes visitors and visas are not required for US citizens. However, with the exception of children aged 12 and under, every person arriving in Spain must provide a negative COVID-19 test certificate (NEAR, LAMP, TMA, or PCR — NOT an antigen test) or proof of being fully vaccinated at least 14 days before entry using a vaccine authorised by the WHO or the European Medicines Agency. This certificate must be time stamped within 72 hours.
You can obtain the most up-to-date information directly from the Spanish government's Spain Travel Health portal. During these relatively uncertain times, it is wise to also consult the US Department of State website for current travel advisories.
Airports & Entry
You can enter Spain by sea, land, or air. What works best depends upon where you're coming from. However, if you are traveling more than a hundred miles, it is best to fly. It is cheapest and most efficient to arrive by airplane.
Spain boasts 47 airports, and most of them handle international flights. This is because there are so many popular tourist destinations, including many of the Balearic Islands in the Mediterranean Sea that are popular clubbing spots for youths from across the whole of Europe.
When planning a journey to Spain, it is important to decide what cities you most want to see before flying and to compare ticket prices carefully. Because of the different airlines serving different airports, you will find an astonishingly broad range of prices.
It's difficult to generalize due to competition between the airlines, but typically it's much cheaper to fly into the two busiest airports in Spain: Madrid-Barajas and Barcelona El Prat. Direct flights to Granada, Seville, and Salamanca tend to be much more expensive.
Planning Tips
Spain is a fascinating country with a rich history and culture, which is why it is one of the most visited tourist destinations in Europe. Here are a few specific tips to help you get the most out of your vacation.
If you have tips of your own about this beautiful country, please share them with other readers in the comments below.
Tip #1: Travel there for less
It is both easiest and most cost effective to enter Spain through one of the two most popular international airports — Madrid and Barcelona. Because they are such popular destinations, don't just book a ticket with your favorite airline. Instead, shop around. To get the best flight times and cheapest rates, aim to book 3 months in advance.
Time of year is a major factor in flight prices. During the long summer vacation and Easter, flights cost much more due to the high demand. Planning your vacation outside of these two high seasons will save you a lot of money in flights and hotel rooms.
#2. Enjoy free tours
Though you will want to enjoy some tours that aren't free, such as a Mediterranean boat cruise, you will find free walking tours in some cities such as Barcelona. For example, Free Walking Tours Barcelona offers a free 2.5 hour walking tour of the historic city center along streets laid out by Roman planners 2,000 years ago and lined with breathtaking Medieval buildings.
The expert guide will entertain you with information about the local history and culture as well as anecdotes about the many famous articles who have lived in Barcelona, such as Picasso and Gaudi. While not free, consider a scooter or segway tour of the Barcelona. Especially good for those who can't walk far.
#3. Eat for less
If you're staying in Barcelona, ask about the menú del día at local restaurants. This is a set price, 3-course meal with a drink offered weekday lunchtimes and occasionally on weekends. You can enjoy a complete traditional meal for as little as €15. Typically, the menú del día is not advertised, so you must ask.
There is also a menú del noche during the evening. This costs more than the lunchtime meal but still works out much cheaper than selecting dishes from the expensive menus found in tourist traps.
#4. Pay less for museums
Across Spain, many museums offer free entry on the first Sunday of every month. In Barcelona, this is the evening of the first Sunday. Time your vacation to coincide with the first Sunday and head for the most expensive museum you want to visit on that day.
#5. Book Ahead
There are many tours you can enjoy around major tourist attractions in Spain that provide you with transport and an expert guide and work out costing less than taking public transport and paying an entrance fee. However, you must book in advance to avoid possible disappointment because these tours are understandably often fully booked weeks ahead of time. This is especially important with the more popular tours like hot air balloon rides or helicopter tours of the city.
Restaurants & Eating Out
Spanish cuisine is strongly influenced by its rich history. You can find traces of Roman, Arabic, and Mediterranean dishes as well as imports from its former colonies. Specific traditional dishes vary around the country depending upon geographical position. Even more fun is a Barcelona winery tour. Explore the city while tasting wine! It doesn't get any better than that.
Mediterranean
Spanish regions along the Mediterranean coast obviously feature seafood on their menus alongside signature local dishes. Typically, these dishes involve copious use of the olive oil so popular in Mediterranean countries. In Andalusia, the most southerly region, the local specialty is cold soups like gazpacho, with crushed cucumber, onion, pepper, tomato, and garlic. Calamares a la Romana is popular, but it is not for the squeamish. This is battered, deep-fried squid served with lemon and salt.
Rice-based dishes are popular along the coast, especially seafood paellas. The most famous paella is found in Valencia, though this features chicken and rabbit meat. In Catalonia, arros negre is popular.
Atlantic
Spicy fish or vegetable-based stews are popular along the Atlantic coast, such as fabada Asturiana, marmitako, and caldo Gallego. Chorizo is also popular. This spicy sausage is slightly sweet and utilizes lots of garlic. Sometimes it seems that each town and village boasts its own special chorizo recipe that is claimed to be better than all the others, such as the renowned chorizo Riojano. Fabada Asturiana is a white-bean stew from Asturias that makes ample use of the local chorizo variety.
Inland
Because historically food transportation was difficult and the central region imported much of its food from the coastal areas, the central regions are known for preserved foods, like Spanish ham and Manchego cheese. Inland, thick, spicy stews are also popular, like cocido madrileño. The most famous Spanish ham is jamon Iberico made from Black Iberian pigs and featuring a distinctive rich, savory taste.
Nightlife & Entertainment
Spain is famous world-wide for its fiestas, and its Balearic Islands are at the heart of the modern nightclubbing scene. For this reason, many travellers come to Spain specially to experience its vibrant nightlife. The island of Ibiza is renowned as Europe's party capital, but the major cities each offer their own brand of exciting evening entertainments. Madrid's nights are reputed to be never-ending.
A typical Spanish evening out begins with a visit to the small restaurants and bars for tapas to line the stomach. This transitions into bar hopping before hitting the huge international nightclubs found in all major cities. Due to relaxed licensing laws, these clubs and bars remain open until the early morning hours.
When staying in any Spanish city, it's a good idea to gain some local insights from your hotel's staff or tourist guides. The central streets and plazas are typically lined with bars that offer an eclectic mix of music and that are designed for people with different tastes. Rather than waste your time pushing through the crowds to then listen to music that isn't your style, tell a local what you like and follow their directions. You can be certain that there is a live music venue that will cater to your tastes.
According to popular opinion, the three top nightlife spots in Spain are Ibiza, Madrid, and Barcelona. Ibiza, of course, caters to the young crowd with its mega clubs and all-night beach parties. Madrid is renowned for the huge variety of nightlife it offers where everyone is guaranteed to find a scene they enjoy. Barcelona's nightlife is noted for its spectacular displays and wild abandon. But the nightlife isn't limited to just these three locations since music and fiestas run in the Spanish blood. You can find a selection of lively bars and clubs in any Spanish town or city.
If you're looking for an upscale experience, Marbella is the place to go. That's where you'll find the more exquisite cocktail bars and the difficult-to-enter clubs filled with the wealthy folks and celebrities. If it's a pub craw you prefer, Malaga is famous for having the most bars per square foot in Europe. Granada is noted for its student vibe, Valenicia for its boho chic bars, and Bilbao for its funky nightspots. But if you want a truly exclusive Spanish experience, head for Seville. That's where you can watch or maybe join in with traditional flamenco dancers.
Getting Around
It's easy to get around Spain by airplane, train, coach, or hire a car. In fact, you're spoiled because Spain's transport network is so good.
Air
Unlike many other countries, domestic flights are relatively frequent and affordable throughout Spain. Trains are typically cheaper, but you can often find air tickets for less than the same train journey, so it's always worth checking both options before booking. However, if you fly, you do have the extra hassle of transferring from the airport to the city center while the main train stations are typically in the heart of the cities. As a general rule, if you're traveling from one side of the country to the other, take a plane. If you're traveling between neighboring cities, take a train.
Train
Spain also boasts Europe's most extensive high-speed railway network. Spanish trains regularly reach speeds of up to 190 mph! Check comparison websites before booking any train tickets because you can sometimes pay much less if you travel on a different train or sometimes by flying.
Coach & car
Because the trains are so efficient and there are also lots of domestic air flights, it's not a great option to go by coach or to hire a vehicle. If you have lots of time and a tight budget, long-distance coaches can be much cheaper than the trains or planes.
Driving your own car gives you much more flexibility than you could ever get from a train. You will be able to visit and explore remote rural locations other tourists never see. However, you will find that your long-distance journeys take a lot longer by car or coach when compared with the high-speed train. Sadly, even if you hire a Ferrari, you won't be allowed to drive along the Spanish roads at 190 mph.
Accommodations
Hotels vary across Spain depending upon where you're staying. In Barcelona and Madrid, prepare to pay higher prices, especially during Easter and summer. Across the rest of the country, you can find rooms in a hostal for as little as €50 per night and in better hotels for around €100. Note that each city and region has its own high season due to special fiestas and local events, so it's a good idea to research the specific towns you want to visit.
Booking in advance is highly advisable, especially during Easter and summer. Otherwise, you may not get the hotel you want or even the kind of room you prefer. You typically get the best deals in Spain by booking online. There are 5 general types of accommodation to choose from.
Paradores
The high-class hotels are called paradores. These boutique hotels are often converted castles or other historic buildings. For example, the Parador de Siguenza is a castle that dates back to Roman times, and the 15th-century Parador de Santiago de Compostela is said to be the world's oldest hotel.
Hotels and hostals
In Spain, normal hotels are classed as either hotels or hostals. A hotel offers a full range of services but a hostal is a budget hotel with fewer services equivalent to a 1-star hotel. A standard hotel should be 3-stars, and a paradore is 5-stars.
Guesthouses
Bed and breakfasts are common around Spain. These are typically either fondas, which have a restaurant attached, or pensiones, which are budget guesthouses. If you're an adventurer traveling by the seat of your pants, watch out for signs saying "B&B", "Habitaciones", or "Camas".
Villas and apartments
Vacation properties are popular in Spain. If you're traveling as part of a large family group, you'll find a villa a cost-effective form of accommodation. However, they are typically rented by the week or longer, so not as flexible as a hotel or guesthouse.
Campsites
If you're headed for the great outdoors, you'll be delighted to learn that Spain is awash with affordable campsites that typically charge around €6 per person per night. However, research in advance because campgrounds near the most popular natural or cultural attractions charge significantly more.
Weather
Interestingly, Spain's climate can be divided along the same lines as its cuisine. The three main zones are the Atlantic, the interior, and the Mediterranean.
Along the Atlantic coastline, the ocean ensures that the summers remain relatively cool and the winters mild. In the deep interior, the climate is semi-arid. Along the Mediterranean coast, the summers are dry and hot while the winters are mild. This is the best time for a sunset sailing cruise and enjoy the sights from the water!
If you're interested in hiking and sightseeing, the temperatures are mildest in spring and in the fall. July and August see the highest temperatures which are great for sunbathing but a little too hot for admiring architecture or hiking through the wilderness. You can expect temperatures over 860F during the day and remaining over 700F at night. The coolest months are January and February, which see a lot of rain in the north.
A common mistake is to visit mountainous regions in the winter without taking proper winter clothing. While these high regions are baking hot in summer, those picturesque mountain villages are often dusted in snow during January and February.
Attractions
Spain is rich in history and culture, so there are lots of things to do and see around the country. Unless you're most interested in the nightlife, the three top spots to visit are Barcelona, Madrid, and Granada.
Barcelona
Barcelona is a city rich in culture and art. A great place to start is La Rambla — a pedestrianized street where you'll find human statures, street performers, Bouqueria Market, museums, and other attractions including the 197-foot high Columbus Monument. Don't miss the Magic Fountain of Montjuic which features half-hourly music and light shows during the summer months and weekends. When the fountain is in action, its water sprays are lit in different colors and dance to the music.
If you are interested in modern art, you'll be in Heaven. The Picasso Museum is renowned for its unique collection of Picasso memorabilia from his school workbooks right through to his final masterpieces. But the most obvious evidence of Barcelona's fixation with modern art is Park Guell, which is filled with Gaudi's unique sculptures and buildings.
But Gaudi's greatest accomplishment is unarguably the Sagrada Familia. This strangely designed basilica has become Barcelona's most famous landmark, and it isn't even finished yet. Gaudi laid out the plans and began the work, but the basilica will not be completed until around 2026.
If soccer is more your style, you'll want to visit the world-famous Barcelona FC Museum. There you can learn all about the training and lifestyle of the world's highest paid soccer players. A tour of the museum includes a visit to the players' changing rooms and a walk through the tunnel onto the pitch itself.
History lovers should ride the Montjuic Cable Car to get scenic views of the city as they rise up to Montjuic Castle. This 17th-century fortress offers fantastic panoramic views of the city and a fascinating armour museum.
And your kids will love Tibidabo Amusement Park. This is one of the world's oldest parks — much older than Disney World or Universal Studios. Some of the rides there are genuine antiques, and the suspended airplane ride is considered an iconic symbol of the city. Don't miss the historic automation collection in the park.
Madrid
Madrid boasts a fine collection of historic buildings and the kind of internationally renowned museums you'd expect to find in any major capital city. The most iconic structure is the Palacio Real.
The Palacio Real, or Royal Palace, is the official palace of the King of Spain. Boasting 3,000 rooms and an amazing art collection, this is a fantastic place to learn about the glamor and luxury of a European royal family. During a visit, you'll see a sweeping main staircase, the Throne Room, the Royal Chapel, and the Royal Apothecary.
Granada
Granada is reputed to be the most beautiful city in the world. However, most visitors head straight for the Alhambra. This Moorish fortress and palace is one of the world's best examples of early Islamic architecture. Its breathtaking vistas, marble fountains, and unique mosaics are beyond compare. The palace began life as a Roman fort before the Moors invaded and made it their own. The Moorish fort was built in 889 and transformed into a much larger palace complex in 1333.
Visitors from the US will be particularly interested in visiting the throne room. This is where Christopher Columbus came to propose his voyage to the west to find a new trade route to India. If Queen Isabella had said no to his ambitious plans, the US and all the other American nations might not exist today.
Salamanca
If you want to explore beyond these three major tourist cities, head west to Salamanca to experience one of the world's oldest universities. Salamanca is a UNESCO World Heritage Site because it is the third oldest university in the world founded in 1218. Arguably, it is really the world's oldest university because it was the first officially granted university status by the Vatican, which was then the major power broker in Europe.
If you've ever seen Harvard or Oxford, you'll know what kind of buildings to expect. However, here they have a more flamboyant Catholic touch, with more ornate details and bright colors. The main university library is a must-see attraction.
The 2-Hour Sunset Sailing Tour from Port Vell is our Editor's Choice for the best Barcelona sailing tour