The Vatican, formally the Vatican Museums, is a sprawling network of museums, secret rooms, galleries, and more.
The best Vatican tours from Rome will show you some of the most significant artifacts and works of art the Vatican museum has to offer.
A guided tour will help you learn more about the artwork and give you opportunities to see and experience more than you could on your own.
So mark the Vatican off your bucket list with one of these tours!
Best Vatican Tours
Be sure to see our reviews of Tours of Wineries & Vineyards, Roman Catacomb Tours and Tours of the Borghese Gallery.
Quick Answer: The 5 Best Vatican Tours From Rome
With so much to see in Rome, as well as within the Vatican itself, choosing the right tour is important.
We've chosen these top rated Vatican day tours from Rome because they offer a wide range of experiences and will fit into everyone's budget.
---
Vatican Tour Reviews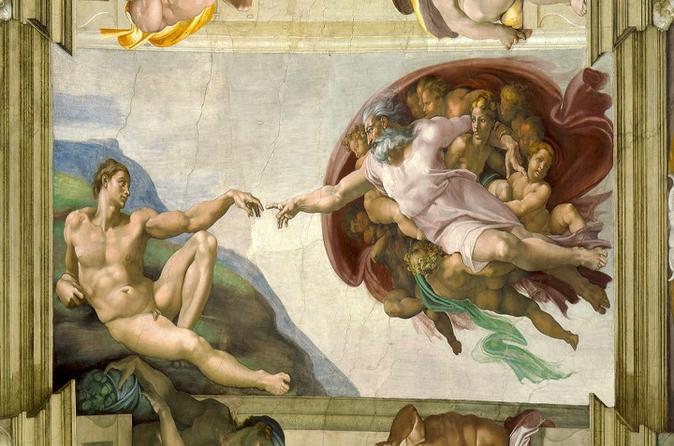 Tour Highlights at a Glance
:
---
Departure Location: Vatican Museums Entrance
Return Location: St. Peter Square
Departure Time: Various
Estimated Duration: 3 hours
Disability Accessible: Vatican Museums & Sistine Chapel Only
Family Friendly: Yes
---
The crowds at the Vatican, as well as the Sistine Chapel, can be a bit overwhelming. This private tour will take you on a guided and informational walk through many of the most popular attraction stops at the Vatican.
Not only will you be able to see the Sistine Chapel, but also Rafael's Rooms and the Chiaramonti Gallery, as well as several other famous sites.
Because your tour guide is taking you and your group on a private tour of the Museums and the Sistine Chapel, there may be some flexibility in what you see and when.
Expand To See MoreSee Less

You'll also be able to ask questions of your guide. Your ticket to this private tour also includes the ability to skip the long lines commonly seen at the Vatican.

This tour will bring you through the Pinecone Courtyard where you will see the bust of Augustus, dating back to the 1st-century A.D. Other Roman sculptures and historical artifacts are also on display.

Both the Gallery of the Maps and the Gallery of the Tapestries offer beauty as well as the overwhelming sense of history located here.

Being able to take in the breathtaking details of both the Sistine Chapel and the Basilica of St. Peter is truly once-in-a-lifetime.
For tour prices, transportation and availability:
---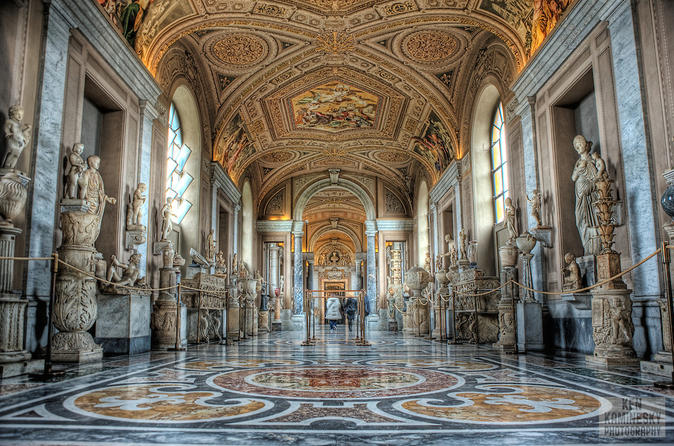 Tour Highlights at a Glance
:
---
Departure Location: Caffe Vaticano, Central Rome
Return Location: Ancient Rome
Departure Time: 7:30am
Estimated Duration: 6 hours
Disability Accessible: Not Accessible
Family Friendly: Yes
---
Before the crowds start to form for the day, you'll be able to enjoy a walking tour through the Vatican Museums.
Without these crowds, you'll be guided through the various galleries, museums, and secret rooms of the Vatican. These are home to the vast collection of art and religious artifacts central to the culture of Italy and to the Catholic religion
After your guided tour of the Vatican Museums, you will have three hours to explore independently until meeting with your tour guide again in the early afternoon.
Expand To See MoreSee Less

You'll have the ability to skip the lines at the general entrance of the Coliseum. Your tour guide will tell you the tales of the Roman gladiators as you explore the arena.

After your guided tour of the Colosseum, you will be taken on a walk around Palatine Hill as well as the Roman Forum. Your guide will leave you in the heart of ancient Rome.

Exploring independently and taking in a delicious meal surrounded by the ancient beauty of Rome is the perfect way to wrap up a tour of the Vatican and Colosseum.
For tour prices, transportation and availability:
---
Tour Highlights at a Glance
:
---
Departure Location: Across the street from the Vatican Museums
Return Location: Original departure point
Departure Time: 9am
Estimated Duration: 10 hours
Disability Accessible: Not Accessible
Family Friendly: Yes
---
Early in the morning, you'll meet at across the street from the Vatican next to the Caffè Vaticano. You will then cross the street and skip the line into the museum. However, this not just a typical skip the line tour, you get to enter through the "Private Partner Entrance" that saves even more time!
Expand To See MoreSee Less

The small group you will be with will have a guide tour by a Vatican expert who will give you insights and information that will not be found anywhere else. You will of course see the Michelangelo's Sistine Chapel frescoes in addition to all the other treasures.

After the tour you will then have time to enjoy some of the delicious Italian food that Rome is known for. You will then meet your guide at the coliseum. Here you will again skip the lines, saving hours of waiting. Once inside your guide will give you all the details of the Coliseum including it's construction and use over the years.

After the coliseum you will then proceed to Palatine Hill and then finish up at The Forum. This tours takes you to some of the best that Rome has to offer!
For tour prices, transportation and availability:
---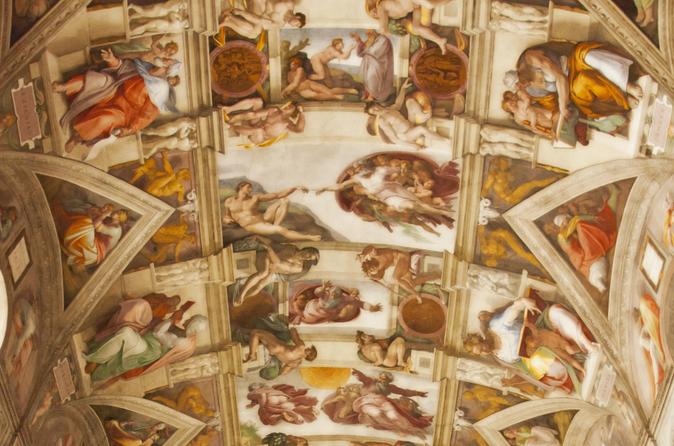 Tour Highlights at a Glance
:
---
Departure Location: Central Rome
Return Location: St. Peter's Square
Departure Time: Various
Estimated Duration: 3 hours
Disability Accessible: Not Accessible
Family Friendly: Not Listed
---
During this relatively short tour of the Vatican, your guide will take you through some of the most popular and historically significant rooms in the Museums.
You'll also hear about the history and the many legends surrounding the Sistine Chapel as you explore its interior.
However, most of those visiting Vatican don't have access to the Vatacombs located under the Sistine Chapel. These Catacombs are home to many former popes and other historically significant figures.
Expand To See MoreSee Less

Just a few of the things you will see on your tour through the Vatican Museums are Rafael's Rooms as well as many ancient Roman and Greek artifacts housed in the Belvedere Courtyard.

You'll learn the history of these important buildings, from the Sistine Chapel to St. Peter's Basilica. Your guide will also give you a lesson on the Vatican State and the Swiss Guard.

This Vatican day tour from Rome is designed to focus on the art located here and the history of that art. You'll also learn about how the art of ancient Rome influenced Western art as well as architecture.

Your tour guide is an expert art historian and will also be able to answer questions you may have along the way.
For tour prices, transportation and availability:
---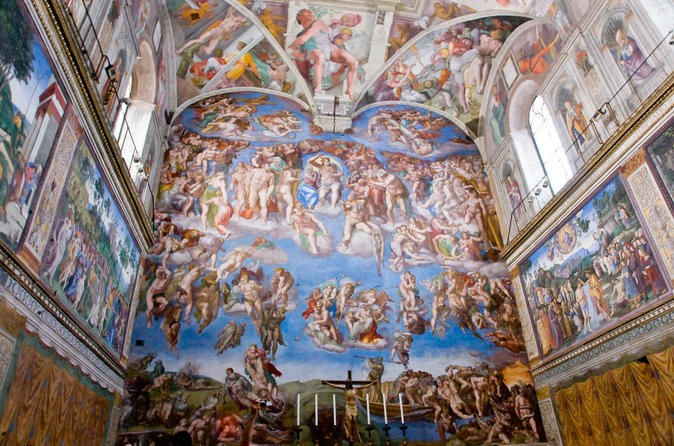 Tour Highlights at a Glance
:
---
Departure Location: Vatican Museums
Return Location: Vatican Museums
Departure Time: 3:15pm
Estimated Duration: 3 hours
Disability Accessible: Not Accessible
Family Friendly: Yes
---
For most, a vacation to Rome is something that only happens once in a lifetime. Because of this, you may want to experience the Vatican, the Sistine Chapel, and other popular locations like no one else can.
On this VIP tour, you'll have access to rooms in the Vatican Museums that aren't usually available to the public.
While you'll be able to see things inside the Vatican usually off-limits, such as the Niccoline Chapel or the Bramante Staircase, you'll also have skip-the-line access to publicly available galleries such as Rafael's Rooms.
Expand To See MoreSee Less

However, you'll also be able to visit the Sistine Chapel after it closes to the general public. On this private tour, you'll be able to hear commentary from your experienced tour guide about the history and construction of the Chapel.

Commentary usually isn't allowed in the Chapel which makes this a unique experience.

This VIP guided tour of the Vatican is limited to just 15 people. This means you'll have a personalized experience as you take in the beauty and wonders of one of the most historically significant places in the world.

After all, not very many visitors to the Vatican are able to experience the secret rooms and learn of the often-forgot history that resides in them.
For tour prices, transportation and availability:
---
Vatican Day Tours from Rome Travel Guide
Some visitors to Rome plan their visit specifically around the Vatican and related locations, such as the Sistine Chapel. However, you'll still want to be aware of accommodations, the expected weather, and even other attractions you may want to visit while visiting Rome.

As you learn more about vacationing in Rome, you may want to plan for a few extra days to truly get the most out of your time in this ancient city. What attractions are you looking forward to the most when you visit Rome? Where do you plan on staying? We'd love to hear about your plans! If you've already visited Rome, let us know what you enjoyed the most.
Airports & Entry
When headed to Rome, you'll most likely land at the Leonardo da Vinci-Fiumicino Airport. This airport is the largest in Italy. Most foreign tourists, no matter their final destination in Italy, land in Rome. This means the airport is usually very crowded. However, this airport is also fairly easy to navigate.

To visit Italy, you must have a valid passport that has at least six months remaining before expiration. You can stay up to 90 days in the country for business or tourist reasons without a visa so long as your passport is valid.
Planning Tips
Before you start packing your bags, you'll want to know how to make your trip easier and how to get the most out of your time in Rome. These top 5 planning tips can help you do just that.
Tip #1: Dress Appropriately for your Visit to the Vatican
Because the Vatican Museums, as well as the Sistine Chapel, are religious places, you'll need to dress appropriately.

Your shoulders, knees, and abdomen should be completely covered. Your clothes should not have inappropriate graphics or sayings. If security personnel believe you are dressed inappropriately, you won't be allowed in. This is true even if you are on a private tour.
Tip #2: Plan Everything in Advance
There are millions of visitors to Rome and the Vatican every year. This means that some of the attractions you are looking forward to may be sold out or closed by the time you arrive.

The Vatican Museums and Sistine Chapel are a great example of this. If you are traveling to Rome around the time of religious holidays, these attractions may be closed to the public as well as to guided tours.

While many guided tours have backup plans in the event a scheduled location is closed unexpectedly, you should research your trip to make sure the places you wish to visit should be open.
Tip #3: Choose a Tour of the Vatican
If you plan on visiting the Vatican Museums, the Sistine Chapel, St. Peter's Basilica, and other popular places within Vatican City, purchasing a guided tour is a good idea.

The lines for general admission to many of these places can stretch for blocks and getting in may not be guaranteed. With a guided tour, like the ones we've reviewed above, you are guaranteed access so long as it isn't closed for religious reasons. Plus, you will be able to skip the long lines.
Tip #4: Only Carry What You Need
While this is true wherever you are visiting within the city of Rome, it is especially true when visiting the Vatican. Large bags, umbrellas, camera tripods, and other cumbersome items aren't allowed within the Vatican Museums and related locations.

You can store them in the cloakroom provided for free, but you may end up having to leave your tour early to retrieve them before closing time. It's best to carry only what you need when touring the Vatican.
Tip #5: Visit on a Wednesday
If you're looking forward to seeing the Pope and to the papal audience, you'll want to plan your visit for a Wednesday. While there are occasional deviations from the Wednesday schedule, you'll most likely be able to see the weekly message on that day. In fact, the Papal Audience and Vatican Museums tour we reviewed above guarantees you will see the Pope as part of the papal audience as long as he delivers his message on schedule.
Restaurants & Eating Out
When in Rome, do as the Romans do. Right? There is no better time to follow this rule then when it comes to dining. Eating out in Rome is probably much more affordable than you would've thought. Of course, you'll want to savor a true Italian pizza.

The best place for this is La Gatta Mangiona. This casual restaurant is well known for its thin crust pizzas and may very well have been the start of the pizza craze in Rome.

If you're looking for lighter fare, stop by Il Forno Campo de' Fiori. The restaurant serves up delicious soups, sandwiches, salads, and light snacks. The bakery next door produces delicious biscuits, pastries, and more. Both the restaurant and the bakery offer take out so you can avoid the long lines.

While there are many places to get your fill of gelato in Rome, the Gelateria del Teatro is one of the most popular. You'll find all the traditional flavors and occasionally come across an experiment or two. Have you ever tried raspberry and sage gelato?

NOTE: When it comes to leaving a tip at a restaurant, it's important not to be too generous. Tipping more than 10% is often frowned upon. Also, you'll rarely have an opportunity to leave a tip when using a debit or credit card. You'll want to have a few euros on hand for tips as well as small purchases.
Nightlife & Entertainment
The nightlife in Rome is just as mixed as the combination of both ancient and modern seen all over the city. The Antica Enoteca has one of the most extensive wine lists in Rome and offers a rustic and casual atmosphere. If you're looking for a traditional bar, you'll want to stop by the American Bar at the Hotel Forum.

When it comes to cocktails, Rome offers ingenuity and imagination. Take the Carbonara Sour at Co.So Cocktail & Social, for example. This delicious cocktail might be a little different, containing black pepper and egg whites along with other ingredients, but is one of their most popular drinks.

If cocktails aren't your thing and you'd rather sit down with a craft beer, stop by Brasserie 4:20. This small pub is warm and welcoming, and so is their list of craft beers on tap, plus a selection of whiskeys, bourbons, and other fine drinks.
Getting Around
While there is a great public transportation system in place, it's often easier to get around in Rome by walking. You can get nearly everywhere you need to go by lacing up your tennis shoes and going for a stroll. If you're going a longer distance, you might want to take a bus. A 100-minute bus ticket is quite affordable, as is the day pass.

Renting a car in Rome isn't a good idea. Those unfamiliar with the city can have a difficult time maneuvering. If car travel is best, you'll want to take a taxi. You can only grab a taxi in designated areas. Hailing for a cab outside of these areas is frowned upon.

Taxis can be on the expensive side but if you're going a fair distance and you'd rather not take a bus, a taxi can be quite effective.
Accommodations
When it comes to accommodations in Rome, you'll see inexpensive hotels and luxury resorts. The cheaper places to stay are often farther away, very small, or offer very few amenities. Most of these hotels aren't recommended for tourists.

There is no shortage of luxury hotels in Rome, however. The G-Rough is located inside a 16th-century palazzo and epitomizes the history and art that Rome is famous for.

While staying at a luxury resort is ideal, it may not always be feasible. A great mid-range hotel that offers many of the benefits of a luxury resort without the price tag, is the Nerva Boutique Hotel. With just 19 rooms, guests can enjoy modern design, great food, as well as a great location.
Weather
July and August are the hottest months in Rome. The average temperature is somewhere around 78°F. For many, the 48°F average temperature in Rome in January is very mild. However, if you want to enjoy Rome with better chances of great weather, you'll want to visit in the spring or the fall.
Attractions
Rome is full of attractions you can visit around your tour of the Vatican. The National Roman Museum is family-friendly and houses many interesting artifacts. The Basilica of San Clemente is not just a church, but also an archaeological site.

The newer building at the entry level dates back to the 12th-century while you can head downstairs to the original basilica built in the 4th-century AD.

If you'd like to see some of the more ancient attractions around Rome, you have several options. The Roman Forum is the location where Romulus made the founding of the city of Rome official. It was once the epicenter of Roman life.

Ostia Antica is just 25-minutes away by train. This location was once a thriving center of commerce. Today, you can explore over 100 acres of ancient shops, baths, temples, and even apartment buildings and houses.
The Vatican's Treasures: Both Seen & Felt
A tour of the Vatican is a must if you're planning a vacation to Rome. The arts, architecture, and history contained within Vatican City simply can't be experienced anywhere else. Whether you choose a short, 3-hour tour to see the basics or you opt for the VIP Vatican Experience, it's guaranteed this is a trip you'll never forget.
Sites Seen
Tour Guides
Value
The Private Tour of Vatican Museums and Sistine Chapel is our Editors Choice with its combination of sites seen, tours guides and value.

User Rating:

Be the first one !