The Seine River in Paris is a sight to be seen especially when looking across it at the Eiffel Tower and other Paris landmarks. But there is an even better way to view Paris's famous architecture and attractions.
The Seine River flows through the heart of Paris and past many of these locations. Why not take a cruise down the Seine River and enjoy champagne, a delicious meal, or both as you glide gently past some of the most well-known sites in Paris?
There are dozens of cruises taking tour cruises up and down the Seine River in Paris every day. How do you know which one is best for you? The following are reviews of our 5 top Seine River cruises.
Best Seine River Cruises
---
Quick Answer: The 5 Best Rated Seine River Cruises
We've chosen these top rated Seine river tours in Paris because they offer a wide range of experiences and will fit into everyone's budget.
---
Seine River Cruise Reviews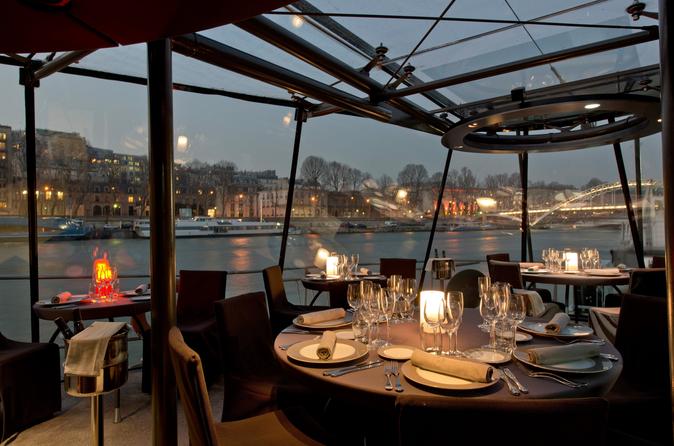 Tour Highlights at a Glance
:
---
Departure Point: Near the Eiffel Tower
Departure Time: 6:15pm (early dinner), 8:30pm (dinner, more included)
Duration: 4 hours (approx.)
Includes: 3-course dinner with either wine or champagne
As your glass-roofed riverboat pulls away from the marina and slowly glides down the Seine River, your waiters will pour your wine or champagne.
With many options available for your meal, they will also provide you a menu and discuss it with you. Those enjoying the later, 8:30 PM departure will also be served champagne and there will be live music on board.
As you enjoy your meal, over the course of approximately four hours, you will be floating leisurely past some of Paris's most famous monuments.
Expand To See MoreSee Less

The magnificent lights that Paris is famous for, even being dubbed "the City of Lights," provide a stunning view against the night backdrop.

Not only will you be able to see the massive but elegant Eiffel Tower lit up, you'll also pass the Notre Dame Cathedral and the Louvre Museum.

Be sure to ask a waiter if they can take a picture of you with your party while aboard this luxurious Bateaux Parisiens riverboat. This is our Editor's Choice for the best Seine River cruise and should not to be passed up when vacationing in Paris.
For tour prices, transportation and availability:
---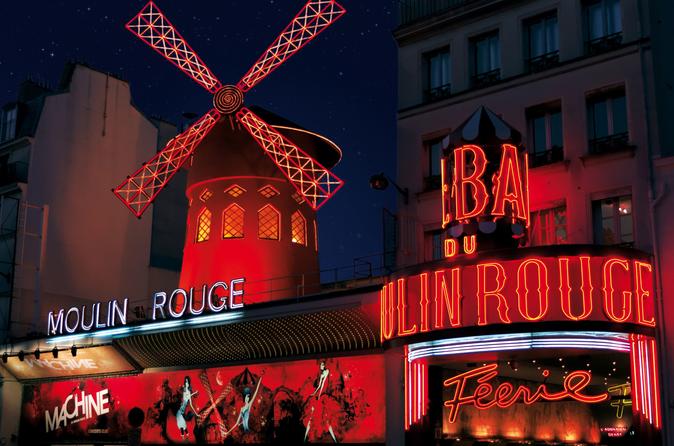 Tour Highlights at a Glance
:
---
Departure Point: PARISCity VISION
Departure Time: Not Listed
Duration: 7 hours (approx.)
Includes: 1-Hour Seine River Cruise, Eiffel Tower tour, 3-course dinner, Moulin Rouge show tickets, drop off near Central Paris hotels
This tour, dinner, and show package is perfect for those who want to enjoy the entertaining and sometimes provocative Paris nightlife.
This tour package allows you to choose whether you'd like dinner at the 58 Tour Eiffel restaurant, a central Paris restaurant Les ombre's, or while taking a relaxing Seine River cruise
You won't want to pass up seeing Paris from a glass-enclosed boat on the Seine.
Expand To See MoreSee Less

By choosing the Seine River cruise for your included dinner, you'll also be able to visit the Eiffel Tower. You'll be taken to the observation deck on the second floor.

Here, you can take stunning photographs of the City of Lights sprawling out in every direction. Your Seine River cruise dinner will feature three courses aboard the Marina De Paris floating restaurant.

After a wonderful dinner and tour, you'll be taken to the famous Moulin Rouge Paris cabaret show. Enjoy a few glasses of champagne as you take in the show.

It is one of the oldest and most popular cabaret shows in Paris. You won't want to miss the opportunity to see it live. The minimum age for drinking is 18. However, the cabaret show is not recommended for those under 16.
For tour prices, transportation and availability:
---
Tour Highlights at a Glance
:
---
Departure Point: Port de Solferino
Departure Time: Varies (lunch, early dinner, late dinner)
Duration: 2 hours (approx.)
Includes: 3-course meal, wine, and champagne, optional vegetarian meal
If you already have plans for your evening in Paris, you may want to enjoy a Seine River cruise while enjoying a delicious lunch. Both the lunch and the dinner offered on this river cruise include three courses.
The food options will differ whether you take the lunch cruise, the early evening dinner cruise, or the late-night dinner cruise. The late-night dinner cruise also comes with the chance to see the Eiffel Tower light show.
If your vacation to Paris is a romantic getaway for two, or maybe even a honeymoon, the dinner cruise options aboard the La Marina De Paris can be upgraded to include a romance package.
Expand To See MoreSee Less

With this, you will be seated at a window on the glass-enclosed boat, there will be wine and champagne, rose petals can be added, and you'll have the option for souvenir photos.

As you slowly make your way up the Seine River while enjoying a delicious meal, you'll pass under the Pont Neuf and other famous Parisian bridges straddling the Seine River.

If choosing the romance package, it may be possible to have photos taken with many famous Paris monuments in the background such as the Eiffel Tower or the Louvre Museum. For a bargain price this is the best Seine River dinner cruise on our list!
For tour prices, transportation and availability:
---
Tour Highlights at a Glance
:
---
Departure Point: Base of the Eiffel Tower
Departure Time: 6:00pm
Duration: 1 hour (approx.)
Includes: Onboard sommelier, 3 champagne tastings, option to purchase a bottle at the end of the cruise
If you've already made plans for your meals while vacationing in Paris, you may still want to take a leisurely cruise through the city down the Seine River.
This relatively short cruise will take you past several popular Paris sites. You'll be able to see the Eiffel Tower and even the Musee d'Orsay.
As you take in the beauty surrounding you, you'll have a chance to taste three local champagnes.
Expand To See MoreSee Less

This Seine champagne tasting cruise is the perfect way to learn more about local wines and champagnes as well as the wineries that produce them.

Your sommelier will point out various physical locations as you glide slowly by and teach you the tricks to truly tasting the champagnes presented. You will be offered a brut, a rose, and a demi-sec.

The sommelier aboard your champagne tasting cruise is an expert on the wines, champagnes, and wineries local to Paris.

They will also be able to answer any questions you have about the champagnes you taste and may be able to answer questions about many famous Paris landmarks. This is a great way to spend an hour.
For tour prices, transportation and availability:
---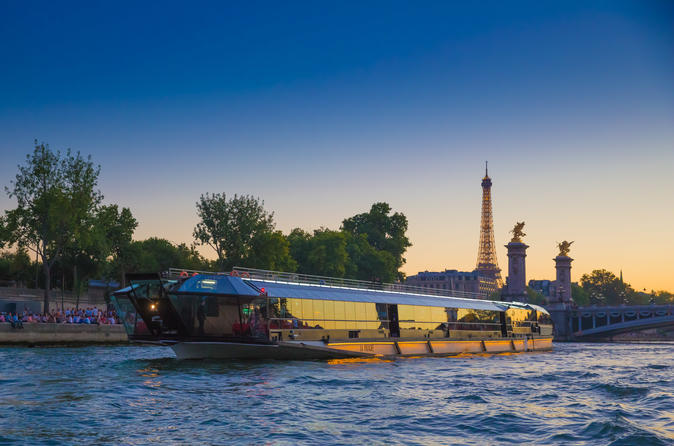 Tour Highlights at a Glance
:
---
Departure Point: Port de la Conference
Departure Time: 8:30pm
Duration: 3 hours (approx.)
Includes: 4-course dinner, wine, nite-time views of the Paris skyline, live music
This late-night dinner cruise down the Seine River in Paris is perfect for couples seeking a romantic experience.
Even if you aren't, you'll still enjoy the delicious 4-course dinner provided as well as the live music. There's no better way to take in beautiful Paris landmarks lit up at night than the slowly and leisurely glide down the Seine River.
The selection you are given on the menu will vary based on the season. However, you will be served hors d'oeuvres and an appetizer to start.
Expand To See MoreSee Less

Your main course will be followed by a selection of decadent French cheeses. You'll follow that with one of many traditional Paris desserts such as praline fondant cake or a pineapple sapphire cheesecake.

Coffee or tea is served with dessert and your meal comes with a choice of wine.

You will need to be formally dressed for this Seine dinner cruise. While a jacket and tie are not required, you must be dressed appropriately.

If you're looking for a way to experience some of the class and elegance available in Paris, this is the best Seine dinner cruise.
For tour prices, transportation and availability:
---
Your Guide to Visiting Paris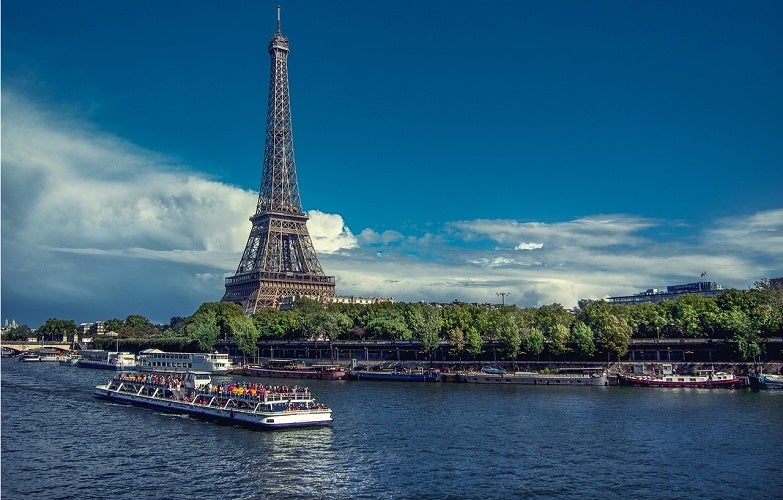 While visiting the City of Lights may not be just as you expect after watching An American in Paris, a vacation in Paris is like nothing else. With so many tourist spots to explore, you may find it difficult to plan everything you'd like to see and experience into just one vacation. I guess that just means you'll have to come back to see this beautiful city again.

Our travel guide below can help you plan a vacation to Paris whether you are staying for 2 days or 10 and whether it's your first visit or fifth.
Airports & Entry
When headed to France, you won't need to apply for a visa so long as your expected stay is less than 90 days. You also need to have at least three months before your passport expires past the date you expect to leave the country.

An emergency passport will not be accepted unless you also have an approved visa, no matter the length of your stay. There should be at least one page available for a stamp when you arrive.

There are three major airports in the area of Paris, France. The one you fly into will most likely be determined by the airline you are using. That airline will fly into the airport it is contracted with. With that in mind, when flying to France you will most likely land at one of the following airports:
Paris Beauvais Airport
Paris Charles de Gaulle Airport
Planning Tips
Paris is unlike most other vacation destinations. The French, especially Parisians, live life a little differently. This means that while you're there, you may have to get used to eating at different times and you may need to plan your attire.

These are our top 5 tips for visiting Paris. Have you been there and have tips of your own? Let us know!
Tip #1: Stay in a Central Location
Everywhere you're going to want to go as a tourist in Paris will be centrally located or have provided travel that leaves this area. Most of the hotels, many museums, and a lot of restaurants are all centrally located.

You'll also find that the pickup and drop-off locations for many tours are located here. It makes things much easier if you find accommodations close to central Paris.
Tip #2: Always Have Euros on Hand
There are many stores and even restaurants that don't accept debit or credit cards. Some taxis won't accept plastic either. If an establishment does accept a card, they often won't allow you to leave a tip on your receipt.

This means it's important to always have a few euros on hand. Many ATMs in the city will allow you to use a foreign card to withdrawal euros.
Tip #3: Have Snacks on You
Parisians often eat their dinner very late. While you may be used to a dinner time of between 4 and 6 pm, it's not uncommon for those in Paris to eat as late as 9 or 10. You'll want to keep this in mind when making reservations, but you should always have a small snack with you just in case you get hungry and it's still a few hours to dinner.
Tip #4: Avoid Traveling to Paris in August
Most Parisians are used to taking off the entire month of August. This means that while you will most likely be able to find accommodations, many restaurants and attractions will not be open. If you're traveling to Paris in August, this can be a very quiet time to visit the city. However, if you're looking forward to seeing the sights, it's best not to travel to Paris in August.
Tip #5: Dress Appropriately
While those in Paris can still be found wearing sneakers, most dress in a business casual or a simple but chic style. Most attractions and restaurants will frown on those wearing beat up shoes, blue jeans, and other very casual clothes. Some places will even require a more elegant or fancy appearance, such as certain high-end restaurants.

Bringing a set of casual clothes might not be a bad idea but be sure to bring enough clothes you can wear while out and about. If you don't have much in the way of the chic style that Paris requires, at least you're in the perfect place to go shopping to stock up on some.
Restaurants & Eating Out
The Ciel de Paris is one of the most romantic restaurants in the city. It is located in the Montparnasse Tower with beautiful views of the city. You'll also find a well-stocked champagne bar available to you. The Polidor is one of the oldest restaurants in Paris.

It dates back to 1895 and the interior decor hasn't changed much since. This is one of those restaurants that only take cash, so have a few euros on you.

In Paris, it's hard to find a truly casual restaurant. Because of this, you'll want to make sure that you're dressed for the occasion. If you're not sure what you could or should wear to a particular establishment, some will list their dress code online or you can always give them a call.
Nightlife & Entertainment
Harry's New York Bar was actually once located in New York City. The entire bar, just as it was, was moved over to Paris in the early 1900s. This bar is credited with inventing some of the most popular cocktails we know today, including the Bloody Mary and the Sidecar.

Wine and champagne are something most Parisians are very proud of. If you're looking for an upscale wine bar, you'll want to try out Compagnie des Vins Surnaturels. You'll be able to try nearly every wine and champagne local to Paris. However, there are wine bars located in nearly every corner of the city.

From backroom speakeasies to modern nightclubs, Paris has a little bit of everything for everybody when it comes to nighttime entertainment.
Getting Around
There's no shortage of ways to get around in Paris. The most popular, effective, and affordable way is the Metro. You may find it a bit intimidating at first due to the sheer number of lines and routes, but after a few trips to an attraction or restaurant, you'll be riding the Metro like a pro.

You can purchase single ride tickets or a batch of 10. If you're going to be in Paris longer there are also ride passes.

While traditional taxis can be quite expensive in the city, Uber offers some fairly inexpensive ways to get around town if traveling by car is best.

Walking between destinations is very doable in Paris but if you'd like to ride a bike instead, there's plenty of kiosks that rent them. In fact, this can be a great way to tour the city and do some sightseeing on your own.
Accommodations
You'll find everything from small and inexpensive hostels too large, luxury resorts in Paris. There are even small boutique hotels with spas and other amenities. Where you decide to stay while visiting Paris will largely depend on the type of experience you're looking for.

If you wish to spoil yourselves, the Le Roch Hotel & Spa is perfectly located between restaurants, the Louvre Museum, and many tourist pick up spots. If you're looking to meet other tourists, learn more about the city from those who've been here several times, and have a quieter stay, one of the many hostels around town are ideal. We recommend The Generator Hostel Paris.
Weather
On average, July is the warmest month in Paris. While the weather is much better during the summer months, there are usually more crowds. If you don't want to have to fight the crowds and don't mind cooler weather, traveling in late winter or early spring might just give you the blend of comfortable weather and fewer crowds. January is the coldest month, on average, with temperatures in the low 40s Fahrenheit.
Attractions
Paris is full of attractions. The Louvre Museum is a popular stop for tourists. The Mona Lisa exhibit here can be quite busy, however. Use your limited time at this world-famous museum by taking in the many other exhibits, many of which are quite interesting and just as important to French history.

If you like to visit museums, you might want to try the Musee d'Histoire de la Medecine. You might just learn more about how modern medicine came to be. The Museum of Modern Art is a popular stop as well.

Visiting the Palace of Versailles, exploring the Paris catacombs, taking a river cruise down the Seine River, and making it to the top of the Eiffel Tower usually top most tourist's lists of attractions. Remember that traveling to or visiting these places can be much easier if you go as a group on a tour.

You may get priority access, free souvenir photos, and more, just for traveling with a tour group. This is often the most affordable way and makes it easier to plan the days you're planning to spend in Paris.
Sites Seen
Tour Quality
Value
The Bateaux Parisiens is our top choice for the best Seine River cruise with its combination of dinner, sites seen and quality of the tour.

User Rating:

Be the first one !