Paris is a city filled with art, architecture, food, and more. While you can always schedule your own walk around the city, many tour guides have already created walking tours of Paris.
These tours are designed to take you past the most famous locations in the city. Not only can you see the best of Paris on these walking tours, your tour guides can give you the stories, both fact and legend, of these iconic places.
Be sure to see our list of the top 10 things to do in Paris for some more ideas!
Best Walking Tours In Paris
---
Quick Answer: The 7 Best Rated Paris Walking Tours For 2023
We've chosen these top rated walking tours in Paris because they offer a wide range of experiences and will fit into everyone's budget.
Paris Walking Tour Reviews

Tour Highlights At a Glance
:
---
Departure Point: Gare St. Lazare, Central Paris
Departure Time: 3:00pm
Duration: 2 hours (approx.)
Includes: A drink at an art nouveau brasserie, admission to all three stops, professional guide, small group
Art Nouveau and the related artistry and architecture is just one aspect of the city that makes Paris so unique.
This to hour walking tour will bring you by the 8th arrondissement, the 9th arrondissement, and the Palais Garnier. With a maximum of just 8 travelers, you'll be able to experience the true beauty of Art Nouveau in Paris.
Your expert tour guide will give you the history and legend at each of your stops and you'll also be able to ask questions.
You'll start your tour at St. Lazare train station, a beautiful example of Art Nouveau style. The 8th and 9th arrondissements are home to some of the most stunning architecture found in Paris, even in all of Europe.
These Paris districts show both the charm and magic of the Art Nouveau movement, making them perfect for a Paris walking tour.
In the 9th arrondissement, you'll view the Galeries Lafayette. The façade gives this department store a unique and imposing beauty. The stained-glass dome inside the store towers above you while the gilded balconies overlook the store below.
The opera house, Palais Garnier, is a fine example of Art Nouveau style featuring ornate stonework. As a group, you'll enjoy a delicious drink at one of the brasseries that Paris is famous for.
100% refund for cancellations within 24 hours of tour experience
---
Tour Highlights At a Glance
:
---
Departure Point: Place Louis Lepine
Departure Time: Evening (varies based on the time of year)
Duration: 2 hours (approx.)
Includes: Small group, English or Spanish speaking tour guide, family friendly with parents accompanying children
You may already know a bit of the "dark side" of Paris, but you've never experienced it like this.
Standing outside some of the most beautiful but notorious locations, your expert tour guide will tell the tales that have made them popular.
Your first stop is the Cathedrale Notre-Dame. This imposing example of the Middle Ages architecture found all over Europe is one of the most popular locations for many travelers.
Dating back hundreds of years, you'll enjoy the iconic stories and legends that have even inspired fiction, such as The Hunchback of Notre Dame.
You'll be taken to Musee de Louvre, often referred to as simply, The Louvre. Snap pictures of the famous Louvre Pyramid while you learn of the more unpleasant side of one of the largest museums in Europe.
As you travel from stop to stop on this walking tour, you'll be told of gruesome murders, Paris' darkest secrets, and gory history. Hidden behind the beautiful lights of Paris, you may even run into a ghost or two.
100% refund for cancellations within 24 hours of tour experience
---
---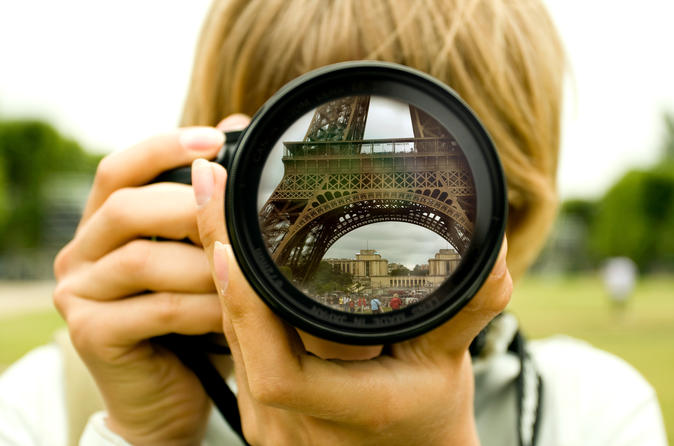 Tour Highlights At a Glance
:
---
Departure Point: Near Le Palais Royal, Central Paris
Departure Time: Choose from 4 different times
Duration: 2 hours (approx.)
Includes: Personal photographer for the 2-hour photo shoot, 130-150 professional photographs
You will meet your personal photographer near Le Palais Royal. From there, they will take you on a walking tour to some of the most iconic locations in central Paris. Along the way and at each stop, your photographer will snap pictures.
If you'd like to capture the tender moments between you and your romantic partner, the photographer will help you pose to truly capture the love shared in the City of Lights.
This photo shoot walking tour of Paris is not just for lovers, however. Up to 8 people can take part, which means you can include your family in the photos.
There will be between 130 and 150 photos taken, so feel free to express your more comedic side. You can also use this photo shoot to commemorate a special occasion.
Will these be your newborn's first images? Did you get married in Paris and want the wedding photos taken throughout central Paris? Are you going to capture a destination honeymoon?
Is family getting together for a reunion and these photos will capture that experience? The type of photos is completely up to you as your very own photographer captures both tender moments and funny ones.
100% refund for cancellations within 24 hours of tour experience
---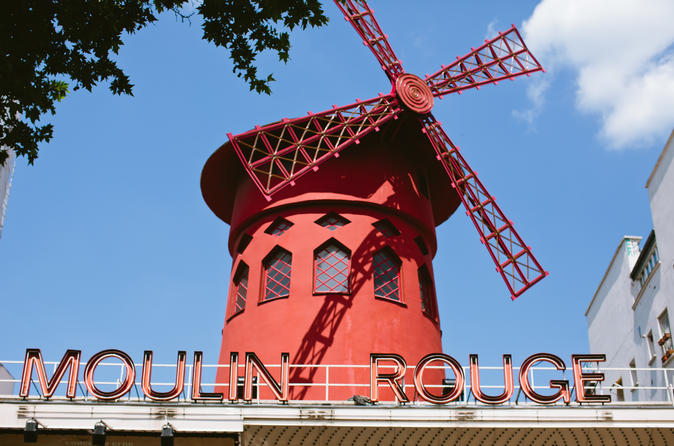 Tour Highlights At a Glance
:
---
Departure Point: Near Montmartre, Central Paris
Departure Time: Mid-morning or Afternoon
Duration: 2 hours (approx.)
Includes: Guided tour through Montmartre, see where Van Gogh lived, tour of Montmartre Cemetery
Montmartre was once an artists' village and some of the most famous Paris artists at one point called it home. Vincent Van Gogh lived in this district and it's easy to see the bohemian beauty that inspired his work.
The three windmills located here are famous, often seen on postcards you can find throughout Paris.
Your guide will take you to some of the most iconic locations within Montmartre, enjoying the cobblestone streets that truly take you back in time. The cemetery located in Montmartre is the final resting place of many of the Paris artisans that called this district home, even for just a little while
. The most notable artist laid to rest here is Edgar Degas. However, it's not just artists that found comfort in this bohemian artists' village. Many writers called this district home as well.
The Sacre Coeur Basilica offers travelers some of the most beautiful views of Paris and the Paris skyline.
Be sure to snap a few photos of the views, but also of the beauty of the Sacre Coeur Basilica. Your tour guide will leave you here to explore independently.
100% refund for cancellations within 24 hours of tour experience
---
Tour Highlights At a Glance
:
---
Departure Point: Central Paris
Departure Time: Morning or Afternoon
Duration: 2 hours (approx.)
Includes: small group walking tour, see the classic sights and learn more about them
Any visitors to Paris will usually have a list of what they'd like to see or do while there. This Paris walking tour brings you past all the classic stops for travelers.
You'll see the iconic pyramid in front of The Louvre, Champs-Elysees, the Place de la Concorde, the Arc de Triomphe… and it wouldn't be a complete tour of the Paris Classics if you didn't get to experience the Eiffel Tower.
Your expert tour guide will tell you the history of each location. With a small group size, you will have a more personalized experience, including the ability to ask questions.
Also, be sure to ask your tour guide to snap a few pictures with you and your friends and family as you spend a few moments at each place. This tour will take place despite any inclement weather so be sure to dress properly.
If you want to enter a place of worship, such as the Notre Dame Cathedral or Saint Chapelle, you'll also need to dress appropriately. Shoulders, knees, and midriff cannot be showing. Bring your camera and comfy walking shoes!
100% refund for cancellations within 24 hours of tour experience
---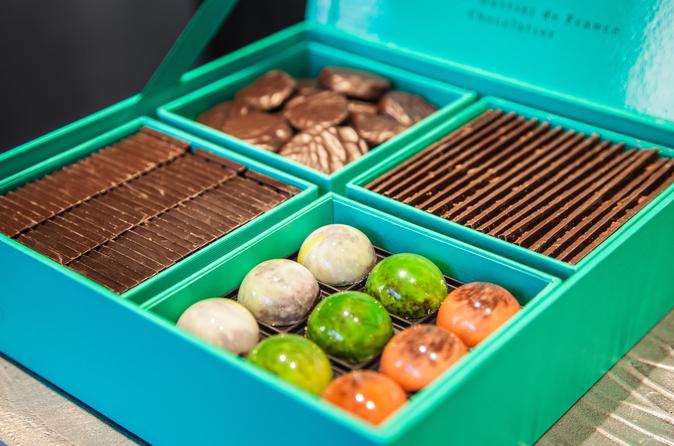 Tour Highlights At a Glance
:
---
Departure Point: Near Place de la Concorde, Central Paris
Departure Time: 10:30am available April-October, 2:30pm
Duration: 2 hours (approx.)
Includes: Free chocolate tasting, small group size, learn the history of French chocolate
In a group of no more than 8 travelers, you will be guided through the 1st arrondissement, or district. This part of Paris is known for sophistication and elegance, making it the ideal place to find only the best chocolate boutiques.
As you head out on your walking tour, your expert guide will tell of the history of chocolate in France and how it has evolved over time.
You'll stop at 5 different chocolate boutiques in the area and will be offered a sample of chocolate at each one. You will walk past several iconic places in Paris, including the Louvre and Opera Garnier.
While there's a fair amount of walking, children are welcome when accompanied by an adult. Take in the history and charm of Paris by enjoying the delicacy of premier chocolates they are known for.
100% refund for cancellations within 24 hours of tour experience
---
Tour Highlights At a Glance
:
---
Departure Point: Near Les Invalides, Central Paris
Departure Time: Not Listed
Duration: 2 hours (approx.)
Includes: Tour by local expert guide
The French Revolution was a very tumultuous time in France, but the effects were more directly felt in Paris. In fact, there are sites in the city that are famous, or infamous, for the events that happened there.
On this walking tour, your guide will retell the history of the French Revolution. You'll find out why, who, how, and more.
As you walk from path to path to each of the destinations on the tour, you'll be walking in the footsteps of those who played important roles in the French Revolution that forever changed not just Paris and France, but all of Europe.
Expand To See MoreSee Less

Les Invalides, where you meet your historian tour guide, played a big part in the French Revolution when protesters stole their weapons and then overtook it.

This is only a small part of the intriguing history, as well as the stories and legends, that you'll find as you visit each stop.

You'll also visit Place de la Concorde, which is famous as the location where King Louis XVI and Marie Antionette were beheaded. Experience the Reign of Terror yourself as you step back in time.
100% refund for cancellations within 24 hours of tour experience
---
Your Guide to Visiting Paris
While visiting the City of Lights may not be just as you expect after watching An American in Paris, a vacation in Paris is like nothing else. With so many tourist spots to explore, you may find it difficult to plan everything you'd like to see and experience into just one vacation. I guess that just means you'll have to come back to see this beautiful city again.

Our travel guide below can help you plan a vacation to Paris whether you are staying for 2 days or 10 and whether it's your first visit or fifth.
Airports & Entry
When headed to France, you won't need to apply for a visa so long as your expected stay is less than 90 days. You also need to have at least three months before your passport expires past the date you expect to leave the country.

An emergency passport will not be accepted unless you also have an approved visa, no matter the length of your stay. There should be at least one page available for a stamp when you arrive.

There are three major airports in the area of Paris, France. The one you fly into will most likely be determined by the airline you are using. That airline will fly into the airport it is contracted with. With that in mind, when flying to France you will most likely land at one of the following airports:
Paris Beauvais Airport
Paris Charles de Gaulle Airport
Planning Tips
Paris is unlike most other vacation destinations. The French, especially Parisians, live life a little differently. This means that while you're there, you may have to get used to eating at different times and you may need to plan your attire.

These are our top 5 tips for visiting Paris. Have you been there and have tips of your own? Let us know!
Tip #1: Stay in a Central Location
Everywhere you're going to want to go as a tourist in Paris will be centrally located or have provided travel that leaves this area. Most of the hotels, many museums, and a lot of restaurants are all centrally located.

You'll also find that the pickup and drop-off locations for many tours are located here. It makes things much easier if you find accommodations close to central Paris.
Tip #2: Always Have Euros on Hand
There are many stores and even restaurants that don't accept debit or credit cards. Some taxis won't accept plastic either. If an establishment does accept a card, they often won't allow you to leave a tip on your receipt.

This means it's important to always have a few euros on hand. Many ATMs in the city will allow you to use a foreign card to withdrawal euros.
Tip #3: Have Snacks on You
Parisians often eat their dinner very late. While you may be used to a dinner time of between 4 and 6 pm, it's not uncommon for those in Paris to eat as late as 9 or 10. You'll want to keep this in mind when making reservations, but you should always have a small snack with you just in case you get hungry and it's still a few hours to dinner.
Tip #4: Avoid Traveling to Paris in August
Most Parisians are used to taking off the entire month of August. This means that while you will most likely be able to find accommodations, many restaurants and attractions will not be open. If you're traveling to Paris in August, this can be a very quiet time to visit the city. However, if you're looking forward to seeing the sights, it's best not to travel to Paris in August.
Tip #5: Dress Appropriately
While those in Paris can still be found wearing sneakers, most dress in a business casual or a simple but chic style. Most attractions and restaurants will frown on those wearing beat up shoes, blue jeans, and other very casual clothes. Some places will even require a more elegant or fancy appearance, such as certain high-end restaurants.

Bringing a set of casual clothes might not be a bad idea but be sure to bring enough clothes you can wear while out and about. If you don't have much in the way of the chic style that Paris requires, at least you're in the perfect place to go shopping to stock up on some.
Restaurants & Eating Out
The Ciel de Paris is one of the most romantic restaurants in the city. It is located in the Montparnasse Tower with beautiful views of the city. You'll also find a well-stocked champagne bar available to you. The Polidor is one of the oldest restaurants in Paris.

It dates back to 1895 and the interior decor hasn't changed much since. This is one of those restaurants that only take cash, so have a few euros on you.

In Paris, it's hard to find a truly casual restaurant. Because of this, you'll want to make sure that you're dressed for the occasion. If you're not sure what you could or should wear to a particular establishment, some will list their dress code online or you can always give them a call.

You should consider taking a French cooking class while you are in Paris. Learn from the best and make the dishes you love at home!
Nightlife & Entertainment
Harry's New York Bar was actually once located in New York City. The entire bar, just as it was, was moved over to Paris in the early 1900s. This bar is credited with inventing some of the most popular cocktails we know today, including the Bloody Mary and the Sidecar.

Wine and champagne are something most Parisians are very proud of. If you're looking for an upscale wine bar, you'll want to try out Compagnie des Vins Surnaturels. You'll be able to try nearly every wine and champagne local to Paris. However, there are wine bars located in nearly every corner of the city.

From backroom speakeasies to modern nightclubs, Paris has a little bit of everything for everybody when it comes to nighttime entertainment.
Getting Around
On your first day, taking a guided tour of the city will help you zero in on areas you would like to spend more time in will help a lot.

There's no shortage of ways to get around in Paris. The most popular, effective, and affordable way is the Metro. You may find it a bit intimidating at first due to the sheer number of lines and routes, but after a few trips to an attraction or restaurant, you'll be riding the Metro like a pro.

You can purchase single ride tickets or a batch of 10. If you're going to be in Paris longer there are also ride passes.

While traditional taxis can be quite expensive in the city, Uber offers some fairly inexpensive ways to get around town if traveling by car is best.

Walking between destinations is very doable in Paris but if you'd like to ride a bike instead, there's plenty of kiosks that rent them. In fact, this can be a great way to tour the city and do some sightseeing on your own.
Accommodations
You'll find everything from small and inexpensive hostels too large, luxury resorts in Paris. There are even small boutique hotels with spas and other amenities. Where you decide to stay while visiting Paris will largely depend on the type of experience you're looking for.

If you wish to spoil yourselves, the Le Roch Hotel & Spa is perfectly located between restaurants, the Louvre Museum, and many tourist pick up spots. If you're looking to meet other tourists, learn more about the city from those who've been here several times, and have a quieter stay, one of the many hostels around town are ideal. We recommend The Generator Hostel Paris.
Weather
On average, July is the warmest month in Paris. While the weather is much better during the summer months, there are usually more crowds. If you don't want to have to fight the crowds and don't mind cooler weather, traveling in late winter or early spring might just give you the blend of comfortable weather and fewer crowds. January is the coldest month, on average, with temperatures in the low 40s Fahrenheit.
Attractions
Paris is full of attractions. The Louvre Museum is a popular stop for tourists. The Mona Lisa exhibit here can be quite busy, however. Use your limited time at this world-famous museum by taking in the many other exhibits, many of which are quite interesting and just as important to French history.

If you like to visit museums, you might want to try the Musee d'Histoire de la Medecine. You might just learn more about how modern medicine came to be. The Museum of Modern Art is a popular stop as well.

Visiting the Palace of Versailles, exploring the Paris catacombs, taking a river cruise down the Seine River, and making it to the top of the Eiffel Tower usually top most tourist's lists of attractions. Remember that traveling to or visiting these places can be much easier if you go as a group on a tour.

You may get priority access, free souvenir photos, and more, just for traveling with a tour group. This is often the most affordable way and makes it easier to plan the days you're planning to spend in Paris.
Disneyland Paris
Also outside the city, despite its name, is Disneyland Paris, 20 miles to the east. This famous theme park is the most visited attraction in France. If you're visiting Paris with children, you'll probably want to devote two days to Disney because there are two separate parks here: Disneyland Park opened in 1992 and Walt Disney Studios Park opened in 2002. Inside both, you'll find thrill rides for all ages as well as classic attractions, like actors dressed up as your favorite Disney characters and Sleeping Beauty's Castle. The easiest way to get to Disney Paris is with a shuttle and entrance ticket deal.
Sites Seen
Tour Guides
Value
The Art Nouveau Tour is our Editor's Choice for the best paris walking tour.

User Rating:

Be the first one !