When many of us think about wineries, we often picture a far-away, picturesque location in the middle of nowhere. While this can definitely make for a nice getaway, not all of us want or are able to spend the extra travel time getting there and back.
Perhaps you're pressed on time or just prefer touring wineries to driving. Whatever your situation may be, Barcelona is quite a bit different.
This culturally-rich, visually-stunning city features some of the most incredible wine regions in the world within a small radius from the city center.
Best Winery Tours in Barcelona
Quick Answer: The 7 Best Rated Barcelona Winery Tours For 2023
---
Barcelona Winery Tour Reviews
Montserrat & Cava Wineries Day Trip at a Glance
:
---
Location – Barcelona with Pickup Included
Duration – 10 hours
Live Tour Guide – Yes, in English, Spanish, and German
Best For – Private or small groups
Barcelona is a city filled to the brim with culture and history, and this tour puts that on full display. If you want to see another side of the Catalan area, aside from the normal tourist traps, then you have to take advantage of this incredible tour.
Ticketing is a breeze, as you can choose to either print your voucher or simply use your phone. Currently, tours only consist of groups of 8 or less people which makes it perfect for a couple experience or with a bunch of family or friends.
As long as you're residing in the city, they will come pick you up. As the tour is around 10 hours long, in total, pickups start around 8:30 am.
Once they pick you up, you'll head off to the Catalan Pre-Coastal Range. Here, you'll have the opportunity to encounter the mind-blowing Romanesque construction that is the Benedictine abbey of Santa Maria de Montserrat.
Not only is it known worldwide for its unusual sawtooth mountain-like appearance, it's also renowned for housing the ancient shrine for the Virgin of Montserrat. Known as "The Black Madonna", it was supposedly made by St. Luke, then taken to Spain by St. Peter.
Explore both outdoors on the uniquely-shaped rocks which stand over 2,000 feet above sea level and breathe in the fresh air. Afterward, head inside where you can get a glimpse of the Black Madonna, herself.
Next up, we have the cave chapel, known as "Santa Cova" to locals, and "The Holy Grotto" to the rest of us. The Virgin of Montserrat was hidden here during the Moorish invasions and was eventually discovered by shepherds in 880. Because of this, the Montserrat Abbey was founded here.
The tour includes the chance to hear the incredible voices of La Escolania de Montserrat, or "The Boys Choir", which is one of the oldest in Europe as well.
While history is indeed fun, it's even more so when it involves wine. Head to Sant Sadurni d'Anoia, which is where the Premium Cava Winery resides. Here, they've been making sparkling wines all the way back to 1385! This immersive experience takes you down to the cellar where you can see the dungeons where the wine has been kept for many years.
An expert viticultor will show you first-hand how to produce wine, and you'll get to taste 3 local wine and cava varieties. To accompany them, they also serve traditional cheeses and cold meats. Soak it all in while gazing out over the Spanish countryside.
100% refund for cancellations within 24 hours of tour experience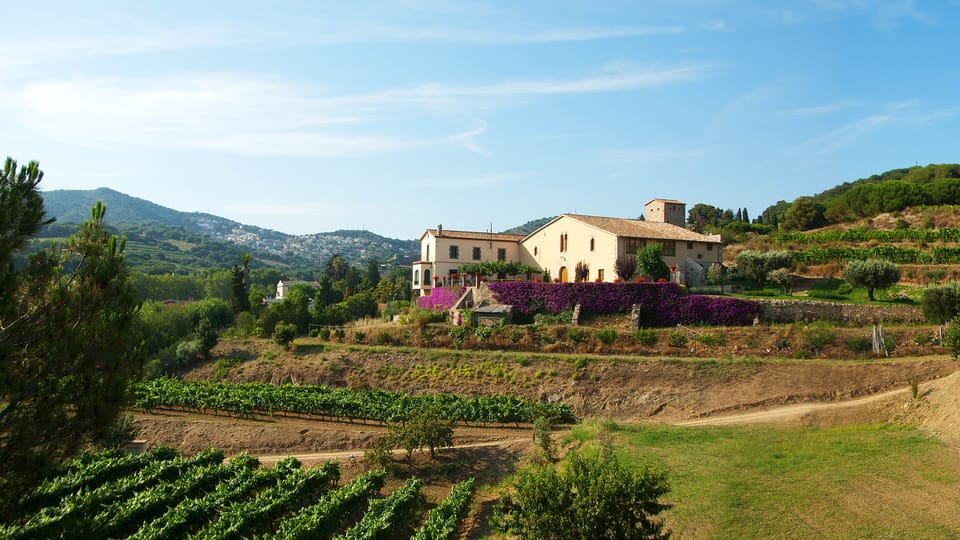 Sailing Cruise and Vineyard Visit with Tasting at a Glance:
---
Location – Barcelona coastline
Duration – 4.5 hours
Live Tour Guide – Yes, in English and Spanish
Best For – Private or small groups
There are few things more exhilarating than the feeling of breathing in the fresh sea breeze. Even more so if you're doing it on the deck of a luxury sailboat, sipping on some top-notch wine! If you're in Barcelona and love the posh life, this is right up your alley. It's also a nice option if you're looking for somewhat shorter tours.
You'll start off by boarding a one-of-a-kind luxury sailboat, which you'll be on for the better part of 4.5 hours. Once you get out on the water, you'll really be able to take in Barcelona's impressive skyline and some notable landmarks to check off your list.
Staff will supply you with delicious eats like olives, sausage, tomatoes, chips, soft drinks, beer, wine, champagne, and more. However, you may want to go easy on the alcoholic beverages while on board, as there's more coming your way.
Once you arrive at Alella Harbor, you'll get on a private transfer to the vineyard. Once you arrive, professional sommeliers will greet you at this legendary family winery. Started in the 14th century, the architecture and vibes are something you'll remember fondly for many years to come.
Surrounded by the Mediterranean Sea, the vineyards have produced wines all the way since the Middle Ages. Once the Barcelona Cathedral became fans of their products, it quickly spread in popularity all throughout the globe. You'll get to taste 3 of their best, then head back to the city in a luxury minivan.
100% refund for cancellations within 24 hours of tour experience
---
Half-Day Wine and Electric Bike Tour at a Glance
:
---
Location – Penedes
Duration – 4 hours
Live Tour Guide – Yes, in English, Spanish, and Catalan
Best For – Private groups
If you're traveling with a partner or very small group of people, this half-day wine and electric bike tour can't be missed. It's the perfect opportunity to have some fun or bonding with someone close to you. Just make sure you're dressed in stretchy, comfortable clothing and that you come prepared with some sunscreen!
We'll start out at the Lavern-Subirats train station which is around 50 minutes outside Barcelona. You'll land in Penedes where you'll receive an electric bike rental. This bike will allow you to pedal through the vineyards of a family winery.
Trust us when we say this is one of the most exciting ways to experience a vineyard, and if you love the outdoors, it's an authentically rustic way of filling that need for good ole' outdoor fun.
Once you join the tour, you'll be lead by your guide through a full tour of the region. The group holds a maximum of 12 people, so keep this in mind when planning. Along your tour, you'll meet the 4th generation of the winery's family and enjoy some of their delicious wine.
There are some important things to remember, however. First, is that you will be required to wear a safety helmet while biking. Second, is that you need to know how to ride a bike. Depending on the season, you may even encounter a bit of rain so bringing a jacket or umbrella is recommended!
100% refund for cancellations within 24 hours of tour experience
---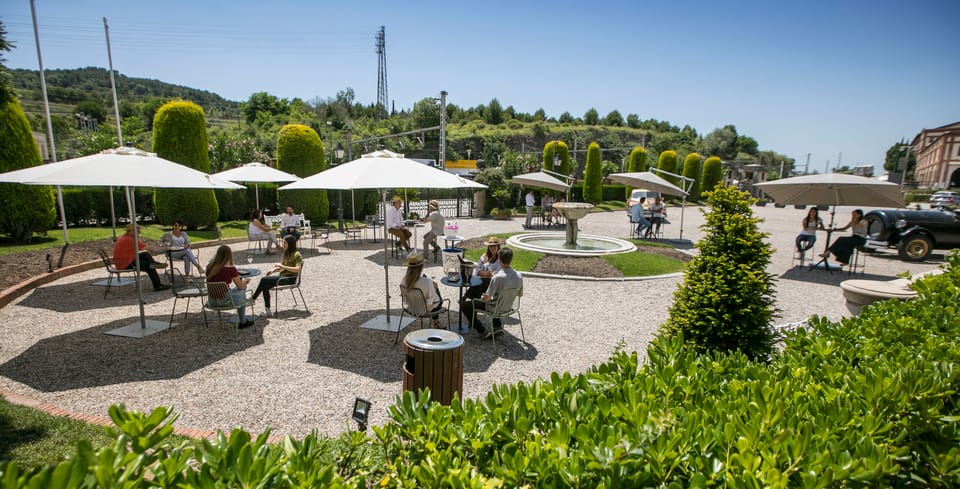 Freixenet Cellars Visit from Barcelona at a Glance
:
---
Location – Freixenet Vineyard, Sant Sadurni d'Anoia
Duration – 1.5 hours
Live Tour Guide – Yes, in English
Best For – Private and small(er) groups
While not quite as old as some others on our guide, the Freixenet Vineyard has worked to produce some of the finest sparkling wine and cava since 1861. Located right across the main train station in Sant Sadurni d'Anoia, it's well-located and great if you're looking for a short tour.
Coming in at just 1.5 hours, they pack their tour full to ensure you never get bored. While train is definitely the most scenic and relaxing mode of transportation there, you can also drive in the direction of Lerida/Tarragona and get off exit 27.
Things start off with you watching a video about the vineyard's history, and follow it up by taking you down into their wine cellars which have been used for 100 years now.
Here, you'll learn all about their famous method of producing cava which keeps tradition at the forefront while mixing in some 21st-century techniques as well. This keeps efficiency strong while also creating a wine that tastes as authentic as you can get, today.
Once your tour is finished, you'll get to try a glass or two of their refreshingly cool cava if you're 18 or older, or a non-alcoholic drink otherwise.
If you fall in love with their cava and can't live without it, afterward you can head to their store, Dolores Ferrer. Here, you can purchase all the cava to your heart's content, or other wines from around the world.
100% refund for cancellations within 24 hours of tour experience
---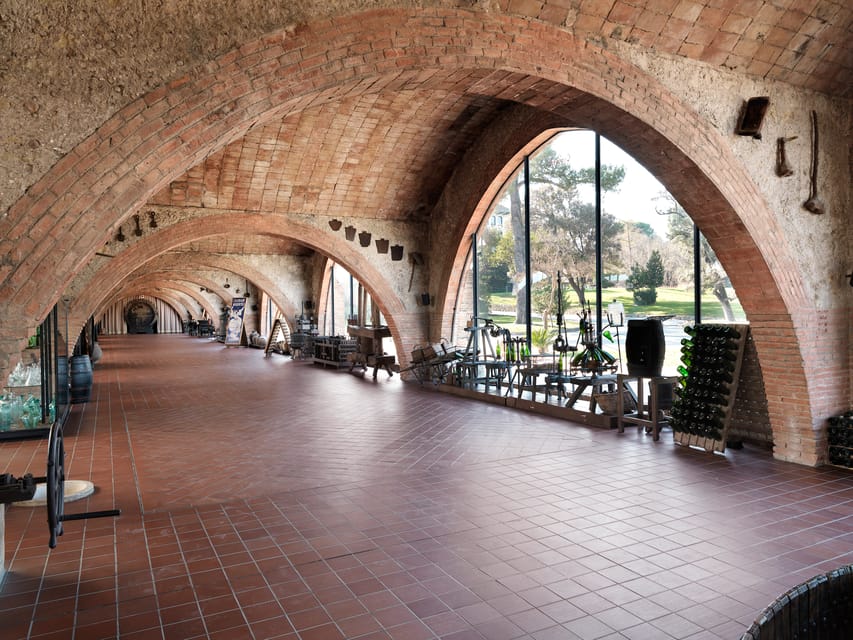 Penedès Codorniu Winery Tour with Cava Tasting at a Glance
:
---
Location – Penedès
Duration – 1.5 hours
Live Tour Guide – Yes, in English, Spanish, and Catalan
Best For – Small groups
By now, you've probably noticed that Spain has incredibly rich wine country. While there are countless wineries in the area, Codorniu manages to keep its reputation as one of the most important. As they've produced wine all the way since 1551, you could say that they've had a bit of time to perfect their craft.
In 1872 they actually became the first to create the country's first sparkling wine after being inspired by their neighbor, France's, Méthode Champenoise.
Taking just 1.5 hours, this tour is perfect if you're on a time crunch and want to pack as many cool experiences in your trip as you possibly can. As the tour is limited to just 10 people, you want to make sure you go with a very small group.
To start things off, you'll go to Sala Puig, which has been declared a national monument since its inception. Rightly so, as its multi-arch construction, rouge ceilings, and sparkling crystals hanging from the ceiling are absolutely phenomenal! Here, you'll watch a brief video of Codorniu's history and how they make their wines.
Before you head into your full-on tour, you will get to walk around the historic spot with your guide, winding through the estate gardens and stunning museum for a visual blast to the past.
Both offer excellent photo opportunities, though you may just want to leave the camera in your pocket and focus on your in-the-moment experience.
Now that you have some general knowledge, your guide will take you underground for an even more in-depth lesson. In fact, you're going to head over 20 meters underground by means of electric train to explore their dugout cellar tunnels! This experience on its own is certainly memorable, and feels like something out of a movie.
Throughout your time in the tunnels, you'll continue to absorb knowledge about their unique cava-making processes. At the end of your tour, you'll head back aboveground where you'll get to taste this legendary sparkling wine. You can select between 2 premium cavas, based on your newly-found beverage smarts!
100% refund for cancellations within 24 hours of tour experience
---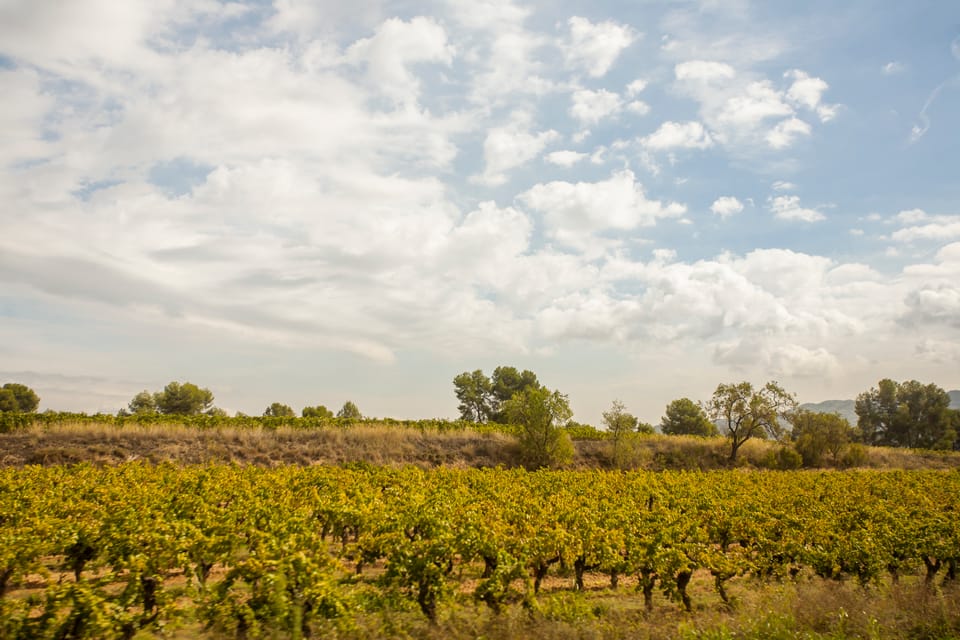 Montserrat & Cava Winery Small Group Day Tour at a Glance
:
---
Location – Montserrat
Duration – 10.5 hours
Live Tour Guide – Yes, in English
Best For – Small groups
This tour draws many similarities to the first one on our list, where you'll head to Montserrat and its almost-eerie cava cellars. This is another full-day tour, so if you and your group members really want to learn about the area's history and cava, this is one of the best ways to do it. As it is 10.5 hours, it's an experience you're surely not to forget either.
Ideal for small groups, it's an intimate tour where you really get to pick the brain of your tour guide instead of getting lost in the crowd. First, you'll meet with your group at Plaça Catalunya and make the 1-hour venture off to Montserrat.
When you arrive, you'll get to check out the sanctuary where the Black Madonna is kept. Following that up, you can dive in to the interesting history of the Museum of Montserrat. This museum houses unique collections from modern art, to centuries-old archaeology. No matter what your tastes are, you're sure to find something that captures your attention here.
If you like staying active, you'll appreciate the various walking and hiking trails that snake around the mountain. No matter what kind of activity level you're used to, you'll definitely find one that suits your physical fitness. Each trail comes with a slightly different view, complete with all kinds of small chapels.
If you can't or prefer not to hike around, you can also take one of the rack railways or cable cars. As you can imagine, both modes of transportation feature breathtaking views baked in.
Later in the day, you'll head out to Penedes, which is one of the most famous wine-growing regions in the world. Stopping by one of their finest wineries, you'll get to tour the enormous wine cellars and of course, taste some of their best products.
At this point, your guide will teach you all about the wine-making process, from pressing grapes to fermentation!
100% refund for cancellations within 24 hours of tour experience
---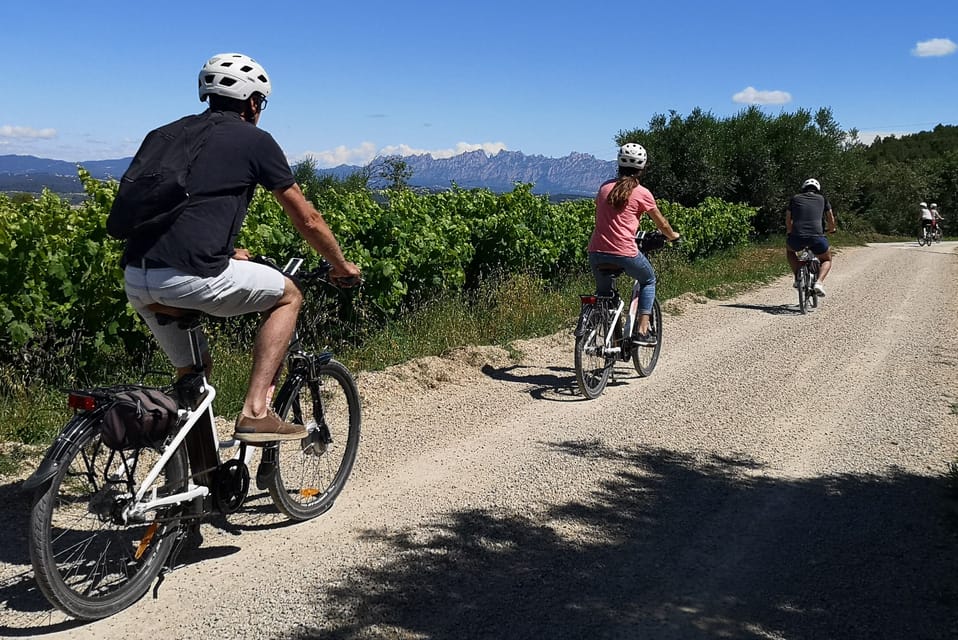 Full-Day Wine Tour with Electric Bike at a Glance
:
---
Location – Penedès
Duration – 5 hours
Live Tour Guide – Yes, in English, Spanish, and Catalan
Best For – Small groups
Okay, so we already covered the half-day wine and electric bike tour earlier on in our guide. However, there are many of you out there who want a full-day tour! Once you get out in the fresh Spanish air, you'll understand why, too. If that sounds right up your alley, then you'll want to put yourself and the rest of your group on the reservation list for this tour.
Much like the other bike tour, you'll meet in Lavern-Subirats, which can be accessed simply straight from Barcelona by mode of train. The entire train ride is captivating, with endless scenery, greenery, and a sense of calm that will make the ride somehow fly by.
Once you arrive to the wine region, you'll get to rent a comfy e-Bike where you'll get to travel throughout the vineyards casually. As they are quite expansive, cycling is one of the best ways to see everything with little effort.
Located right next to the Mediterranean Sea and the picturesque seaside village of Sitges, you'll learn all about the history and culture of the region.
Trust us, there is a lot of history to take in, too! The winery you'll visit has been in business for over 4 generations and it's there where you'll actually get to meet the family, themselves.
This is a crowd favorite if you really want a chance to taste multiple premium wines and cavas. Not only that, but you'll get to revel in a delicious brunch made with all local products. To finish off the day, you'll take the train back to your lodging in Barcelona.
100% refund for cancellations within 24 hours of tour experience
---
FAQs About Barcelona Wineries
What are the best wine regions near Barcelona?
Penedès: This is the largest wine region and is famous for its sparkling wines, white, rosé, and red wines. Penedès has a long tradition of wine making and innovation, and offers a wide range of wineries to visit, from small family-run estates to large modern facilities.
Priorat: This is one of the most prestigious and exclusive wine regions in Spain, renowned for its powerful and complex red wines made from old vines grown on steep slopes. Priorat has a unique terroir and microclimate that give its wines a distinctive minerality and character. Priorat is also a beautiful area to explore, with medieval villages, monasteries, and natural parks.
Alella: This is one of the smallest and oldest wine regions in Spain, located just north of Barcelona along the coast. Alella is known for its white wines made from native grapes such as Pansa Blanca, which have a fresh and aromatic profile. Alella also has a rich cultural heritage and scenic views of the Mediterranean Sea.
Empordà: This is a wine region located in the northeastern corner of Catalonia, near the border with France. Empordà has a long history of wine making that dates back to the ancient Greeks and Romans. Empordà produces a variety of wines, from crisp whites to full-bodied reds, influenced by the sea breeze and the Tramuntana wind. Empordà also offers a lot of attractions for visitors, such as medieval towns, castles, museums, and beaches.
How can I visit wineries near Barcelona?
There are three different ways to visit wineries near Barcelona.
By car: This is the most flexible and convenient way to visit wineries near Barcelona, as you can choose your own itinerary and pace. However, you will need to have a valid driver's license, rent a car or use your own vehicle, pay for gas and parking fees, and avoid drinking too much alcohol if you are driving.
By train: This is a fast and comfortable way to visit wineries near Barcelona, especially if they are located close to train stations. However, you will need to check the train schedules and availability, plan your transfers and connections, and limit your options to wineries that are easily accessible by public transportation.
By bus: This is an affordable and eco-friendly way to visit wineries near Barcelona, as you can join organized tours that include transportation, guide, entrance fees, and wine tastings. You can book your tour online or through an agency, and meet other wine lovers along the way.
However, you will need to follow a fixed schedule and route, share your experience with a group of strangers and compromise on your preferences.
What are some of the best wineries near Barcelona to visit?
There are hundreds of wineries near Barcelona that offer different experiences and products for visitors. Some of the best wineries near Barcelona that you can visit are:
Castell D'Age: This is a family-run winery located in Penedès that produces organic wines and cavas with respect for nature and tradition. You can take a tour of their vineyards and cellar, learn about their philosophy and methods, taste their award-winning wines and cavas paired with local cheese, and enjoy their panoramic views.
Giró Del Gorner: This is a historic winery located in Penedès that has been making wines since the 16th century. You can discover their ancestral techniques and secrets, visit their ancient underground cellar, sample their exquisite wines and cavas, and admire their beautiful garden and surroundings.
Josep Grau Viticultor: This is a boutique winery located in Marçà, a small village in Priorat. You can meet the passionate winemaker and his family, explore their organic vineyards and modern facilities, savor their elegant and expressive wines, and relax in their cozy tasting room.
Bodega Sant Miquel: This is a charming winery located in Eixample, the heart of Barcelona. You can experience the urban wine culture, visit their small but cozy cellar, try their delicious wines and tapas, and chat with their friendly staff.
Wine Palace: This is a wine shop and bar located in Les Corts, near the Camp Nou stadium. You can find a great selection of wines and cavas from different regions and countries, taste them by the glass or bottle, and enjoy their snacks and music.
The Montserrat & Cava Wineries Day Trip is our Editor's Choice for the best winery tour from Barcelona