Horseback Riding is a great way to see Costa Rica, from the beaches to the volcanoes, from the countryside to the jungle. You can spend time with your family or you can even plan romantic time alone as a couple with just your horses and a guide.
Horseback Riding is a lot of fun, even for beginners. Even if you have never been on a horse, don't let that stop you. When you add the tropical splendor of Costa Rica to the excitement of riding a horse, you have a great combination!
Be sure to check out our complete guide to things to do in Costa Rica for planing your trip.

However planning is essential if you want to have a good experience horseback riding trip in Costa Rica. You must know where to go to see the sights. You need to know when to go to enjoy the best weather.
Plus, it is important to know the basics of riding if you are a beginner. This guide will give you all the information to get you started on planning your horseback riding trip in Costa Rica. Plus give you helpful tips about horseback riding so you can enjoy the sights.
So… get to reading and when you are done, get to planning your next vacation. You will want to hop on the next plane to Costa Rica and enjoy a horseback riding trek through the beautiful terrain of the tropical landscapes.
Where to Go Horseback Riding in Costa Rica
When you think of romantic horseback riding trips you often think of couples each riding a horse along the foamy surf of a beach at sunset. You can do that in Costa Rica as they have some of the best beaches to ride.
The Beaches
You can go to Hermosa Beach in Jaco, which is one of the most famous in the country. There's also Tamarindo Beach or those in Manuel Antonio National Park. Any beach you visit will be beautiful any time of day, however sunset offers the most fantastic views.
The Volcanos
One of the many reasons why people visit Costa Rica is to see the volcanoes. One of the most famous is Arenal Volano but there are many others, such as Poas Volcano and Rincon de la Vieja Volcano.
Guides can take you along trails to see dormant volcanoes that have shaped the beautiful landscape of the island. The magnificent beauty of these structures created by Mother Nature is not to be missed on a trip to Costa Rica.
The Rainforests
If you'd like to see greenery, you can either see the lush countryside with farms and meadows or you can visit the forests and jungles. Either way you will find yourself mesmerized by the exquisiteness of the landscape. Monteverde Cloud Forest is a very popular destination for those who want to see the stunning greenery of tropical Costa Rica.
If you plan on taking a trip that is longer than just one day, or you plan on going out on more than one trip, you may be able to see more than one of these types of landscapes, or perhaps all four. Just make sure to bring a camera and keep a steady hand while on your horse!
The Best Horseback Riding Tours in Costa Rica
There are many tour companies in Costa Rica that offer horseback riding treks. Here we will give you a summary of the best tours.
Volcano Horseback Riding Tours
Region: Guanacaste & Northwest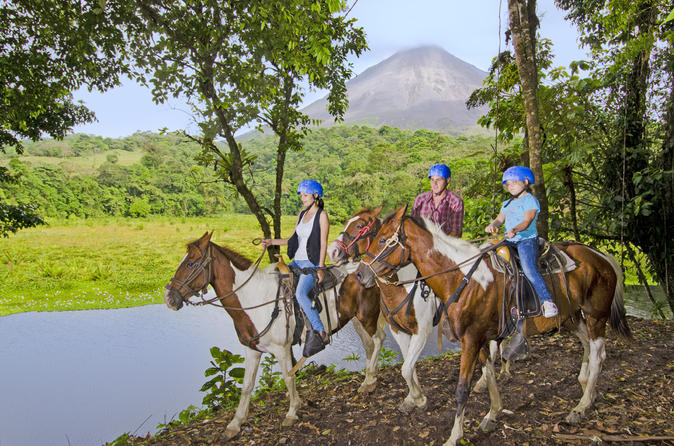 On this horseback riding tour that starts on a private farm, you will then head to the Arenal Volcano.
On the way to the volcano your guide will take you through the rainforest where you will cross streams, see howler monkeys and a wide variety of tropical birds.
You will be riding well trained horses so no prior experience is needed and children over 4 are welcome.
For tour prices, transportation and availability:
Rainforest Horseback Riding Tours
Region: Guanacaste & Northwest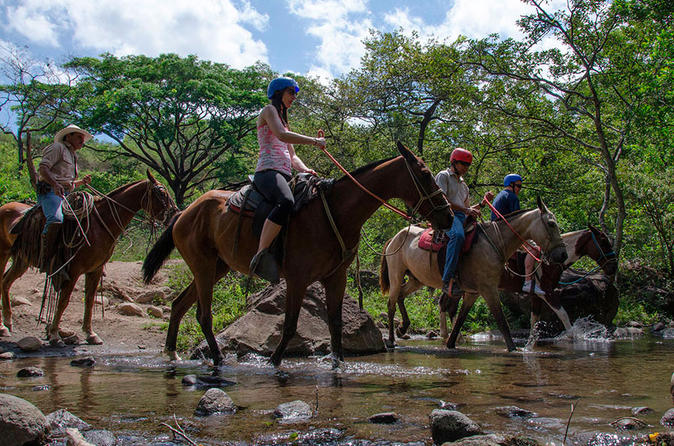 On this full day horseback riding tour you will get to ride into a tropical rainforest to see two beautiful waterfalls.
On the way enjoy the rainforest vegetation and jungle animals like howler monkeys, spider monkeys and a wide variety of tropical birds.
Then you exciting day will continue with a zip line canopy tour and see the forest from a birds eye view.
Then finish the tour enjoying a steam bath or a mud bath in the hot springs.
For tour prices, transportation and availability:
Region: Central Valley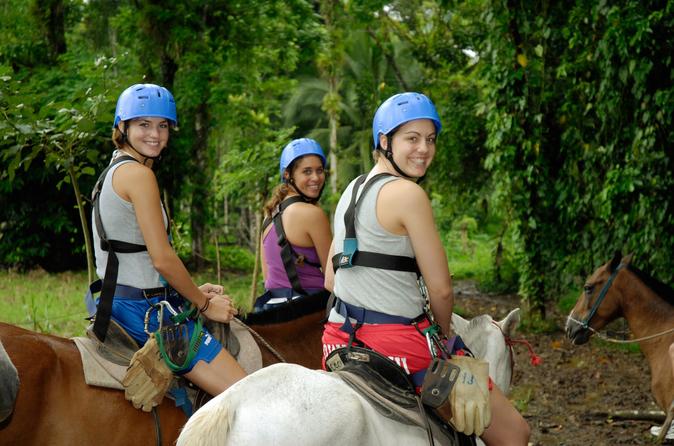 This full day exciting combination hiking and horseback tour is a short distance from San Jose.
First you will take a river boat ride through Puerto Viejo de Sarapiquí where you will see sloths, herons and the occasional river crocodile.
At the end of the boat ride, enjoy the included lunch then you will take a one hour horseback ride into the jungle.
As you ride through the lush vegetation keep an eye out for howler monkeys along with herons and iguanas.
For tour prices, transportation and availability:
Region: Guanacaste & Northwest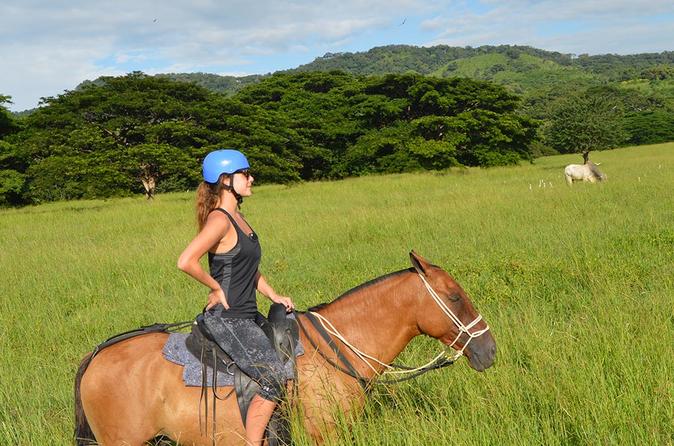 On this 2 hour horseback riding tour you will be riding through the tropical dry forest area of Guanacaste.
Your knowledgeable guide will take you on a ride that will give you spectacular views of the Pacific Ocean.
On the way you will see deer, howler monkeys, spider monkeys and a wide variety of birds. No prior horseback riding experience is necessary.
For tour prices, transportation and availability:
Region: Guanacaste & Northwest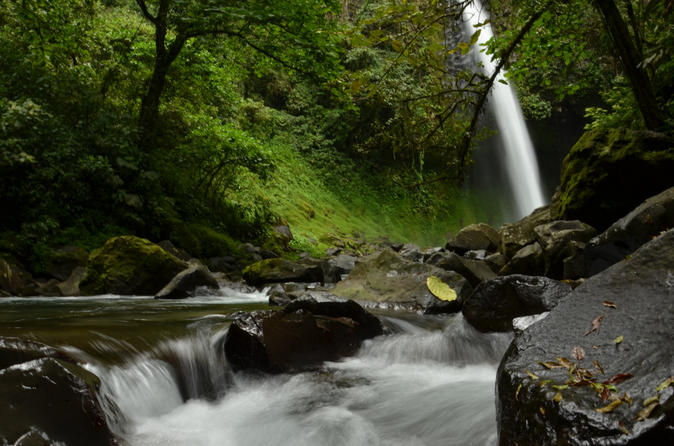 Take a horseback ride to the famous La Fortuna Waterfall that are over 70 meters high (210 feet).
On the way you will ride through cattle farms and see the authentic Costa Rica few people see.
On the way to the falls, your guide will point out oropendolas and toucans. When you get to the falls, take a break and go for a swim in the pool under the falls.
For tour prices, transportation and availability:
Region: Central Pacific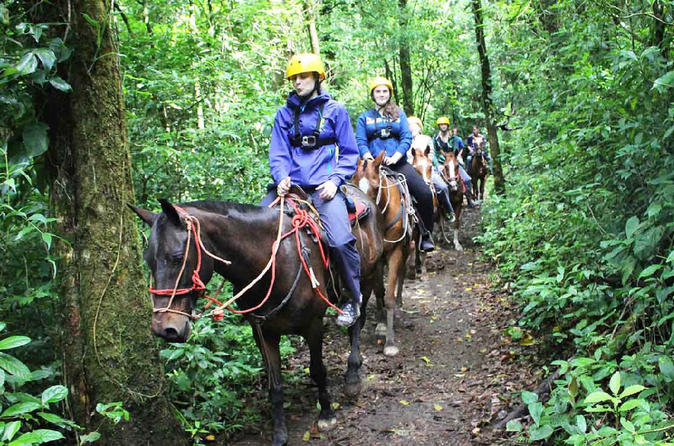 Relaxing and educational. Take a 2 hour horseback ride with a local guide who will lead you through private trails that traverse the Monteverde Cloud Forest region.
You will have all the time you need to take fantastic photos of native plants, wildlife and panoramic mountain views.
The cloud forest's micro climate is cool and refreshing. You'll be glad that you experienced this unique and bio diverse section of Costa Rica.
For tour prices, transportation and availability:
Beach Horseback Riding Tours
Region: Nicoya Peninsula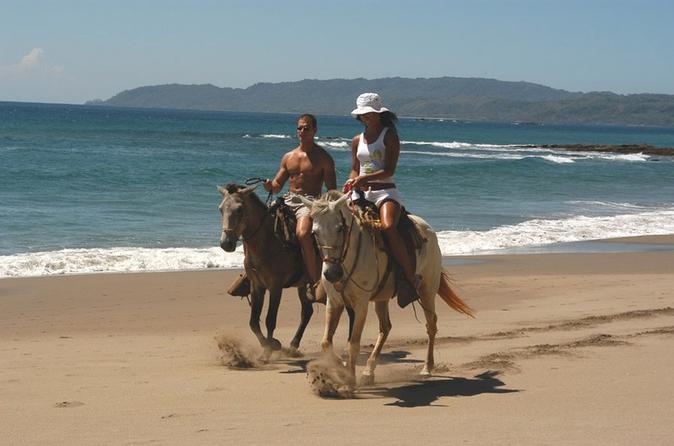 It's great to have good horseback country so close to Flamingo Beach. You'll take an air conditioned bus to the corral location.
These horses are healthy and big enough to take passengers of all sizes and skill levels. You'll ride through hills, pastures, beaches and villages.
Along the way you'll likely see big iguanas, howler monkeys, green parrots and many types of tropical birds. The ride is family friendly and easy to schedule with multiple trips each day.
For tour prices, transportation and availability:
Region: Central Pacific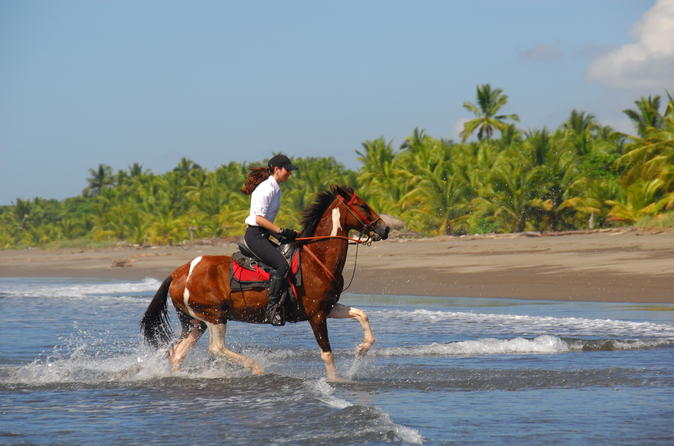 Ride through forested trails as along Playa Esterillos on Costa Rican-bred Mustangs. A local, bi-lingual cowboy will give you all the help you might need with your riding.
A nice feature on this tour is the ability to customize a trip to your own group's desires. Or a romantic sunset ride for couples can be arranged.
Photo and videography services are provided so that you can focus on riding and enjoying the sites of the beautiful Pacific Coast.
For tour prices, transportation and availability:
Region: Guanacaste & Northwest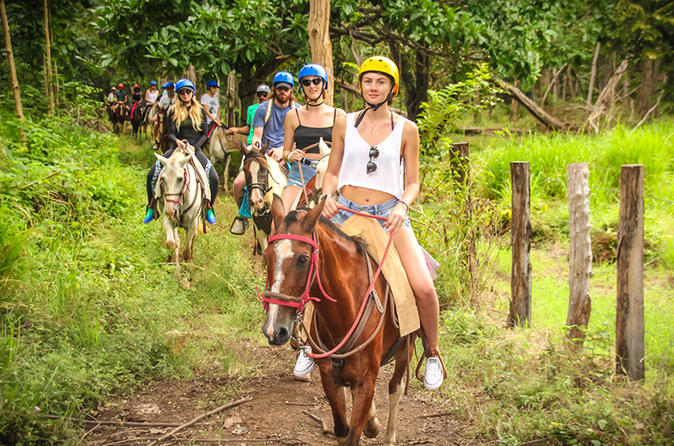 There is no better way to experience the Diamante Eco Park than on horseback.
Go experience the best of Coast Rica where you will be guided through the dry tropical forest area.
Or you can choose the ocean view ride where you will get to take your horse on the beach.
Either way no previous horseback riding experience is needed and riders 4 and up are welcome.
For tour prices, transportation and availability:
General Riding Tours
Region: Central Pacific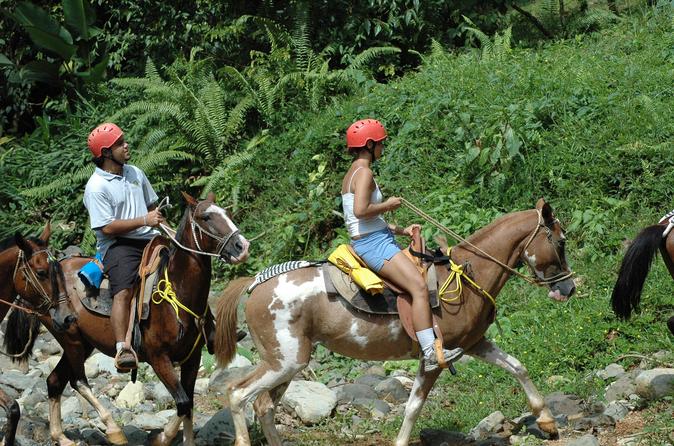 A great look at the Gulf of Nicoya from vantage points in the mountains accessible only on horseback.
You'll stop along the way at a monkey sanctuary and also experience the giant crocodiles under the Tarcoles bridge.
If you love horses and you love the tropical landscape of Costa Rica then you will enjoy this tour.
Beginner or experienced riders are welcome. Your guide will assist in any way needed so that you have a great ride.
For tour prices, transportation and availability:
Region: OSA Peninsula & Gulfo Dulce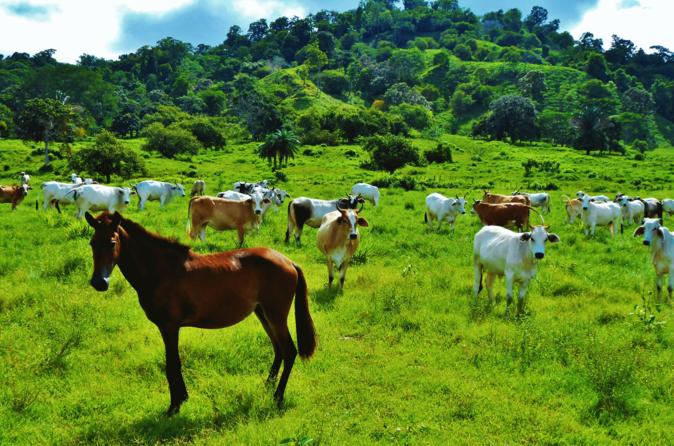 After a short ride in a meadow to learn how to control your horse, you will continue on to the rainforest.
Your guide will point out all the interesting sights along the way.
As you ride by the streams, you will have a chance to stop ad taste some of the native fruits.
You will continue on to you see a view of the Golfo Dulce Bay. Your tour will finish up with a swim in a pool under a waterfall.
For tour prices, transportation and availability:
When to Visit Costa Rica For Horseback Riding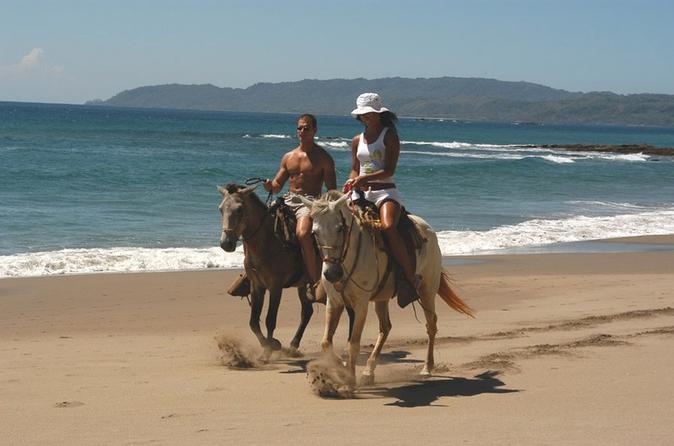 The peak tourist season is from December to April. This is for a very good reason. The rest of the year is very wet and rainy. You may be able to pick up cheap airfare and hotel rates during the rainy season but you take a chance at not being able to see the sights you want.
This may be because of poor visibility or the areas might be closed altogether. You might get lucky and catch a break with good weather, however. It is advisable to go during the dry season though so you know that you will enjoy your trip.
If you are looking for the right time of day to go horseback riding in Costa Rica, it all depends on where you are riding. For beach riding, sunrise and sunset give you the best sights and are very romantic.
If you are riding through the jungle and forests, you need as much daylight as possible since the trees will already be blocking light. Riding at night is not advisable. Horses can get scared by noises in the dark and you don't want to be riding one if they get spooked.
If you are taking a multi-day trek to see many areas of Costa Rica, you will be camping out or staying in pre-determined and set up sites at night.
The horses will be tied up or will stay in stables that are arranged at these areas so that you can ride during the day. Be prepared with the proper clothing for tropical weather during both day and night for longer treks.
Horseback Riding 101 in Costa Rica
Whether you are riding in Costa Rica or anywhere else, it is important to know basic horseback riding techniques so that both you and your horse are comfortable. A proper fitting helmet is absolutely vital so that you are protected if you fall of the horse.
A good tour company will provide you with a proper helmet so that you are safe. Usually free of charge or for a nominal fee. To keep your feet in the stirrups, boots definitely help, so be prepared with proper footwear.
When sitting in the saddle, you want to sit deep. This means sitting back and not forward against the reins. When you sit deeper in the saddle, your horse will be more comfortable as well. You want to be comfortable because you will be using your legs to help steer the horse in the direction you need it to go. Relax your seat and legs as much as possible. Sit up straight.
Your arms should be relaxed so that the horse can feel the slight movements you make on the reins. Even though it may not feel like a slight movement in the reins would be noticeable, the horse will feel it and respond.
You will use pushes on the reins instead of pulls. This means pushing left slightly to go right and pushing right slightly to go left.
Your instructor, before leaving with your horse on your trek, will have to show you how to properly speed your horse. Horses have four gaits:
These are listed from slowest to fastest. Be sure to only go as fast as you feel comfortable with your horse. If you are a beginner, you may only feel comfortable at a walk. Most horseback riding treks will go at a walking pace so you can see the sights, but you may want to enjoy a faster pace if you are on the beach or in an open countryside.
Video: Basic horse back riding techniques.
Horse Riding: How To Start
Tips for Horseback Riding in Costa Rica
This first tip might sound a little odd and it might feel a little odd as well. This is especially because beginners will probably feel more comfortable keeping both hands on the reins at first.
However, because you will be making only slight movements, it is advisable to use your non-dominant hand on the reins. You will have a lighter touch with your non-dominant hand.
Plus, this way your dominant hand is free to use a camera, reach for food in your backpack without dismounting, etc.
Many horses are trained to move left or right or even speed up or slow down with noises made by the rider. This is in addition to movements on the reins and by the legs.
If this is the case, the instructor will let you know what they are – they are usually the same depending on English or Western riding, such as saying "Whoa" to stop.
If you are a beginner, make sure you have the instructor spend as much time with you as you need to feel completely comfortable with the horse.
You should know all the movements you need to know with your seat, your legs, and the reins. You should know noises and calls. You should know how to mount and dismount as well because you will most likely have to along your trek at least a couple of times.
You should practice this several times with the instructor and the horse you will be riding so both you and the horse are comfortable with it.
If you have a problem stopping your horse, remember that three actions go into every stop. You must:
Give the "Whoa" call
Pull back on the reins
Sit deeper in the saddle
All of these three actions must take place simultaneously in order for the horse to understand that you want to stop. If you do these correctly, the horse will stop the way you intend for them to every time.
Remember that above all else, you must relax! The horse will pick up on any tension you have and they will be tense as well. When they are tense they will be more likely to be spooked by odd noises.
Because Costa Rica is tropical there are a lot of things that can spook a horse so you want your horse to be as relaxed as possible. Plus, if you are relaxed, you will enjoy the scenery around you much, much more.
There is no better way to enjoy the lush, beautiful landscapes of Costa Rica than by horseback. It is completely natural to feel the give and sway of the horse beneath you as you take in the sights and sounds around you.
Just make sure to take plenty of pictures to show the friends and family that weren't able to enjoy the wonderful trip with you! Chances are they will want to join you on your next trip, because you will definitely want to come back.
---
I hope this guide was helpful for finding the best horse back riding in Costa Rica to suite your experience level. If you want to comment or recommend a riding tour I didn't include, please use my contact form to get in touch. Have fun and be safe out there!
Horseback Riding Tour by the Arenal Volcano River is our top pick for the best tour