Nestled on a high plateau in the center of Antolia, there is an ancient district known as Cappadocia. Famous for its unique landscape, Cappadocia spent hundreds of years being invaded and raided by various parties including The Persians, The Romans, The Ottomans, The Byzantines, and even Alexander the Great. Each of these at one point considered Cappadocia to be theirs.
So, what makes Cappadocia so unique and sought after? Well, partially it's location between Asia and Europe where even the renowned Silk Road Trading Route once went through. However, what makes Cappadocia truly special is the magic of the fairy chimneys! These breathtaking rock formations are sometimes over 130 feet tall! There are thousands of these unique pillars and they certainly seem magical.
Of course, they do have a scientific explanation as well! Millions of years ago, when volcanic activity spewed ash across Turkey, it built up over time and eventually solidified into formations of porous rock. Overtime, this rock was slowly eroded.
After millennia of this erosion, only the more solid sections were left behind forming these stunning pillars. Since a layer of basalt covered the ash-formed rock, the top of the pillars feature large protective caps where the basalt didn't erode as quickly as the rest of the chimneys.
Humans realized that these towers were perfect for excavating and quickly used them to create homes and churches. The caves leading through the area feature huge underground cities and some of the earliest records mentioning Cappadocia date back to 6th Century BC. For all of these reasons, hot air balloon tours are a must-do activity over Cappadocia for anyone visiting Turkey. Below, you will find some of the best hot air balloon tours available in Turkey, today!
Best Hot Air Balloon Tours and Rides in Turkey
---
Quick Answer: The 5 Best Hot Air Balloon Tours and Rides in Turkey For 2023
---
Hot Air Balloon Tours and Rides in Turkey Reviews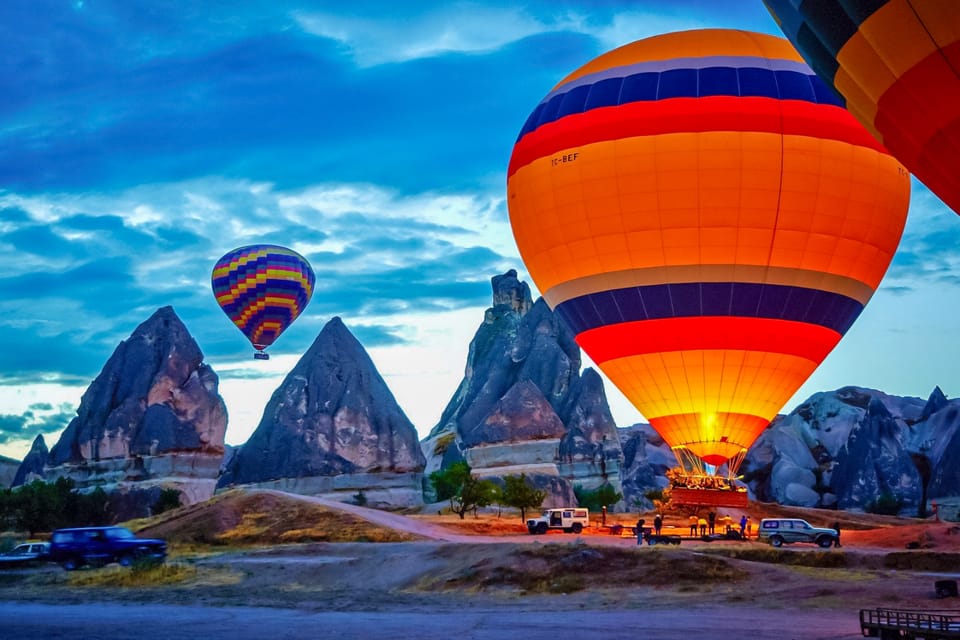 Tour Highlights
:
---
Total duration: ~2 hours
Flight duration: 45 minutes-1 hour
Breakfast included
Postflight champagne toast
If you're looking to add an especially magical touch to your Turkey trip, look no further! This amazing tour from Tourmania over Cappadocia has everything you could hope for. Before the sunrise, you will be picked up from your local accommodations in a Mercedes-Benz Sprinter. This allows you to sit back and relax in comfort and style as you are transported safely to the launch site.
Upon arrival at the launch site, you will be treated to a delicious preflight breakfast including some hot coffee or tea to help shake off that morning chill. As you enjoy these yummy treats, you will be able to watch as the hot air balloons are prepped and inflated getting ready to whisk you up into the sky!
Once you've finished breakfast and completed a quick safety briefing, the sun should be rising and that means you will be too! As the sun comes up, you will load up into your balloon with fellow tour-goers and the expert Tourmania crew. The balloon will rise up to an altitude of around 300 meters or 1000 feet. This gives you the most stunning surround view of Cappadocia.
You will be flying directly over the spectacular fairy chimneys including the houses and churches carved into them. As the wind blows, you will be wondrously carried across the landscape over the nearby mountains and valleys. While the time varies slightly based on the exact weather conditions, you should be in the air for around an hour. The fun isn't over then, though!
Once you have safely landed back at the launch site, you and your fellow tour-goers will get to enjoy a lovely champagne toast! Finally, you will be transported back to your hotel in the Mercedes-Benz Sprinter where you can continue with whatever plans you have for the rest of the day!
100% refund for cancellations within 24 hours of tour experience
---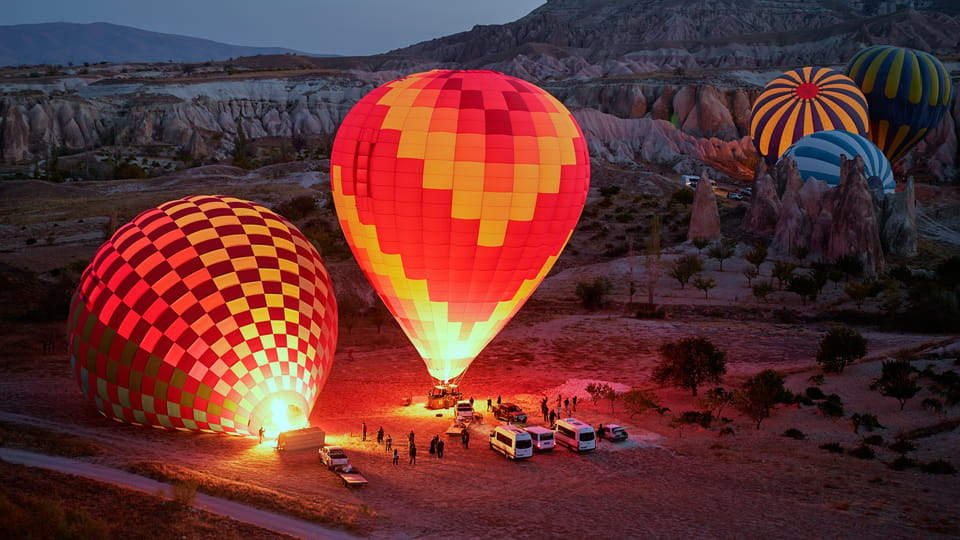 Tour Highlights
:
---
Total duration: ~3 hours total
Flight duration: 45 minutes-1 hour
Food and drink not included
Live tour guide
Another option from Tourmania is this budget hot air balloon tour! Transportation for this tour comes in the form of a minibus that will pick you up directly from your chosen Cappadocia hotel. Once on sight, there won't be any food or drink, but you do get to watch the fun process of your balloon as well as many others from other tours being set up and inflated.
You may even watch as other tour goers float high above you prior to your own lift-off. Your licensed crew and pilot will share some important safety info with you before you load up. They will tell you everything you need to know to do and not to do during the take off, flight, and landing of your hot air balloon tour.
It won't be long before you and your group are the ones taking off soaring approximately 300 meters up above the famous Goreme Valley! This valley that has been sculpted by millions of years of erosion is one of the main reasons that Cappadocia is such a major travel destination.
From the safety of your balloon, you will be able to see the fairy chimneys, houses, and churches in all their glory! The included live tour guide will be happy to give you some fascinating information about the history of the area as well as answer any questions that may arise whether about the tour or the balloon itself!
While it may take closer to 3 hours for the entire experience from start to finish, your time in the air should last for almost an hour as the wind guides you across the tour area. Once you are back on the ground, you will be able to take the minibus back to your hotel.
100% refund for cancellations within 24 hours of tour experience
---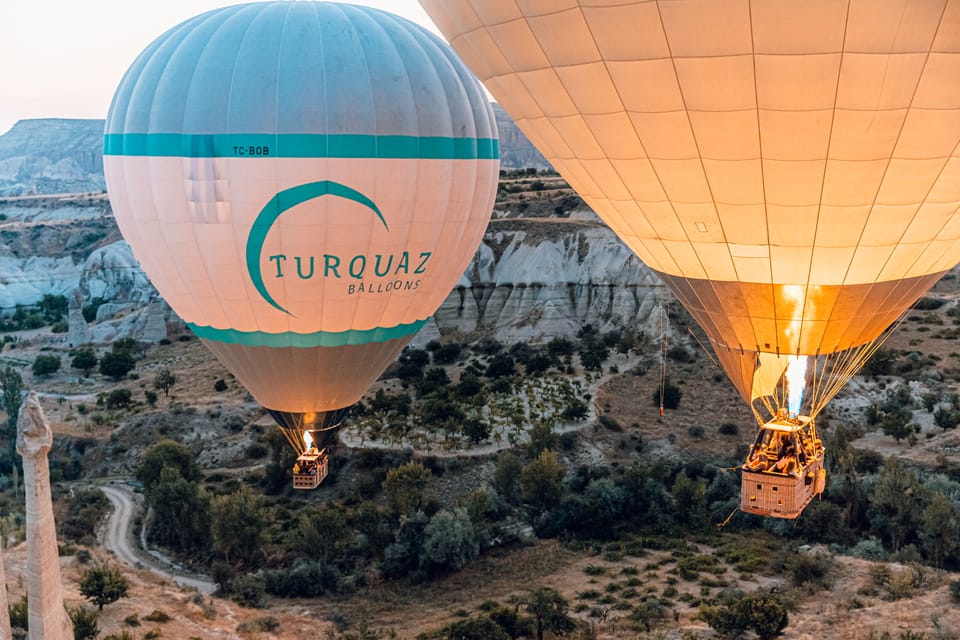 Tour Highlights
:
---
Total duration: ~3-3.5 hours
Flight duration: Minimum of 1 hour
Light breakfast included
Postflight champagne toast
If you're interested in maximizing your actual flight time, this Cappadocia tour from Turquaz Balloons might just be the perfect choice. This is one of few tours guaranteeing at least one full hour of flight time whereas many other tours will sometimes cut a flight shorter depending on the exact wind speeds of the day.
Not only does this tour make sure you get your full hour of flying, but the trained pilots actually go out each morning with plenty of time before the start of the tour to find the most ideal take off spot of the day. Since wind conditions as well as air traffic change so constantly, this is the only way to really guarantee you have a perfect spot to start your tour.
Before the tour, the exact location will be communicated to the drivers that are sent to pick you up from your hotel. Both the preflight pick-up and postflight drop-off are included with the tour. A selection of light breakfast items will be provided to you prior to take-off. Once you're finished enjoying your meal, you will take off into the sky above the stunning volcanic formations including the fairy chimneys, of course!
As you rise up over the land, you will get to watch the gorgeous Cappadocia sunrise. This is another tour that offers that delectable and exciting champagne toast to share with your group once the balloon has landed! On top of pick-up, drop-off, breakfast, and champagne, this tour also offers a flight certificate and even a special medal to commemorate your hot air balloon experience!
100% refund for cancellations within 24 hours of tour experience
---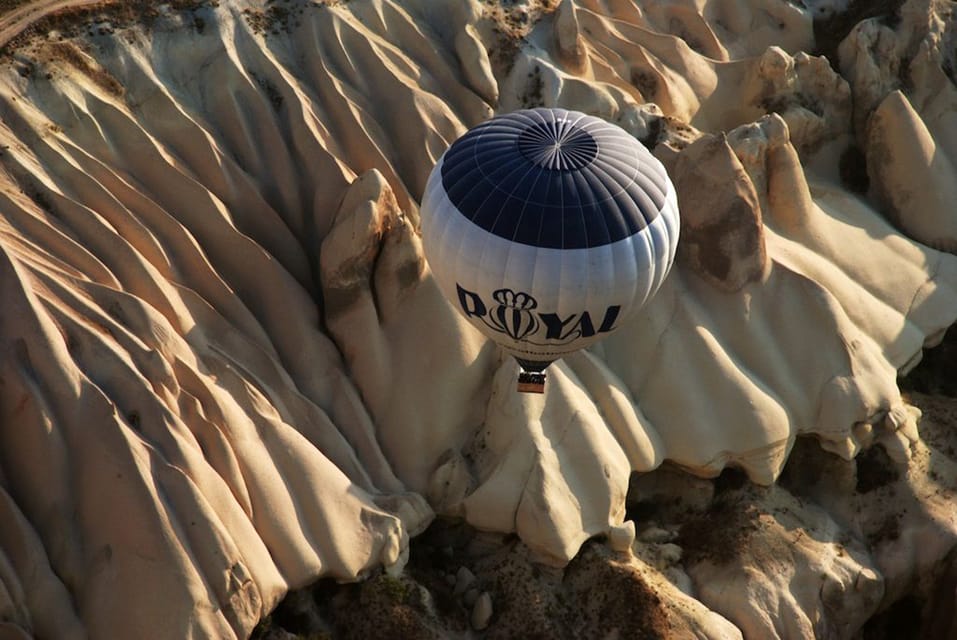 Tour Highlights
:
---
Total duration: ~3 hours
Flight duration: ~1 hour
Breakfast included
Postflight champagne toast
Royal Balloon Cappadocia proudly brings us this luxurious hot air balloon tour! One of the things that Royal Balloon Cappadocia believes most strongly in is providing a high-quality, luxurious, and truly special experience for each and every one of their guests. To do this, they have purposely avoided becoming a "mass" company with the honest belief that quantity does not equal quality.
This is one of the only companies that is using Hyperlife Silver Coated Balloons. These exemplify the highest safety and quality standards on the market. To start your Royal experience, you will be chauffeured from your hotel to the Royal Balloon Cappadocia headquarters. Here you can enjoy yummy breakfast choices and your choice of bottled water or orange juice.
Once the pilot has found you a perfect launch site, you will be transported there for preflight instructions as your pilot goes over basic safety rules for the flight. You'll drift over the magnificent landscape and between rock formations like the fairy chimneys as you gaze on the Turkish unmatched sunrise.You'll get plenty of local facts and all your questions answered by your live tour guide.
Overall, the experience is right around 3 hours with about one-third of your time spent up in the air on the hot air balloon. To ensure that your experience is sensational from start to finish, you will end the experience on the ground with a champagne toast and a commemorative medallion for each tour goer to enjoy!
100% refund for cancellations within 24 hours of tour experience
---
Tour Highlights
:
---
Total duration: ~3 hours
Flight duration: ~1 hour
Light breakfast included
Commemorative flight certificate
Turca Balloon is the provider of this Cappadocia hot air balloon tour! They pride themselves with ensuring the comfort and safety of each guest while also providing the most unforgettable and memorable experience possible. This flight also takes off first thing in the morning to allow you to view the magnificent Cappadocia sunrise over the unique Turkish landscape of the area.
You will get to drift along the breeze viewing the spectacular towering fairy chimneys and other stunning features of the area. Both pick-up as well as drop-off is provided for you from your hotel to the flight area. Before take-off, you will attend a short safety briefing to help give you peace of mind for the flight.
Individual spots are marked in the basket of the balloon to guarantee each person has their own comfortable space for the duration of the flight. This is another flight lasting right around the 1-hour mark in the air. While other hot air balloon tours of the area tend to provide their breakfast options prior to the flight, it will work a little differently for this one. It is once you are safely back on the ground after the flight that refreshments are served.
Most flights are very early in the morning – starting before sunrise. So, this can be a more comfortable option if you don't like to eat first thing after an early wake up. Once you have built up your appetite after an exhilarating flight, you will be able to enjoy some yummy breakfast options as well as included beverages. Finally, you will receive a flight certificate commemorating the adventure before being driven back to your hotel!
100% refund for cancellations within 24 hours of tour experience
---
We chose the Cappadocia: Fairy Chimneys Balloon Flight with Breakfast as our Editor's Choice for Ballon Tours in Turkey.