When you're wandering the clean streets of Dubai City, admiring the Dubai Fountain and tall skyscrapers, it's difficult to believe just a few miles away are unspoiled sand dunes in a desert that stretches off into the horizon.
If you want to see the real Dubai, the traditional life of the Bedouins, the best way to do that is to explore the desert. And taking a quad safari in Dubai is a great way to do that.
There are many Dubai quad tours. Some are simply quad rental in Dubai to view the spectacular desert scenery. Others involve camel rides, local food, and traditional dances. You're an individual, just as I am, so you have your own interests and checklist of things you'd love to do while quad biking in Dubai.
I've selected 5 top-rated quad bike tours from Dubai. Please look through the reviews below and see which of these tours most appeals to you. I know that one will be absolutely perfect for your tastes.
Best Quad Tours In Dubai
| | Dubai Evening Desert Quad Bike Adventure & BBQ Dinner | Dubai: Morning Quad Bike, Sandboarding and Camel Ride | From Dubai: Morning Desert Safari with Quad Biking |
| --- | --- | --- | --- |
| | | | |
| | | | |
| Departure Point | Hotel pick-up | Hotel pick-up | Hotel pick-up |
| Departure Time | 3:15 PM | 7:00 AM | 7:00 AM, 8:00 AM, 9:00 AM |
| Duration | 6 hours | 4 hours | 3 hours |
| Includes | Professional guide, quad bike ride, Arabic barbecue dinner, belly dancing performance, tanoura show, shisha, camel ride, henna tattoo, Arabic coffee, soft drinks, and safety equipment | Professional instructor, 45-minute quad bike ride, bottled water, camel ride, sandboarding experience, and safety equipment | Professional guide, quad bike ride, soft drinks, and safety equipment |
| | | | |
---
Quick Answer: The 5 Best Quad Tours In Dubai
---
Best Quad Tours In Dubai Reviewed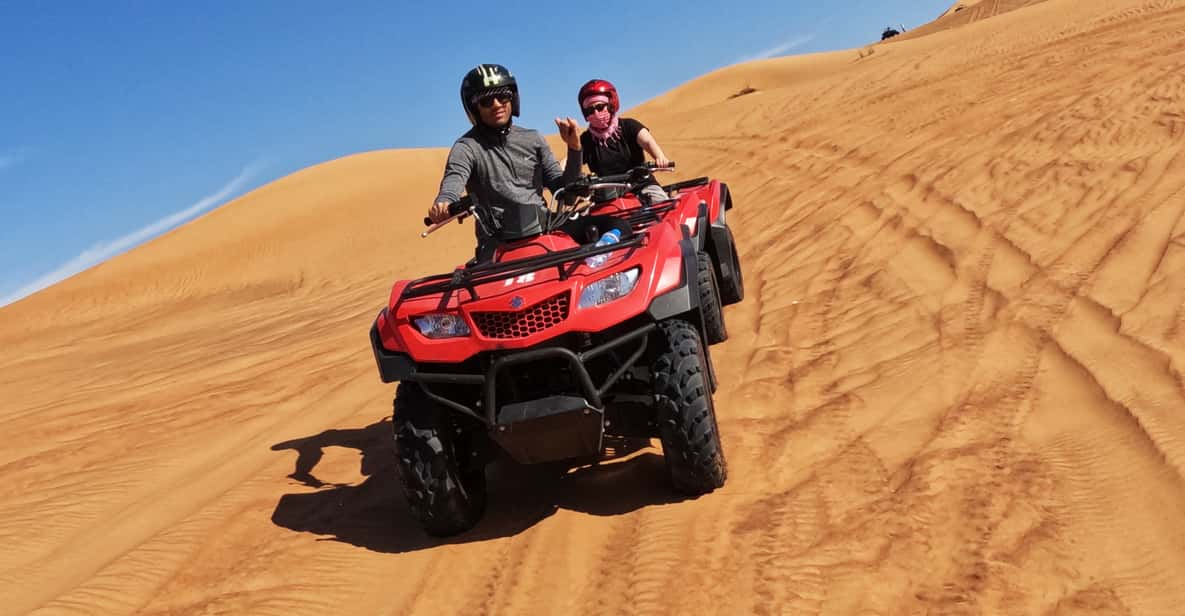 Tour Highlights at a Glance
:
---
Departure Point: Hotel pick-up
Departure Time: 3:15 PM
Duration: 6 hours
Includes: Professional guide, quad bike ride, Arabic barbecue dinner, belly dancing performance, tanoura show, shisha, camel ride, henna tattoo, Arabic coffee, soft drinks, and safety equipment
This is a fantastic quad bike tour of Dubai Desert for anyone who wants to experience all that the desert has to offer, from visiting a Bedouin camp and riding a camel to eating traditional Arabic cuisine and watching a belly dancer.
Your tour begins with a safety briefing, after which you can ride your own quad bike across the sand dunes into the desert. In the desert, your professional guide will lead you to a Bedouin camp. You'll also get the opportunity to try out a more traditional form of desert transport on a camel ride.
Expand To See MoreSee Less

In the camp, you'll be treated to traditional Arabic hospitality, with a traditional Arabic barbecue, salad, and dessert. While you eat, enjoy performances from professional dancers—a belly dancing show and tanoura dancing performance.

Watch the sunset over the desert as you smoke a shisha pipe and drink the local Arabic coffee. When the day is done, you can return to your hotel satisfied you've seen the real Dubai.
For tour prices, transportation and availability:
---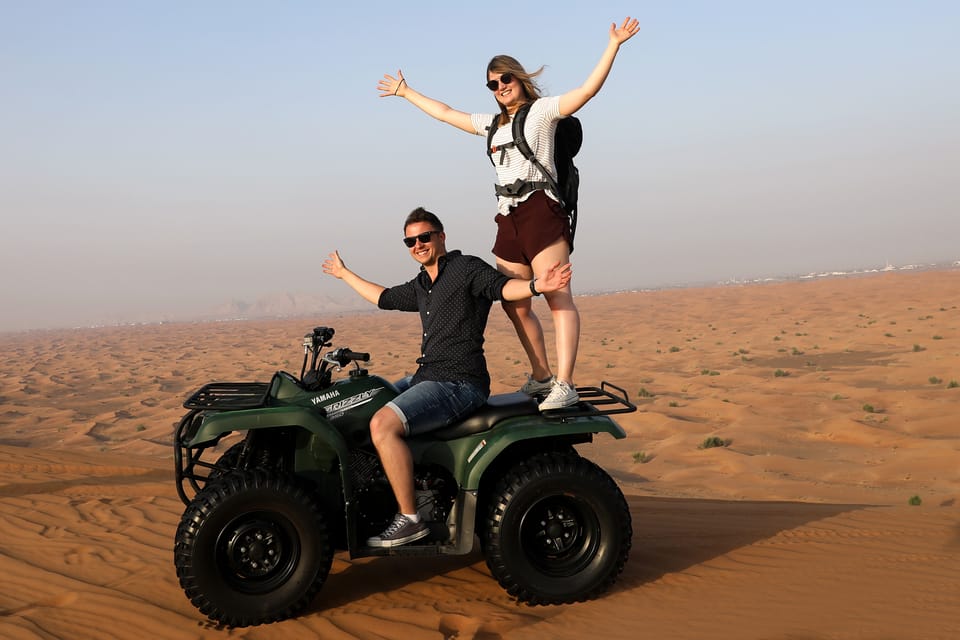 Tour Highlights at a Glance
:
---
Departure Point: Hotel pick-up
Departure Time: 7:00 AM
Duration: 4 hours
Includes: Professional instructor, 45-minute quad bike ride, bottled water, camel ride, sandboarding experience, and safety equipment
If you want to experience a desert safari from Dubai in the morning, this is a great excursion for you. Head out before the desert grows too hot and see the sand dunes at their most beautiful.
After professional instruction, ride over the shifting sands on a powerful quad bike. Once you've reached the heart of the desert, try your hands at the new sport of sandboarding. Try to keep your balance as you fly down the slopes.
Expand To See MoreSee Less

You can't explore the desert without experiencing a traditional camel ride. Ride around the dunes and view the desert from a loftier perspective.

Before you're escorted back to your hotel, ensure you take lots of photographs to remember your desert experience. You're only a short, air-conditioned drive from Dubai City, but on a quad in the Dubai Desert, it feels like another world.
For tour prices, transportation and availability:
---
Other Experiences You May Enjoy:
---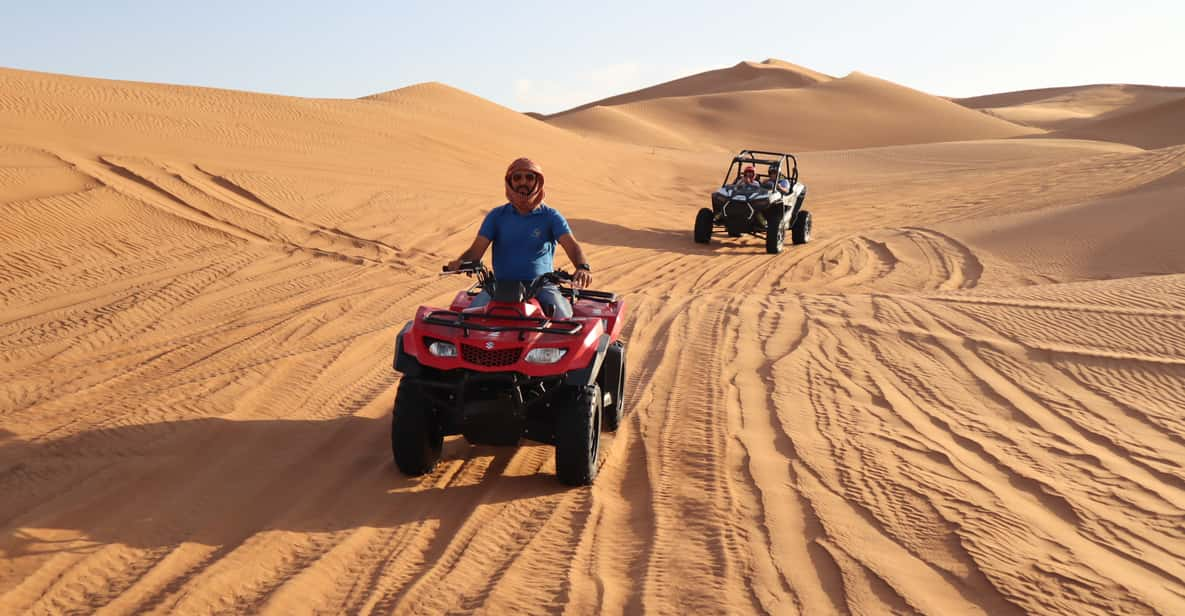 Tour Highlights at a Glance

:
---
Departure Point: Hotel pick-up
Departure Time: 7:00 AM, 8:00 AM, 9:00 AM
Duration: 3 hours
Includes: Professional guide, quad bike ride, soft drinks, and safety equipment
This is a great quad tour from Dubai if you just want to ride a quad bike in the desert. The desert near Dubai City is stunning, with pristine sand dunes and open blue skies.
During your drive into the desert inside an air-conditioned 4×4 vehicle, you'll get to see the outer suburbs of Dubai and the sudden transformation as civilization gives way to the wilderness. Once deep into the desert, you'll receive expert tuition about how to safely use your quad bike.
Expand To See MoreSee Less

When you're ready, put on your safety helmet and follow your guide across the sand dunes and enjoy the adrenaline rush while exploring the desert. Stop for a break in a scenic area where you can take photographs and enjoy a refreshing drink. You'll love desert quad biking in Dubai.
For tour prices, transportation and availability:
---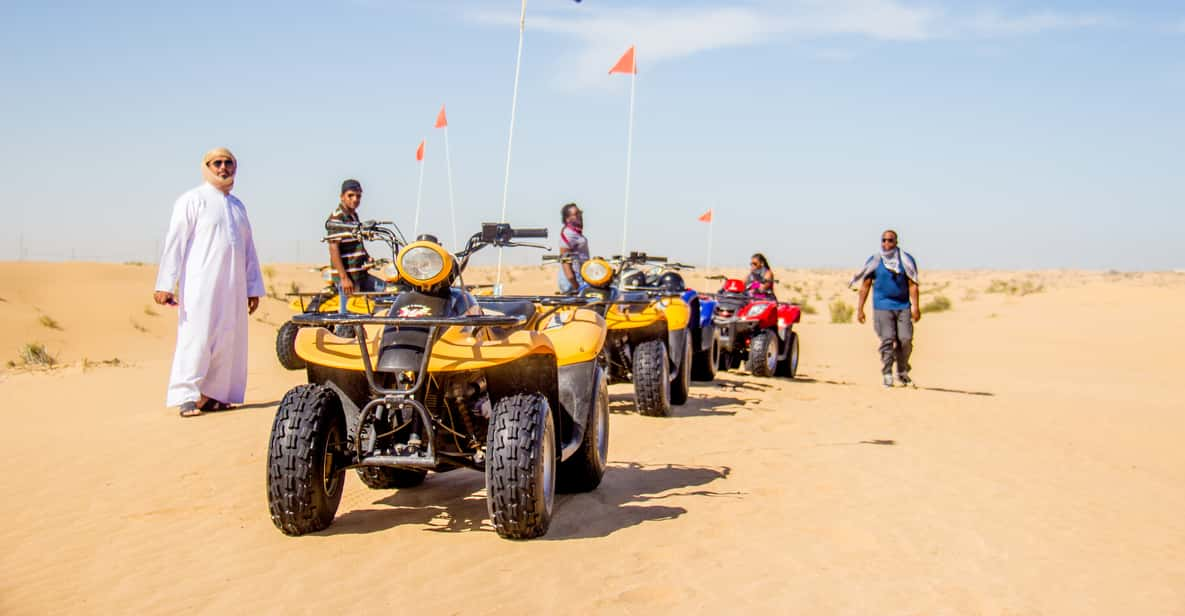 Tour Highlights at a Glance
:
---
Departure Point: Hotel pick-up
Departure Time: 7:00 AM
Duration: 3 hours
Includes: Professional guide, quad bike ride, soft drinks, and safety equipment
If you enjoy exploring unique natural environments, you'll love this quad desert trip in Dubai. You'll avoid the heat of the midday sun by setting out into the desert in the early morning.
After receiving expert tuition, your professional guide will lead you across the shifting sand dunes as you ride your own quad in Dubai. Enjoy viewing the desert from this unique perspective and exploring the local landscape.
Expand To See MoreSee Less

During your tour, you'll have the opportunity to stop for a soft drink and perhaps take some photographs of the stunning scenery and the new friends you've made on this quad bike rental in Dubai.
For tour prices, transportation and availability:
---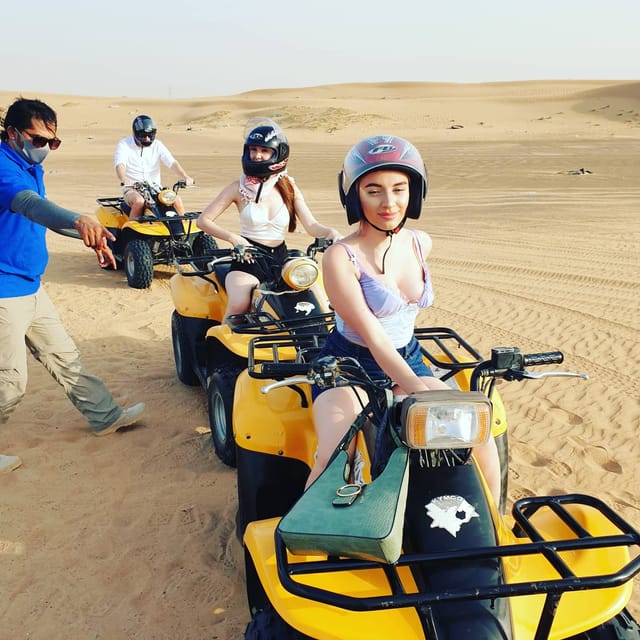 Tour Highlights at a Glance
:
---
Departure Point: Hotel pick-up
Departure Time: 3:00 PM
Duration: 6 hours
Includes: Professional guide, quad bike ride, Arabic barbecue dinner, belly dancing performance, tanoura show, shisha, visit a camel farm, camel ride, soft drinks, and safety equipment
This amazing quad bike tour from Dubai offers you fantastic value for money. It's a great excursion if you're really interested in the local culture.
During your drive into the desert inside an air-conditioned 4×4 Jeep, you'll witness a stunning sunset over the desert. Your driver will take you to a Bedouin camp, where you'll be welcomed with a shisha water pipe.
Expand To See MoreSee Less

After a warm welcome, your hosts will take you to visit their camel farm where you'll have an opportunity to ride a camel across the desert sands. The locals will also introduce you to henna designers and sand art.

Back in the camp, enjoy a traditional Arabic barbecue meal with salad and dessert and listen to Arabic music. You'll also be treated to a belly dancing show and see a tanoura dancing performance.

Before returning to your hotel, you'll be given a 15-minute tour of the area around the camp on a quad bike. This affordable quad bike safari in Dubai is the best way to experience Bedouin desert life while you're visiting Dubai.
For tour prices, transportation and availability:
---
Dubai Travel Guide
Dubai is a modern city of unparalleled expansion. Over a period of 50 years, the population has grown from 60,000 people to 3,188,000.
Obviously, with that growth over 98% of the city's buildings and infrastructure is brand new. Here's where you'll find the tallest building, the tallest hotel, and the busiest international passenger airport in the world.
But the history of Old Dubai goes back over 3,000 years and the desert wilderness is only a short drive away. Today, there's lots for everyone to see and do in this fascinating global supercity.
Airports & Entry
Although the Emirate of Dubai is a small kingdom within a country of fewer than 10 million people, Dubai International Airport is a major transportation hub and the world's third busiest airport.
That means the airport is huge and offers some great facilities. There are 3 terminals and 4 concourses. However, while Terminal 3 is modern and the largest airport terminal building in the world, Terminals 1 and 2 are dated and not so plush.
Inside the airport, you'll find a broad range of stores and eating outlets—like Costa Coffee, Baskin Robbins, and McDonald's—many open 24 hours. There's free Wi-Fi on the "DXB Free WiFi" and "DWC Free WiFi" networks and abundant mobile charging stations. If you require internet access but don't have a mobile device, there are internet kiosks beside Connect and Global Link (Gate C16).
There are Information Desks near the Duty-Free stores Airside, and assistants wandering around the airport wearing blue polo shirts with a "May I Help You?" logo. You can find 24-hour currency exchange counters in all 3 terminals as well as ATMs.
If you're traveling with kids, there's a Children's Play Area in Terminal 3 Airside. You'll also find Baby Care Facilities throughout the airport. To gain access, visit one of the Information Desks or ask a "May I Help You?" assistant for help.
For passengers stranded at the airport for a long time, there's a Health Club with a gym, showers, swimming pool, steam room, and jacuzzi Airside behind the Dubai International Hotel. This is accessed from Terminal 1, Gate 115, or Terminal 3, Concourse 2. For the less health-conscious, there are smoking rooms in Terminal 1 Airside, Gate D12, Terminal 2 Airside, and multiple locations in Terminal 3.
In case of medical emergencies, Medical Care Centers are found in Terminal 1, Gate C13, and Terminal 3, Level 0. There are pharmacies in Terminal 1 and Terminal 3 Departures. Muslim prayer rooms are available in the car park and throughout the airport.
The airport is only 3 miles from the center of Dubai and getting there is simple by public transport. To use public transport, purchase a rechargeable NOL Card at the airport. NOL cards are used in Dubai to pay for buses, Metro, water buses, Dubai tram, and parking in RTA car parks.
The most efficient method is by Metro. Starting at 5.30 am and ending at midnight, services run every 10 minutes from Terminals 1 and 3. However, note that on Friday services don't begin until 1 pm. Note there is a special "Gold Class" carriage at the front of the train if you want a scenic front window view during your journey. There are also designated carriages for women traveling alone and children.
Despite the distance being only 3 miles, the Metro journey to the city center takes 40 minutes. Because many hotels are situated next to Metro stations, it will be better for you to know where your hotel is and to plan your journey to go straight to that station rather than traveling to the city center. The cost is around $2.
The buses are operated by RTA and depart from bus stands opposite all 3 terminals. A special SkyBus service (also RTA) connects the airport directly to the most popular hotels. You'll need a NOL Card to ride on a bus. Bus services are every 7 minutes during the day and 20 minutes at night. When the Metro is closed, you can still take a bus. The journey takes a minimum of 1 hour and may be much longer if there's a traffic jam. The journey costs around $1.
The taxi rank is situated in the ground transportation area of the airport. Taxis driven by men are cream-colored, and taxis driven by women are pink trimmed. The ride into the city costs around $42 and usually takes less than 45 minutes. If you're traveling with kids or elderly people, taking a taxi might be your best option to get quickly and safely to the hotel doorstep.
If you want the freedom of a hire car, note that there are more car rental companies represented at Terminal 1 Arrivals than at Terminals 2 and 3 Arrivals. You'll need an International Drivers' License and passport to hire a vehicle. You can hire a car for as little as $25 per day. Note that you may have to deal with traffic jams. I'd recommend using the Metro or a taxi rather than driving yourself in an unfamiliar city.
Planning Tips
Dubai is a popular destination, and the local people do their best to make visitors feel welcome. However, you're not in Kansas anymore. Here are 5 tips for a trouble-free visit.
Tip #1: Decide what you want to do before planning when to go to Dubai
The weather is super hot in the summer. There's a good chance you'll feel uncomfortable on the beach if you try to visit during summer. Spring and fall are the best times to visit to enjoy the beach. And if you're mainly interested in sightseeing, why not come in winter? However, note that December through February is the high season in Dubai, so the queues will be long. One thing you must do is a desert safari! There is no better way to see and experience the desert.
Tip #2: Buy unique art and crafts
For unique souvenirs and gifts, visit the souks in Deira. This is the traditional market area in the city, and the Deira Gold Souk is famous.
Tip #3: Be careful not to offend with your clothing
Dubai is a liberal city where 70% of the residents are ex-pats. However, it is still an Islamic city. You don't have to cover your head or wear traditional Arabic clothes (unless you're visiting a mosque) but you are expected to be respectful. Avoid showing cleavage and midriff (unless in a nightclub or on a beach). Don't wear super short shorts or skirts in public places where you're likely to mix with locals, such as the shopping malls and museums. It's not that it's against the law…it's being respectful of local customs and traditions.
Tip #4: Book in advance, especially during winter
Dubai is an especially popular destination. You won't get into most nightclubs unless you book in advance. Many popular activities, such as going to the top of the world's tallest building, can be booked in advance to avoid queues. Reputable tour companies offer refunds for tours tickets canceled with reasonable notice, so you're not risking much when you book in advance.
Tip #5: Avoid visiting during Ramadan OR be patient and thoughtful
The timing of the month of Ramadan changes every year, but for 2020 it is around 23rd April through 23rd May. During Ramadan, you will find that many local people slow down and businesses close in the middle of the day for rests or early at night when the staff are due to break their fast. It is prohibited to eat in public during Ramadan, so you'll only be able to eat in designated areas. You'll be expected to dress more modestly during Ramadan and be especially polite.
Restaurants & Eating Out
Dubai is a fantastic place to sample Middle Eastern cuisine. Because of its central location in the Persian Gulf, the local fare is a tasty combination of Arabic, Iranian, and Lebanese food.
For breakfast, you could try margoogat. This is a rich vegetable stew with added Arab spices, such as bezar, cumin, and turmeric. Often made with tomato, squash, and eggplant, Dubaites often eat this dish to end their daily fast during Ramadan. Alternatively, manousheh is a popular breakfast dish from Lebanon composed of dough or flatbread topped with Akkawi cheese, olive oil, and za'atar herbs (thyme, oregano, and marjoram). It's like a kind of pizza! You can sample Lebanese food like this at Enab Beirut, an eclectic food outlet near Al Khazzan Park.
Makbus, also known as kabsa, is a popular rice dish originating in Saudi Arabia and popular in Dubai. The rice, usually basmati, is mixed with chicken, lamb, or seafood and prepared in large pots with plenty of Arab spices, dried lemon, and salt. A popular restaurant to try this traditional rice dish is Al Barza Restaurant and Café on Jumeirah Street.
If you want to eat a traditional Bedouin dish, why not sample some camel milk and eat camel meat? Camel milk is saltier than cow's milk but lower in cholesterol, richer in protein, and with more iron and Vitamin C. Dubaite chefs like to use camel's meat in stews and burgers because of its exotic and robust flavor. You can sample camel steaks, kebabs, and chocolate camel milkshakes in Al Bastakiya Restaurant and Café on Al Fahidi Street.
Dubaite people have their own varieties of bread to eat with their meals. These include khameer, which is a date-sweetened bread you can eat on its own or filled with anything from chicken to cheese. Many eat traditional Iranian sangak, which is a leavened flatbread made from wheat. And main dishes are often accompanied by a zesty salad of cucumber, green onions, tomatoes, and mint called tabbouleh.
Speaking of salads, Dubai actually offers a wide range of traditional vegetarian dishes. Kousa mahshi is zucchini or courgettes stuffed with rice. Shirin polo is a delicious rice dish made from nuts, raisins, carrots, and basmati rice. However, be aware that there's a non-vegetarian version of shirin polo with chicken added. And fatteh is a popular evening dish consisting of bread covered with chickpeas and topped with yogurt and tahini sauce.
For dessert, try kanafeh. This is a Levantine filo pastry coated in honey or syrup and sprinkled with chopped pistachios. Or assidat al-Boubar is a popular pumpkin porridge with almond flour, butter, sugar, milk, and raisins. And you may be offered luqaimat dumplings made from flour, starch, sugar, and cardamom powder and rolled in syrup.
But no meal is complete without gahwa. This is Arabic coffee offered to guests as an essential matter of hospitality. Unlike western coffee, this is seasoned with cloves and cardamom and tastes more bitter than the varieties you may be accustomed to. You may find it served to you in tiny cups without handles from ornate coffee pots.
Nightlife & Entertainment
Despite being an Islamic city on the edge of the desert, Dubai has an extremely wild and active nightlife with modern superclubs and international DJs. It's like the Ibiza of the Muslim world. However, there are obviously many legal and cultural restrictions to be aware of.
The nightlife in Dubai starts earlier and ends earlier than in European or American cities. Nightclubs open between 10 pm and 3 am, and they are busy throughout this time with a peak around 1 am. All nightclubs and bars must close by 3 am.
All bars, nightclubs, and restaurants serving alcohol are inside hotel complexes. Legally, only hotels are allowed to serve alcohol.
You'll find the dress code in the more exclusive nightclubs much stricter than in Europe and America. You won't get in wearing shorts and crocks. You won't even gain entry wearing jeans. Bouncers typically refuse entry to large groups of men. Mixed groups of men and women and small groups find easier entry into nightclubs.
To get into many clubs, you must already be on the guest list. So, research the clubs you're interested in before setting out and make arrangements online using the club's website or Facebook page. The best way to ensure entry is to reserve a table, but this is expensive.
The legal age to drink is 21 and drinking in the street is illegal. Many clubs only admit people over 25. Patrons must show their passport at the entrance to bars or nightclubs to gain entry. Never drive back to your hotel from a bar, club, or restaurant where you had a drink because if there's an accident, even if it's not your fault, you'll be taken straight to jail. The United Arab Emirates has a zero-tolerance policy toward drink driving.
The busiest nights for nightlife are Thursday and Friday (because Friday is the Islamic Sunday). Tuesday is "ladies' night" when women gain free entry into clubs and are offered discounts and free drinks. Don't be too judgmental about "economic tourists", but the nightclubs of Dubai are renowned for the large number of beautiful Russian women guests. Many are there to work in the businesses of this busy cosmopolitan city, but a few are seeking a wealthy spouse or patron.
You'll find the nightlife where the hotels congregate, such as Medinat Jumeirah and Dubai Marina. The marina is a great place for romantic restaurant dates followed by an evening stroll along the canal.
Because Dubai is such a "Mecca" for businesspeople around the Middle East to escape the restrictions of their own city and let their hair down, you'll find literally hundreds of nightclubs and bars. Many you will struggle to enter because they all have relatively low capacities and complete to attract the many millionaires and celebrities who frequent the city. Perhaps avoid the most exclusive nightclubs unless you happen to be a billionaire or movie star.
For example, Armani/Privé is one of the most famous clubs in Dubai and located inside the world's tallest skyscraper. The dress code is super strict, and the entry and drink prices probably more than you earn in a month. If you do gain entry, you'll find a raised VIP area, a dance floor, and a balcony overlooking the Dubai Fountain. Oh, and the interior décor was designed by Giorgio Armani.
White Dubai is the largest club in the city and sits on the rooftop of the ultra-modern Meydan Racecourse Grandstand. Here's where you'll find such famous names as Jason Derulo, Akon, and Nelly. There are incredible views, amazing light shows, and a dance floor open to the stars. But this is definitely a venue you'll only get into if you're on the guest list.
A slightly less exclusive nightclub is the N'Dulge Club in the Atlantis Dubai Hotel on the famous Palm Island artificial island. This superclub features an outdoor terrace and the N'Dulge Arena. The Lounge area operates alongside Nobu, a popular restaurant.
If you're looking for a bar rather than a nightclub, you'll find a good selection around the hotels of Dubai. For example, the Lock, Stock & Barrel is a large, New-York-style bar with exposed brick walls and pool tables. They offer live music and TV sports channels. The Treehouse is a rooftop bar with a garden terrace and an ambiance aimed at romantic couples. And Fibber Magee's is a replica Irish pub designed to make you forget you're in the desert. Everything is authentically Irish, including the live Irish folk music.
Getting Around
Because of the way Dubai has developed over the past fifty years, there are multiple centers dotted all over the city at considerable distances from one another. This means it's not convenient to get around on foot. If you want to sightsee, you'll find it easiest to get around by Metro or bus. To use the Metro, buses, water buses, and the Dubai tram you'll need a rechargeable NOL Card.
Dubai's modern Metro is fully automated, so you won't see any drivers. Most of the Metro lines are above ground, so you'll get great views of the city while getting around. But the Metro doesn't reach everywhere. In New Dubai, you'll sometimes have to use the Dubai Tram. And the Palm Island has its own monorail service.
The public bus service is the most affordable option to get around the city. There are 1,500 air-conditioned buses in the city. They go everywhere and run during the night when the Metro has closed.
It's always an option to hail a taxi. While they aren't super expensive, they're pricier than the bus or the Metro. And, to be honest, you can probably get to most places on the Metro quicker than in a taxi. For ultimate freedom, you can always rent a car. To do this, you'll require an International Driver's License, passport, credit card, and insurance.
Accommodations
With its artificial islands and glitzy modern skyscrapers, you might expect Dubai to be an expensive place to stay. Yes, there are many exclusive 5-star luxury hotels and billionaires' penthouses, but there are also affordable hotels and self-catering apartments suitable for travelers on a budget.
As a general rule, the further south you go, the newer and more expensive the accommodation becomes. Since most of the more interesting attractions are to the north, I'd recommend you stay in one of the Old Neighborhoods or nearby Downtown unless you're only here for the beaches and nightlife and have a fat billfold.
The Old Neighborhoods
The older parts of the city are where you'll find traditional butchers and bakers, street food, family restaurants, tailors, cobblers, and older residential buildings. These include Bur Dubai, Deira, Karama, Jumeirah, and Satwa.
In this area, you'll also find the historic district of Bastakiya where old merchants' mansions built using coral and mud have barjeel wind towers for natural air-conditioning. Some of these interesting structures now contain cultural centers and museums.
These neighborhoods are old, but they're not run-down. And although they're the cultural heart of the city, you'll find accommodation in these areas generally cheaper than the recently developed areas. If you're planning to self-cater, this is definitely the best area for you because the shops and markets in the old neighborhoods are cheaper than in the new city.
The Novotel in central Deira provides comfy rooms, tennis courts, and both adults' and children's swimming pools within easy walking distance of the Deira Metro Station. This is a good choice for solo women, families, and couples. And if you're self-catering, consider the highly rated J5 RIMAL Hotel Apartments in Deira. The apartments come with living rooms and kitchenettes, so you can prepare your own meals and cut costs. Some of the higher-spec apartments also offer washing machines.
Business Bay and Downtown Dubai
This is the most central area of Dubai situated around the Dubai Mall between Old Dubai and Dubai Marina. It's a convenient place to stay for visiting all the attractions because it's so central and close to both Old Dubai and New Dubai by Metro.
In fact, some of the main attractions are found around the Dubai Mall, like the Dubai Aquarium and Dubai Fountain. Here you'll find a good selection of restaurants, cafés, and bars as well as some of the more upmarket hotels with a lively nightlife.
Check out hotels like the Vida Downtown Dubai, which offers modern rooms a short walk from the Dubai Mall and Metro Station. The Manzil Downtown Dubai is even closer to the Dubai Mall and Metro and located in the liveliest part of Downtown Dubai.
Mall of the Emirates and Surrounding Area
Here you'll find cosmopolitan Dubai where the mix of nationalities living and working in this area leads to a diverse range of food outlets and stores. It's central and convenient for Metro Stations.
If you want to stay in luxury, there are plenty of 5-star options in this area, such as the Sheraton Dubai Mall of the Emirates Hotel, with its plush rooms and rooftop pool. But there are still budget options, such as Centro Barsha by Rotana, which offers comfortable rooms within walking distance of the Metro and Mall of the Emirates.
New Dubai
This is that shiny area to the south of the city around Dubai Marina and the famous artificial islands of Palm Jumeirah and Bluewaters Island. This is where some of the glitziest buildings of Dubai are found. It's the place to go if you want luxury hotels with Michelin-starred chefs and gold-plated faucets.
However, since billionaires and celebrities don't use the Metro, you won't find using the Metro so convenient in this area. There are no Metro stations on the artificial islands, for example. Dubai Marina does have a Metro station and offers a promenade for keen joggers and cyclists.
This is a great area to stay if you love beaches and want to spend much of your time sunbathing or swimming. But, the whole of New Dubai is a little distant from the main attractions and the lack of Metro stations makes it inconvenient for sightseeing.
The Movenpick Hotel in Jumeirah Lakes Towers is a 5-star hotel, but it's one of the more affordable ones in this area. It's in Dubai Marina, so it's convenient for the Metro and the beaches. But if you want to stat in this area on a "budget", consider an apartment at Marina View Deluxe Hotel. I use quotation marks around "budget" because this is the most expensive area, so even the budget options are relatively expensive. All suites come with refrigerators, microwaves, and kitchenettes for self-catering options, and it's only a short walk from the Dubai Marina and Metro station.
Weather
Dubai has a hot desert climate. Unless you're from Death Valley, take what you think of as hot and double it to imagine August in Dubai. You might think that swimming in temperatures of 1000F sounds great, but by the end of the day, you may envy lobsters. Midwinter temperatures in Dubai are similar to early summer in Massachusetts.
The weather in Dubai is coldest in January, with an average daily high of 750F and a low of 580F. It's still sunny in winter. It's not too cold to hit the beach and it's a great time to go sightseeing. In April, the average high is 910F and low of 700F, which makes spring a perfect time of year for the beach.
It's hottest in August, with an average high of 1060F and low of 870F. In the afternoon, it's too hot for the beach, but it's okay before 11 am and late in the evening. By November, the average high drops to 870F and the low is 680F, making the weather much better for the beach.
Attractions
Many come to Dubai to admire the fantastic modern architecture and amazing monuments built over the past few decades, but the city also has a fascinating history.
The Dubai museum is a great place to visit to learn all about Dubai's past. The museum is housed inside the Al-Fahidi Fort, which is the oldest building in the city built in 1787. The fort's construction is entirely traditional using locally sourced materials. The walls are coral blocks cemented together with lime, and the ceilings are made from palm fronds and mud.
Inside the museum, you can learn about Dubaite cultural history through exhibitions like the traditional boats and palm-leaf house with a barjeel wind tower. Discover about Bedouin desert life and coastal pearl fishing. You'll find the museum in the Bur Dubai area of the Old City.
In the nearby Bastakia Quarter, you can see historic homes built in the 19th century for wealthy Iranian merchants who came here to deal in textiles and pearls. The traditional buildings are built from coral and lime and feature barjeel wind towers that provided natural air-conditioning.
The best-known house is one built for Sheikh Saeed Al-Maktoum, former ruler of Dubai. The building is considered an excellent example of Arabian architecture and now houses The Dubai Museum of Historical Photographs and Documents.
On the opposite side of Dubai Creek is the area of Deira. Here's where you'll find the traditional souks (markets) including the Deira Gold Souk, the biggest gold bazaar in the world. There are many historic houses in this part of the Old City including Heritage House, an Iranian merchant's house from 1890, and the Al-Ahmadiya School of 1912, which is the Museum of Public Education.
Among these historic neighborhoods is an amazing modern building called the Dubai Frame. This is a series of galleries exploring the history of Dubai housed inside a building shaped like a 492-feet-high picture frame. The empty frame is intended to "frame" both the Old City and the New City as it frames one or the other depending upon where you stand in relation to the frame.
And there are many new buildings in Downtown and New Dubai, including the iconic Burj al-Arab, which is the world's tallest hotel. The hotel stands on its own artificial island and is shaped like a dhow sail. Its underwater Al-Mahara restaurant enables diners to view the surrounding sea life while they eat, while the Skyview Bar at the top of the hotel provides fantastic panoramic views of the city.
But the most famous building in the city is the 2722-feet-high Burj Khalifa, which is the tallest skyscraper in the world. Much like outside the Empire State Building in NYC, tourists queue to visit the observation deck on the 124th floor. To avoid a long wait, buy your "At the Top" entrance ticket in advance.
Many visitors to Dubai come to admire its huge shopping malls. The Dubai Mall is an interesting place to visit not only for the stores. It houses one of the most popular attractions in Dubai—the Dubai Aquarium. The aquarium features 140 species of sea life inside a huge tank on the ground floor of the mall. You can enter the Underwater Zoo to view this tank from underneath through aquarium tunnels.
If you want to get out of the city, the Al Marmoom Desert Conservation Reserve is an interesting place to visit. There you'll find bird and animal observation platforms and other attractions. At night, the Dubai Astronomy Group holds stargazing events in the reserve because the remote desert location boasts low light pollution.