The Dead Sea is one of the most fascinating places in the world. The water there is 9.6 times saltier than the Ocean. Since the days of Herod the Great, people have traveled from Jerusalem to the Dead Sea to benefit from the therapeutic properties of the mineral rich-mud and to bathe in the warm salty water.
There are many Dead Sea tours from Jerusalem to the Dead Sea. Some are simple trips to bathe in the sea's salty water while other excursions include lots of extras. Some Dead Sea trips include visits to Jerusalem and other sites of cultural or historic importance.
I've selected 5 of the top-rated tours to the Dead Sea from Jerusalem. I believe they are the best excursions to the Dead Sea you can find. Look through the reviews below and see which Dead Sea tour from Jerusalem is best for you. Also see our Jerusalem Travel Guide for valuable travel-related information.
Best Dead Sea Tours From Jerusalem
| | The Dead Sea & Masada Full-Day Tour from Jerusalem | Jerusalem and Dead Sea: Full-Day Tour From Jerusalem | Jerusalem, Dead Sea, and Bethlehem Tour |
| --- | --- | --- | --- |
| | | | |
| | | | |
| Departure Point | Hotel pick-up | Hotel pick-up | David Citadel Hotel, Jerusalem |
| Departure Time | 8:30 AM | 8:30 AM | 7:45 AM |
| Duration | 10 hours | 10 hours | 1 day |
| Includes | Expert guide, transportation to the Dead Sea & Masada, cable car ride, and entry fees | English-speaking guide, transport to the Dead Sea, and entrance fees | Experienced guide, transport to the Dead Sea & Bethlehem, and entrance fees |
| | | | |
---
Quick Answer: The 5 Best-Rated Dead Sea Tours From Jerusalem
---
Best Dead Sea Tours From Jerusalem Reviewed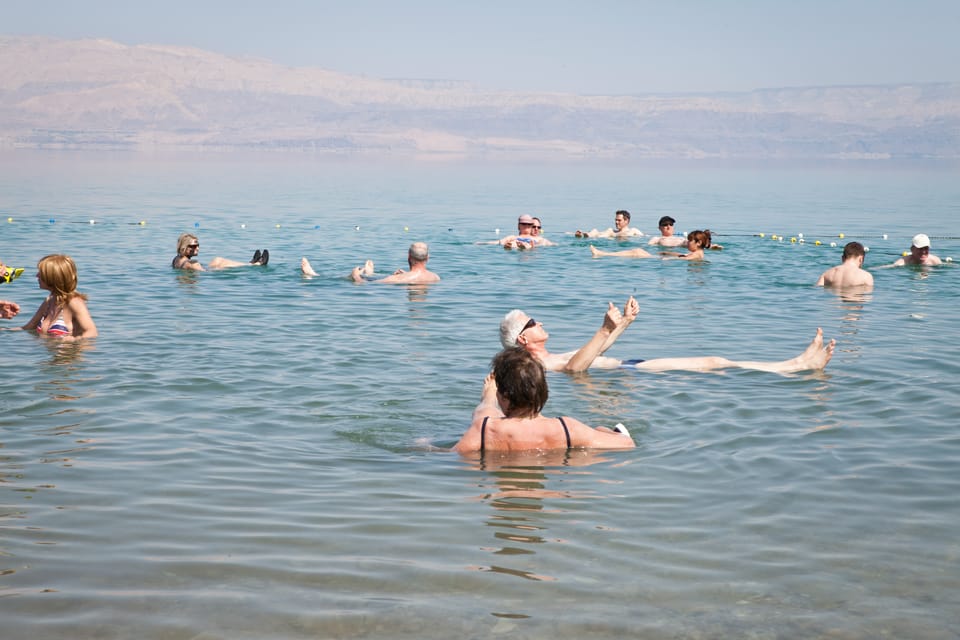 Tour Highlights at a Glance
:
---
Departure Point: Hotel pick-up
Departure Time: 8:30 AM
Duration: 10 hours
Includes: Expert guide, transportation to the Dead Sea & Masada, cable car ride, and entry fees,
If you're curious about the caves where the Dead Sea Scrolls were found, this Dead Sea tour will answer all your questions. You'll also get to float in the Dead Sea and visit the ancient fortress of Masada.
On this tour, you'll be provided with a passing view of the Qumran Caves in the Judean Desert on the northern shore of the Dead Sea. This is where the Dead Sea Scrolls were first discovered by Bedouin shepherds in 1946.
Expand To See MoreSee Less

But the highlight of the tour is your visit to the Dead Sea Mineral Beach. This beach is 1,412 feet below sea level, making it the lowest place on land in the world.

You will have an opportunity to float on the aquamarine surface of the Dead Sea and take a mud bath to benefit from the health-promoting qualities of Dead Sea mud.

At Masada, you'll take a cable car to the top and enjoy a tour of King Herod's fortress. The Masada plateau, 1,300 feet above sea level, provides an amazing view of the Judean Desert and the Dead Sea below.
For tour prices, transportation and availability:
---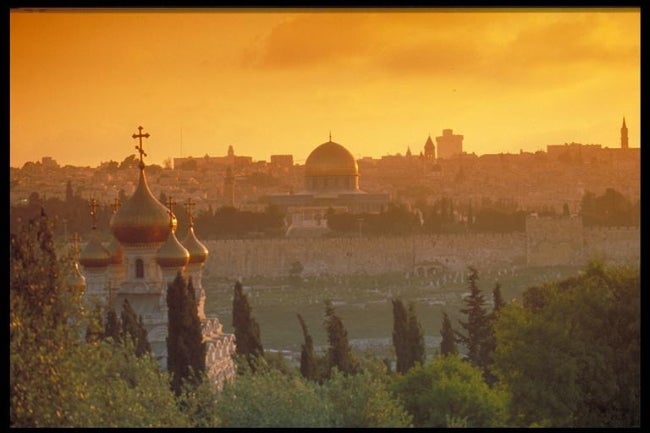 Tour Highlights at a Glance
:
---
Departure Point: Hotel pick-up
Departure Time: 8:30 AM
Duration: 10 hours
Includes: English-speaking guide, transport to the Dead Sea, and entrance fees
This Jerusalem and Dead Sea tour is a great opportunity to see 2 of Israel's main attractions in one exciting excursion, the Old City of Jerusalem and the Dead Sea.
Your day will begin with a drive to the Mount of Olives, a perfect spot for panoramic views of the Old City of Jerusalem. This UNESCO World Heritage Site is the traditional burial ground for Jerusalem.
Expand To See MoreSee Less

At the base of the Mount of Olives, you'll pass the Garden of Gethsemane and enter the Old City. You'll see the Western "Wailing" Wall, which is the last remnant of the Second Jewish Temple and the holiest site where Jews may pray.

Next, you'll visit the Church of the Holy Sepulcher. This is where Jesus was crucified and also the site of His empty tomb. It is arguably the holiest place in Christendom.

Leaving the Old City behind, enjoy your air-conditioned ride east through the Judean Hills to the Dead Sea. This eerie place is where you can float in water that is almost 10 times saltier than seawater.

If you like, you can experience a healthy mud bath in the mineral-rich mud of the Dead Sea.
For tour prices, transportation and availability:
---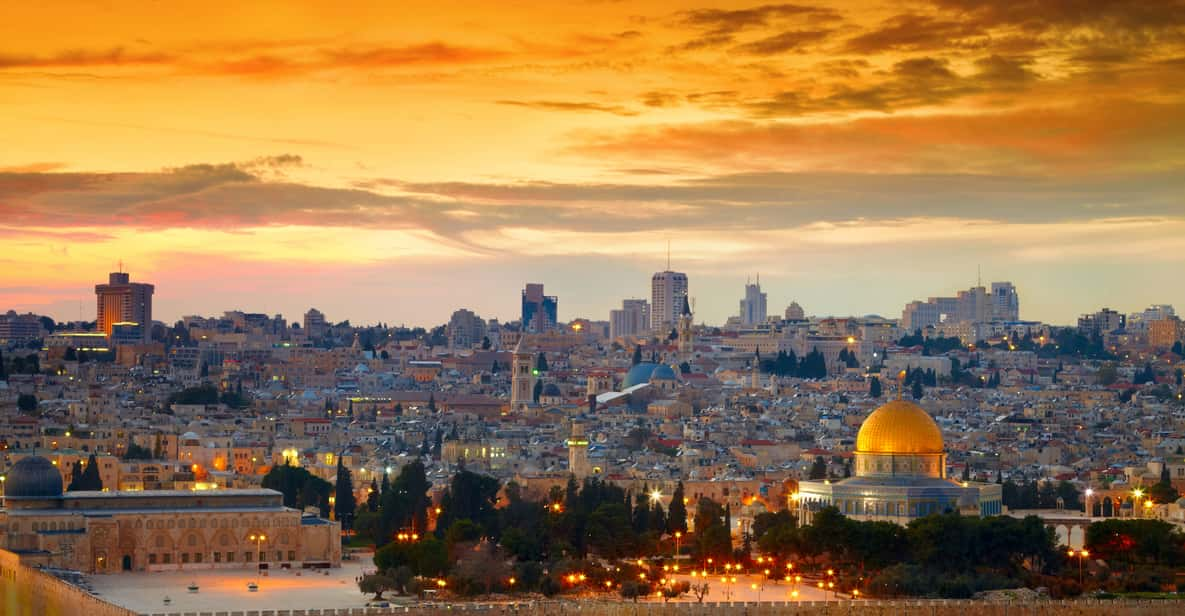 Tour Highlights at a Glance
:
---
Departure Point: David Citadel Hotel, Jerusalem
Departure Time: 7:45 AM
Duration: 1 day
Includes: Experienced guide, transport to the Dead Sea & Bethlehem, and entrance fees
If you're a Christian or fascinated by Christian history, this is the best tour for you. You'll visit the places where Jesus was born, crucified, and resurrected! And you'll also have the opportunity to float in the Dead Sea.
Start your tour in the Old City, where the Western "Wailing" Wall is the holiest place where Jews are permitted to pray. When you walk along the Via Dolorosa in the Old City, you're treading in the footsteps of Jesus who walked this way on the way to His crucifixion.
Expand To See MoreSee Less

At the end of the Via Dolorosa, you'll enter the Church of the Holy Sepulchre, which is where Jesus is believed to have been crucified and also the site of His empty tomb. This is the holiest place in Christendom.

On your way from Jerusalem to the Dead Sea, you'll stop off at Bethlehem and visit the Church of the Nativity, where Jesus was born. Now you've seen all 3 of the most significant places in the story of Jesus.

End your day with a journey through the Judean Desert to the Dead Sea. There you can experience the strange sensation of floating atop the extremely salty water of the lowest lake in the world.
For tour prices, transportation and availability:
---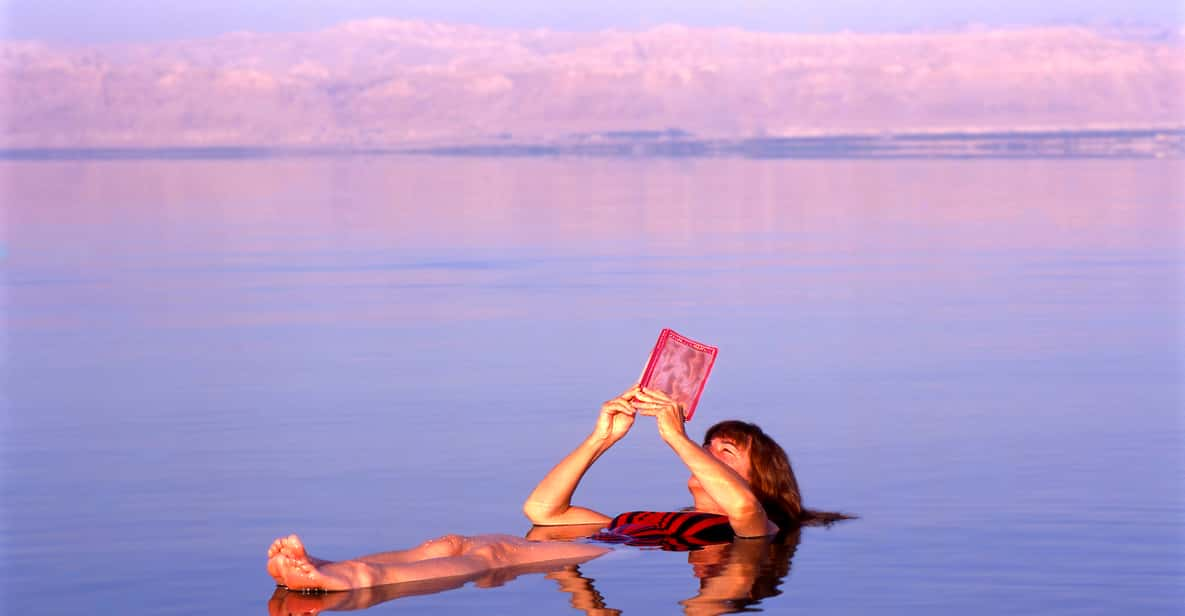 Tour Highlights at a Glance
:
---
Departure Point: Hotel pick-up
Departure Times: 8:30 AM
Duration: 10 Hours
Includes: Professional guide, transport to the Dead Sea, and entrance fees
This is the best Dead Sea Tour if your main interest is in the therapeutic benefits of the mineral-rich mud of the Dead Sea and bathing in the extremely salty water of the Dead Sea.
Your guide on the way to the Dead Sea will provide commentary about the local history of the Judean Desert. You'll see the Inn of the Good Samaritan linked to Jesus' Parable of the Good Samaritan and the ancient city of Jericho.
Expand To See MoreSee Less

At the Dead Sea, you'll be taken to a resort where you can request extra spa services for a fee, such as a relaxing massage.

Enjoy the therapeutic benefits of the Dead Sea's mineral-rich mud and relax as you float in the warm, salty water of the Dead Sea.
For tour prices, transportation and availability:
---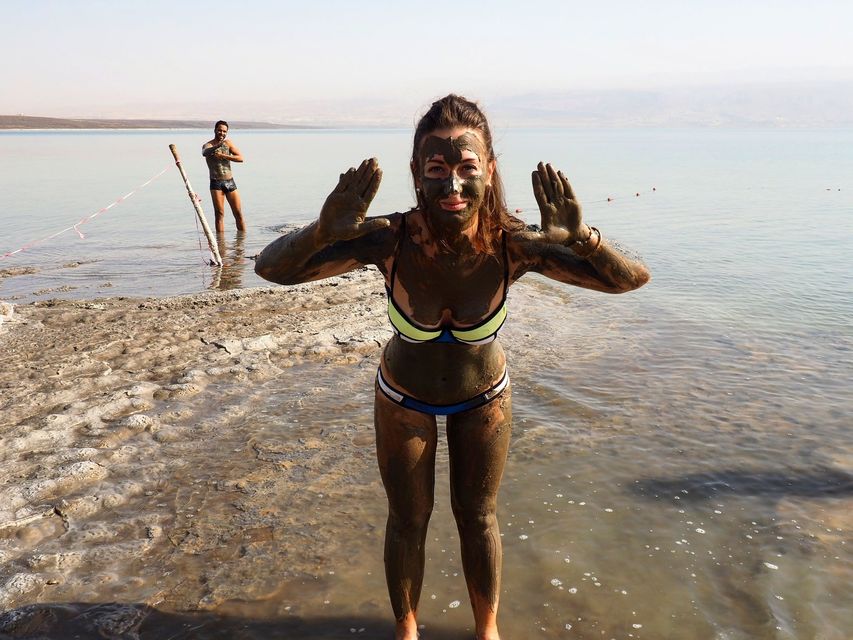 Tour Highlights at a Glance
:
---
Departure Point: Davidka Square, Abraham Hostel, Jerusalem
Departure Times: 12:30 PM or 3:30 PM (later in winter)
Duration: 4 hours
Includes: Transport to the Dead Sea, tea, and entrance fees
If you just want to visit the Dead Sea from Jerusalem and experience floating on the extremely salty water or taking a mud bath, this is the best tour for you.
This affordable tour takes you to the Dead Sea in the latter part of the day, when the heat has died down and the crowds are smaller. It's the best time of day to visit because the water is cool and invigorating.
Expand To See MoreSee Less

Enjoy smearing mineral-rich mud over your body for its health-related properties. Float atop the salty water, which is almost 10-times salter than the sea.

Relax on the private beach beside the Dead Sea and enjoy a nice cup of tea.
For tour prices, transportation and availability:
---
Jerusalem Travel Guide
Jerusalem is a hotbed of controversy. It's been attacked 52 times, captured 44 times, and destroyed twice. Even today, two nations claim it as their capital city, and neither claim is widely accepted. But that also makes it one of the most fascinating cities in the world.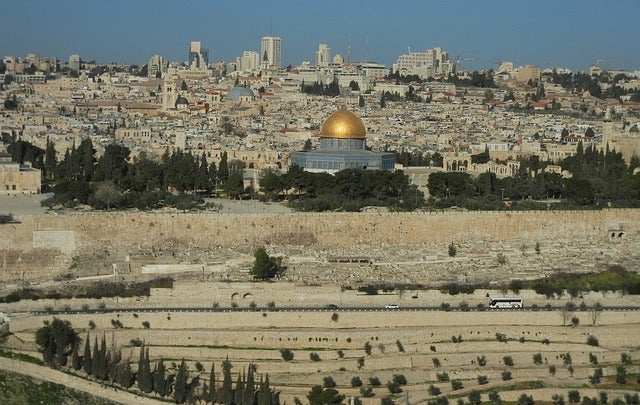 There are more things to see and do in Jerusalem than can be fit into a brief travel guide like this, but I'm going to provide an introduction to this amazing city and a taste of what it has to offer. And if you're planning to visit Jerusalem, I hope this guide will help you plan your journey.
Airports & Entry
Ben Gurion International Airport, commonly known as Natbag, is located 28 miles northwest of Jerusalem. Natbag handled almost 23 million passengers in 2018 and is the busiest airport in Israel.
You'll find it extremely busy during important Jewish holidays, but quiet during the Shabbat (sunset Friday to sunset on Saturday) when El-Al does not operate any flights.
Natbag currently has 2 open terminals, and International flights are handled by Terminal 3 and domestic by Terminal 1 (Terminal 2 was closed and demolished).
The airport is notorious for its lengthy and strict security procedures, so plan to arrive early for your departing flight so you don't miss it.
Terminal 3 is a 4-story building, but you only need to think about floors G and 3 because S and 2 are used for public transport. G is for arrivals and 3 for Departures.
Arriving passengers walk past a long window that looks down into the plaza—the Departure area restaurants and shopping hall.
You'll find the Information Desks in the Greeter's Hall landside, opposite Entrance 3 landside, in the Check-In Hall landside, opposite Entrance 32, and in the Rotunda Airside. There's also a Tourist Information booth in the Arrivals Hall where the Ministry of Tourism provides free maps, arranges hotel reservations, and provides general assistance.
For passengers with kids, there are multiple children's playrooms around Terminal 3 Airside and Terminal 1 Airside. The Mother & Child Room in the Departures Hall in Terminal 3 Airside provides a sink, changing table, and crib.
Mobile charging stations are located throughout Terminals 1 and 3, and free Wi-Fi is available from the airport's "Netvision" network.
ATMs are scattered all over the airport, and Yahav Bank provides full banking services in Terminal 1 Landside, though it's closed on Fridays and Saturdays. There are 3 currency exchange booths in Terminal 3: Landside Baggage Claim, Landside Eastern Hall, and Landside Check-In. In Terminal 1, you can only go to Yahav Bank for currency exchange.
Once service you'll love is the Traveler's Box kiosk. They convert any leftover holiday change into emoney in the Arrivals Hall Landside next to the currency exchange booth.
There is a good selection of food outlets, including Pizza Hut, CaféCafé, Burger Ranch, and Israel's popular Aroma Espresso Bar chain. All the restaurants prepare kosher food. You cannot smoke in the restaurants, except for inside Schmoozy's Pub in the Rotunda. Smoking within the airport is restricted to a few designated locations both Airside and Landside.
Natbag boasts an incredible number of stores, like a shopping mall. You'll find stores selling everything, from Victoria's Secret to sports clothes and equipment, from Swarovski crystal gifts to a toy shop.
In the event of a medical emergency, you'll find First Aid stations in Terminal 1's Greeter's Hall near Gate 21 and in Terminal 3 Departures in the Duty-Free area next to the Mother & Child Room. For air sickness and headache pills, SkyPharm Pharmacy is in Terminal 3 on floor 3.
For those of a religious inclination, there are 3 synagogues: Terminal 3 Duty-Free Hall Airside, Greeter's Hall Airside, and Terminal 1, Eastern Hall Airside, near Gate 2.
You won't have any trouble reaching Jerusalem from Natbag since there are multiple public transport options on Levels S and 2.
That is, you won't have problems as long as you aren't traveling during the Shabbat (Friday to Saturday) or during a Jewish holiday, because then the railway station closes.
On normal weekdays, the easiest and most efficient method is to take a train.
Ben Gurion Airport Train Station is found in Terminal 3's lower level, and the services to Jerusalem are run by Israel Railways. The direct train service to Jerusalem's ultra-modern Jerusalem-Yitzhak Navon Railway Station runs every 30 minutes and takes less than 25 minutes. Except on the Shabbat…when it doesn't run!
There are multiple bus services run by different companies linking the airport to Jerusalem. Some require you to change coaches at El-Al Junction, but Afkim runs a 24-hour service that departs on the hour every hour called Route 485. As you might have guessed, it doesn't operate on the Shabbat!
On the Shabbat, your best option is to take a sherut. This is a private minibus that takes around 10 passengers and runs like a taxi service. Sheruts are found on Level G outside Arrivals.
Alternatively, you can hire a rental car from the Level 1 Arrivals Hall or take a taxi. Taxis are available 24/7, and you'll find dispatchers in Terminal 3 Level G, Exit Gate 3, and Terminal 1, Gate 3. I strongly advise you only arrange a taxi through the airport dispatchers.
The formula for calculating taxi fares is complex, but you can use this fare calculator provided by the airport to estimate the likely cost of your journey. This is the most expensive way to reach Jerusalem from Natbag.
Planning Tips
Jerusalem is one of those must-see destinations that most people want to visit at some time in their life. I'm sure you'll have a fantastic time there. To ensure you do, here are 5 tips to help you plan your journey.
Tip #1: Avoid weekends
If you're only spending a few days in Jerusalem, aim to visit midweek, Monday to Thursday. Friday is the Islamic day of prayers, Saturday is the Jewish Shabbat, and Sunday is the Christian Sabbath.
On these days, many key attractions will be closed. Whatever you do, try not to arrive or leave on the Shabbat. You'll find it much less convenient to travel when most public transport is either closed or running a restricted service.
Tip #2: Book tickets in advance, especially during Easter and Christmas
Can you imagine how crowded it gets in Jerusalem around Easter? Hotels are fully booked and tours sell out. Even during other times of the year, Jerusalem is a popular destination.
Do yourself a favor and book your hotel, transport, and any tours well in advance.
Tip #3: Go during fall
During winter, the weather is unpredictable, and the holiday season brings disruption and chaos as the arrival of many pilgrims coincides with the closure of many businesses and services.
Spring is great weather-wise, but Easter also draws huge crowds. Summer can be a little hot for some, especially if you have elderly or young relatives along. During the fall, the weather is just right and it's less crowded.
Tip #4: Buy unique souvenirs
You can find some great unique gifts for your friends around Jerusalem. Check out the Mahane Yehuda Market for traditional arts and crafts as well as tasty Israeli delicacies that you can take home with you.
Tip #5: Dress appropriately
The religious sites in Jerusalem are not museums of the ancient past. They are places where devout people gather today to pray and worship. So, be respectful of others' faith.
Men should wear a head covering in some places, and women should cover up and, for some sites, wear a headscarf. Research each religious attraction before visiting to avoid embarrassment.
Restaurants & Eating Out
Because so many Israelis migrated here from other nations, you'll find a creative blend of cuisines from all around the world. Popular foods include hummus, falafel, salads, fresh fish from the Jordan River, halvah, and fresh fruit juices.
And with the kosher and halal restrictions on food within the local population, many of these foreign dishes have transformed into something unique.
Israelis believe Breakfast is the most important meal, and this is reflected in their food. Shakshouka is a popular breakfast staple of poached eggs in a tomato, pepper, and onion sauce.
They also love bourekas, which are flaky dough pastries filled with mashed potatoes, mushrooms, salty cheese, or spinach. Bourekas are often eaten alongside hard-boiled eggs, pickles, and dipping sauces.
A breakfast menu might also include pickled or smoked fish, fresh salad, and various popular cheeses. With the kosher and international influences, you'll also find croissants, bagels, whole grain bread, yogurt, tahini, and hummus.
Israeli salad is a delicious, cooling dish consisting of chopped cucumber, tomato, bell pepper, onion, lemon juice, olive oil, and herbs. In Jerusalem, it's frequently eaten at breakfast, lunch, and dinner.
Later in the day, shawarma is a popular Middle-Eastern dish made from thinly-sliced meat stuffed into pita bread. These are often topped with cucumber, tomato, tahini, tabbouleh, hummus, or pickled turnips.
Originally, shawarma was made with lamb but today you'll also find buffalo, beef, veal, and chicken varieties in Jerusalem.
Falafels are immensely popular in Israel. These are fried balls of ground chickpeas mixed with onions and various spices and served in a pita bread pocket.
These are often topped with peppers, pickles, or tomtoes, and moistened with a tangy green sauce and tahini.
The many immigrants who settled here have each introduced their own traditional cheese into the local cuisine.
So, if you wander into a local cheese shop, like Basher's Fromagerie, you'll find as many as 850 varieties of goat cheese, feta, labeneh, gouda, and creamy cottage cheese.
If you noticed all the sweet shops at the airport, you won't be surprised to discover that desserts feature prominently in local menus.
Halvah made using tahini and sesame is especially popular and usually appears in the form of cylindrical cakes or slabs in a broad variety of flavors, such as vanilla or chocolate.
At The Halva Kingdom store, you'll find over 100 varieties of halvah to choose from, such as coffee, pecan, coconut, and pistachio.
Kanafeh is a curious confection that I can only describe as a kind of cheesecake is a traditional Middle-Eastern dish consisting of thin pastry soaked in syrup and layered with kaymak cheese then topped with pistachio.
And Israelis do love their honey-drenched pastries. Baklava is immensely popular, with layers of filo dough filled with chopped pistachios or almonds.
You can buy fantastic baklava from the Shawar Bakery & Patisserie in the Christian Quarter of the Old City. Shawar Bakery has been run by the same family for 300 years, so they must be doing something right.
You can find many of these traditional foods at the Mahane Yehuda Market, locally known as The Shuk. This huge bazzar in the center of Jerusalem contains over 250 stalls selling everything from fresh fruit and vegetables to textiles.
The Shuk is a great place to sample local foods, and there are fast food outlets selling shawarma, falafel, kebabs, baklava, halva, and Jerusalem mixed grill.
It's also a great place to go for unique souvenirs. But, like so many businesses in Jerusalem, the whole market closes for the Shabbat.
Nightlife & Entertainment
While Jerusalem isn't as well known for its nightlife as Tel Aviv, there are still plenty of bars, clubs, and other great venues where you can let off steam late at night.
The Mahane Yehuda Market mentioned above is a surprising choice for nightlife, but in the past few years the old bazar has transformed into a lively nightlife spot with its selection of trendy bars, such as The Shuka, Que Pasa, Fifth of May, and Casino de Paris.
Moving from The Shuk toward Zion Square, you'll find the center of Jerusalem's nightlife in the side streets off Jaffa Street. Near the square, you'll find The Sira, which is a dance club and hipster hangout.
And for live music, check out The Little Pinkas, a lively bar based in a unique building that offers low-priced drinks during its "happy hour", which ends at 10:30 PM.
Other popular bars in the city center area include the Oliver Twist student dance club, with 3 bars and a dance floor, and the Toy Bar, another nightclub popular with students and other young people.
Although the Old City is not a great place to find bars and clubs, toward the end of June every year it hosts The Light Festival.
The ancient architecture of the Old City is illuminated in a dramatic fashion, light statues are installed around the center, and there are street and onstage performances by artists from all around Israel.
Getting Around
Most of the top attractions in Jerusalem are found inside the city walls and within walking distance of each other. If you plan to spend most of your time in the Old City admiring the ancient architecture, you're better off sticking to walking.
Walking is the best way to explore all the back alleyways and picturesque neighborhoods. It's also the only way to really sample the sights and sounds of this vibrant city. But you might like to buy a folding, pocket-sized street map before you go.
If you want to expand your exploration, you can always take a bus. All the buses in Jerusalem are run by Egged. They provide an extensive network of services, and if you're environmentally conscious like me, you'll be delighted to discover that Egged are committed to converting their fleet of buses from diesel to electric.
Single rides on an Egged bus are extremely cheap. We're talking around $1.40 cheap! But, (and isn't there always a but?!) you can't pay on the bus. You must use a prepaid Rav Kav Card.
You purchase your Rav Kav Card for about $1.32 and then load it with money for your fare before taking your first bus ride.
You can get these smart cards from the Central Bus Station, any Cofix Coffee Bar, and other outlets around the city. You can then top them up at any light rail station or from automatic machines dotted around the city.
The city also boasts a brand-new Light Rail Transit. Sadly, this currently only operates one line, for which you'll again need your prepaid Rav Kav Card. But if the route you wish to take coincides with the Light Rail service, I'd recommend you take it.
The current Light Rail Transit service completely avoids the Old City, but it does stop at some key locations, like Damascus Gate and the Central Bus Station. Typical fares are around $1.75.
The problem with the above public transport options is that, like with many businesses, the services are limited during the Shabbat. If you want to get around on a Saturday, you're probably best off taking a taxi.
You can hail a taxi anywhere in Jerusalem. If you can't see one, you can order one through your hotel or on the net, but there's a surcharge for ordering in advance.
By law, when you get in the cab, the taxi driver should turn on the meter. However, some taxi drivers will quote a price and then, if you accept the price, they won't use the meter.
While this is common, and the price they offer may be fair, you're not obliged to agree. You can insist they use the meter.
If the taxi driver states that their meter is broken, you've unfortunately encountered a con-artist. They are out to overcharge you for your journey.
The Ministry of Transport set taxi fare rates, so you should pay exactly the same no matter which cab you jump into. However, you'll pay much more for rides on the Shabbat, during Jewish holidays, and at night.
There are also complex rules regarding luggage in the trunk and more than two passengers, which mean you'll pay more. There is a website that helps you estimate taxi fares around Jerusalem.
You can, of course, hire a rental car and drive yourself. However, I wouldn't recommend this. Traffic can be busy around the tourist attractions and city center, and Israeli drivers may be more aggressive than you are used to.
Accommodations
If you're mainly interested in the historical and cultural attractions in Jerusalem, then the best place to stay is in or near the Old City.
In this way, you're within walking distance of the buildings and places you want to visit. The Old City is also super quiet at night (except for during the Light Festival) and you'll be immersed in the rich culture of this ancient city during the day.
Sadly, the Old City is tiny. It only covers an area of 0.35 square miles. And much of that space is taken up with ancient monuments, museums, and businesses. That means there aren't many places to stay in the Old City.
The popular Hashimi Hotel is situated within the city walls. It provides stunning terrace views and scores 8/10 on Booking.Com and 4/5 on TripAdvisor.
You can get a comfy and convenient room for around $90. Or if you want something more luxurious, the 5-star Mamilla Hotel is located just outside the city walls.
You'll find a lot more hotels around the new city center around Zion Square, from historic boutique hotels for the discerning to basic hostels for backpackers.
This is also where you'll find the nightlife, and you'll be swapping the quiet of the Old Town for busy clubs, bars, cafés, and restaurants.
The Dan Boutique Hotel is a trendy and youthful hotel situated a mere 20-minutes-walk from the Old Town.
It's near the Old Turkish Railway Station, which offers boutique shops, restaurants, and entertainment, and the Mamilla Shopping Center, where you can buy unique Israeli jewelry, fashion, and art.
At the other end of the spectrum is the extremely popular and high-rated (9.2 on Booking.com!) Stay Inn Hostel. This basic hostel boasts a sun terrace, evening entertainment, garden, free Wi-Fi, and a full "English breakfast" or buffet.
It's 1½ miles from the Old City, but what's a 13-minute walk when it only costs $25 for a shared room with bathroom?
Heading out from the center, Musrara is an area of the new city famed for its art schools, public art exhibitions, and concerts.
It's a quieter area than the city center and offers good eating at reasonable prices in local cafés and restaurants. In this area, you'll find affordable hotels and plenty of hostels.
But if you want somewhere a bit more exclusive, the German Colony is a prestigious suburb only a short walk from the Old City. Here you'll find luxury apartments and expensive mansions.
The streets boast trendy restaurants, fashion boutiques, and markets. The German Colony is great if you want to experience colonial charm.
Weather
Jerusalem has a Mediterranean climate. It experiences hot, dry summers and mild, wet winters. Given that the weather is relatively good all year round, you can enjoy a visit to Jerusalem at any time.
Personally, I'd recommend spring or fall when it's not too hot and not too cold.
In summer, it rarely rains and can grow too hot for sightseeing. If you plan to visit outdoor attractions, the best time to visit them is early morning before the sun bakes the ground.
Alternatively, visit in the evening. August is the hottest month when average temperatures range from 670F to 850F.
It's pleasant and sunny in the fall, and this is a good time to explore the Old City. There is some rainfall but not much. In November, average temperatures range from 540F to 660F.
In winter, the weather is generally mild, but it can fluctuate. Some winters are sunny, while others bring really cold weather.
Jerusalem even experiences rare snowstorms. December through February sees the most rainfall, peaking in January. Average temperatures range from 440F to 530F in January, the coldest month.
During spring, rainfall rapidly decreases from March to May, and the days grow hotter. Average temperatures in April range from 550F to 710F.
Attractions
Most visitors to Jerusalem come either because of their religious beliefs or a fascination with history. Because this city is sacred to 3 major religions, it is awash with major religious attractions.
And given that the city has changed hands at least 44 times (those are only the times listed in recorded history), it is rich in unique archaeological sites relating to many different historical cultures.
The Old City is the place where you'll find most of the attractions, and it's a UNESCO World Heritage Site. Here's where you'll find the Wailing Wall, the Dome of the Rock, and the Church of the Holy Sepulcher.
These attractions and more are found within the 16th-century city walls. Up until 1860, the Old City was the whole of Jerusalem, but since then the city has grown exponentially.
Everything inside the Old City is within easy walking distance, and it's probably where you'll spend most of your time when visiting Jerusalem.
The Western "Wailing" Wall is a key place to visit whatever your beliefs. It's the last remaining structure from the famous Second Temple built by Herod the Great. The Wailing Wall is the holiest place in the Jewish faith where Jews are allowed to pray.
The Western Wall is considered a synagogue by those who administer the site, so synagogue rules apply to any visitors.
This means the segregation of males and females, mandatory headwear, and signs of respect. Even if you have no religious faith, you cannot fail to be moved by the expressions of faith and emotions of the visitors to this holy shrine.
Next to Jaffa Gate, within the city walls, you'll find the Tower of David. This citadel provides spectacular views over the Old City from its crenelated ramparts.
The building itself is fascinating enough to make it a key attraction, but it is the museum inside you'll love.
The museum showcases the history of Jerusalem from the second millennium BCE to the foundation of the modern State of Israel. The city's story is told through films, dioramas, and models. And the museum also contains artifacts found during archaeological excavations of the citadel that relate to this story.
Outside the city walls to the south is the City of David. During the 19th-century expansion of Jerusalem, many archaeological sites were uncovered relating to the much older City of David mentioned in the Bible.
A particularly popular exhibit in this area is Hezekiah's Tunnel, which visitors can now explore. This tunnel dates back to the 8th-century BCE, and many believe it is the "waterworks" recorded in 2 Kings 20:20.
To the east of the Old City, you can find the Mount of Olives. Not only does this hillside provide great views of the Old City, but it's also significant as the location of the Garden of Gethsemane.
The hill served as a burial ground for the city for over 3,000 years and contains more than 150,000 graves. It is frequently mentioned in both the Tanakh and the Gospels.
The Israel Museum is well worth a visit. If you're interested in the Wailing Wall and the Second Temple, here's where you'll find the best Second Temple model, which uses the latest archaeological evidence to recreate the famous lost temple. The museum contains an amazing range of exhibits as well as a great collection of Jewish fine art.
I think Vad Vashem is a must-see. It's the official memorial to the millions of souls lost during the Holocaust. It's a shrine dedicated to reminding future generations about what was lost, why it happened, and the meaning of it all. Every year, over 800,000 people pay their respects here.
There's more to see and do in Jerusalem than you can do in a year, but it's also a great base from which to explore other interesting places. Bethlehem is just 6 miles away and a must-see for Christians.
It's only 65 miles from Jerusalem to the famous fortress of Masada, which is one of the most popular attractions in Israel.
The Dead Sea isn't too far away for an excursion. A swim there is both a weird and amazing experience. And it's only a short trip over the border into Jordan, where you can see the most incredible ancient city in the world—Petra.
We chose the Dead Sea & Masada Full-Day Tour from Jerusalem as our Editor's Choice for the best Dead Sea Tours and Trips from Jerusalem.