Seville, Spain is a modern city that has managed to blend its traditional roots and keep them alive.
This unique blend of old and new creates a wonderful atmosphere in which to see the sights, learn more about their historical significance, and even to enjoy traditional foods presented with modern flair.
If you plan on visiting Seville, there are several places you should add to your list of locations to see. The first is the Seville Cathedral and the second the Guadalquivir River. Always be sure to have your camera at the ready. After that, blend in like a local and live like they do.
Oh, and one more thing, don't forget to see a flamenco performance in the Triana District!
Best Seville Tours
| | Alcazar, Seville Cathedral & La Giraldar | Seville Cathedral & Giralda | Triana Flamenco Show w/ Drink |
| --- | --- | --- | --- |
| | | | |
| | | | |
| Departure Point: | Plaza del Triunfo | Puerta De San Cristobal O Del Principe | Pages del Corro 70, 41010 |
| Departure Time: | 1:00 AM, 2:15 PM | Noon | 8:30 AM, 10:30 AM |
| Duration: | 2 hours, 30 minutes | N/A | 70 minutes |
| Includes: | Expert tour guide, audio system, skip-the-line access | Skip-the-line ticket to Seville Cathedral, Giralda Tower | Flamenco show at an iconic showroom, one drink of soda, beer, or wine |
| | | | |
We've chosen these top rated Seville tours because they offer a wide range of experiences and will fit into everyone's budget.
Quick Answer: The 5 Best Rated Seville Tours
Seville Tour Reviews
Tour Highlights At A Glance
:
---
Departure Point: Plaza del Triunfo
Departure Time: 11:00 AM, 2:15 PM
Duration: 2 hours, 30 minutes (approx.)
Includes: Expert tour guide, audio system, skip-the-line access
The three most popular UNESCO World Heritage Sites in Seville, Spain are the Alcazar, the Seville Cathedral, and the La Giralda Tower.
With this tour, your expert guide will take you through all three locations, also providing you with their history and legends.
The entire area has a past steeped in religion, from Islam to Christianity and even Judaism. Learn more about this past with your bilingual guide, along with audio set so you can hear your guide much better.
The Alcazar is home to several palaces, beautiful gardens and chapels, royal chambers, and more. In fact, it was chosen as a site for filming Game of Thrones and it's easy to see why. The large expanse of royal grounds makes for great photos ops.
The Seville Cathedral is the 3rd-largest in the world. It is the largest cathedral when compared to cathedrals of Gothic architecture.
There are still remains of the original mosque that stood on these grounds as well as other tenants going back through its 900-year history. The bell tower atop the La Giralda Tower is a perfect ending to this guided tour will beautiful, panoramic views.
For tour prices, transportation and availability:
---
Tour Highlights At A Glance
:
---
Departure Point: Puerta De San Cristobal O Del Principe
Departure Time: Noon
Duration: 24 Hours (approx.)
Includes: Skip-the-line ticket to Seville Cathedral, skip-the-line ticket to Giralda Tower
The Seville Cathedral is home to the tomb of Christopher Columbus. While his remains are believed to be buried at the cathedral, there are some doubts that the bones belong to him. The cathedral is officially known as Cathedral de Santa Maria de la Sede.
The interesting history of the Cathedral dates back to the 12th-century when the location was home to an Almohad mosque and was conquered by the Castillian King Fernando III.
It stood as a cathedral until the 15th-century when it was rebuilt as the current cathedral after being damaged in an earthquake.
This Cathedral is one of the largest in Europe and is not to be missed if you happen to be visiting Seville. This skip-the-line ticket ensures you don't have to wait in line to enter the cathedral.
With this tour, you also receive a skip-the-line ticket to La Giralda Tower, another historically important space.
Be sure that when you are walking both the Cathedral and Tower, that you take pictures of the historic artworks here by Goya, Zurbaran, and others. These skip-the-line tickets can be used any time you'd like during the 24 hour period they are active.
For tour prices, transportation and availability:
---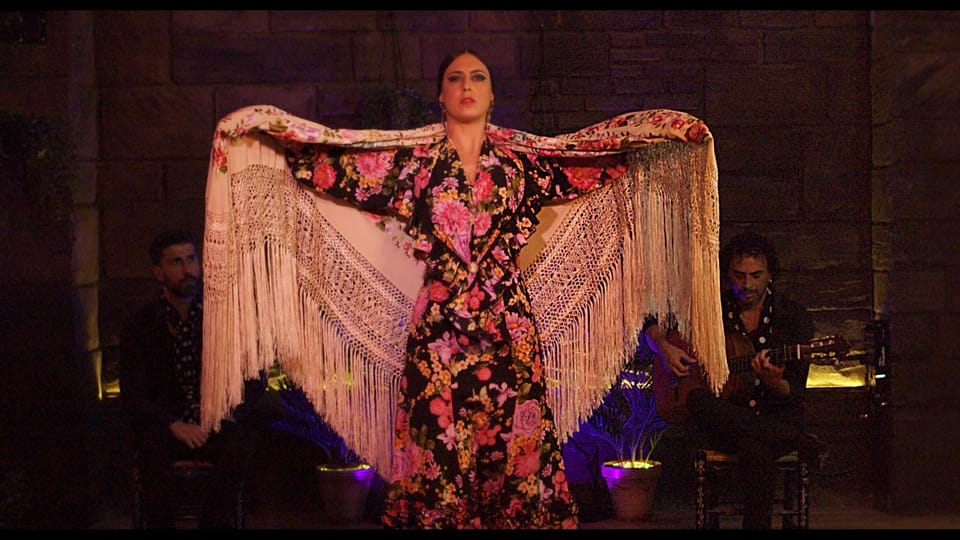 Tour Highlights At A Glance
:
---
Departure Point: Pages del Corro 70, 41010, Triana, Sevilla
Departure Time: 8:30 AM, 10:30 AM
Duration: 70 minutes (approx.)
Includes: learning about the history of flamenco, enjoy a flamenco show at an iconic showroom, one drink of soda, beer, or wine
Spain is the founding place of flamenco dancing and it wouldn't be a vacation to Saville if you didn't enjoy at least one show. The best show is the Triana Flamenco Show in Seville. The showroom is in the cellar and features beautiful, Mudejar architecture.
While here, you will also have an opportunity to learn more about flamenco dancing and its history as well as the many other showrooms that have become popular over the decades. These showrooms include Solea, Alegrias, and even Bamberas.
This traditional flamenco show blends in a bit of modern style as you watch the bailaor and bailaora dancers work the showroom floor with cantaor and guitar dancers as well.
During the 70-minute show, you will be given your choice of a soda, a glass of wine, or a beer. After this short morning flamenco experience in Seville, you are free to explore Seville further or even enjoy another tour.
For tour prices, transportation and availability:
---
Tour Highlights At A Glance
:
---
Departure Point: Muella Nueva York Dock
Departure Time: 10:30 AM, 7:30 PM
Duration: 90 minutes (approx.)
Includes: Yacht cruise, wine, and Iberian delicacies
Once aboard the fully equipped yacht, enjoy views of Seville from the upper deck before heading below to enjoy regional wines and Iberian delicacies. Soft music and exquisite décor make you feel like you've stepped into a different world.
The wines are popular in Seville and are often served on tours of the Guadalquivir River. You'll also enjoy a full menu of delicacies, including salmon loin, lobster salad, cheeseboards, sausages, paella, and more.
When the 90-minute cruise is over and you've landed back at Muella Nueva York Dock, you will be presented with a gift bag of chacina for 2 people. Chacina is a popular cured or dried meat snack that is popular in this region of Spain.
If you are looking for a luxurious way to see the sights of Seville from the Guadalquivir River and enjoy many popular wines and snacks, this is the perfect way to do it. You even get to feel like royalty.
For tour prices, transportation and availability:
---
Tour Highlights At A Glance
:
---
Departure Point: Calle Trajono 6, 41002 Seville
Departure Time: 11:00 AM
Duration: 3 hours (approx.)
Includes: expert guide, use of bike and accessories for 3 hours, optional use of bike the next day
Ride by some of the most famous sights in Seville from a bicycle as your expert guide leads you and your small group around the city. Your guide will also give you insight into each of the neighborhoods you visit as a true local.
Visit the Santa Cruz, La Macarena, and La Alameda de Hercules districts, full of not just history but also charm. Explore the gypsy district of Triana, where you'll most likely be able to enjoy a flamenco show. Ride along the Guadalquivir River in all its glory.
You will also be able to ride around the outside of the massive bull ring, Plaza de Toros de la Real Maestranza de Caballeria de Sevilla. See the Plaza de Espana that was erected in 1929 for the Ibero-American Expo held in Seville.
Short stops can be made if you'd like to pick up a bottle of water or a quick snack. However, this bike tour of Seville is meant more like a basic guide around the city to see the best of the best sights it has to offer. Be sure to take pictures and also make note of any sites you want to return to later to visit in more detail.
For tour prices, transportation and availability:
---
Seville, Spain Travel Guide
Seville is a beautiful place to visit, full of history and architecture but also a bit of modernity when it comes to food and accommodations. This makes it the ideal vacation spot for individuals, couples, families, or even groups.
Before making all your plans to visit this city, you will want to know more about it. This way you can choose the best time to visit, know how best to get there, how not to stick out like a sore thumb, and the best accommodations and attractions.
Here, in this Seville travel guide, we will give you all the information you need to know so you can get to booking your flight.
Airports & Entry
Seville does have its own airport, appropriately named the Seville Airport. It is only about 11 km from the city center and the airport shuttle can easily get you into town. There are several outlying airports as well, such as the Jerez Airport or the Gibraltar Airport, both of which have regular trains bound for Seville.
When it comes to ensuring your passport is ready for the trip, be sure that you have at least 3 months before your passport expires after your planned departure date. It's recommended that you have at least 6 months available before expiration, but it's not completely necessary. You also won't need to apply for a visa to visit Seville so long as your intended stay is 90 days or less.
Planning Tips
Visiting Seville, Spain is unlike visiting any other city, even other cities in Spain. That's why it's important to know the basics of vacationing there as well as what is and isn't expected of you.
Tip #1: Semana Santa & Feria de Abril
These two celebrations are held early in Spring. Semana Santa is also known as Holy Week and it occurs during the time of the Easter celebration. The Feria de Abril, or April Fair, takes place in Seville about 2 weeks after the end of the Holy Week.
If you have some time to visit and experience the true culture of Seville, these are excellent times to visit. However, remember that because Semana Santa occurs based on Easter, it won't be held at the same time every year.
Tip #2: Plan Your Meals in Advance
Many places in Europe traditionally eat lunch and dinner much later than those in the US or even the UK. Because of this, restaurants may not be open when you are used to eating. If they are, they will most likely be very quiet and not have many of their specialties available.
Typically, lunch starts just after 2:00 PM and some dinner restaurants may not open for guests until after 8:00 PM. If you are hungry and want to wait, there are usually street food venues that offer small meals or just snacks.
You should also make a list of any restaurants that you'd particularly like to visit. Call to find out how to make reservations and how far in advance you should call. Some of the most popular restaurants in Seville may require reservations months in advance.
Tip #3: Tipping Isn't Expected
While some restaurants may ask for a small fee to pay for the bread they serve at your table, you won't find that cover charges or tips are necessary. They are never expected. While some places may find that receiving a tip is an insult, a modest tip of 10% is usually welcomed in Seville.
Tip #4: Knowing How to Dress
It's common to see locals in all areas of Spain dressing more formally or classy than you typically see. For tourists, some dress code rules are vital to follow, such as wearing pants or skirts that reach past the knee. Shorts that are longer and end past the knee are typically too casual and you will immediately stand out as a tourist.
When it comes to tops, you might want to leave t-shirts at home and go for button-up dress shirts, blouses, etc. Your shoes should be comfortable since you will most likely be doing a lot of walking. However, tennis shoes and athletic shoes are never recommended, and neither is the typical white socks we are used to wearing.
Investing a few bucks into some classier clothes and shoes will reduce the chances of you standing out as a tourist. However, locals who know you are a tourist and see you dressing more appropriately will respect you much more and are more likely to offer advice, take photos for you, and more.
Tip #5: Take Advantage of Free Tours
While tours of the UNESCO World Heritage Sites in Seville will always require an admission fee, along with many other areas, there are also free tours offered during the busy tourist season. You can find these in the various neighborhoods around town, including in the city center. If you have a few minutes until lunch, or until your next tour, you might want to tag onto one of these free tours.
Restaurants & Eating Out
You wouldn't expect to find the fine, luxurious dining at Ispal inside the underground train system. That is where it is though and taking a trip will never be a waste. Ispal uses only locally sourced ingredients from the local markets and the outlying areas. The freshest food possible in the most luxurious setting.
If you enjoy tapas and their ability to offer several samples of local foods, the La Azotea is perfect. Their tapas are traditional but only with a modern twist. This is an ideal way to try several types of local cuisine in a short period of time.
The Urban Food Market is a must-see in Seville. With hundreds of vendors offering everything from fresh produce to street food and then the restaurants and shops, you can't go wrong spending an entire day here. Try a bit of this and a bit of that and also pick up a few souvenirs to take home.
Nightlife & Entertainment
Rooftop bars are quite popular in Seville and two of them you definitely want to stop by are the EME Catedral Terraza and the Corner House. The Catedral Terraz features beautiful views of gothic architecture and is a sight not to be missed, especially at night. The Corner House has a much more laid-back feel but with those same great views.
If you are a fan of craft beer, the Hops & Dreams brewery is a great place to stop. Craft beer has been taking the world by storm and you won't taste any craft beer quite like that brewed in Seville. Don't forget to stop by the gypsy district as well for a late-night flamenco show. Some can be more on the risqué side, to be sure to read the venue and show's description.
Getting Around
When coming into town from the airport, the airport shuttle is the easiest and fastest way. Plus, it will most likely bring you very near your accommodations. The public transportation system in Seville is excellent. Be sure to bring a bus route map with you, but you will most likely find it fairly simple to navigate.
Cabs are also available and easy to find. They are affordable and a great way to get back to the hotel if you just want to get there quickly to relax for the rest of the evening.
However, most of your travel in Seville will most likely be on foot. Walking is the best way to get from place to place as these popular sites are never very far away from each other. Walking can also help you keep a dollar or two in your pocket for something else, like a souvenir or tour.
Accommodations
Just as in many cities, you will be able to find accommodations across a wide spectrum of budgets and services. Our favorite hotel for budget visitors is The Alminar. It's on the small side so you may not find cabs and public transportation stops right outside, but because there are fewer guests, the hotel staff are very attentive to guests' needs.
On the opposite side of that spectrum, there's the Hotel Alfonso XIII. This hotel offers amenities you'd never think possible and has everything you could possibly need as a guest right on the hotel grounds. Be aware, though, that the hotel grounds are quite large.
If you're looking for something in the middle, there's always the Calle Conde de Torrejon or the Triana House. The Triana House, located in the heart of the gypsy district has a wonderful art deco flair with a modern chic style.
Weather
It's recommended that visitors plan on traveling to Seville in the Spring or Fall. The Summer months can be quite hot and is also the height of tourist season so there will most likely be large crowds. Fall is a great time to see the change in the weather and take a great vacation before the winter holidays.
However, the best time to visit Seville, Spain is during the Spring. The Easter Holy Week is held based on the lunar calendar and when Easter scheduled that year. Then, two weeks later, the Feria de Abril, or April Fair, is held at the fairgrounds just south of the city. These are two events you won't want to miss, and if you do it just gives you another reason to come back.
Attractions
On top of tours of the most famous tourist sites in Seville, such as the Alcazar, the Seville Cathedral, and the La Giralda Tower, there are several other things you may want to see while you're visiting. The Parque Maria Luisa is filled with art, creatively mosaic benches, and even shaded, hideaway corners with each being named after a different romance poet.
The Metropol Parasol is a beautifully designed, usable artistic sculpture. There are several arches that curve and wave above you as light is shaded underneath to create a cool and relaxing place to sit for a bit. Locally, it is referred to as La Setas which means "the mushrooms."
The Alcazar, Seville Cathedral & La Giraldar is our Editor's Choice with its combination of sites seen, tours guides and value.