Rhodes is the largest of the Dodecanese Islands and situated in a unique position near to Turkey's southwestern coast. That makes it an excellent base for exploring the surrounding smaller islands, each with their own unique history, or the Turkish mainland.
There are many different boat tours from Rhodes that appeal to a wide range of people. Whether you're more interested in Ancient Greek history, religious sites, or Greek and Turkish culture, you can find a boat excursion from Rhodes City that is perfect for your tastes.
I've selected 5 of the top-rated boat tours from Rhodes. Take a look at my reviews below and see which boat trip appeals the most to you.
Best Boat Trips In Rhodes
---
Quick Answer: The 5 Best Rated Boat Tours From Rhodes For 2023
We have reviewed the top rated boating tours from Rhodes Island providing overviews and highlighting the details of each.
Rhodes Boat Trip Reviews
---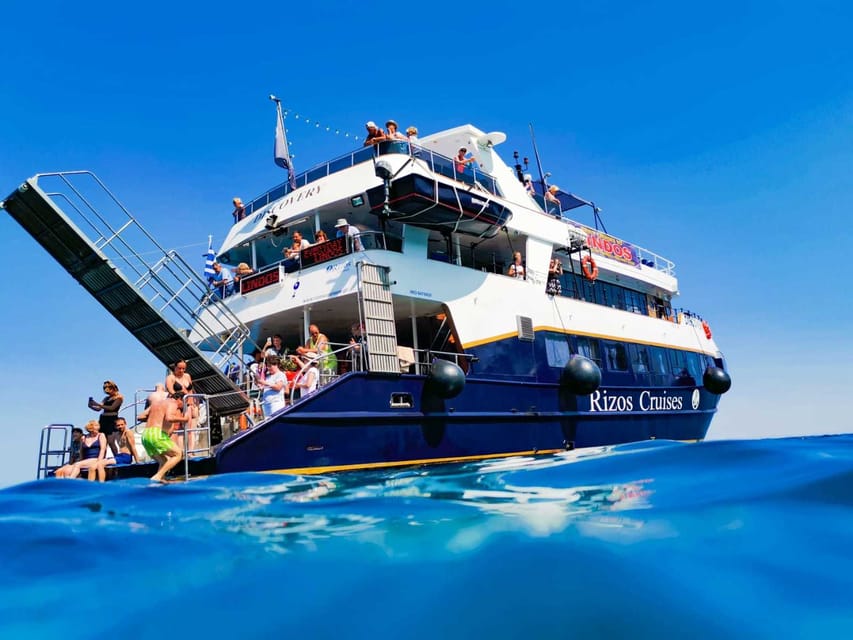 Tour Highlights at a Glance
:
---
Departure Point: Mandraki Harbor, opposite the Nea Agora Building
Departure Time: 8:50 AM
Duration: 8 hours
Includes: Cruise of eastern coastline from Mandraki, a stopover in Lindos, and swim stops
This is a great boat tour from Rhodes City if you're interested in the archaeology of Rhodes. After a leisurely cruise down the east coast of the island, your ship will anchor in Lindos so you have time to explore the famous ruins by yourself.
The Acropolis of Lindos is rich in history, having been fortified by the Ancient Greeks, the Romans, the Byzantines, the Knights Hospitaller, and the Ottomans.
You can find evidence of all 5 civilizations on top of this hill. The oldest ruins include 20 Doric columns erected around 2,300 years ago.
At the foot of the Acropolis, when you begin your ascent to the citadel, you can see the famous carved relief of a Rhodian trireme.
Expand To See MoreSee Less

In ancient times, Rhodes was a mighty naval power, and it's believed that the first maritime shipping laws were written in Lindos during the 2nd century BCE.

During your return cruise to Rhodes City, the boat will anchor in Anthony Quinn's Bay.

The famous movie star bought this beautiful beach while filming on the island, and it's one of the most popular swimming spots on the island. Here you'll be offered the opportunity to swim through the crystal-clear waters of the Aegean Sea.
100% refund for cancellations within 24 hours of tour experience
---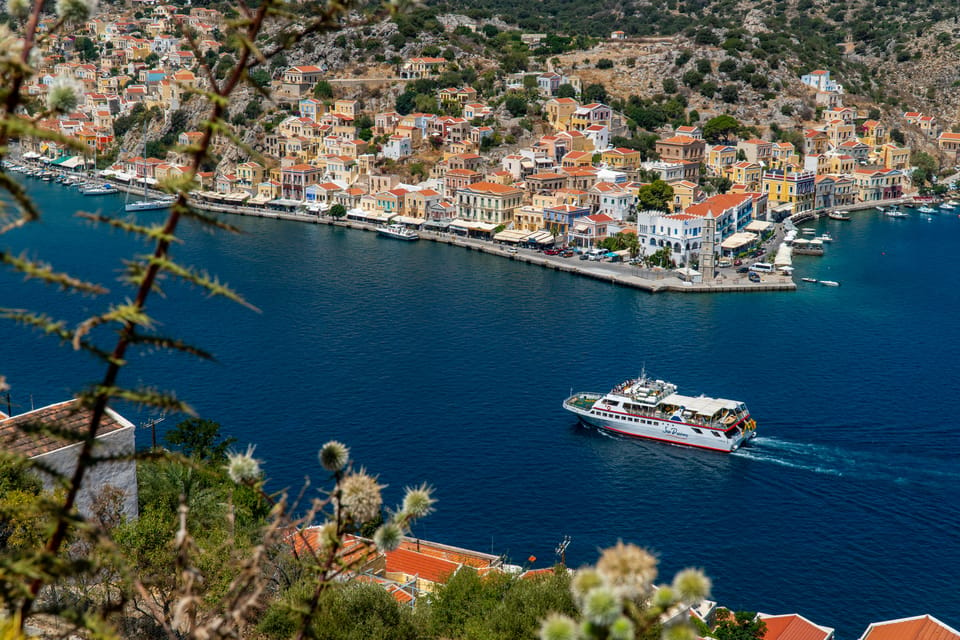 Tour Highlights at a Glance
:
---
Departure Point: Rhodes City Tourist Port
Departure Time: 9:00 AM
Duration: 9 hours
Includes: Cruise from Rhodes to Symi Island, and visit Panormitis Monastery
If you want to see one of the most important and historic religious sites in the Dodecanese Islands, this is an excellent tour for you.
Not only will your ship transport you to the beautiful island of Symi, but you'll also visit the Greek Orthodox Monastery of Taxiarchis Mihail Panormitis.
After sailing from Rhodes City, your first stop will be Symi Town, the capital of Symi. Here you can explore the cobblestone streets and authentic Greek stores. Take your time to visit the Symi Folklore Museum and the ruined castle on the hill.
Your second stop on the island is the famous Archangel Michael of Panormitis Monastery. This is the holiest religious site in the Dodecanese Islands being dedicated to the patron saint of sailors.
Expand To See MoreSee Less

The 18th-century baroque bell tower is the most impressive part of the structure, but the church itself dates to 450 CE when it was first built over an Ancient Greek temple dedicated to Apollo.

This fascinating monastery contains two museums, one dedicated to ecclesiastical art and one to folk art. The monastery also contains an amazing library containing ancient Byzantine manuscripts.

One of the most visited monuments in the monastery complex is that dedicated to the memory of the WWII abbot, two monks, and two teachers who were executed by the German authorities in 1944 for operating a spy radio on behalf of British commandos.
100% refund for cancellations within 24 hours of tour experience
---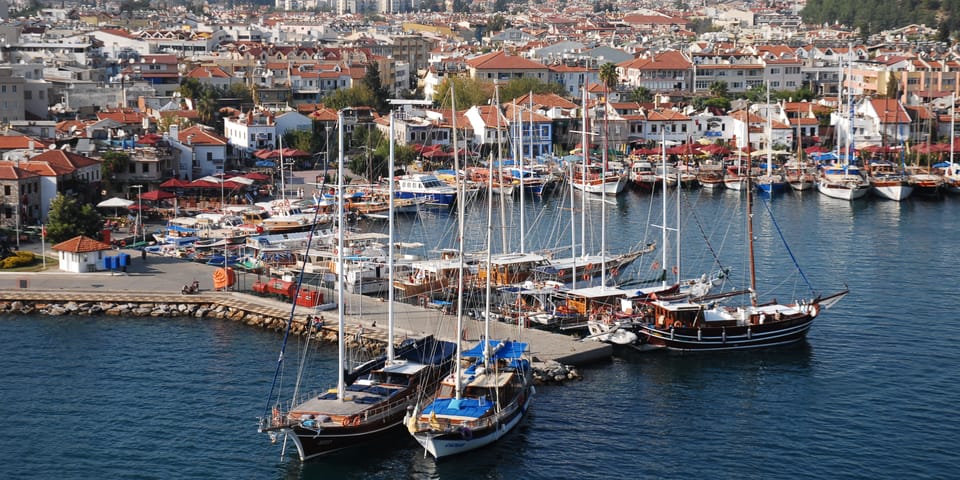 Tour Highlights at a Glance
:
---
Departure Point: Rhode Tourist Harbor
Departure Time: 9:00 AM
Duration: 9 hours
Includes: Boat trip to Marmaris and experienced tour guide
This is a great all-day excursion from Rhodes if you want to tick a visit to Turkey off your bucket list. Explore the Old Town and the history of Turkey's southwestern coastline.
Marmaris is a wonderful city to explore at your own pace. The medieval castle atop the hill is a great attraction for history lovers, as is the archaeological museum in the Old Town with exhibits from various shipwrecks and the Knidos excavation.
The castle's earliest history dates to 3000 BCE, but the current structure was built around 1522 when Suleiman the Magnificent was successfully campaigning against the Knights Hospitaller in Rhodes.
Expand To See MoreSee Less

Although part of the castle was destroyed by a French warship during WWI, the castle is still one of the best-preserved in Turkey and one of the few that incorporates a museum.

Visit the traditional bazaar for a taste of Turkish culture and maybe sample the local cuisine.

Included in the tour is a visit to a local jeweler to see how handmade jeweler is made. There's also an optional shopping trip in the more modern area of Marmaris.
100% refund for cancellations within 24 hours of tour experience
---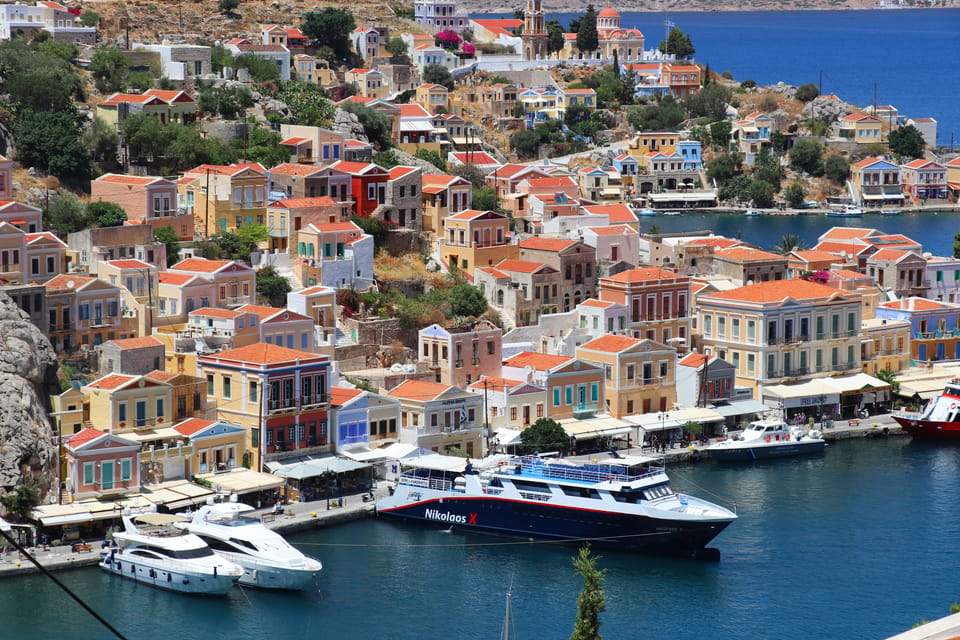 Tour Highlights at a Glance
:
---
Departure Point: Hotel pick-up
Departure Times: 9:00 AM
Duration: 10 hours
Includes: Cruise to Symi, visit Panormitis Monastery, and visit Symi Town
If you're interested in religious art, this is a fantastic tour for you. The Archangel Michael Panormitis Monastery is famous for its ecclesiastical art museum, old library, and holy icon of the Archangel Michael.
The first stop on the boat trip is the Greek Orthodox Monastery of Taxiarchis Mihail Panormitis. Here is where you can see the famous icon that is associated with several local legends.
The most photographed part of the monastery is the stunning baroque bell tower built in the 18th-century. However, the church beyond is said to date back to 450 CE.
One legend associated with the icon of the Archangel Michael is that it has disappeared and reappeared miraculously over the centuries.
Expand To See MoreSee Less

Another legend is that the Archangel Michael answers people's prayers but requires a favor in return. If you don't keep your side of the bargain, he won't let you leave the island until you do!

The second stop on this boat tour is Symi Town. Here you can explore the winding cobbled alleys and admire the colorful houses around the town.

You'll have plenty of time to visit the Folklore Museum and sample the local cuisine in a traditional taverna. If you want unique souvenirs, Symi is a great place to buy authentic sponges and wooden carvings.
100% refund for cancellations within 24 hours of tour experience
---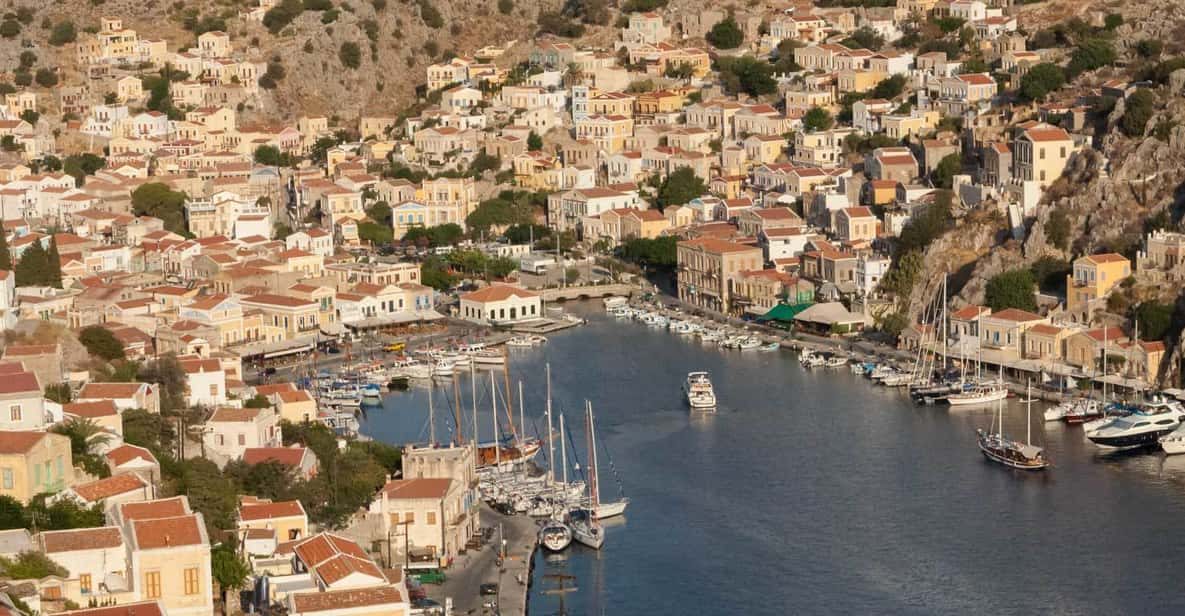 Tour Highlights at a Glance
:
---
Departure Point: Hotel pick-up
Departure Times: 11:00 AM
Duration: 8 hours
Includes: High-speed cruise to Symi Island, 4 hours stop in Lindos, and a swim stop
This is a great boat tour for people who value their time and want to use it to explore the local history and culture.
Instead of spending most of your time traveling, this high-speed boat tour means you get to spend more of your time in Symi or swimming and less sailing from one place to the next.
Another advantage of this tour is that it departs later than most tours, meaning you don't have to get up early to catch the boat! Once aboard, you'll speed through the water to Lindos.
In Symi Island, you'll have a full 4 hours to explore the fascinating town. Enjoy wandering around the twisting cobbled streets designed to confuse pirates, and tourists, as you explore the local craft stores and maybe sample the local cuisine.
Expand To See MoreSee Less

But the highlight of any visit to Symi Island is a climb to the top of the Kali Strata. You can choose to hike up the hill by yourself or ride a donkey. Be warned, it is quite a hike! But the views from the top and the amazing ruins are worth it.

On the return cruise, your boat will anchor in a tranquil cove for a short while to allow you to swim in the crystal-clear waters of the Aegean Sea.

Alternatively, soak in the Mediterranean sun or get out your camera and take photographs of the stunning scenery along the east coast of Rhodes.
100% refund for cancellations within 24 hours of tour experience
---
Rhodes Travel Guide
Rhodes boasts an incredible wealth of history and natural beauty. As the location of one of the original Seven Wonders of the World, it has been a famous destination since classical times. Today, many people visit to view the outstanding classical and medieval structures or to party on its sandy beaches.
Whether you want to visit the Gothic castles built by the Knights Hospitaller or spend your nights dancing until dawn in the popular nightclubs, Rhodes has something to offer you. There are many good reasons why Rhodes is one of the most popular island destinations in Europe.
Airports & Entry
You can reach Rhodes by air or sea.
By Air
Rhodes International Airport is the fourth busiest airport in Greece and handles over 6 million passengers a year. The airport is 9 miles southwest of Rhodes City near the village of Paradeisi.
Upon arrival, you'll find a single, modern terminal with a small selection of shops and restaurants. Like many airports around the Greek Islands, Rhodes International Airport is extremely seasonal and suffers from long queues and crowding during the high season.
The airport's security and check-in procedures have a reputation for being time consuming and inefficient. You can pass the waiting time charging your mobile devices and making use of the free Wi-Fi.
OneXchange offers currency exchange services and there are ATMs throughout the airport. You'll find Hellenic Duty Free Airside and a small selection of other stores Landside, including a convenience store and electronics shop.
There are 4 food outlets Landside and 10 Airside, including Burger King, Everest, and the Bistro dei Cavalieri. In the bistro, you can try handmade pizzas baked in a traditional wooden oven and a range of fine Greek wines.
For medical emergencies, ask at the Information Desk for the airport medical center. Rhodes Airport Pharmacy is found near Gate 3, Departures.
At the time of writing, the terminal was being remodeled with a view to upgrading services, so the information in this guide is the minimum you can expect. Check the airport website for more up to date information.
The easiest way to get into the city from the airport is by public bus. Services provided by the Rhodes Municipal Bus Company DES Rhodes run every 30 minutes and take around 35 minutes depending upon traffic conditions. The fare is only €2.50.
If you value your freedom, you can hire a car from Auto Holidays, Avance, Avis, Enterprise, Hertz, or Sixt in the airport. If you don't get lost, the journey into the city will take around 25 minutes in light traffic. However, note that in high season there are frequent traffic jams and parking is impossible (unless your hotel has dedicated parking ready for you). Expect to take over an hour in summer.
Taxis are also an option. They'll get you into the city in 20 minutes in good traffic, but they cost approximately €25.00. In high season, they may take up to an hour. There is an information board next to the taxi rank that states the current fares. Note that if you have a large amount of luggage then the driver may charge you more.
By Sea
Rhodes is much closer to Turkey than mainland Greece, but there are frequent ferries from both. The most popular routes are from Marmaris (Turkey) and Piraeus (Athens).
There are ferries from Marmaris to Rhodes twice daily. The crossing takes around 50 minutes aboard a fast catamaran. There are also weekly car ferries, but these take 2 hours.
Ferries from Piraeus to Rhodes run daily all year round, but there are extra services in summer. A regular ferry takes between 15-17 hours while a highspeed ferry takes 11-13 hours. The quickest ferries are those that stop at the least number of other ports before reaching Rhodes.
Why anybody would want to take a ferry from Athens to Rhodes when airplanes are quicker and no more expensive, I don't know. Please do your research before deciding a ferry is the best option.
Planning Tips
Rhodes is an island that boasts incredible natural beauty and rich history. You will have fun there. Here are 5 tips to help you enjoy your stay.
Tip #1: Go when it's best for you
If you want to soak in the summer sun, Rhodes is a fantastic destination. And the best time for you to visit is during summer.
However, if you want to explore the archaeological sites, you'll find summer dusty and the hikes up to the top of the various citadels quite challenging. Also, the island is really crowded during the high season. Spring and fall are better times to explore historic sites and enjoy the rich culture of the island.
Tip #2: Book tickets in advance, especially during summer
Rhodes is a popular destination, especially during high season. If you want to ensure you can take the tours you want and get the hotel rooms you prefer, book in advance. Reputable tour companies will offer a refund if you cancel your trip with adequate notice, so you are not taking a huge risk. Just check the tour company's refund policy when booking each excursion.
Tip #3: Take out comprehensive medical insurance
If you are unfortunate enough to be involved in an accident or suffer a medical emergency in Rhodes, you will find medical treatment and repatriation costs very expensive. Ensure you take out comprehensive medical insurance before traveling.
If you have an accident or witness an emergency, dial 166 for an ambulance, 100 for the police, or 112 for a general emergency. NOT 911!
Tip #4: Wear sensible shoes
If you intend to visit some of the many hilltop ruins in Rhodes or climb up the steep spiral staircases in the castles, ensure you're wearing sensible shoes. If you plan to swim and snorkel, bring waterproof shoes. Also, remember to apply plenty of sunscreen in summer and wear a wide-brimmed hat.
Tip #5: Carry cash
Many small businesses in Greece don't accept card payments. When you go out for a meal, head out to a bar, or go shopping, ensure you carry enough cash. But be aware of your security. Wear something that will allow you to keep your cash safe, like a money belt.
Restaurants & Eating Out
Greek Mediterranean food is famously healthy and said to promote a long and healthy lifestyle. Rhodian cuisine is also influenced by its proximity to Turkey and is typified by a broad variety of dishes served.
A family meal typically involves a broad selection of mezes (aperitifs) and involves legumes, greens, horse beans, broad beans, seafood, and sometimes fresh meat. The island produces its own distinctive cheeses, Greek yogurt, thyme, and honey, which you'll find in your food.
Meals are traditionally accompanied by a traditional, home-made rye bread. This bread is baked in Rhodian brick ovens fueled by wood. The same ovens are used to bake a variety of traditional buns and pies.
If you want to try authentic Rhodian dishes cooked in wood-fired ovens, consider visiting Paraga Restaurant in the village of Apollona. They serve traditional local foods cooked with locally-sourced ingredients in earthenware dishes. Try their wonderful goat stew or lamb stuffed with rice. Their meals are served with local cheeses and freshly-baked bread.
Many Rhodian meals begin with a Greek Salad utilizing locally-produced cucumbers, olives, onions, peppers, and tomatoes. This may be topped with olive oil, oregano, and feta cheese. The mezes served also typically include vegetables and legumes.
A meze that's distinctly Rhodian is pitaroudia, which is a large chickpea fritter sometimes described as a dumpling. The prepared and ground chickpeas are mixed with onions, tomatoes, and mint before frying.
Another popular meze is giaprakia. This is finely chopped meat or mince, onion, tomato, and rice rolled in fresh grape leaves. If you visit the village of Salako toward the end of August, they celebrate the festival of Salakos by eating giaprakia.
A dish influenced by nearby Turkey is meat or fish served with bulgur. Bulgur is a cereal food produced using cracked, boiled groats from durum wheat.
Pougia are traditional pies filled with greens and baked on a stone. Sometimes you'll see pougia filled with cheese, chicken and mushroom, or with sweet fillings as a dessert.
Typical desserts in Rhodes include seasonal fruits preserved in sugar and the ever-popular baklava—delicious pastries filled with chopped nuts and coated with honey you can find anywhere in Greece.
Melekouni is a traditional wedding dessert. This is a kind of nut candy made using grated nuts, grated orange, almonds, sesame, and lots of Rhodian honey. You'll see melekouni all over the island, but in the Museum of Bees in the village of Pastida you'll find the freshest melekouni in Greece.
If you want to try any of the above dishes in a traditional Greek taverna, consider visiting Masasoura in Maritsa village. Popular with visitors and locals alike, Masasoura serves a variety of traditional Mediterranean and Greek dishes, homemade pies, stuffed potatoes, feta cheese, and an obligatory glass of ouzo with your meal.
Nightlife & Entertainment
Rhodes boasts an active nightlife mainly focused in Rhodes City and the resorts of Faliraki, Lalysos, and Lindos. This island has a cosmopolitan feel, with bars, cafés, and clubs open all through the night in high season.
Rhodes City
Around the harbor, you'll find a good selection of traditional Greek tavernas and bars. There you might find live music played on a bouzouki—a traditional Greek instrument like a mandolin. But in the newer areas, you'll find pubs and nightclubs aimed at younger people.
Younger party-goers tend to congregate around Orfanidou Street. This is locally known as "Bar Street" because of the many trendy clubs and bars found in the area. Another focal area for young people is the triangle between Griva, Iroon Politechniou, and Nikiforou Mandilara Street.
The Paradiso Beach Club is arguably the most popular nightclub on the island for the younger crowd. This outdoor club has the capacity to entertain 4,500 guests and features top international DJs like Bob Sinclair, David Guetta, and David Morales. Their beach parties last through the night, and you can find this popular club on the east side of Rhodes City.
If you're more interested in Greek culture, head toward the old city where you'll find restaurants and tavernas around the Mandraki marketplace that play live Greek music. And there are more authentic Greek nightspots along the Via Socratous and around Piazza Evdimou.
Faliraki
For the truly wild nightlife of Rhodes, head out to Faliraki, just 8 miles south of Rhodes City. This is where you'll find a large quantity of nightclubs and bars aimed at young people from across Europe here for their summer getaway. The clubs and pubs are clustered around two streets: Bar Street and Club Street!
The Liquid Club offers Hip Hop and RnB on the upper floor and Electronic and House on the flower floor. They have a reputation for affordable deals on drinks. The party goes on from midnight to dawn.
If you want something a little more cheesy and fun, try the Bedrock Club. This is inspired by the classic Flintstones cartoon and decorated accordingly. So, if you want to fool around like Fred and Barney or drag your boyfriend by the ear like Wilma and Betty, this is the place to go. This is a great destination for karaoke parties and foam party nights.
But if you're looking for something more subdued and suitable for mature adults in Faliraki, check out Kelly's Irish Bar on Apollonos Street. Here you can listen to live music (Irish or popular) and join in the karaoke. Kelly's is renowned for its wide selection of imported alcohol and beers.
Ialysos
Just to the southwest of Rhodes City you'll find Ialysos, a west coast resort where you'll find the more sophisticated cocktail bars that offer high quality drinks with beautiful sunset views. Check out the Cavo Tango Café with a wonderful variety of drinks and delicious desserts in a beautifully designed setting. Alternatively, for more of a family-oriented bar with food and delicious desserts, check out The Luna Bar and try their wonderful ice cream cocktails.
Lindos
29 miles south of Rhodes City, in the middle of the east coast (locals class it as a southern town), you'll find the calm coves and beautiful beaches of Lindos. During July, Lindos hosts the week-long Lindos Rock Festival which features cover bands that bring back to life the great heroes of rock.
In Lindos you'll find lively cocktail bars like Dreams Cocktails Bar, where you can dance to the latest hits or sit out on the roof terrace, and Lindos Courtyard Bar, where you can listen to traditional Greek music played on a bouzouki.
But if you're looking for a wild night out clubbing during the high season, then visit the Amphitheatre Club. This opens Friday and Saturday from midnight until 8 am and provides room for 2,000 dancers at parties hosted by renowned DJs. This open-air venue is a great place from which to see the sunrise over the Aegean Sea while you party with your friends.
Getting Around
Rhodes is a small island. The furthest you might travel is between Rhodes City in the north and Prasonisi in the south, which is a distance of 56 miles and takes less than 2 hours in a car in light traffic. The easiest way from one town to another is by bus, but the best way to get around Rhodes City's Old Town is on foot.
There are two main bus stations in Rhodes City, one serving the east side of the island and the other the west. There are regularly scheduled bus services all week, with less on Saturdays and only a few running on Sundays. You can pick up timetables from either bus station or the EOT (Greek National Tourist Organization) office at the corner of Makariou and Papagou.
Services to the western side of the island, including the airport, running from the west bus station are provided by the Rhodes Municipal Bus Company DES Rhodes. You can see their regular timetable here.
Services to the eastern side of the island, including the most southerly destination of Prasonisi (which is actually west!) running from the east bus station are provided by KTEL, and you can view the timetable here.
The public bus services are very affordable. For example, a KTEL ticket from Rhodes City to Lindos (on the east coast 29 miles south of Rhodes City and two-thirds of the way to the southern point) costs €5.20.
However, many visitors to Rhodes prefer the freedom of finding their own way around the island. In this case, you should hire a car or motorized scooter. You can hire cars from the airport for around €40 per day and scooters for around €18 for standard scooters but €30 for powerful models if you want to carry a passenger.
Cars are, of course, more comfortable while you're traveling. Unfortunately, they are far more difficult to park. In the summer, it's extremely difficult to find anywhere to park a car, especially in Rhodes City or near any of the popular tourist attractions. Scooters are easy to park anywhere, so you'll save a lot of time and trouble by hiring a scooter.
If you don't hire a car at the airport, you can find a selection of car rental company offices in the plaza across from Rhodes City Tourist Ferry Port. There are multiple scooter rental agencies on the island, including Rhodes Island Rent-A-Moto, who can organize a scooter for you to pick up from the airport on your arrival.
Some people choose to rent bicycles to get around the island. This is, of course, an eco-friendly option. However, it's scorching hot in Rhodes during summer, which will make it uncomfortable for you to cycle. Also, the roads will be extremely busy and populated with people using hire vehicles they have never driven before. The chances of an accident are high, and the cyclist will always be hurt the most. I would not recommend hiring a bicycle.
Accommodations
Because Rhodes is a major tourist destination, there are many hotels, hostels, and rental apartments scattered around the island. Your choice of accommodation should be based on your interests while visiting Rhodes and your budget.
If you're interested in the history and culture of the island, then you should stay in a hotel in the Old Town. If you're on a budget, you might like to stay in Ialysos instead. But if you're going to Rhodes for the nightlife, then Faliraki is where you need to be.
Old Town
Rhodes City is divided into the Old Town within the medieval walls and the New Town outside. The Old Town, with its narrow, unnamed streets and cobbled roads, is reputed to be the oldest medieval town in Europe. This is the place to stay if you love history and want to be at the center of things on the island.
Check out the St. Artemios Boutique Hotel for a central location surrounded by history, restaurants, and bars. The spacious rooms come with private balconies overlooking the Old Town.
A more affordable choice is the Minos Pension. This is slightly outside of the center but still offers stunning views of the sea and Old Town. It's close to the attractions but without the crowds.
New Town
Although it's called the New Town, it isn't really new. It was founded by the Greeks who were expelled from the citadel by the Crusaders in medieval times. But there are more modern parts to the New Town, and it boasts a fine collection of Art Deco-style homes.
Compared to other Greek cities you may have visited, you'll find the New Town of Rhodes relatively well-maintained and clean. It's an ideal place to stay for families with children with all the facilities you need close at hand and beaches where the kids can play while you soak up the sun.
If your family would like to be close to the beach, check out the Oktober Downtown Rooms Hotel. This has modern rooms with ensuite showers and comfy beds. It's also near local amenities, such as restaurants and a beach.
But if you're a backpacker on a budget, check out the Rhodes Backpackers Hostel. This hostel is hidden away on a quaint backstreet where you can mix with other adventurous and likeminded individuals. It's only a 15-minutes-walk from the Old Town and close to bus stops, supermarkets, banks, and cafés.
Ialysos
Just to the west of Rhodes City is a small town called Ialysos where the accommodation is more affordable than you can find for the same standard in the city and you're away from the crowds. You're also on the western coast where you get those wonderful Mediterranean sunsets.
Ialysos has a good reputation among windsurfers and is a more laid-back place than Rhodes Old Town or New Town. The hotels line the beach and there are plenty of cafés to drink your coffee in the shade. The old village on the hill, the original Ialysos before tourism caused expansion, is a great place to explore an authentic Greek settlement with its old church and tavernas.
The Takis Hotel is a great budget choice, with clean and spacious rooms in a prime location. You'll get a balcony with mountain views and a daily maid service. But if you prefer more independence, check out the Johnhara Studios & Apartments. These self-catering apartments are spacious with balconies and kitchenettes for preparing your own meals and saving money.
Faliraki
You'll find Faliraki 9 miles south of Rhodes City on the east coast of Rhodes. If you came to Rhodes to indulge in the wilder side of its nightlife, then this is where you need to be. You'll find most of the major night clubs clustered around Club Street and Bar Street in the center of this resort town.
Faliraki boasts a long, white sandy beach and lots of bars, clubs, and pubs. Not only is this a great place for teenagers breaking away from their families for their first wild vacation abroad, but it also offers good facilities for families traveling with younger children.
If you're traveling with kids, check out the Cyprotel Faliraki Hotel. It boasts an amazing outdoor swimming pool with multiple water slides for adventurous children and adults who have yet to grow up. There's also a special facility for younger children that provides a range of attractions to entertain your kids.
But if you're looking for independence, check out Toula's Apartments. These spacious apartments include a fully-equipped kitchen with a washing machine, kettle, and a stove. The apartments are a short walk to the beach and near a bus stop for access to the rest of the island.
Lindos
If you're interested in archaeology, Lindos may appeal to you. You'll find this town on the east coast, 29 miles southeast of Rhodes City. This town features fine, sheltered beaches side-by-side with fascinating historic sites. It's a lot less crowded than Rhodes City.
The Lindos Athena is an affordable hotel in an otherwise expensive area. Its rooms are basic but clean and well-maintained. There's also a lounge area and pool where you can meet fellow guests.
Or maybe check out the Little Lindos Sea View Studios. These apartments offer all the facilities of your own home but with wonderful views across the Aegean Sea.
Weather
Rhodes has a hot-summer, Mediterranean climate, with an exceptionally mild winter. Summer is a little hot for hiking, which is more enjoyable during spring and fall. But if you love simmering under a hot sun, you'll love summer in Rhodes.
The summer in Rhodes is hot and sunny. It's hottest in August, when average temperatures range from 730F to 870F. The rainy season begins in October, but it's still relatively sunny until November, when average temperatures range from 560F to 680F.
The temperature drops in December, and January is the coldest month, with average temperatures ranging from 480F to 590F. In spring, the end of March and beginning of April see the return of sunny days though the rain continues into May. By April, the average temperatures range from 550F to 680F.
You'll note from November's and April's temperature and relatively wet weather that spring and fall are quite similar in Rhodes.
Attractions
Because of its many historic buildings, archaeological sites, fine weather, and pristine beaches, Rhodes is one of the top destinations in Europe. Strangely, it's main attraction no longer exists. The famous Colossus of Rhodes, one of the Seven Wonders of the Ancient World, was destroyed by an earthquake in 226 BCE. Yet the story of this giant statue still draws visitors to Rhodes every year.
Rhodes Old Town
The most visually impressive attraction on the island is the medieval Old Town with its Palace of the Grand Masters and 2½-mile-long citadel wall. These are among the best examples of Gothic architecture in Europe.
Interestingly, modern archaeologists suspect the Palace of the Grand Masters stands atop the original temple of the sun-god Helios, and most likely that is where the Colossus originally stood. The palace now visible was built by the Knights Hospitaller between 1309 and sometime soon after 1481.
Below the Old Town is Mandraki Harbor. According to popular belief, rather than academic consensus, this is where the Colossus originally stood. Extant records from the time tell us that the statue was made of bronze and stood 108 feet high. This means it approximately matched the Statue of Liberty in scale.
Tsambika Monastery
This picturesque monastery stands atop a hill 15 miles south of Rhodes City. The hike to the top is worth it for the wonderful views. If you're young, married, and planning your first child in the near future, there's an added incentive to climb up to visit the Byzantine church.
According to local legend, if an infertile woman climbs the hill and visits the church, she will be blessed with a child. However, if you are so blessed, note the small print! If you're blessed with a child, you must name that child after the monastery.
Monolithos Castle
The hill housing Monolithos Castle provides some of the best panoramic views in Rhodes. The castle itself, built in 1470, was once one of the most powerful fortresses on the island.
Today, little remains except for the curtain walls and two 15th-century chapels inside. The hike up to the castle is challenging, so plan to take your time and allow rest breaks in your schedule.
The Lindos Acropolis
There are several Ancient Greek archaeological sites around the island you can visit to marvel at the 2,300-year-old ruins. The Lindos Acropolis is arguably the best.
This natural, 380-feet-high hill has been fortified sequentially by the Ancient Greeks, the Romans, the Byzantines, the Knights Hospitaller, and the Ottomans. That makes this archaeological site both complex to interpret and fascinating.
Like Monolithos Castle, be prepared for a steep ascent with lots and lots of steps! Because there's no shade at the top, ensure you apply plenty of sunscreen and wear a wide-brimmed hat.
Once you reach the top, you'll be rewarded by stunning views and ruins dating back to 300 BCE. 20 Doric columns survive from the earliest structures, and there's plenty to see among the temples and fortifications.
Other islands and Turkey
While you're visiting Rhodes, be aware that there are 14 other significant Dodecanese Islands nearby and you can easily visit one or more of these on a day cruise should you so wish. Nearby Symi Island is a popular destination for day excursions from Rhodes.
Marmaris in Turkey is only a 50-minute ferry crossing away from Rhodes. Marmaris is a major tourist destination and part of the Turkish Riviera. The town is particularly popular with scuba divers and snorkelers, with its calm bays of crystal-clear water surrounded by pine-topped hills.
The Full-Day Boat Trip To Lindos is our Editor's Choice for the best Rhodes boat trip with its combination of sites seen, tour guides and value.