Mykonos is a party island, but sometimes you want to lay back and chill. Why not enjoy a relaxing change of pace aboard a sail boat?
With a beautiful shoreline to explore and a UNESCO World Heritage Site on a neighboring island, there's lots to see and do off the coast of Mykonos.
There are many boat trips from Mykonos, and I've selected 7 of the top-rated cruises that I believe you'll enjoy.
Each boat excursion from Mykonos boasts features that will appeal to different people. Read through the reviews and decide which Mykonos cruise is the best for you.
Best Boat Trips in Mykonos
| | Delos & Rhenia Islands Boat Trip with BBQ From Mykonos | Yacht Cruise To Rhenia Island & Guided Tour Of Delos | Mykonos: Full-Day Catamaran Cruise With Fresh Lunch |
| --- | --- | --- | --- |
| | | | |
| | | | |
| Departure Point: | Ag Ioannis Diakoftis Pier | Hotel pick-up | Hotel pick-up |
| Departure Time: | 9:45 AM | 8:45 AM | 8:30 AM |
| Duration: | 6 hours | 7 hours | 7 hours |
| Includes: | Cruise to Delos & Rhenia, Greek barbecue, soft drink, and snorkeling equipment | Yacht experience, experienced guide, 1½-hour guided tour of Delos, lunch, wine & soft drinks, Wi-Fi, and snorkeling equipment | Yacht cruise to Delos & Rhenia, 1½-hour guided tour of Delos, buffet lunch, wine or soft drinks, tea & coffee, snorkeling equipment |
| | | | |
---
Be sure to see our other Greece boat tour reviews: Boat Trips From Athens, Boat Trips From Santorini,. Boat Trips From Corfu.

Quick Answer: The 7 Best Mykonos Boat Trips & Sunset Cruises
We have reviewed the top rated boat trips from Mykonos providing overviews and highlighting the details of each. We also make recommendations on staying in Mykonos in our guide section.
---
Mykonos Boat Trip Reviews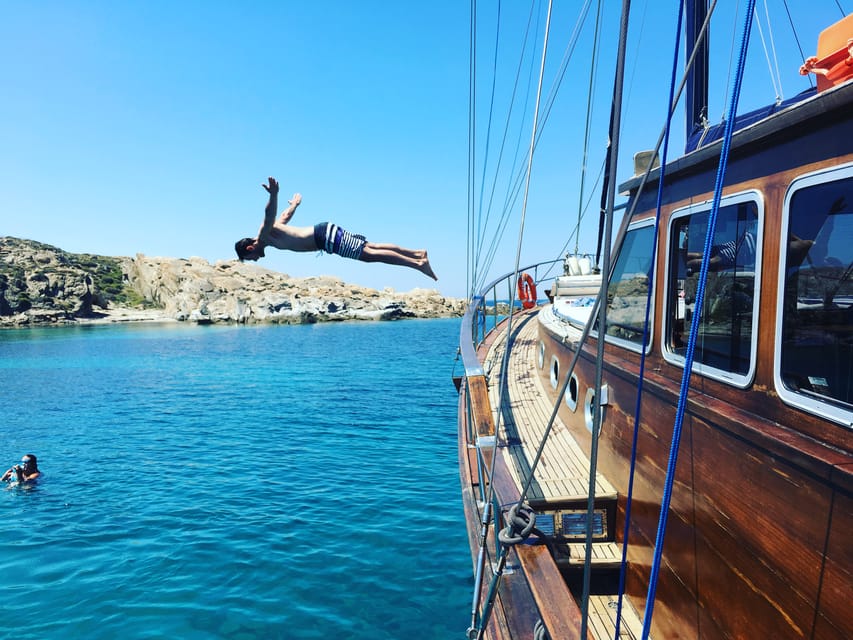 Tour Highlights at a Glance
:
---
Departure Point: Ag Ioannis Diakoftis Pier
Departure Time: 9:45 AM
Duration: 6 hours
Includes: 6-hour cruise to Delos & Rhenia, Greek barbecue, soft drink, and snorkeling equipment
This is a great boat tour if you enjoy swimming and snorkeling. You also get to visit the world-famous archaeological site on Delos.
It's remarkable that tiny Delos boasted a population of 30,000 people in ancient times, which is 3 times the number of people living in Mykonos today. Today, Delos has a population of 14!
Because it was largely abandoned 2,000 years ago, many remarkable structures from the classical period await exploration. And a fantastic archaeological museum is filled with ancient Greek treasures for you to admire.
On this tour, you'll also have the opportunity to swim in the warm, pristine waters around Rhenia Island. If you prefer, you can use the snorkeling equipment provided to hunt for fish below the waves.
And once you've built up a healthy appetite, you can enjoy the traditional Greek barbecue prepared aboard ship for your enjoyment.
100% refund for cancellations within 24 hours of tour experience
---
Tour Highlights at a Glance
:
---
Departure Point: Hotel pick-up
Departure Time: 8:45 AM
Duration: 7 hours
Includes: 7-hour yacht experience, experienced guide, 1½-hour guided tour of Delos, lunch, wine & soft drinks, Wi-Fi, and snorkeling equipment
This is an ideal Mykonos cruise for anybody who wants to learn about sailing a yacht. If you wish, the crew will teach you how to trim a sail and give you a chance to steer the yacht.
It's also a great tour for people who want a more flexible cruise. As part of a small group, you can opt to tour the ancient ruins on Delos or spend more time swimming and snorkeling around the tranquil coves of Rhenia.
If you choose to spend more time in Rhenia, then you'll benefit from anchoring in 2 different locations around the island selected by your experienced captain for optimum swimming conditions.
Around the beautiful coastline of Rhenia, you can make use of the snorkeling equipment provided. You'll also be served a delicious, light lunch with pasta and a Greek salad. Quench your thirst with a soft drink or the house wine.
But if you want to spend time exploring the ancient temples, theaters, and villas of Delos, you'll benefit from a 1½-hour guided tour of the classical archaeological site.
You'll also have plenty of time to visit the Archaeological Museum of Delos and admire the famous lion statues.
100% refund for cancellations within 24 hours of tour experience
---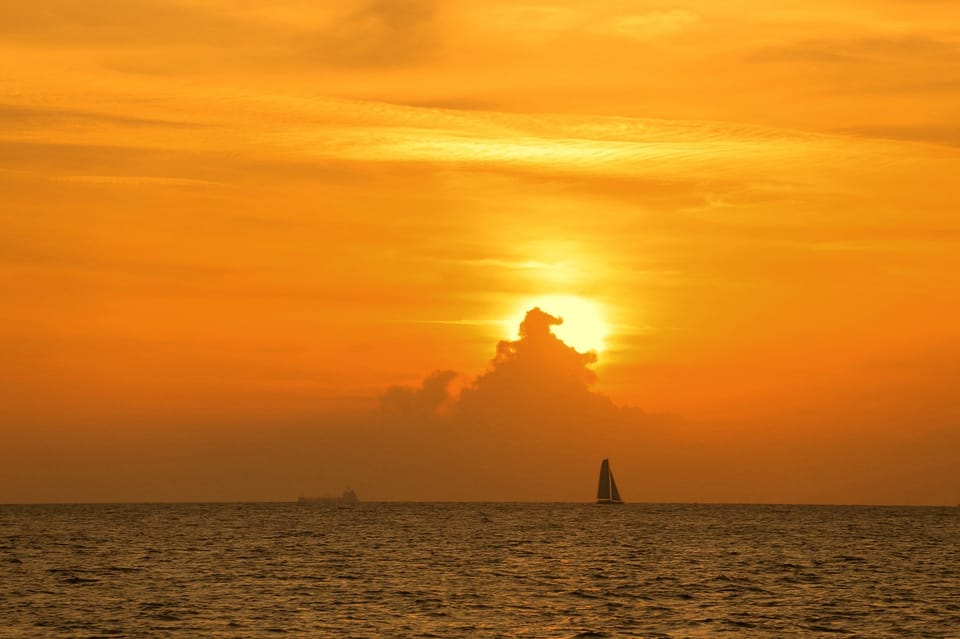 Tour Highlights at a Glance
:
---
Departure Point: Hotel pick-up
Departure Times: 11:00 AM
Duration: 8 Hours
Includes: 8-hour catamaran cruise to Delos & Rhenia, Greek lunch, drinks, towels, and stand-up paddleboard & snorkeling equipment
This is a great cruise if you enjoy stand-up paddle-boarding and snorkeling. It's also perfect if you want to explore all the beautiful, popular beaches along the southern coast of Mykonos.
This relaxing cruise will visit all the most famous, white-sand beaches along the south coast of Mykonos, such as Super Paradise, Paradise, Paraga, Platys Gualos, Ornos, and Agios Ioannis.
Your experienced captain will select the best hidden coves where you can snorkel beneath the waves and swim alongside the fish in the warm, crystal-clear waters of the Aegean Sea.
You'll be served a delicious lunch of local Greek delicacies and soft drinks to quench your thirst. And toward the end of the day, you'll experience an incredible Mediterranean sunset.
100% refund for cancellations within 24 hours of tour experience
---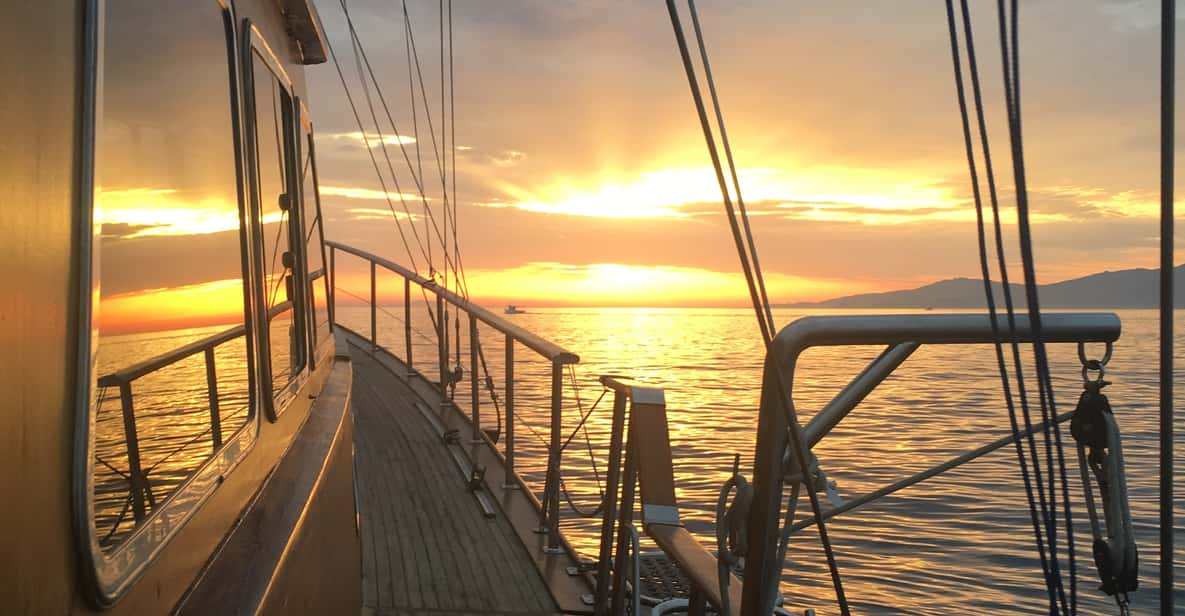 Tour Highlights at a Glance
:
---
Departure Point: Agios Ioannis Diakoftis Small Pier
Departure Times: Around 4:30 PM (time will vary with sunset times)
Duration: 4 hours
Includes: 4-hour sunset cruise, personal insurance, light snacks with soft drinks, towels, and snorkeling equipment
If you've never experienced a Mediterranean sunset, you're in for a treat. The sparkling waters of the Aegean Sea come alight in multiple shades of red and orange as the sun sinks into the western horizon.
Your sunset cruise will explore the famous beaches along the south coast of Mykonos, including Platis Gialos, Psarou, and Ornos.
While the boat anchors off Super Paradise Beach, you'll have the opportunity to swim in the warm Aegean Sea or snorkel beneath the waves with the equipment provided.
Alternatively, enjoy a cooling drink aboard the boat and maybe sunbathe in the last of the day's sunshine. Admire the scenery as the boat sails west toward the neighboring islands of Delos and Rhenia.
While you view the ruins of Delos in passing, enjoy the Greek finger food cooked fresh for you. Then take a drink and sit back while you wait for the sun to set over the Aegean Sea.
Get your camera ready for an amazing sunset!
100% refund for cancellations within 24 hours of tour experience
---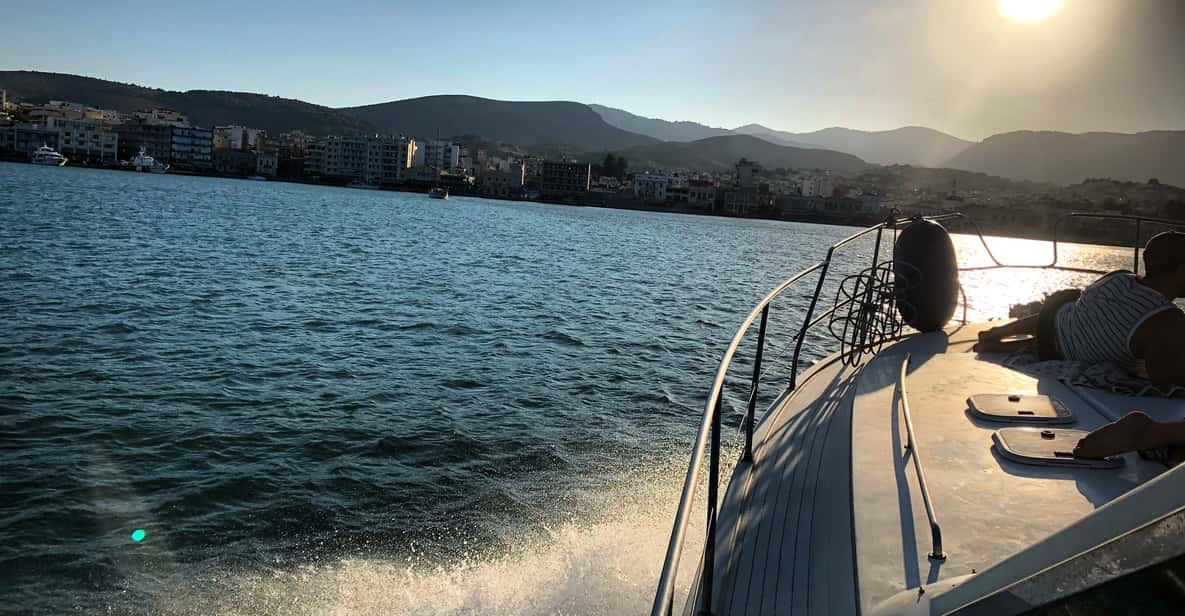 Tour Highlights at a Glance
:
---
Departure Point: Agios Ioannis Diakoftis Small Pier
Departure Times: 10:30 AM
Duration: 6 hours
Includes: 6-hour sailing boat cruise, snorkeling equipment, towels, Greek barbecue, and unlimited soft drinks
This is a great sailing tour from Mykonos if you like to explore sea caves and isolated islands. Enjoy this 6-hour cruise of the southern coastline of the Island of the Winds.
This cruise takes you past all the famous beaches on the south coast, such as Elia, Paraga, Super Paradise, Paradise, Platis Gialos, Psarou, and Ornos. The ship will anchor in a tranquil bay where you can swim or snorkel in the warm Aegean Sea.
Your ship will also transport you to Dragonisi Island, where you'll see stunning cliffs and sea caves. This is an excellent opportunity to take memorable photographs of your relaxing cruise.
During the cruise back from Dragonisi Island, you will be served a delicious Greek barbecue. Relax and enjoy the scenery as you quench your thirst with unlimited soft drinks.
100% refund for cancellations within 24 hours of tour experience
---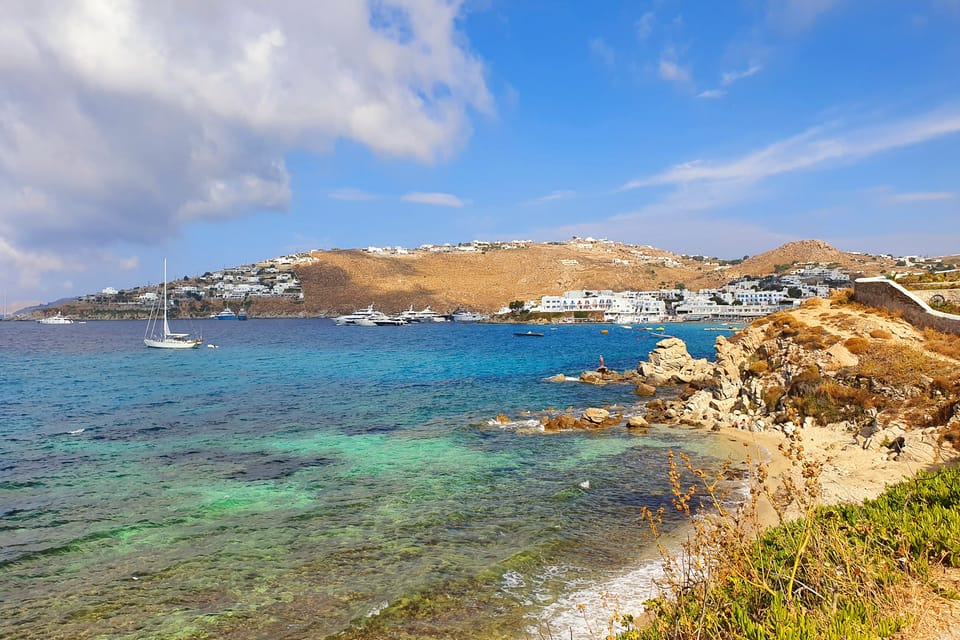 Tour Highlights at a Glance
:
---
Departure Point: Ornos Beach
Departure Times: 10:00 AM
Duration: 8 hours
Includes: 8-hour cruise along the south coast, wine, ouzo, Greek taverna meal, and snorkeling equipment
If you love Greek cuisine and culture, this is the best boat excursion from Mykonos for you. Enjoy a traditional Greek meal in a taverna and sip ouzo.
This great value cruise shows you all the famous beaches along the south coast of Mykonos and the beautiful sea caves and colors of Dragonisi Island.
In Frangias bay, you can use the snorkeling equipment provided to swim through the warm, crystal-clear Aegean water. Back aboard ship, sip traditional ouzo, Greek wine, or water.
At Kalafatis Beach, you'll be taken to a traditional taverna to eat a typical Greek meal. Following this, you'll sail back to Ornos Beach having created many memories of the beautiful southern coastline of the Island of the Winds.
100% refund for cancellations within 24 hours of tour experience
---
Tour Highlights at a Glance
:
---
Departure Point: Hotel pick-up
Departure Time: 8:30 AM
Duration: 7 hours
Includes: 7-hour yacht cruise to Delos & Rhenia, 1½-hour guided tour of Delos, buffet lunch, wine or soft drinks, tea & coffee, snorkeling equipment, and Wi-Fi
If you enjoy archaeology, you'll love this cruise. You'll be given ample time to explore the archaeological museum in Delos and provided with a guided tour of the classical ruins.
At Rhenia, you'll have the opportunity to swim in the turquoise waters. Alternatively, you can make use of the snorkeling equipment provided to explore under the waves.
While in Rheinia, the friendly crew will serve a traditional Greek lunch buffet style. You can wash down your food with wine, beer, or a soft drink.
In Delos, you'll learn all about the mythology surrounding the island from a professional guide.
During a 1½-hour guided tour, you'll explore the archaeological sites dotted around the island, including the famous House of Dionysus mosaic and the House of Cleopatra, with its well-preserved columns and statues.
Take the time to explore the Archaeological Museum of Delos, which contains a wonderful selection of statues, frescoes, mosaics, amphorae, and other ceramics discovered during archaeological excavations conducted on this island by the French School at Athens.
100% refund for cancellations within 24 hours of tour experience
---
Mykonos Travel Guide
Mykonos was once known as The Island of the Winds. These days, it's more like The Party Island. If you enjoy a lively nightlife, or you're interested in classical archaeology, or you're fascinated by Greek language and culture, you'll have a wonderful time on this beautiful island.
There are many things to see and do around Mykonos, and you're certain to enjoy your visit. I wrote this travel guide to help you do just that.
Airports & Entry
There are 2 ways to reach Mykonos island: by airplane or by ferry from Athens or another island.
By Air
Mykonos Airport is small but growing busier every year. In 2018 the airport handled 1.4 million passengers, and this year is even busier. The management company in charge of the airport plans to expand the terminal building, increasing the airport's size 50% by 2021.
At the moment, the terminal is small and offers basic facilities. It opens mid-morning and closes at 6 pm daily. The Information Desk is in the main terminal.
You'll find mobile charging points outside the security checkpoint, and there's free Wi-Fi throughout the airport. If you're traveling with your baby, you'll find baby care rooms for diaper-changing and breastfeeding.
There is a selection of shops, including Duty-Free, and 3 snack bars operated by On Time Coffee & More. ATMs can be found in Departures Landside, Arrivals Landside, and Airside. Currency exchange is provided by OneXchange in Arrivals Landside.
The airport is only 2½ miles from Chora, so getting into town is easy. Many hotels offer a free shuttle service, and there are regular public buses run by Mykonos Bus to Chora and surrounding areas. Tickets can be obtained on the bus.
If you prefer the freedom of driving your own car, airport vehicle rentals are operated by Sixt, Hertz, Avis/Budget, and Avance. Alternatively, you can catch a taxi outside the terminal building, and the fare to Chora is around €15.
By Sea
Many visitors to Mykonos arrive by ferry. You can travel from Athens to Old Mykonos Harbor (Chora) for around €29 (one way) on a slow, 4½-hour ferry or take a faster 2½-hour ferry for around €45-€60 (depending upon which ferry company you opt for).
3 ferry companies operate regular ferries from Athens to Mykonos. Blue Star Ferries cross 16 times every week, Sea Jets 14 times, and Golden Star Ferries 7 times. Golden Star appears to offer the most competitive rates, but they also operate the fewest ferry runs.
Mykonos is also a popular stop-off for Mediterranean cruises. Most of these dock at the New Port of Tourlos rather than Old Mykonos Harbor.
Planning Tips
Mykonos is an increasingly popular destination, and you'll have great fun there. Here are 5 tips I hope will help you enjoy your stay.
Tip #1: Pack a sweater or light jacket, even in summer
Although Mykonos is sunny all through spring, summer, and fall, the island is famous for its strong winds. There's a reason there are so many windmills around Chora!
When it's windy, you'll need a sweater or light jacket to ward off the chill. Also, people with long hair should be prepared to tie it or cover it when the wind gets too strong.
Tip #2: Book tickets in advance, especially during summer
Mykonos is a popular destination in high season, and tours often sell out. Book in advance to avoid disappointment. Many tour operators offer refunds when tours are canceled with reasonable notice. But ensure you check the refund policy when you book.
Tip #3: Go when it's best for you
If you're going to Mykonos for the nightlife, July and August are the months when the internationally acclaimed DJs appear in the larger clubs around the island. That's also when you'll find the beaches crowded with young and unmarried people out looking for fun.
However, if you're more interested in the culture or the archaeology, then April and May are great. The weather is fine, and the streets are not so crowded.
Tip #4: Go to the best beach for you
There are many beautiful and popular beaches around the island. Some are integrated into the nightlife and packed with teenagers and young adults wearing very little. Others are magnets for family groups with young children. But there are also quiet, sheltered coves for those who like to sunbathe without an audience.
Agios Sostis, for example, is a secluded beach on the northern coast. It is unspoiled, and you won't see any parasols or beach chairs. It's long, and there's a nudist colony on one end. You can easily find a private area to escape the crowds. But be aware that there are no bars here, so bring your own food and water.
Tip #5: Carry some cash
Small shops and tavernas in Greece often don't take credit cards, so be prepared to take cash when you go out for the evening. It won't be a problem in the larger clubs, but occasionally you'll find that even busy restaurants don't take cash.
Restaurants & Eating Out
The traditional food in Mykonos is typical of delicious Mediterranean cuisine but with a few dishes exclusive to the island. You can find traditional tavernas dotted all around the island, especially on the waterfront in Chora.
Meals typically begin with appetizers called mezes. These are small dishes of hot or cold snacks with dips. Mykonians like to eat mezes while sipping ouzo, the popular Greek anise liquor.
A popular meze on Mykonos is kopanisti served on wet rusks and topped with olive oil and tomato. Kopanisti is a peppery, fermented cheese made from goat's, ewe's, or cow's milk. It is stored in brine and has a creamy texture and strong taste.
Mykonians also love horiatiki salata (Greek salad). In their salads, you'll find cucumbers, red onions, tomatoes, olives, and spicy shallots. These are often splashed with olive oil and sprinkled with feta cheese.
A popular, oven-baked main dish is moussaka. This is mincemeat layered with eggplant and covered with bechamel sauce. Moussaka can be seasoned with cinnamon and nutmeg.
Many Mykonians enjoy pastitsio, which is sometimes called Greek lasagna. This is an oven-baked dish consisting of layers of pasta, tomato sauce, and ground beef, topped with bechamel sauce.
Fast food outlets along the beaches often serve gyros. These consist of pita bread stuffed with spit-roasted meat and vegetables served with yogurt.
My favorite Mykonian dish is louza. This is thin slices of sun-dried pork prepared with pepper, salt, and spices. The local pork sausages are renowned for their high lean meat content. These delicious sausages are seasoned with oregano, pepper, and salt and are also sun-dried.
For dessert, kalathaki are popular almond cakes made from flour, almonds, eggs, butter, and cinnamon. They are rich and deliciously aromatic. Another almond-based treat is amygdalota, which are crushed almond sweets.
Like anywhere in Greece, baklava are found in all the bakeries. These are filo dough pastries filled with chopped pistachios or almonds.
Nightlife & Entertainment
Mykonos is renowned for its lively and LGBT-friendly nightlife and wild beach parties. In fact, this dynamic island is often called the Ibiza of Greece.
You can find traditional bars, sophisticated cocktail lounges, live music venues, and popular nightclubs that stay open past dawn. With some clubs offering drag queen shows and others night-long beach parties, there's something for everyone in the party island.
For a quiet but enjoyable evening, head to Little Venice. Here you'll find atmospheric bars with panoramic views over the sea from where you can admire the sunset. For example, the Montparnasse Piano Bar is a live music venue noted for its refreshing cocktails, live music, and popularity with LGBT tourists.
Heading inland from Little Venice to the center of Mykonos Town (Chora), you find a labyrinth of tiny alleyways packed with whitewashed houses and lively bars. Around one of the little squares, you'll find several buildings joined together to form the Skandinavian Bar.
This is a great place for tourists and young people to begin the evening before moving on to the nightclubs that don't open until late. This popular venue boasts 2 bars and an upstairs dancefloor, where partygoers dance to a variety of music from rock to contemporary dance tunes.
But it's the beach bars and nightclubs where the diehard clubbers go dancing until dawn. The 3 beaches where you'll find the liveliest venues are Super Paradise Beach, Paradise Beach (a little west of Super Paradise Beach), and Psarrou Beach.
On Super Paradise Beach, you'll find what's regarded by many as the best gay bar in Mykonos—Jackie O's. This popular cocktail bar is literally on the beach and is famous for its ebullient drag queen shows.
On Paradise Beach, you can dance the whole night long at the most famous nightclub on the island—Paradise Club. Here is where partygoers gather to dance to rock, techno, and house played by internationally renowned DJs.
The club consists of 3 spacious rooms and a large swimming pool where themed parties draw in the large crowds of clubbers.
On Psarrou Beach, the exclusive beach bar Nammos Mykonos attracts the wealthy and well-connected. Here is where the Champagne flows and supermodels sip cocktails.
Getting Around
Mykonos is one of the smallest Cyclades Islands, measuring only 7½ miles by 9 miles. If you're a keen hiker, you'll be able to walk anywhere in 2 hours or less. And if you don't want to walk, there are public transport options to get you anywhere within 15 minutes or so.
Walking is the easiest way to get around, especially in Mykonos (Chora). Because Chora is listed as an architectural landmark, motorized vehicles are prohibited in the town. That means walking is your only option for many of the attractions.
You'll probably get lost in the labyrinth of ancient streets in Chora, but that's part of the character of the island. Most locals are friendly and speak enough English to give directions.
Buses are the next easiest option. There are 3 bus depots, 2 in the northern part of Chora around Old Port and 1 in the southern part of Chora, called Fabrica.
The public buses are operated by Mykonos Bus, and the fares are low. The bus company operates more services during high season, and you can pay on the bus or book in advance.
If you plan to pay on the bus, make sure you have plenty of change. The driver will request exact change for the fare.
Because Chora is pedestrianized, there is no bus service to connect the northern stations and Fabrica Bus Station. Walking between them takes around 20 minutes.
The northern stations run bus services to northern destinations, like Ano Mera, Panormos, and Kalafatis. Fabrica Station runs bus services to southern destinations, like Platis Gialos, Peraga, Paradise, and Super Paradise.
Taxis are an option and, because Mykonos is so small, won't be expensive. However, there are only around 30 taxis on the island.
That means that during high season, you'll be waiting longer for a taxi than you will for a bus! In fact, you might be able to walk to your destination before the taxi reaches your starting point.
The main taxi stand in Chora is behind the Cosmote Building. There's also a stand outside Fabrica Bus Station. Taxis are metered, but you'll find a list of standard rates to common destinations on notice boards beside the taxi stands.
You can call for a radio taxi on 00302 2890 22400 or 00302 2890 23700. You'll pay a booking supplement for booking in advance like this.
During high season, "water taxis" operate between the main southern beaches, which are the most popular beaches on the island. These run more like a bus service than a taxi service, departing from Platis Gialos Beach about once an hour from 10:20 am to 4:20 pm and going to Agrari, Elia, Paradise, Pranga, and Super Paradise. Return tickets are around €10, or you can buy a day pass for around €20.
It's possible to rent a car or motorcycle to explore the island. Because of high season traffic, pedestrianized areas, and extreme parking problems, you'll generally find motorcycles much easier to use. But I wouldn't recommend either. You can get a bus to most places, and it's only a short walk from the nearest bus stop to any attraction.
Accommodations
Because Mykonos is a popular destination for nightlife lovers and history lovers alike, there are more hotel rooms than inhabitants on this small island. Every beach has a resort hotel or two, so you can stay literally anywhere along the coast.
The 3 most popular places to stay are Mykonos Town (Chora), Ornos, and Platis Gialos. To be honest, given how quickly you can get from one town to another by bus, you can stay in any one and easily visit the others.
Chora
Chora boasts the best shopping, most of the restaurants, and fantastic nightlife. It's where you'll find the main luxury hotels, like the Belvedere Mykonos Hotel, but also where you'll find most of the backpackers' hostels.
It's common for the main settlement on a Greek island to bear the same name as the island, so the main town on Mykonos is called Mykonos Town. However, in Greek the word for "town" is "chora", so most locals call Mykonos Town Chora to avoid confusion.
The capital of Mykonos is a picturesque labyrinth of narrow, pedestrianized alleyways lined with whitewashed houses and pretty flowers. Around Chora's historic center, you'll find luxury hotels, guesthouses, bars, and restaurants.
The waterfront in the area of Chora called Little Venice is dotted with traditional tavernas. Chora has 2 main shopping streets, where you'll find the high-end art and fashion stores as well as tourist souvenir stores.
Ornos
Ornos Beach is one of the most popular on the island. Just two miles south of Chora, this town is dotted with quaint guesthouses and boutique hotels, like the Kivotos Mykonos Hotel.
The white sand beach is home to half-a-dozen seafood tavernas, and the calm, shallow bay is perfect for families with children.
Platis Gialos
If you want trendy beach bars, a low-key nightlife, and plenty of restaurants, Platis Gialos is the place you want to be. It's 2½ miles south of Chora and 3 miles east of Ornos Beach.
Its white sand and pristine water make Platis Gialos the most popular water sports beach in Mykonos. This is where you'll find people kayaking, flyboarding, and stand-up paddleboarding.
You'll also find a good selection of budget hotels in Platis Gialos, like the popular Hotel Petinos. Although it's not right next to the sea, it's only a short walk from the beach. It's a great value hotel for family holidays.
Weather
Mykonos boasts a Mediterranean climate with 300 sunny days a year. With sunny summers and mild winters, it's a great destination any time of the year.
The best period for family holidays is between June and September. That's when it's the sunniest, and the sea is the perfect temperature for swimming.
For sightseeing, come anytime between April and October. Not only is the weather great for visiting attractions and other islands, but that's the time when most businesses are open and regular ferries sail between the islands.
In summer, it's hot, sunny, and dry. In July, average temperatures range from 710F to 830F. It remains sunny in the fall, but the rainy season begins in November.
Mykonian winters are mild. Snow is rare and doesn't settle. By December, average temperatures range from 520F to 610F. It's coldest in February, with average temperatures from 470F to 560F.
Spring sees the end of the rainy season in March, and the days grow warmer between April and June. The average temperatures in April range from 540F to 640F.
Attractions
For a tiny island with only 10,134 inhabitants, there are an amazing number of things to see and do. Whether your interest is archaeology, scenery, or water sports, you'll have fun in Mykonos.
Chora (Mykonos Town) is reputed to be one of the best-preserved historic towns among the Greek islands. It's a great place to take your camera, because there's a photo opportunity along every ancient alleyway of picturesque, white-washed buildings.
The white, cube-shaped houses have bright wooden doors and window frames and are decorated with colorful flower boxes and hanging baskets. And the churches are something else!
The Church of Panagia Paraportiani in the Kastro neighborhood is one of the most photographed churches in the world. Dating back to 1425, it is actually five separate churched that are joined together to form one huge, white-washed, and extremely photogenic structure.
However, for most visitors to Chora, the 16th-century windmills overlooking the town dominate the landscape. These 7 windmills are known as the Kato Myloi (Lower Windmills) and stand together on a windswept hill. From the hilltop, you get panoramic views of Chora.
Little Venice is another scenic neighborhood of Chora. Like the windmills, the houses here were built when Mykonos was a Venetian colony. The area is called Little Venice because these historic buildings, built right against the sea and with overhead balconies, resemble merchants' houses in Venice.
If you want to see more of the island, check out Ano Mera Village. This quiet settlement is a great example of Greek island life and a stark contrast to the huge party hotels on the beaches and vibrant nightlife in Chora.
The most photographed building in Ano Mera is the 16th-century Panagia Tourliani Monastery. This fascinating structure stands in the village square and is a great place to admire traditional church wood carvings and embroidery.
But one of the biggest attractions in Mykonos isn't even on the island. Many people interested in ancient history and archaeology come here because it's the gateway to another much smaller and uninhabited island called Delos.
Delos is one of the most interesting archaeological sites in Greece and a UNESCO World Heritage Site. The grand temples here were dedicated to Artemis and Apollo, who were both believed to have been born on the island.
Because the island has been uninhabited during modern times, the ruined villas, theaters, and temples of the ancient city are virtually undisturbed. That's why it's one of the richest archaeological sites in the world.
The 6-Hour Delos & Rhenia Islands Boat Trip From Mykonos is our Editors Choice for the best Mykonos boat trip.