Nuzzled right between Italy and Libya, there is an absolute gem of a travel destination. This Mediterranean treasure is known as the Maltese archipelago and if visiting it isn't already on your bucket list, you will definitely want to add it. With a rich and fascinating history involving a long succession of various rulers and unlimited natural beauty, there is a ton to see and do in this small European country.
One thing that you definitely can't miss is a visit to the world-famous Maltese lagoons and these boat tours are the best way to make that happen. Malta consists of 3 main populated islands and a series of very small and unpopulated islands.
The tours typically leave from Malta, the main and largest island, and venture out and around the other two islands. Comino, the smallest of the 3 islands, is barely populated and one of the best places to visit. The Blue Lagoon here is known as one of the best places for swimming and snorkeling anywhere.
Lovely clear blue waters, jaw-dropping views, and varied marine wildlife are only a few of the things that make this such a popular destination. In fact, the amount of tourists that Malta sees each year actually equals more than 3 times the local population. You don't want to miss why this spot is so popular, so get to booking your tours right away!
Best Malta Boat Lagoon and Harbor Tours
| | Bugibba: Gozo, Comino, and Blue Lagoon Sightseeing Cruise | St Paul's Bay: Blue Lagoon, Beaches & Bays Trip by Catamaran | Comino: Blue Lagoon, Crystal Lagoon, and Seacaves Tour |
| --- | --- | --- | --- |
| | | | |
| | | | |
| Meeting point: | Meet At Bugibba harbor | Meet at Bugibba Harbour | Meeting point may vary depending on the option |
| Start: | 10:30 AM | 10:30 AM | 10:30 AM |
| Duration: | 7 hours | 4 to 6 hours | 4.5 or 7 hours |
| Includes: | Blue lagoon , crystal lagoon, Gozo , Padded sun lounges , Waterslides and underwater viewing window | Transportation by catamaran , Expert crew on board , Use of snorkeling equipment, Barbecue | day trip , sunset trip , Visiting sea caves , Padded sun lounges , Water slides & Underwater viewing windows |
| | | | |
---
Quick Answer: The 5 Best Malta Boat Lagoon and Harbor Tours For 2023
---
Malta Boat Lagoon and Harbor Tours Reviews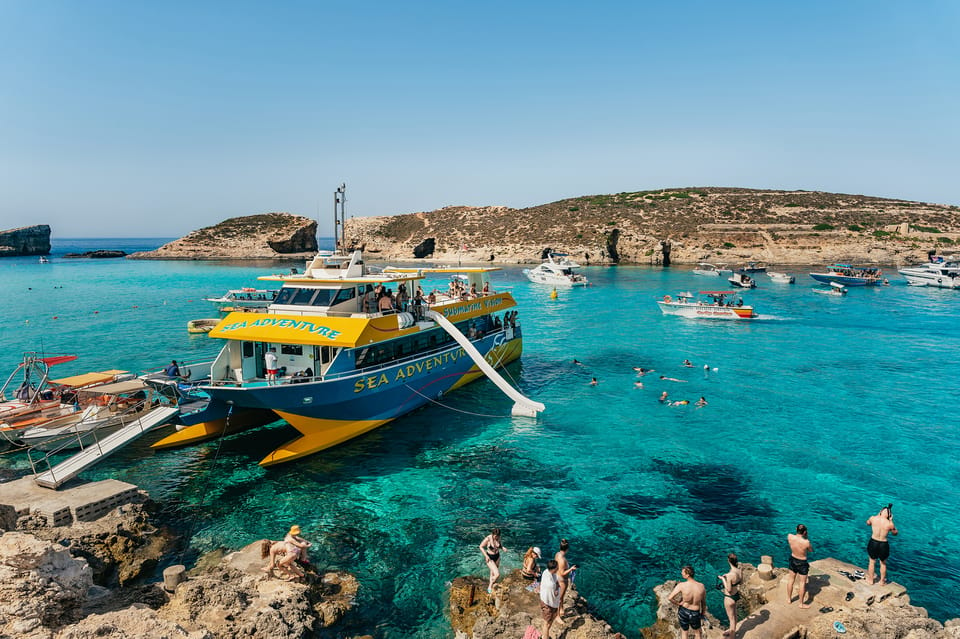 Tour Highlights
:
---
Duration: 7 hours
Snorkeling equipment available for rental
Time to explore Gozo Island
Luxury catamaran with water slides
This amazing sightseeing cruise comes from Sea Trips, a family-owned company local to Malta that has been offering Maltese tours for over 30 years. You will start by meeting your group on the main island, Malta at Bugibba harbor. Together, you will board an incredible double-deck modern catamaran. This vessel is smooth, steady, spacious, and luxuriously comfortable.
This tour takes a total of 7 hours including multiple stops and chances to explore. You'll get to see Malta from the open sea as you depart on the tour featuring the 2 smaller islands of the main 3 inhabited Maltese islands – Gozo and Comino. You will also be passing right by one of the tiniest islands – the island of St. Paul's with an incredible view of the statue of the apostle St. Paul.
If you take this tour during the high season, anywhere from the beginning of June to the end of October, your first stop will be the illusive Crystal Lagoon. This is a lagoon that isn't as well-known by tourists in general, so it is less likely to be filled with other groups. The lagoon is very aptly named as the waters are unbelievably crystal-clear. You'll be able to spend a full hour at Crystal Lagoon allowing you to swim, snorkel, dive, sun-bathe, or simply take all the photos your heart desires.
Next up, you will head to the more popular Blue Lagoon where you will have another hour to enjoy the amazing waters. As a serious bonus, the catamaran you will be cruising along on features several add-ons that make enjoying the water even better including more than one water slide, a diving board, and even the option to jump into the water all the way from the top of the catamaran.
Soon, you will arrive at Gozo island where you get a full 3 hours of uninterrupted exploring time. During this time, you can choose between several top Gozo destinations including Rabat, the capital city of Gozo and a smaller fishing village with a charming bay that has towering cliffs all around it.
You will have the chance to explore caves, view the island from atop the cliffs, and of course, do some shopping! It is also your opportunity to try one of the local restaurants out for a delicious lunch! Finally, as you cruise back to the main island of Malta on the catamaran, you will enter the Santa Maria pirate caves and see an unbelievable rock formation known to the locals as "Elephant's Head".
100% refund for cancellations within 24 hours of tour experience
---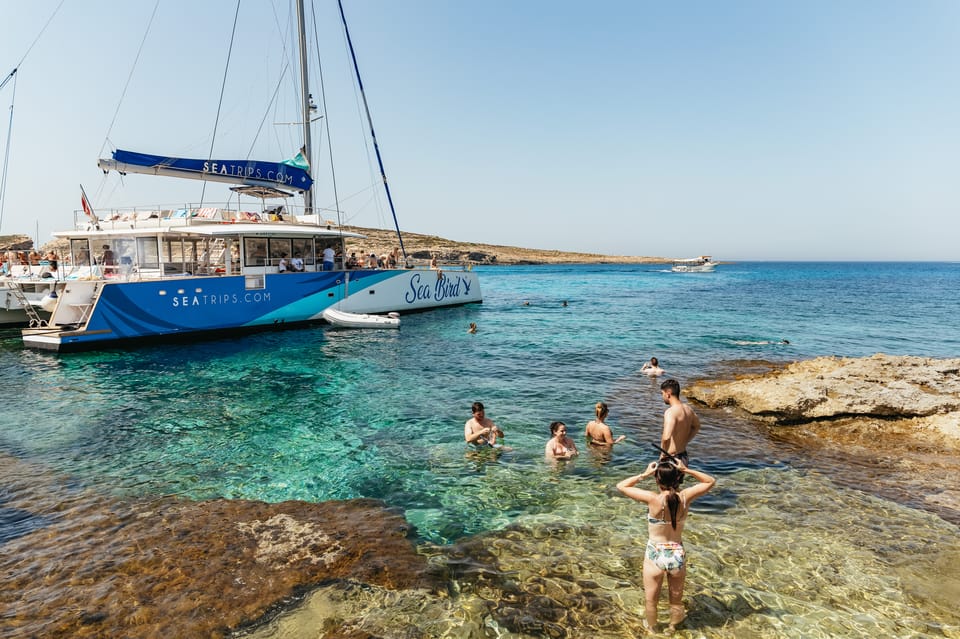 Tour Highlights
:
---
Duration: 4 to 6 hours
Snorkeling equipment available for rental
Bar on boat
Modern sailing catamaran
Here is another superb Malta boat tour from Sea Trips. This option will last between 4 and 6 hours depending on weather conditions and the exact stops for the day. You will board a lovely modern sailing catamaran for this tour. The first stop for the tour is the famous Blue Lagoon. During this stop, you will have the opportunity to swim, snorkel, or enjoy the water or catamaran facilities however you please.
It is also during the Blue Lagoon stop that you will have the option of enjoying a mouth-watering fresh barbecue meal. Depending on the day's weather, you may also get to stop by Crystal Lagoon with its dramatic water-looking cliffs and deep clear waters. In this area, tour goers are even able to swim in and around the caves.
Alternatively, you may enjoy a stop at Ghajn Tuffieha. It's a rural area featuring pristine beaches and bays. On your return trip from Ghajn Tuffieha, you will get to visit the film set for Popeye's Village. A few other stops may include Ramla Bay, Half Rock, or Mellieha Bay. The tour group meets at Bugibba Harbor and includes an expert crew and captain with vast knowledge of the area.
The catamaran itself has many worthwhile comforts as well. You can choose to lounge on the catamaran nets or sun chairs, enjoy music and dancing at your leisure, swim and snorkel in the crystal clear lagoon waters, and more! Sea Trips even offers the option of renting snorkeling equipment on the boat, so that's one less thing you have to worry about or deal with. Plus, this catamaran features a bar where you can buy cocktails during the tour!
100% refund for cancellations within 24 hours of tour experience
---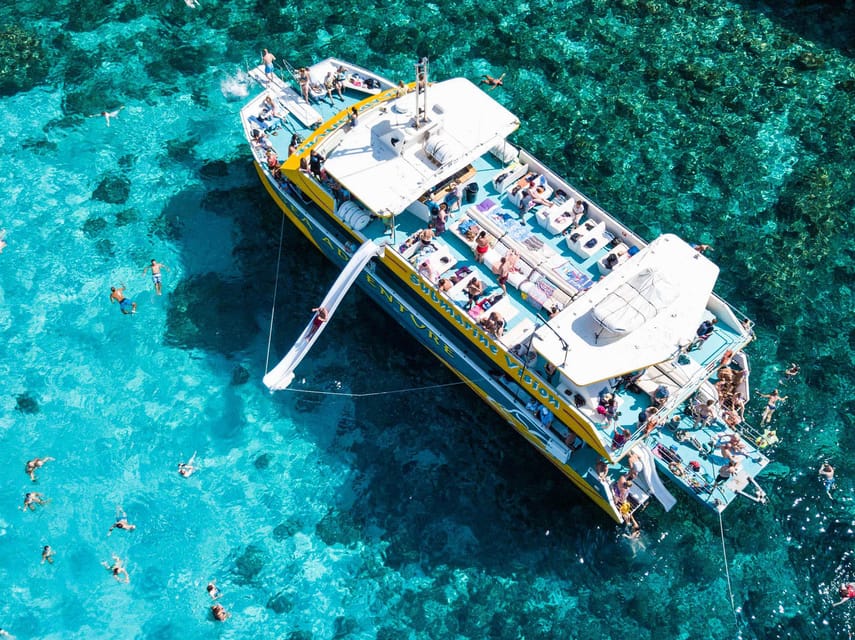 Tour Highlights
:
---
Duration: 4.5 or 7 hours
Snorkeling equipment available for rental
Air conditioned areas
Modern Catamaran with water slides
One more amazing choice of Malta boat tour from Sea Trips is this Lagoon and Sea Caves Tour around Comino! Remember, this is the same catamaran featuring multiple slides and a diving board plus 2 amazing, spacious, and super comfy decks! The bright coloring of the hull really adds to the overall feel of the experience having fun in the sun!
At the start of the tour, you will be going to Comino and viewing the stunning naturally-formed Malta coastline. This air conditioned catamaran is the picture of luxury with a variety of spaces to choose from, both indoor and outdoor, shaded and unshaded. It has comfy sun loungers, tall and wide windows, multiple washrooms, and two separate bars! That's right, it's big enough that you can choose from either one of the bars when you're ready to purchase another drink!
There are two options for this tour. You can either choose the daytime tour, which takes around a total of 7 hours or the sunset tour, which takes 4.5 hours. The biggest difference between these tours other than the time of day they take place is that with the daytime tour, you will get to spend considerably more time at Blue Lagoon. Here, you can snorkel, swim, and play freely for hours! You will also get the chance to go ashore and explore the island.
At the end of your tour, you will enter the Santa Maria pirate caves and get the chance to view Elephant's Head rock formation. You can also peek through the underwater windows on the lower deck to get an unbeatable view of the local marine life!
100% refund for cancellations within 24 hours of tour experience
---
Tour Highlights
:
---
Duration: 7 to 9 hours
Snorkeling equipment available for rental
Sandwich lunch included
Freshwater showers on board
With this tour, Supreme Travel Unlimited wanted to give its guests the best possible opportunity to really enjoy and explore one of Malta's biggest attractions – Comino's Blue Lagoon. This tour has two different time options either leaving at 10:30AM for a total of 9 hours or leaving at 11:30AM for a total of 7 hours. The boat ride to and from the lagoon will take approximately one hour each way.
So, for the longer cruise, you will have a full 7 hours of time to enjoy Blue Lagoon however you like. On the way in and out of the lagoon, your experienced crew and host will share plenty of interesting commentary on the area and history of Malta.
Upon arrival at the lagoon, your time is yours. You choose how to spend it. You can choose to rent snorkeling equipment from Supreme Travel Unlimited and enjoy some of the clearest waters for snorkeling. You can also simply swim or lounge however you prefer. You can start by spending time in the beautiful waters and then take a break in the refreshing air conditioning of the boat.
Enjoy snacks and beverages whenever you would like and take advantage of a free sandwich lunch as well. The indoor section of the boat is fully air conditioned and you can also enjoy some fresh air on the upper deck choosing your favorite spot in the sun or under a shady awning. The boat also features fresh water showers perfect for cleaning up after getting sandy and salty in the lagoon. Bars and washrooms are also available at your convenience.
100% refund for cancellations within 24 hours of tour experience
---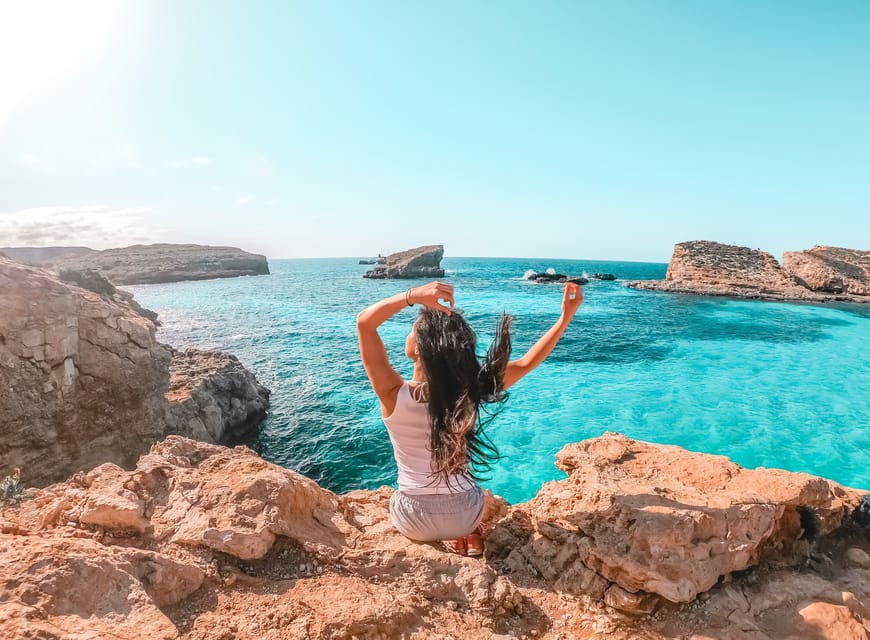 Tour Highlights
:
---
Duration: 7 hours
Snorkeling equipment available for rental
Walk on Comino island
Expert commentary
Care for a breezy stroll up the Comino countryside? You'll get to enjoy just that with this Blue Lagoon Cruise offered by Robert Arrigo & Sons Limited. With a goal to share the vibrancy of Maltese life and culture, Robert Arrigo & Sons does their best to tailor-make experiences for their excursions that really highlight the historical significance of the area and help immerse the guests in the local culture.
You will leave in the morning from Sliema Ferries and cruise to Comino where you will get to enjoy all the wonders of the world-famous Blue Lagoon. This tour does also offer rental equipment for any guests that wish to snorkel. Since Blue Lagoon is easily one of the best places to snorkel on the planet, it is definitely something you don't want to pass up. The unbelievably clear waters and rich marine wildlife truly make it an unforgettable experience.
During the boat ride, you will get to see many stunning sites including St. Julian's Bay, St. Paul's Island, Mellieha Bay and more. From June and running until October each year, you will also get the chance to stop by Crystal Lagoon if the weather allows. This will be a shorter stop but still gives you time to explore and enjoy the rare site of the caves and crystalline waters.
The crew provides audio commentary during the trip to help you understand all the sites you are taking in and get to know a little bit more about Malta and the Maltese way of life. You will have plenty of time to soak up the sun, rest comfortably, swim in the waters, and again, snorkel if you choose to do so. Enjoying a leisurely walk on Comino is definitely an added bonus of this tour!
100% refund for cancellations within 24 hours of tour experience
---
The Bugibba: Gozo, Comino, and Blue Lagoon Sightseeing Cruise is our Editors Choice for the best St Thomas snorkeling tour