There are a wide variety of boat trips and tours around Ibiza. You can take a whole day out and see all the historic and cultural sites. Also see our Ibiza Travel Guide.
Maybe you'd prefer just to spend some time splashing in the warm Mediterranean Sea or snorkeling in Ibiza. Or perhaps you're going to the Mediterranean to party, and you want to experience an Ibiza boat party.
Whatever you want to do, there's a perfect boat hire in Ibiza for you. I've selected out 5 top-rated Ibiza excursions that I think you'll enjoy. Just read through the reviews below and see which one is best for you.
Best Ibiza Boat Trips & Tours
| | Ibiza: All-Inclusive Boat Trip to Formentera | Ibiza: 3-Hour All-Inclusive Boat Trip | Ibiza: Snorkeling, Sunset Beach, & Cave Boat Trip |
| --- | --- | --- | --- |
| | | | |
| | | | |
| Departure Point: | Playa d'en Bossa next to Bar Albatros | San Antonio Harbor | San Antonio Harbor, near Palapa Bar |
| Departure Time: | 11:00 AM | 1:30 PM | 5:45 PM but may vary with sunset times |
| Duration: | 9 hours | 3 hours | 2 hours |
| Includes: | Expert guide, all-day cruise around the island, visit Formentera, live onboard DJ, use of snorkeling equipment, paddle boards, dinner & drinks | 3-hour cruise, fruit & drinks, stand-up paddling (SUP) equipment, snorkeling equipment, and kayak | 2-hour speedboat cruise, soft drinks & Champagne, snorkeling equipment, SUP, and foam seabed |
| | | | |
---
Quick Answer: The 5 Best Ibiza Boat Trips & Tours
---
Ibiza Boat Trips & Tours Reviewed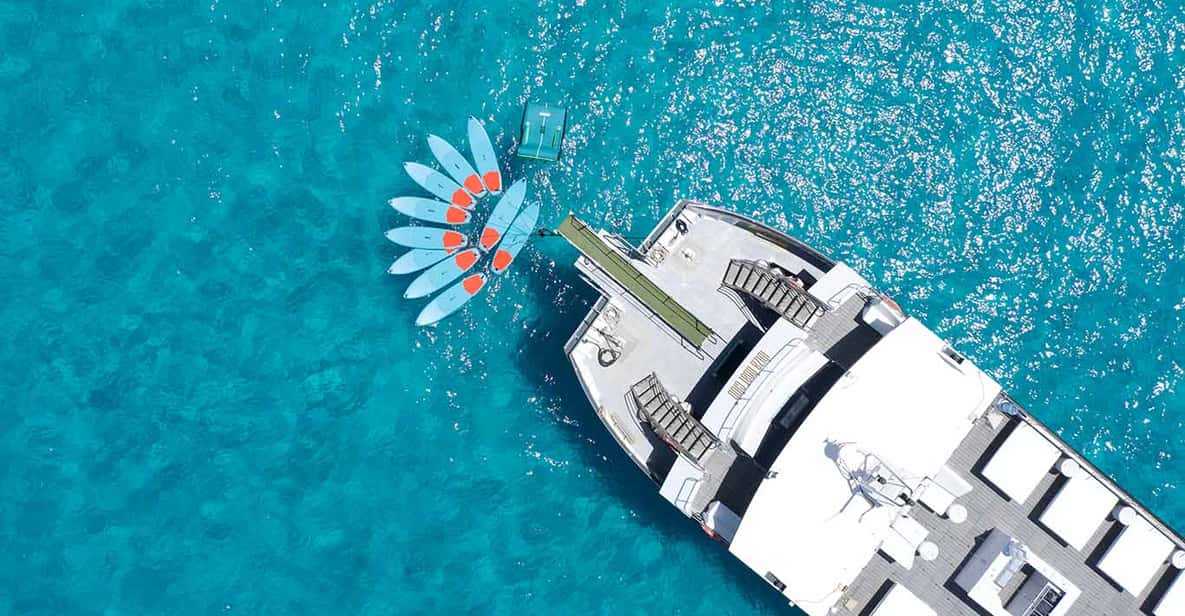 Tour Highlights at a Glance
:
---
Departure Point: Playa d'en Bossa next to Bar Albatros
Departure Time: 11:00 AM
Duration: 9 hours
Includes: Expert guide, all-day cruise around the island, visit Formentera, live onboard DJ, use of snorkeling equipment, paddle boards, dinner & drinks
This is a great tour if you want to see all the main attractions of Ibiza, on land and sea, all within one day. It's also an opportunity to witness a sublime Mediterranean sunset from aboard a luxury ship.
You'll board ship in San Antonio to commence your tour of discovery and sail south to admire the stunning limestone formation of Es Vedra Island.
This natural, 1,300-feet-tall monolith stands in the sea off the southwestern coast of Ibiza. In Homer's Odyssey, this is where the Sirens sang to lure sailors to their deaths.
Expand To See MoreSee Less

Next, the ship will take you south to Formentera Island, where you'll land to explore the white sandy beach of Playa de Illetas. This area is part of the Natural Park of Ses Salines, and its beautiful landscape is reminiscent of a Caribbean Island.

After that, you head north, returning to Ibiza, where you'll land once more on Platja d'en Bossa. This is the longest strip of beach on the island and home to the famous Bora Bora beach nightclub and restaurant.

From there, you'll head into Ibiza Town to visit the Dalt Vila (Old Town). The stunning Renaissance walls surrounding this hilltop settlement and drawbridge gateway are a registered UNESCO World Heritage Site.

From the ramparts, you can admire the towering Cathedral of Our Lady of the Snows and the winding cobbled streets.

After soaking up the culture, you can soak up the sun on Cala Martina Beach. There you'll have the opportunity to swim in the pristine Mediterranean waters and take advantage of the snorkeling equipment provided.

As you continue north, you'll pay a visit to the beautiful private island of Tagomago, where Spanish celebrities and politicians like to take their vacations.

On the journey back along the scenic northern and western coastline, you'll witness a spectacular Mediterranean sunset.
For tour prices, transportation and availability:
---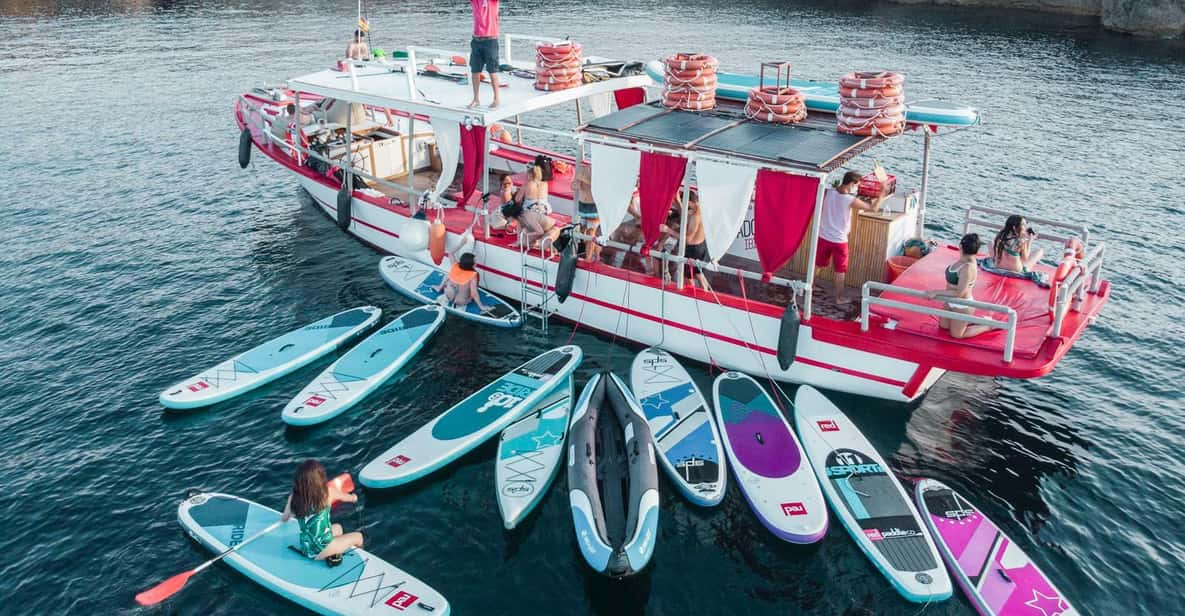 Tour Highlights at a Glance
:
---
Departure Point: San Antonio Harbor
Departure Time: 1:30 PM
Duration: 3 hours
Includes: 3-hour cruise, fruit & drinks, stand-up paddling (SUP) equipment, snorkeling equipment, and kayak
If what you really want to do is have some fun in the water, this is the best boat charter in Ibiza for you.
Not only do you get to see scenic views of the west coast of Ibiza, but you also have the opportunity to snorkel, kayak, or have fun on a stand-up paddleboard (SUP).
In San Antonio, you'll step aboard a traditional, wooden-decked boat. The maximum group size is 38 passengers, so you'll be part of an intimate group of fun-seekers.
Expand To See MoreSee Less

While you cruise along the beautiful western coastline, you can relax on a lounge bed as you soak in the sun and admire the stunning white limestone cliffs. Enjoy an ice-cold drink and some fresh fruit.

The boat will anchor in a tranquil cove so that you can swim in the immaculate turquoise water of the Mediterranean.

If you prefer, you can make use of the various pieces of watersport equipment provided, like a kayak, SUP, or snorkel mask.

This is a wonderful opportunity for you to explore beneath the waves. Rarely will you get the opportunity to snorkel in such warm, pure water, with incredible visibility.

If you're lucky, you'll get to observe some interesting marine life at close quarters.
For tour prices, transportation and availability:
---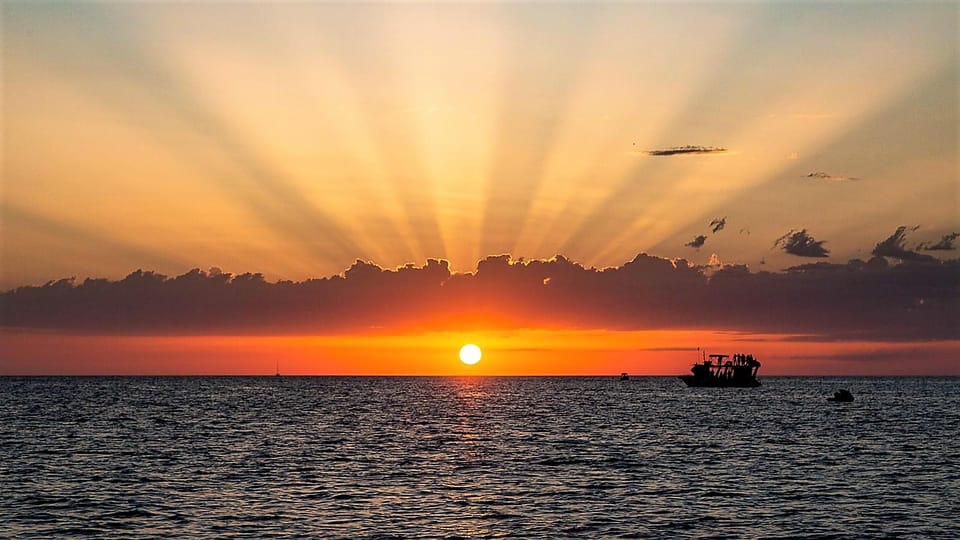 Tour Highlights at a Glance
:
---
Departure Point: San Antonio Harbor, near Palapa Bar
Departure Time: 5:45 PM but may vary with sunset times
Duration: 2 hours
Includes: 2-hour speedboat cruise, soft drinks & Champagne, snorkeling equipment, SUP, and foam seabed
This is a great San Antonio boat tour if you enjoy speed, watersports, and a glorious sunset.
This rapid speedboat cruise whisks you along Ibiza's western coast to admire the stunning scenery and stops for half-an-hour in two tranquil coves so you can enjoy the warm, crystal-clear Mediterranean Sea.
The speedboat takes you to visit several interesting geographical features along the western coast, including historic sites, small islands, white cliffs, and sea caves.
This cruise also passes unique natural parks. Keep your camera ready for some spectacular shots.
Expand To See MoreSee Less

You'll have the opportunity to snorkel around Ibiza's reefs. You might even get to swim through the unspoiled water alongside a school of colorful fish.

If you prefer, you can laze on a foam seabed or enjoy playing with a stand-up paddleboard.

And when you're back aboard the speedboat, sit back and wait for the sunset. As the sun falls below the horizon and sets the sea ablaze in red and orange hues, enjoy an ice-cold soft drink or a glass of sparkling Champagne.
For tour prices, transportation and availability:
---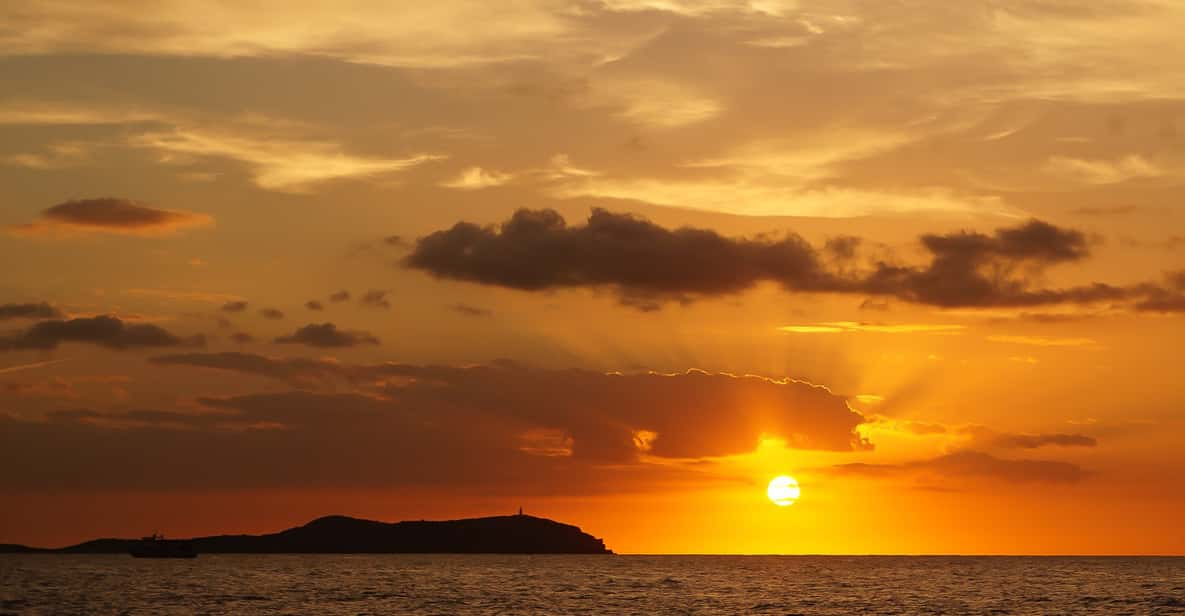 Tour Highlights at a Glance
:
---
Departure Point: San Antonio Harbor, next to the Egg Roundabout
Departure Time: 5:30 PM but may vary with sunset times
Duration: 3 hours
Includes: 3-hour cruise, fruit, open bar, sound system, stand-up paddling (SUP) equipment, snorkeling equipment, and kayak
This cruise received the highest rates from satisfied customers. It seems the guides on this cruise have the social skills, experience, and local knowledge to give every passenger exactly what they want. They've received no negative reviews!
This is an intimate, small-group cruise ideal for stag or hen parties or large extended families to block-book in advance.
It provides a nice combination of fun watersports in a secluded cove, an open bar and sound system to get the party going, and stunning views over the Mediterranean as the sun sets on another day.
Expand To See MoreSee Less

While enjoying an ice-cold cocktail and some locally-produced, fresh fruit, you can lounge on the open deck or stay in the shade.

It's entirely your choice on this relaxing cruise aboard a classic wooden-decked boat. You won't find any better Ibiza boats.
For tour prices, transportation and availability:
---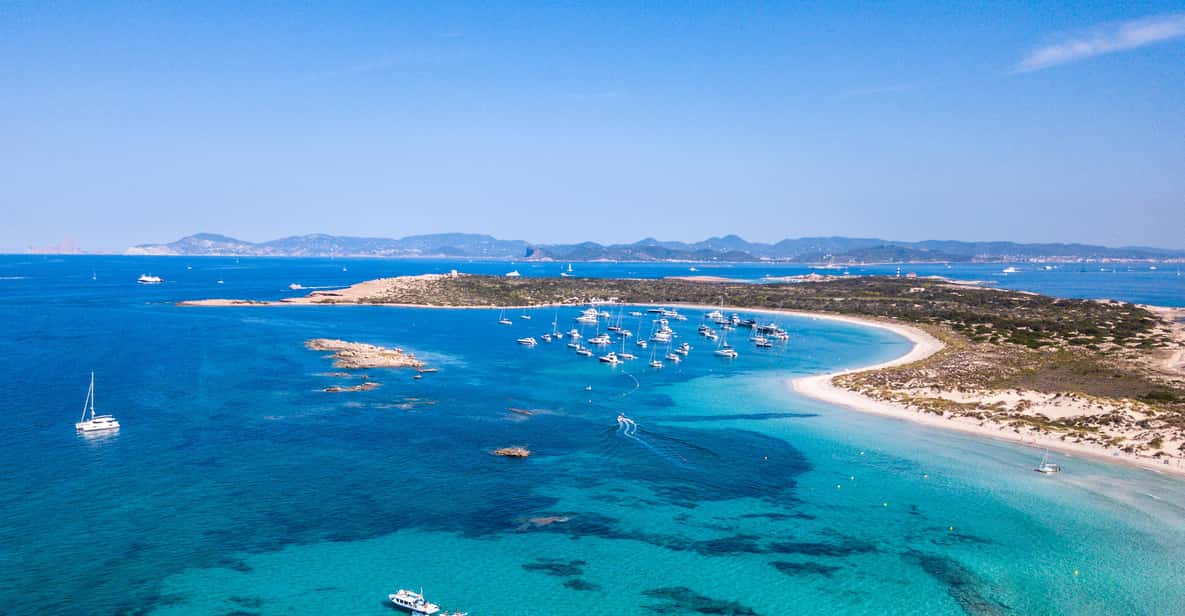 Tour Highlights at a Glance
:
---
Departure Point: Depends on option selected
Departure Time: 10:30 AM
Duration: 8 hours
Includes: 8-hour cruise, open bar, buffet lunch, swim stop, live saxophone & DJ, professional photographs
If you just want to party for the day, this adults-only charter in Ibiza is perfect for you. It's like an intimate nightclub out at sea!
After departing the harbor, the modern catamaran will sail you along the western coastline of Ibiza until you reach popular Cap de Barberia.
There you'll anchor for a while so that you can enjoy swimming and snorkeling in the pristine water or soak up the sun.
Expand To See MoreSee Less

From there head south to anchor once more off Illetas Beach where you can enjoy the crystal clear, pristine waters while swimming and snorkeling.

The crew will serve you some delicious tapas, and you can enjoy an ice-cold beer from the open bar. As the evening progresses, listen to the live saxophonist and then get up to dance when the DJ begins to spin those iconic Ibizan electric tunes.

Lastly you will head the the quaint port town of La Savina. Here you will have 2 hours to explore, shop or just enjoy a drink.

While heading back to Ibiza, dance and enjoy the music and sangria while the sun sets over the Mediterranean Sea. It's a party on a catamaran in Ibiza.
For tour prices, transportation and availability:
---
Ibiza Travel Guide
Ibiza is known throughout the world for its lively nightlife, but there's much more to the White Isle than clubs and bars. Ibiza boasts a rich history, some amazing scenery, and several important UNESCO World Heritage Sites.
The best way to see Ibiza is by sea. Because many of the White Isle's attractions are along the coast, Ibiza boat trips are a great way to explore the stunning coastline, historic sites, and private islands frequented by celebrities, politicians, and billionaires.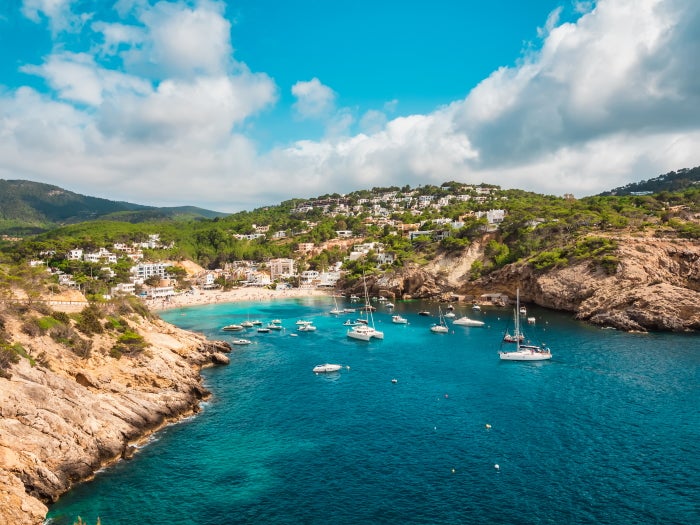 I've written this brief guide to introduce you to the many features of this beautiful island. I hope it will inspire you to perform your own research so you can make the most of your visit.
Airports & Entry
Ibiza Airport is a seasonal airport. In summer, it's extremely busy. In 2018, the airport welcomed 8 million passengers. From May through October, the airport opens 24 hours. The rest of the year, the opening hours are 6:00 am to 12:00 midnight.
Upon arrival, you'll find a single, modern terminal with stores and food outlets both landside and airside. The airport information kiosk is situated inside the Check-In area on the ground floor, and the "Airport Free Wifi" network provides free Wi-Fi connection throughout the terminal.
ATMs are found in the Arrivals Hall as is the Best & Fast Change currency exchange counter, which is open 7:30 am to 11 pm. If you're traveling with kids, they can burn off some steam in the Children's Play Area, Airside Departures, Floor 1.
You'll find a selection of stores in the airport, but many are closed during the offseason. If you want to grab some airsickness pills, or you have other minor medical problems, the Pharmacy in Landside Departures on the first floor opens 7:00 am to 10:30 pm.
There are two duty-free stores. Ibiza Duty-Free and Express Duty-Free. Both are found in Airside Departures on the first floor.
The larger Ibiza Duty-Free is open 6:00 am to 3:00 am during high season but closed for the remainder of the year.
But the smaller Express Duty-Free is open 7:00 am to 10:30 pm during high season and open following flight schedules for the remaining portion of the year.
Likewise, many food outlets open long hours during summer but close over winter. One café, Santa Gloria Café & Bakery in Landside Arrivals, is open 24 hours during high season and remains open 7:00 am to 11:00 pm in low season.
The airport is only 4½ miles from Ibiza Town. The easiest way to get from the airport to main destinations around the island is on one of the bus services run by the Ibiza Bus Company.
However, 2 of its 3 services only run during high season. Route 10 runs all year long, but it only takes you to San Jorge, Ibiza Port, Formentera Ferry Port, and Ibiza Bus Station. Most bus rides cost around €4:00.
Alternatively, you can find 8 reputable car rental agencies in Landside Arrivals, or there is a 24-hour taxi stand outside Arrivals.
Taxis charge an airport surcharge of €1.80, a minimum fare of €3.65, and €1.09 per kilometer. The rate per kilometer increases to €1.33 during the night, on weekends, and major holidays.
Planning Tips
Ibiza is a great destination, and I want you to have a wonderful time. Here are 5 tips to help you plan your visit.
Tip #1: Don't wear bikinis on the streets
Ibiza's wild nightlife may be notorious, and the beaches are filled with young people in swimwear, but there are limits. It's illegal to wear swimwear in public places in Spain except for places like swimming pools and beaches.
When you set off for the beach or pool, wear something over your swimwear until you get there. If the police see you uncovered on the street, you could face a hefty fine.
Tip #2: Book in advance, especially during summer
Ibiza is a popular destination, especially during summer. Hotels, events, and tours will get fully booked. To ensure you get to do all the things you want to do, book in advance.
Most reputable tour companies offer full refunds if you need to cancel a tour as long as you give reasonable notice.
Tip #3: Spanish waiting staff don't hurry
The Spanish have a more relaxed attitude to life than people from most other countries. It's possible that staff in a restaurant may be slow to serve you.
This is not because they are lazy or rude. It's simply their culture, so please don't be offended. If you feel your waiting staff provided good service, a tip of 7-10% is sufficient.
If the service wasn't good, feel free not to tip. In Spain, tipping isn't compulsory.
Tip #4: Be considerate of others' beliefs and culture
Although Ibiza has a liberal reputation, not everybody there will have an open mind. Many Ibizans are devout Catholics who will be offended by flippant blasphemy that you may think is a figure of speech.
Also, the home language for most Ibizans is Catalan, not Spanish. If you're a Spanish speaker, don't be surprised if you find some of the locals don't understand you.
Tip #5: Plan your visit with your objectives in mind
If you're mainly interested in clubbing, summer is the best time to go. But if you're more interested in the culture and history of Ibiza, consider going in spring or fall.
The hotel prices are lower, and attractions are less crowded then. Many restaurants and stores either close or operate limited hours in winter.
However, there are several popular fiestas during winter, like Three Kings Day on 6th January.
Restaurants & Eating Out
With so many young Europeans visiting Ibiza during the high season, you'll have no problem finding a branch of your favorite international fast food outlet. However, while in this unique region of Spain, why not try something different?
The cuisine in the Balearic Islands is typically Mediterranean, with frequent use of seafood as the main ingredient, copious amounts of fresh vegetables, and lashings of olive oil.
However, the islands boast many unique dishes, and some traditional foods are specific to each island.
When you wander around the Ibizan coastline, you'll stumble across many beachside restaurants, like The Fish Shack on Talamanca Beach.
All will feature parrillada de pescado on their menu. It's a mixed seafood grill comprised of whatever the local fishermen dragged out of the sea that day.
On your plate, you might find a varied mix of shrimp, squid, lobster, octopus, turbot, grouper, and cod. It all depends on the latest catch.
The local version of paella is paellas de marisco. Like parrillada de pescado, this Catalan paella uses fresh seafood ingredients straight from the Mediterranean. Or if you prefer your fish stewed, there's bullit de peix.
If mollusks and crustaceans are your thing, then zarzuela is a stew comprising shrimp, crab, mussels, and squid cooked alongside various kinds of fish in a saffron stock.
If you want to sample traditional Ibizan seafood dishes, Es Torrent is a popular, locally run restaurant located in a secluded cove on the south coast.
Moving away from seafood, there are two kinds of traditional sausage in the Balearic Islands: botifarra and sobrassada.
Botifarra is a Balearic version of blood sausage, and sobrassada is a pork sausage seasoned with paprika. You'll find these sausages used as ingredients in various traditional meat dishes, like arroz de matanzas.
This is a broth comprising rice, mushrooms, saffron, and locally sourced meat, usually chicken, pork, or sobrassada.
Another popular meat dish is sofrit pages, a Balearic meat stew made from a mixture of sobrassada, botifarra, lamb, and chicken, with added peppers and potatoes.
If you're looking for a restaurant that specializes in Ibizan cuisine like this, then I'd recommend Ca's Pages in the north of the island.
If you're a vegetarian, you might be panicking about all these meat-or-fish-based dishes. Don't worry. Ibiza is a great place for growing vegetables, so there are plenty of vegetarian options.
For example, you can eat tapas made from mixed olives and cheese, broad beans, or artichokes. Tumbet is a popular vegetarian dish.
It's like ratatouille and is made by covering fried vegetables with a tomato sauce and then baking them.
As for me, I always head straight for the dessert trolley. Ibizans love pastries, and the most popular on the island are flaons.
A Flaó is a circular pastry filled with goat's cheese, ground almonds, and honey. Because of the cheese, floans are sometimes thought of as cheesecakes.
Another delicious pastry is ensaimada de Mallorca, which is a light, fluffy pastry (shaped like Princess Leia's hair!) stuffed with cream, chocolate, or sweet pumpkin.
Leftover pastries are sometimes used to make greixonera. This is a pudding baked in an earthenware dish consisting of left-over-pastry, sugar, eggs, milk, lemon peel, and cinnamon.
Nightlife & Entertainment
Ibiza is notorious for its wild nightlife. In fact, the local government has attempted to calm the situation by forcing clubs to close by 6 am at the latest. Before this new regulation, many clubs remained open past sunrise.
The club scene is seasonal. Although many clubs open all year round, they are much quieter over the winter season and have a different mix of patrons.
While the summer sun attracts the youngest clubbers from northern Europe, especially the United Kingdom, winter sees a slightly older demographic and a higher proportion of locals.
The nightlife in Ibiza is focused on two places: Ibiza Town on the southeastern coast and San Antonio on the west coast.
The nightclubbing scene is mainly dominated by 7 large and well-established clubs: Amnesia, DC10, Eden, Es Paradis, Pacha, Privilege, and Space.
The largest clubs have the space to hold 3,000 clubbers and attract famous DJs. Many Ibizan clubs have developed an international reputation, especially in terms of introducing new songs in the techno, trance, and house genres of electronic dance music.
However, many nightclubs don't open until late at night. People headed out for the night begin their evenings in numerous music bars around the island.
These bars generally offer free entry and affordable drinks. A particularly famous music bar is Café del Mar in San Antonio, which has become strongly associated with the release of new songs into the charts.
If you want a quieter night, you can find a bar around the village square in any village in Ibiza.
Getting Around
It's easy to get around Ibiza because it's a small island. The bus services run by the Ibiza Bus Company are frequent, efficient, affordable, and comprehensive.
You can take a comfortable, air-conditioned bus to all the major resorts, popular beaches, attractions, and settlements around the island.
During the day, buses run every 15 minutes on major routes but only once per hour on less popular routes. The services begin at 7:00 am and end at midnight.
If your main interest in visiting Ibiza is to enjoy the nightlife, a private company called Disco Bus operates from midnight until 6 am. It specializes in services between the main resorts, clubs, and bars.
The Disco Bus is very affordable, with average fares around €3.50.
If you prefer your independence, it's easy to hire a car. Because many vehicle-hire companies operate on the island, you'll find their rates competitive.
Driving yourself offers the most flexibility since you can go where you want when you want to go. However, note that fines for breaking the law are high, and you cannot drink and drive.
Although some car rental companies will hire vehicles to 21-year-olds, be aware that a few won't hire a car to anybody under 25! If you're going in high season, be aware that hire cars will be in demand. It's best to book in advance.
Taxis are always an option, though they are relatively expensive. You can hail a taxi on the streets, or your hotel receptionist can ring you a taxi.
Taxis are metered and charge a minimum fare of €3.65 and after that €1.09 per kilometer. The rate increases to €1.33 per kilometer at night, on weekends, and during holidays.
Accommodations
Because Ibiza is so small, you can stay anywhere on the island and still easily visit all the places you want to see. However, the different areas do have different characters, and you might prefer one over all the others.
Also, you can choose whether to stay in a hotel, hostel, or villa. Your choice will largely depend upon what kind of holiday you want and the size of your group.
Most visitors to Ibiza stay in a hotel in one of the main resorts. But when traveling with a large family or group of friends, you have the option to rent a villa on the island.
This provides you with more privacy than a hotel, but it might be less convenient for public transport, eating, and you won't get room service.
If you follow the crowd and opt for a hotel, there are 4 main locations: Ibiza Town, Playa d'en Bossa, San Antonio, and Santa Eulalia.
For those interested in culture and history, Ibiza Town is the island's capital. Despite the culture here, it's lively in the evenings due to the popular bars and restaurants.
Two miles south of Ibiza Town center is Playa d'en Bossa. This is a major nightlife area, with clubs like Sankeys, Hi, Ushuaia, and Bora Bora. This is a good place to stay if you want to party 24/7.
To the west is San Antonio. This is the best place to see sunsets over the sea. It's also the other major clubbing area on the island but generally more affordable than Ibiza Town and Playa d'en Bossa.
San Antonio is the home of the Ibiza Rocks Hotel, which is an ideal place to stay if you love to party.
For family groups, Santa Eulalia is a relatively quiet area on the east coast 10 miles north of Ibiza Town. There you'll find stunning, family-friendly beaches and several resorts.
But if you want to stay somewhere different, consider Sant Carles de Peralta. This inland village in the north of the island became popular with hippies in the '60s, who regularly congregated in the Bar Anita.
Weather
Ibiza is a popular destination for a good reason. The sun shines for most of the year, and there's relatively little rain. The island benefits from a Mediterranean climate with hot summers and mild winters.
Summers are dry and hot with average temperatures in August ranging from 720F to 870F. The constant sunshine is moderated by cooling breezes. There's not much rain in summer.
Fall remains sunny and pleasant but brings more rainfall. Average temperatures range from 540F to 670F in November.
Ibizan winters are mild. The rain continues but less than fall. Average temperatures range from 470F to 600F in January.
Spring sees less rain and warmer days. In April, the average temperatures range from 530F to 680F.
Attractions
Most visitors come to Ibiza for the exciting nightlife or the sunny beaches, but there's a lot more to the White Isle than sun, sand, and sangria.
If you're interested in culture and history, start in the Dalt Vila (Upper Town). Ibiza's old town stands high upon a hill surrounded by protective walls.
The town walls were given UNESCO World Heritage Site status in 1999, because they are one of only a handful of surviving Renaissance town walls like this around the world.
My favorite part of this impressive structure is the main gateway with its drawbridge, side statues, and artfully carved coat of arms.
You'll love the stunning views from the ramparts. Winding, cobbled streets and steep staircases climb up toward the Cathedral of Our Lady of the Snows.
This Gothic building on the site of a former mosque took over a century to build and has dominated the skyline of Ibiza Town since the 16th century.
The cathedral boasts a small collection of 14th– and 15th-century paintings of saints.
If you're not frightened by the site of real skeletons, the Puig des Molins Necropolis is a fascinating place to visit. It's just outside the Dalt Vila and is an ancient cemetery consisting of around 3,000 tombs.
This ancient graveyard is another UNESCO World Heritage Site, with an archaeology museum and access to the rabbit warren of tombs carved into the hillside.
On the northern coast of Ibiza near Puerto de Sant Miguel lies C'an Marca Cave.
This interesting cave was once used by smugglers to hide their contraband goods, but now it's open to the public so that you can see the underground waterfall, stalactites, and stalagmites.
In the '60s, Ibiza became a focal point for hippies to gather. Elements of this cultural event have survived in the form of two hippy markets that run during the summer high season.
The Punta Arabi Hippy Market in Es Cana is held on Wednesdays from 10 am to 7 pm, and the Las Dalias Hippy Market is held on Saturdays from 10 am to 8 pm and from 7 pm to 1 am on Mondays and Tuesdays.
At the hippy markets, you can find leather jewelry, tie-dyed clothes, and fortune-tellers, as well as face painting for your kids.
And if the hippy markets get you in the mood to hug some trees, check out Casita Verde. This is an ecology and education center that practices and teaches the green lifestyle.
The center holds regular workshops to teach people how to engage in sustainable living.
We chose the Ibiza: 1-Day Boat Tour Excursion as our Editor's Choice for the best Ibiza boat tours and trips.