Constructed in the early 1930's, Hoover Dam represents the kind of manpower and possibility American workers and industry were capable of.
As one of the tallest concrete dams in the world, it's quite the site to see! Located just 30 minutes outside of Las Vegas, it's absolutely worth going to see if you have the time!
We have all of the top Hoover Dam tours from Las Vegas tours right here for you!
Be sure to see our reviews of Red Rock Canyon tours, Antelope Canyon tours and Grand Canyon tours.
Best Hoover Dam Tours
---
Quick Answer: The 7 Best Rated Hoover Dam Tours From Las Vegas
---
Hoover Dam Tour Reviews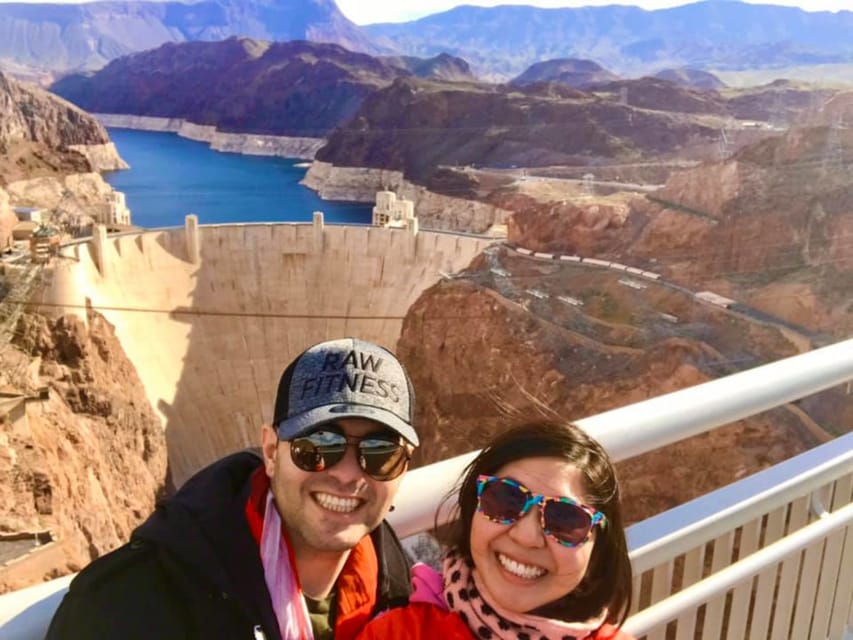 Tour Highlights
:
---
Duration: 6.5 hours
Departure: Hotel pickup and drop-off included
Departure Time: 8 am
Includes: Professional Guide, Government's Power Plant Tour inside the Visitor Center, Exhibit Tour Exclusive, 45 minute Walk On The Top tour, bottled water, complimentary ticket for the LA Comedy Club at the Strat
The Hoover Dam Tour from Las Vegas with Lunch is one of the most comprehensive tours, making it one of the most highly-rated from consumers time after time.
Lasting 6.5 hours, you'll get to see an in-depth version of Hoover Dam that most people don't even know exists! If you're ready for a fun, educational adventure away from Vegas, you'll love this one!
Once you're picked up from your Las Vegas hotel, you'll board an air-conditioned, comfy vehicle. The drivers are very experienced, and make the entire drive entertaining with their anecdotes and stories about the area. Due to the small group size, you'll be able to ask your guide questions regarding the Hoover Dam history and related subjects.
Once you all arrive, you'll head straight into the Powerplant Tour. This was particularly interesting, where you'll climb up to a whopping 524 feet into the walls of the Black Canyon.
Expand To See MoreSee Less

This area lets you see the Nevada Powerwing, full of massive generators and pipes inside the diversion tunnels! After learning about how it operates and how it began, you'll then take the elevator back to the Visitor Center.

The Walk on the Top portion of the tour tends to be the crowd favorite, as you're literally walking over the dam! The vast majority of Hoover Dam tours do not offer this!

You'll stop on the bypass bridge to check out the incredible aerial views (make sure you don't have a fear of heights!), take some photos, and head back to the bus.
100% refund for cancellations within 24 hours of tour experience
---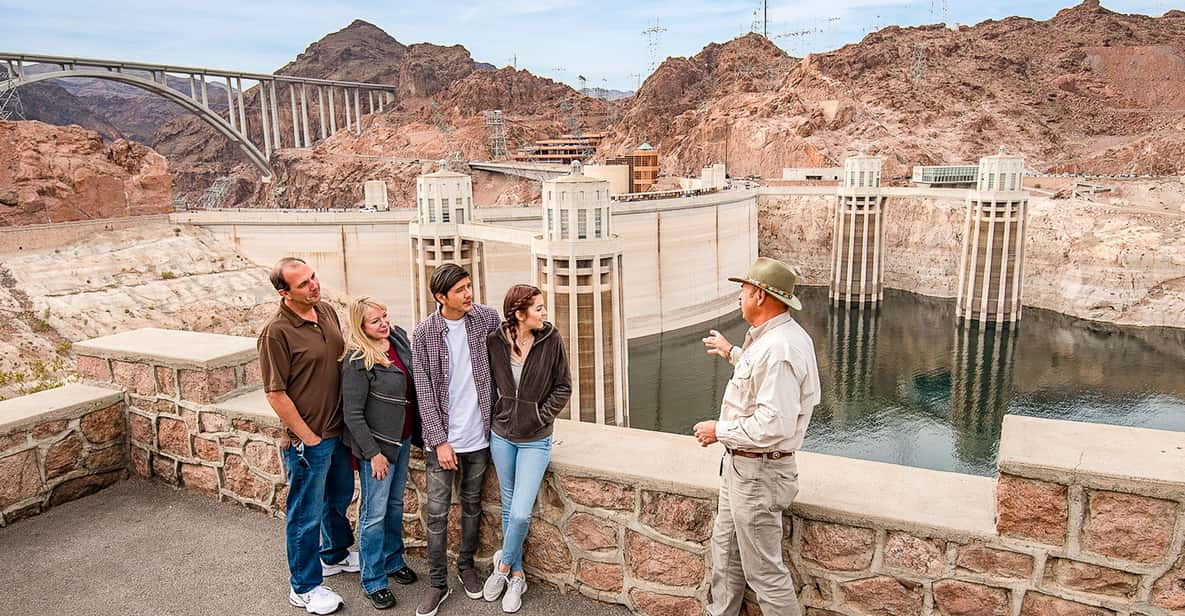 Tour Highlights
:
---
Duration: 5 hours
Departure: Hotel pickup and drop-off is included
Departure Time: 8 am and 1 pm
Includes: Professional Guide, hotel pickup and drop-off, bottled water
If you want to sneak away from the Las Vegas hustle-and-bustle, this next tour is a great way to do so! The  Hoover Dam Half Day Tour from Las Vegas is just a ton of fun, with the opportunity of seeing something that many people don't get the opportunity to. However, you'll see much more than just the dam on this excursion!
Once picked up from your Vegas Strip or downtown hotel in the morning (afternoon available), you'll head straight to the dam. On the way, your tour guides will fill you in on some of the important highlights of the history of the dam and surrounding area.
All guides are certified professionals with a lot of experience, and the small group size means it's more personalized. Once you arrive to the dam, you'll go on an extended exterior tour of the dam.
Expand To See MoreSee Less

You'll learn even more about how it was built, how difficult it was to get it going during this crucial time in history (the Great Depression), and much more.

You'll get to walk across the dam into Arizona, standing almost 1000 feet above the Colorado River! It almost feels like you're soaring above in an aircraft, it's so high!

On the way back to your Vegas hotel, you'll make a stop at a local park full of Big Horn Sheep! Of course, this does depend on the time of year, but they come down from the mountains to graze on the grass in this area when it's warmer.

At this time, you'll even learn about the Native American history here, local flora and fauna, and more!
100% refund for cancellations within 24 hours of tour experience
---
Tour Highlights
:
---
Duration: 5 hours
Departure: Hotel pickup and drop-off included
Departure Time: 7 to 8 am
Includes: Professional, local guide, pickup and drop-off, entry fees
Next we have the Private Half-Day Hoover Dam Tour from Las Vegas. This 4.5 – 5-hour tour is a great way to slow down, get some exercise in, and learn about a very important structure in US history.
This tour does include round-trip transportation and all entry fees, making it one of the most seamless ways to go about seeing the dam.
Once you get picked up from your hotel, you'll head out to the Dam and settle in to the comfy, climate-controlled vehicle with the rest of your group. The guides will talk to you about the history of the dam, so you already have a good idea of what to expect when you arrive.
Once you arrive, you'll further learn about the area and follow the guide around to the best lookout spots.
Expand To See MoreSee Less

In fact, from the Mike O'Callaghan/Pat Tillman Memorial Bridge you'll be able to see pretty much all of the Dam and Black Canyon! Not only will you be able to see Nevada, you'll be able to see Arizona!

We loved being able to see Lake Mead, with rich blue waters and a rich history. In fact, it's the largest reservoir in the country, and is a popular destination for fishing, boating, swimming, and more!

You'll then head inside the dam for the interior tour and powerplant tour. It's so fascinating to see it from the inside, along with the displays and photos on the walls! On your way back to your Vegas hotel, you'll stop in the beautiful 1930's town of Boulder City and the historic Boulder Dam Hotel.
100% refund for cancellations within 24 hours of tour experience
---
Tour Highlights
:
---
Duration: 5 hours
Departure: Hotel pickup and drop-off included
Departure Time: 8 am
Includes: Bottled water, hotel pickup and drop-off, air-conditioned vehicle, light breakfast snack
If you're on a budget and want something that isn't going to empty out your pockets, we have just the tour for you. The Hoover Dam Experience from Las Vegas 5-hour tour is a fantastic way to let loose and get out into the open desert. If you're looking for a bit of calm to contrast the glitz and glamor of Las Vegas, this is a fantastic option!
The tour starts by being picked up at your Las Vegas hotel by a comfy vehicle that will take you out for a 33-mile drive in the desert. Despite being a desert, it's quite scenic and beautiful to look at.
While you are riding along, listen to the commentary offered by the guides who are experts in this area and have quite a bit of knowledge about the history. They'll teach you all about the dam workers who lived in Boulder City in the 1930s – some of which who unfortunately didn't make it.
Expand To See MoreSee Less

You'll then drive past Lake Mead, which is the second largest man-made lake in all of the Western Hemisphere! The cool thing is, if you didn't know it, you'd probably never even realize that it's manmade! You'll then cross over the top of the dam.

For many, this is really the most breathtaking experience, and at 900 feet up it's no wonder why. You'll get plenty of close-up views of the structure, penstocks, and Arizona Spillway.

While it was closed due to COVID regulations, the generator room and power plant should now be open up to guests again. The interior tour is just as fascinating as the exterior, offering more in-depth knowledge about the history and operation of the dam.
100% refund for cancellations within 24 hours of tour experience
---
Tour Highlights
:
---
Duration: 10.5 hours
Departure: Hotel pickup and drop-off included
Departure Time: 6 am
Includes: Air-conditioned vehicle, breakfast, selected hotel pickup and drop-off, unlimited bottled water, lunch (if option selected)
Are you on the hunt for a tour that's more in-depth than just a couple of hours? Or perhaps you'd like to spend a bit more time outside of the city than just a morning? If either of those sound like you, then the Grand Canyon West Rim with Hoover Dam from Las Vegas tour is just for you!
Lasting a whopping 10.5 hours, you're going to see not only the Hoover Dam, but the Grand Canyon, Joshua Tree forest, and more. This educational, fun, adventurous excursion is great for people of all ages and is one that you'll surely take again.
You'll start off at the crack of dawn with a pickup at your Las Vegas hotel, then travel straight into the desert. You'll get to see various Joshua Trees that grow here – some of which are almost a whopping 1,000 years old if you can believe it!
Before arriving at the Grand Canyon, you'll make a stop at the Hoover Dam bypass bridge, where you'll be able to take some photos and enjoy the incredible vistas of the structure.
Expand To See MoreSee Less

Next, you'll head out to the Grand Canyon's west rim, which is where the famous Skywalk is located. The glass Skywalk may be a bit intimidating at first, but it offers some of the best views possible of the canyon, including the 4,000-foot drop to the Colorado River at the bottom!

The guides will tell you all about the geologic and cultural history of the area, creating even more of an impact.

Eagle Point is also a Native American village which features various tribal homes and offers a bit of insight into their lifestyle. You'll get to enjoy some of their cultural activities, such as their traditional dance performances!

Then, head over to Guano Point with some more breathtaking views over the river, You can hike the trail over here, which leads to an insane lookout! Take lunch over and enjoy it with a view.
100% refund for cancellations within 24 hours of tour experience
---
Tour Highlights
:
---
Duration: 4.5 hours
Departure: Hotel pickup and drop-off included
Departure Time: Morning
Includes: Hotel pickup and drop-off, helicopter flight (If option selected), bottled water
The Hoover Dam Tour from Las Vegas is another one we had to mention, due to the consistently top-notch ratings it receives. Lasting 4.5 hours, it's a great way to fill in your morning and be back before the afternoon! Learn all about the history of the dam, how it was constructed, and how it's played such a massive role in Vegas' success.
Hotel pickup and drop-off is offered, so you don't have to worry about transportation. Once you arrive to Hoover Dam, you'll receive an express tour where you can check out the exhibit gallery and visitor center.
The penstock viewing platform offers incredible views, and you will also be able to take a guided tour where they teach you all about how it was made – during one of the most difficult parts of US history!
If you'd like, you can choose to upgrade to their "deluxe tour", which includes lunch at The Hoover Dam Lodge and a stop at Ethel M's chocolate factory and botanical gardens.
Expand To See MoreSee Less

If you are a foodie, this is just a must-do. Alternatively, you can select the deluxe tour and the Lake Mead Cruise, which gets you out on a paddlewheel boat with a picnic lunch served on board!

Whichever one you choose, however, know that you'll have a great time. The cruise is always a load of fun, with amazing views of the water and a yummy lunch.

The crew are funny, entertaining, and always place safety first. If traffic is light on the way to your hotel, you'll also be able to make some stops for photo ops at the legendary Las Vegas "welcome" sign!
100% refund for cancellations within 24 hours of tour experience
---
Tour Highlights
:
---
Duration: 4 hours
Departure: 3050 Westwood Dr, Las Vegas, NV 89109
Departure Time: 8 am
Includes: Use of Automatic Trike Motorcycle, bottled water, driver/guide
Okay, now we're almost positive you've never gone on a tour like this next one! The Hoover Dam Trike Tour is hands-down one of the most interesting ways to see the dam! You'll hop on to a motorized trike and drive this one-of-a-kind vehicle and see the area's most beautiful lookouts.
You do get an option of different vehicles if you don't want a trike (though they're pretty awesome). There are also slingshot vehicles and others that are similar to motorcycles, so it really just depends on what you choose.
However, the trikes are truly unique, and so easy to operate! If you don't feel comfortable driving, however, it does fit 2 passengers which makes it great for going with a partner!
Before you head out, you'll receive a thorough safety lecture by the guides and then the opportunity to take some practice runs before hitting the road.
Expand To See MoreSee Less

As you ride around, the guides will explain the history of the area and the dam, mixing adrenaline with education. They do take you to various stops throughout so you have time to really see the area.

You'll have time to walk across the dam's overlook, take plenty of photos, and even view Lake Mead. The guides are very attentive, making sure everyone is safe, comfortable, and following them.

This is definitely a tour great for all ages and experience levels, as it does not require a motorcycle license. It gives you an amazing sense of freedom, and lets you get in some fresh air, too!
100% refund for cancellations within 24 hours of tour experience
---
Las Vegas Travel Guide
Getting There –
As Las Vegas is such a popular spot for tourists, it's really convenient getting there (in most cases). It seems like a lot of major airlines offer direct flights to Vegas! American Airlines, Spirit, United, Delta, Southwest, British Airways, Virgin Atlantic, and many more.

As you can probably imagine, there are certain times throughout the year where flights are more expensive, such as New Year's. If you can stand the heat, summer usually has the cheapest flights.

If you live in Southern California or Arizona, for example, you may prefer driving. The roads there are usually worth it alone, whether you like natural beauty or are itching to explore some of the various art displays in the middle of the desert.
Getting Around
While it's very likely you're going to spend the vast majority of your stay on the Strip, it's not always as easy as just walking from one end to the other. Not to mention, if you're going in the summer, that sun is going to be beaming on down on you, hard! Let's talk about the most convenient ways to get around.

Monorail – Did you know that Las Vegas has a monorail? It sure does! This makes it so much easier for people to get around, from business travelers to tourists. This way, you can get around the Strip in less than 15 minutes! You have different types of fares, depending on how long you're going to be there and how often you'll need to move around. The mobile tickets are a breeze to use, too. We recommend the unlimited ride pass!

This system operates at trains every 4-8 minutes, including: MGM Grand, Paris Las Vegas, Flamingo/Caesar's Palace, Harrah's/The LINQ, Convention Center, Westgate, and SAHARA.

Taxi – Taxis are still heavily used in Vegas, and have been an iconic part of the city's history. There are various companies operating in the city, and this is one place you never have to worry about it being "too late" to hail a cab.

Rideshare – If you're not very keen on taxis, that's okay. Lyft and Uber do operate here as well, though we feel like Lyft has been more reliable and a bit more affordable in our experience.

Rental Cars – If you didn't drive to Vegas but you still want to drive, we recommend you grab a rental at the Harry Reid International Airport Rental Car Center. Here, there are a whopping 10 car rental companies in one convenient spot. Not to mention, it literally never closes, and has non-stop shuttle service to and from the airport terminals.

Limos – When in Vegas, right? If you want to go all out and get really flashy, limousines are a fun way to go about getting from point A to point B. There are plenty available at McCarran International Airport, though as they're more limited than a rental car or taxi, it's best to make a reservation ahead of time. There are also party limos and those that do Strip tours, too!

Bus – It's available, but it's not always the most desirable. The Deuce is Vegas' public transportation that runs on 2 routes that can take you to the Strip or downtown. Deuce on the Strip makes stops at pretty much every resort located on the Strip, and DVX goes a bit through downtown/Fremont Street area.
Where to Stay –
One of the reasons why Vegas is so appealing, is because there really is something for every budget. From the budget-friendly to ultra-luxury, you'll find it all here. This can make it difficult to choose where to stay, though, as there is just so much to choose from!

If you didn't know already, The Strip is basically the very center or heart of Las Vegas. While it's just 4 miles long, there's a lot packed in, including endless different resorts. However, as you may imagine, it's generally more expensive to stay on the Strip. Also, you probably want a hotel that's located more in the center of the Strip so you aren't having to make a trek every time just to see other things on the other end.

Budget-Friendly – If you're really on a tight budget, we recommend taking a look at a hotel off the Strip. The Westgate is a great choice. However, there are also some other options like the STRAT which is located on the north end of the Strip. While certainly impressive in appearance and spacious rooms, it's not a solid option. However, it's a bit barren around the hotel, and you'll have to travel a couple miles to get to the center of the Strip or Fremont Street.

The Luxor, Excalibur, and Circus Circus are a few other notorious hotels on the strip that are more affordable! Speaking of impressive in appearance, the Luxor is literally an enormous pyramid, and the Excalibur, a castle.

Middle Options – If you have a bit more budget, give The Tropicana a try. It has a kind of old-school Miami feel to it, and even houses one of the few original 1950's casinos inside! We love the Paris Las Vegas, which is just a classic. It's in a prime location and close to most of the main attractions. With their own versions of the Louvre, Eiffel Tower, and Arc de Triomphe, it's kind of like being in Paris! The rooms are a tiny bit dated, but are in good shape. The hotel also has the Chateau nightclub and over a dozen restaurants.

Caesar's Palace and the Mirage are a couple of other nice selections in this price range.

Higher-End – The Bellagio is always a fine choice when you're in Vegas. It's one of the largest on the Strip, and is located right in the center of it. Thanks to the massive fountains in front of it, however, you are still set a bit away from the noisiness of the streets.

The Skylofts at MGM Grand are one of our favorites, and are absolutely impressive. With rooms starting at 1,400 square feet up to 3-bedroom lofts, you can imagine the magnificent vistas of the Strip when you look out your floor-to-ceiling windows!

The Waldorf Astoria (formerly the Mandarin Oriental), is a bit more of a peaceful form of luxury. You can rest assured that whatever you experience in this hotel – from the rooms, to the spas, to the restaurants – will be the ultimate in luxury.
Restaurants and Eating Out –
Oh boy, where to begin? If you're a foodie (and even if you aren't), you're going to love Vegas! Literally everything you can imagine (and things you could never fathom) are here for the eating, at all hours of the day. Just like with hotels, you have options for all budgets. However, we highly recommend making reservations as far in advance as possible (if the restaurant accepts reservations).

Celeb Chef Restaurants – Did you know that Vegas houses the most celebrity chefs in the world (per mile)? That's right, over 40 of them work on the Strip, offering tourists and locals prime, unique dishes and fun places to dine.

If you're a sushi fiend, do not miss Nobu Matsuhisa at Caesars Palace and Virgin Hotels. Famous for fusing traditional Japanese with Peruvian ingredients, his dishes are fresh and flavorful. Another great Caesars Palace eat is Guy Savoy's namesake restaurant.

Serving posh French Cuisine, it's often dubbed the best restaurant in all of Las Vegas. Who doesn't love some good Italian food? Paying homage to the Italian-American restaurants of the mid-20th century, you can expect opulence and unmatched tableside service at Carbone.

Buffets – Did you know that the earliest version of what we currently know as the "buffet" started in Vegas? It makes sense, then, that they're still masters at the craft. Buffets keep gamblers in the casinos, while still keeping things more affordable than it'd be to keep a full restaurant open all the time.

Garden Court Buffet is located inside Main Street Station, and is one of the best bang for your buck if you're in Fremont Street. The Buffet at the Golden Nugget is another budget option, offering breakfast, lunch, dinner, and brunch on the weekends. Not only that, they have a full bar! The Buffet at Wynn is probably the most beautiful buffet in the city, with a whopping 15 live-action cooking stations! You can expect delicious steaks, seafood, and if we may say – fine dining?

First-Time Musts – There are places that you just have to eat at if it's your first time in Vegas. One of them, is the Golden Steer. This steakhouse originally opened in the late-50's, with serious legends having dined here, like Elvis Presley, Frank Sinatra, actress Natalie Wood, Nat King Cole, Muhammad Ali, and more.

Tao Asian Bistro is certainly an impressive place, both in taste and appearance. I mean, where else are you going to enjoy flavorful Pan-Asian food in the midst of an enormous Buddha floating over a Japanese Koi pond?

The Paris has a lot to offer, including the Mon Ami Gabi. Located right at the base of their Eiffel Tower, you can grab some yummy breakfast, lunch, and dinner here. It's a prime people-watching spot, and also has some nice views of the Bellagio fountains.

Tacos are always a good idea, but not every taco is good. Tacos El Gordo offers delicious ones, and if you're just coming out of the club or casino you have to fill up on these delicious ones!
Nightlife and Entertainment –
We simply won't be able to cover every single excellent option Vegas has in terms of nightlife and entertainment, as it's what it's known for and has something new seemingly every month. However, we're going to do our best to recommend you what we feel is worth your money, along with what's simply the most popular.

Nightclubs – There are a ton of world-class nightclubs in Vegas. If you're into electronic music, you're in for a real treat. Zouk Nightclub is the newest and most high-tech in Vegas, with multiple rooms. You'll see the biggest artists, like Tiesto, Disclosure, and so on here. XS Las Vegas in the Wynn is maybe the most "elegant" on the Strip, and has different areas that each time is a bit different. Top-notch, mainstream DJs are always here, and it's always packed.

Omnia inside Caesars Palace is another luxury option, with world-famous DJs, bands, and other musical acts. Hakkasan in the MGM Grand is another great option, with various floors all offering a different genre. However, it's most well-known for the mainstage area with electronic acts.

Here are some other great options: Drai's, Drenched at Marquee, Tao, Chateau, Jewel, and Marquee.

Bars and Speakeasys – Vegas is definitely a drinking city, and with that comes a ton of supreme bars and speakeasys.

Downtown Cocktail Room is a swanky speakeasy oozing with elegance. The front door is a bit difficult to find, but it's absolutely worth it once you're enjoying a smooth craft cocktail in a velvet chair. The Laundry Roominside Commonwealth is an intimate, small little place marked with a laundry pin outside! With images of iconic Hollywood women such as Rita Hayworth and Marlene Dietrich hanging on the walls, make sure to check the red light outside or text the number to see if space is available.

Frankie's Tiki Room is a must-see! It'll transport you to another world, with its kitschy bar decorated with complete tiki vibes. Their cocktails are simply iconic, and the staff is so much fun. If you're a craft beer buff, you have to check out The Silver Stamp: a 1970s den complete with wood paneling and vintage beer memorabilia.

Shows – We couldn't leave out one of the biggest entertainment offerings in Las Vegas! Cirque du Soleil is a classic, with 6 different shows in Vegas. "O" by Cirque du Soleil is an aquatic show with the famous acrobats you probably equate with the Cirque du Soleil name. "Michael Jackson ONE" is a must-see for MJ fans, as well as "The Beatles Love" for Beatles fans. "Mystere", "KA", and "Mad Apple" are also great options.

David Copperfield is a legendary Vegas show that never fails to wow audiences. Even if you aren't particularly into magic tricks, it'll leave you scratching your head over how he pulls some of these illusions off. Other solid magic show options are Criss Angel's Mindfreak and Mat Franco at The LINQ.

Blue Man Group has been impressing Vegas audiences for years. Their playful miming, use of music, and invented instruments is a blast! Jabbawockeez offers a kind of similar experience, and became famous from winning America's Best Dance Crew over 10 years ago. If you're into humor, try checking out Terry Fator's funny ventriloquist talents.

Casinos – If you're on the hunt for the biggest, most upscale casinos with the newest games, we recommend heading to The Venetian is a smart move. Not only that, but it has a race and sports book, a very popular poker room, and tons of slots.

If you're looking for a certain game, then it's worth searching around online first. Lots of newbie gamblers want to go with a low limit table. You're not as likely to find these on the Strip, but El Cortez on Fremont Street is an excellent option with many low-limit games and blackjack from a single or double-deck shoe. It's always fun to play around on the penny and nickel machines here, too. South Point is at the end of Las Vegas Boulevard is a great alternative.

On the other end of the spectrum lies Caesars Palace. High rollers love this place, and the fact that it often shows up in Hollywood movies is just another reason why. Be prepared to spend some serious cash here. The Bellagio is a nice alternative, with luxury and a massive 7,000 square-foot poker room.
Weather
Between March to May and September to November are commonly known as the best times of year for Vegas weather. It is a desert, so you can absolutely count on summers being above 100 degrees. Spring and fall are pretty nice – not too hot, not too cold. Wintertime tends to be pretty cold, so dress accordingly!
Attractions
What else is there to do in Vegas that isn't gambling, eating, or seeing a show? Let's take a look!

Fremont Street – Fremont Street is a blast! It's a little kooky, but reminds us of "old-school" Las Vegas. Located right in downtown, it's pedestrian-only and comes with a ton of live entertainment, the ultra-fun zipline that goes right over the center of the street, and a light show. Container Park is here, too, with all kinds of little boutique shops and live entertainment.

Statosphere Tower/The STRAT Observation Deck – The tallest freestanding observation deck in the US is located here, too! If you're already staying at The STRAT, make sure to check out the observation deck! Even if you aren't staying there, it's a pretty interesting way to see a 360-view of Vegas.

The Neon Museum – Often a go-to spot for local photographers, The 2.25-acre Neon Museum or Neon Boneyard, keeps old neon signs from the city, making for a fascinating cultural spot to take a stroll away from the crowds.

Drive Your Dream Car – Ever wanted to drive a Lambo, Ferrari, or Aston Martin? You can at Exotics Racing! You can drive up to 130 mph on their race track – don't forget to take some pics or photos! At the Richard Petty Driving Experience you can join a pro driver on the Las Vegas Speedway, too!

Indoor Skydiving – Are you an adrenaline junkie? Perhaps you want the thrill of skydiving without having to jump out of a sketchy old plane? Then head over to Vegas Indoor Skydiving!

Atomic Testing Museum – The US has quite the history of nuclear testing, especially in the Nevada deserts. This museum is educational, entertaining, and even includes an exact replica of the control point where the countdown for each nuclear bomb detonation occurred.

High Roller Observation Wheel – Located at The LINQ, this is the world's tallest observation wheel! You know Vegas has to do things big! At 550 feet above ground, this is another great way to see the city, 360 degrees.

Roller Coaster – Head over to Adventure Dome for some indoor roller coasters, laser tag, the swinging ship, bumper cars, and more. If you're bringing kids along, you're going to score big points with them if you go here.

Helicopter Ride – Until you see the Las Vegas strip with a helicopter tour, you don't appreciate the beauty of the bright lights on the casinos and the surrounding desert.

Grand Canyon – If you have an extra day be sure to take a tour of the Grand Canyon. It's well worth the drive to see this spectacular natural attraction.

ATV Tours – Explore the beauty of the the surrounding desert with an ATV tour. These guided trips will be the adventure of a lifetime!

Balloon Ride – There is no better way to see the surrounding desert and the strip then floating above it with a hot air balloon ride.

Antelope & Red Rock Canyon – A tour of Antelope Canyon is not to be missed. These canyons were formed by water and wind erosion and will boggle your mind that they were all created naturally. Red Rock Canyon is one of the most photographed area in the country and when you go there you will know why. The fiery red rocks are stunningly beautiful. Be sure to take a guided tour of Red Rock Canyon is great way to see it, you can get lost in there pretty easily.
Tips
Walking from end-to-end of the Strip is not as easy as it may look. Especially if it's the middle of the sweltering summer heat. The Strip is filled with people basically at all times, so take your time and try to plan.
If you end up getting lost on the Strip (it happens, especially when alcohol is involved!), try to spot the STRAT tower on the north end.
Plan for resort fees. These can vary from around $25 to $40 per night, which can add up quickly! These usually are not included in the fees when booking so make sure to read the fine print.
Bring comfortable shoes. Yes, we know there's a lot of glitz and glamour, but at least bring the most comfy heels you have! You're likely to do a lot of standing and walking, and if you get blisters it can put a bit of a damper on things.
Bring sunscreen – even if you don't think you'll need it! With the tall, reflective buildings and being in the middle of the desert, the sun can really blast down on you.
Sites Seen
Tour Guides
Value
The Ultimate Hoover Dam Tour With Lunch is our Editor's Choice as the the best Hoover Dam tour from Las Vegas

User Rating:

Be the first one !