Cinque Terre is a string of 5 beautiful Italian coastal villages. Charmingly quaint, brightly colored homes hang from the seaside cliffs overlooking the waves below. Cliffside vineyards and centuries-old homes welcome visitors looking to enjoy classic Italian charm.
Take a walk on the hiking trail that connects all 5 villages, enjoy the freshest seafood in Italy, and even take a dip in the cool waves along Italy's coast.
Best Cinque Terre Tours
| | Cinque Terre Semi-Private Day Trip from Florence | Private Tour: Cinque Terre Day Trip from Florence | Semi-Private Cinque Terre & Pisa Leaning Tower |
| --- | --- | --- | --- |
| | | | |
| | | | |
| Departure Point: | Piazza della Repubblica | Your Florence Hotel | Hotel Boccaccio |
| Departure Time: | Early Morning, Varies | 8:15 AM | 7:30 AM |
| Duration: | 10 hours | 11 hours | 12 Hours |
| Includes: | Guided tour & independent exploration of Manarola and Vernazza with boat ride | Transportation to and from Cinque Terre in car or van, private tour, guided tours of each village with time for independent exploration | Driver & guide from Florence to Cinque Terre and Pisa and back, admission to 5 attractions |
| | | | |
Quick Answer: The 5 Best Cinque Terre Tours From Florence
We've chosen these top rated Cinque Terre Tour from Florence because they offer a wide range of experiences and will fit into everyone's budget.
Cinque Terre Tour Reviews
Tour Highlights At A Glance
:
---
Departure Point: Piazza della Repubblica, Central Florence
Departure Time: Early Morning, Varies
Duration: 10 hours (approx.)
Includes: Guided tour and independent exploration of Manarola and Vernazza with boat ride between, allotted time for lunch and wine tasting
You will be one of just eight travelers on this semi-private tour of Cinque Terre. Leave from Florence in the morning, spend an entire day exploring this UNESCO World Heritage Site and arrive in Florence again just in time to grab a delicious dinner.
Along your way to Cinque Terre, you'll ride through the Tuscany region of Italy and into Liguria. This region of Italy is well known for the Italian Riviera that offers great food, beautiful villages, and plenty of perfect photo ops.
Expand To See MoreSee Less

After exploring the village of Manarola, you'll travel to Vernazza by boat to explore this village as well. There will be plenty of time for stops in local wineries or even enjoy lunch, at your own expense. You'll also want to stop at Vernazza's church and castle that go back centuries.

On your way back, your comfortable tour vehicle will take a different route. You'll take in the picturesque views of Corniglia. After an entire day exploring Cinque Terre and taking in the beauty of both Tuscany and Corniglia, you'll have a new appreciation for the Italian Riviera.
For tour prices, transportation and availability:
---
Tour Highlights At A Glance
:
---
Departure Point: Your Florence Hotel
Departure Time: 8:15 AM
Duration: 11 hours (approx.)
Includes: Transportation to and from Cinque Terre in car or van, private tour, guided tours of each village with time for independent exploration, stops for lunch and shopping, optional upgrade with a stop in Pisa
This private tour offers the most in-depth and personal experience of Cinque Terre. If it's just two of you on a romantic vacation, your tour driver will take only you. If you have a family or group of more than 8 guests, they will accommodate by providing additional tour vehicles and drivers.
Your tour driver will give you the history and other facts of each region as you drive through on your way to Cinque Terre from Florence. The first of the five villages of Cinque Terre you will stop in is Riomaggiore. But this is just the beginning…
Expand To See MoreSee Less

Also, peruse the shops and enjoy an ice cream or other treats in Manarola and Vernazza. You'll also take in the sights of Corniglia. There are opportunities for boat rides, lunch, hiking, and wine tasting and more throughout the day. You'll be chauffeured back to Florence after this once-in-a-lifetime experience.

There is an optional upgrade to an additional stop in Pisa on the way back from Cinque Terre. Once again, it is only the guests on your private tour that will enjoy this additional stop.
For tour prices, transportation and availability:
---
Tour Highlights At A Glance
:
---
Departure Point: Hotel Boccaccio, traveler pick-up offered
Departure Time: 7:30 AM
Duration: 12 Hours (approx.)
Includes: Free bottled water, driver and guide from Florence to Cinque Terre and Pisa and back, admission to 5 Cinque Terre attractions, small group of only 8 travelers
This day trip from Florence will allow you to experience both the quaint, coastal villages of Cinque Terre and the Leaning Tower of Pisa in just one day. No need to spend an extra day to take in the sights of both when you can enjoy an entire day of sightseeing and see both.
You'll arrive in Cinque Terre by comfortable minivan. The driver will also be your guide as you travel between each of the five villages. This can be by train, by boat, or by minivan depending on the group or by weather. Your tour group will have a maximum of 8 travelers.
Expand To See MoreSee Less

As you travel to each of the five villages located at Cinque Terre, your guide will tell you the history and legends of each. You'll also enjoy admission to various historical sites at each, such as Biblioteca Civica Monterosso al Mare in the largest of the 5 villages.

At the stop in Pisa on your way back to Florence, you will have plenty of free time to explore the Leaning Tower and take in all the other beautiful sites here. If you plan on entering the Leaning Tower, it's best to purchase your admission in advance so you have as much time as possible while the tour is stopped here.
For tour prices, transportation and availability:
---
Tour Highlights At A Glance
:
---
Departure Point: Piazza della Stazione
Departure Time: 8:00 AM
Duration: 12 hours 30 minutes (approx.)
Includes: Transportation to and from Cinque Terre from Florence, guided hike through all 5 villages of Cinque Terre, time allotted for swimming, entrance into the Parco Nazionale Cinque Terre
For some, there's nothing quite like experiencing a beautiful place like Cinque Terre on foot. This hiking day trip from Florence will allow you to do just that. You also may want to bring swimming attire so you can enjoy a few minutes in the cool, salty waters of this coastal area.
There are dozens of various walking paths that weave in and out of each of the 5 villages that make up Cinque Terre. The Sentiero Azzurro links all of the villages while offering breathtaking views of each coastal area and the fishing commerce below.
Expand To See MoreSee Less

This UNESCO World Heritage Site has much to offer the hiker. Your experienced guide will make it even better as you learn of the history of Cinque Terre and are taken to some of the most impactful locations here. For example, the church in Vernazza with a cornerstone that's dated 1338.

The entire hike covers 3.4 miles so it's important to have an appropriate fitness level. However, the 3.4 miles will take you to places here that cannot be reached by car. This means your experience here is much more than that of many other visitors to the area.
For tour prices, transportation and availability:
---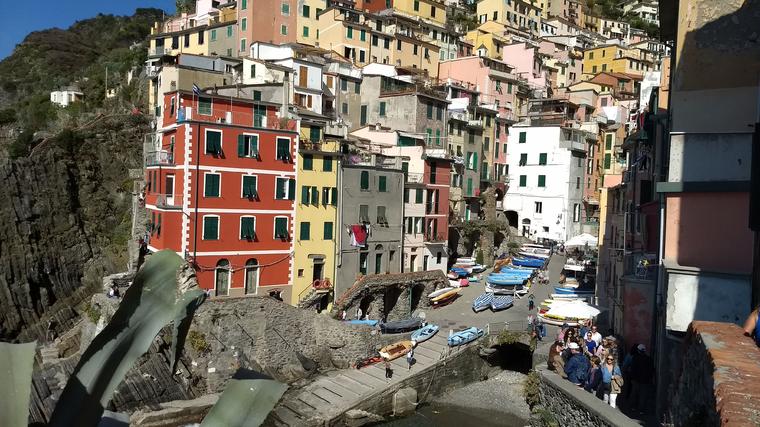 Tour Highlights At A Glance
:
---
Departure Point: Santa Maria Novella Train Station, Florence
Departure Time: 7:00 AM
Duration: 13 Hours (approx.)
Includes: Train travel from Florence to Pisa and Cinque Terre and back to Florence, time to enjoy Pisa as well as three Cinque Terre villages, time allotted for swimming in Vernazza, tour guide
There's just nothing like enjoying the views of the Italian countryside from a train. Train travel in Italy is quite popular, and it also allows you to reach your destinations much faster. This means that you will have much more time to explore at Pisa and Cinque Terre than if you were to travel there by car or van.
While stopped in Pisa, you will be able to enjoy the sites of both the Leaning Tower of Pisa and the Duomo. If you'd like to enter these attractions, be sure to purchase your ticket prior to the trip. There will also be time for you to take pictures at the Field of Dreams.
Expand To See MoreSee Less

You'll then head to Cinque Terre where you will bask in the quaint beauty of three of the five villages. These are Riomaggiore, Manarola, and Vernazza and the most popular stops for visitors. In Vernazza, there will be time for taking a quick dip in the waves if you've worn or brought swimming attire.

You'll head back to Florence by train, giving you time to discuss the wonderful times you enjoyed in both Pisa and Cinque Terre. You might even want to show off the beautiful photos you took during the tour!
For tour prices, transportation and availability:
---
Your Guide to Florence & Cinque Terre Italy
If you're planning a vacation to Florence, Italy you should know what airport you'll be flying into, the best accommodations available, what restaurants to stop by, and more. In this travel guide, we give you all the information you'll need to get started planning your vacation. Have you been to Florence and want to suggest a tourist stop or restaurant? Comment below!
Airports & Entry
There is a small airport in Florence, the Florence Peretola. It was previously known as Amerigo Vespucci Airport. However, you will most likely fly into the Galileo Galilei International Airport in Pisa. This is a much larger airport so long-distance, foreign flights are most likely to land here.

Your passport will need to be valid for at least six months past your intended date of departure. If you're planning on an extended stay, you can stay in Italy for up to 90 days without the need for a visa, so long as your passport is valid.
Planning Tips
Visiting Florence can be a once-in-a-lifetime experience. However, it's important to plan and prepare for your trip properly. Here, we have our top 5 tips for those planning a trip to Florence, Italy. Have you visited and have a tip of your own? Leave it in the comments down below!
Tip #1: Don't be Afraid to Spit
When wine tasting in Italy, it is common for the taster to swish the wine around in their mouth to get the full profile of flavors, and then spit the wine out. This is so that you can taste many more wines without becoming intoxicated. It may feel a bit uncomfortable to spit out your drink in public, but it's actually the cultural norm for this country.
Tip #2: Eat Light
You'll find that even entrees featuring meat and pasta are smaller in portion size than what we see here in the US. Most of the time, meals consist of lighter fare including crostini, cured meat, and cheeses. Do not be surprised at the smaller portions of heavy meals and the abundance of lighter snacks.
Tip #3: Explore Florence on Foot
Not only is walking the preferred method of getting around in Florence, but it is also the easiest. While you may be walking with many other tourists, walking allows you to see more of the city. It may even take longer to wait for a taxi or bus than it would to walk to your destination. You will also most likely be walking at many of the attractions. Be sure to bring a pair or two of comfortable walking shoes.
Tip #4: Prioritize Your List
It would take months, if not years, to visit and explore every museum, gallery, eatery, and other important location within the city of Florence. Be sure to prioritize the list of places you'd like to see based on the length of time you're spending here. Many of the attractions have estimated wait times based on the time of year and time of day you are visiting. This makes it easier to plan out your sightseeing.
Tip #6: Explore The Surrounding Cities
Venice is only a few hours northeast of Florence. This famous beautiful city is a must see! You must see the incomparable St Marks Basilica and take a gondola ride though its canals. There is so much to see and do there it needs to be on your list of places to see.
Tip #5: Take Those 500 Steps
The Cathedral in Florence, called the Duomo, is the 4th-largest cathedral in the world. It took nearly 2 centuries to complete. Be sure to save at least one day to explore it. If you'd like to reach the highest point in Florence by hiking the 463 steps to the cathedral's cupola, you'll need to make a reservation. However, you won't be disappointed.
Restaurants & Eating Out
It seems even the food vendors at every corner and in front of every attraction have some of the best food available. These vendors also make it very quick to grab a bite to eat while on your way from one destination to another.

If you're looking for some of the best gelato in Florence, you want to check out Carapina. The flavors of gelato available will change based on the season, and the number of choices is limited on purpose, but if you've ever thought of trying gelato with either olive oil or parmesan, this is the place.

The Borgo san Jacopo is one of the most exclusive restaurants in Florence. There are just four tables on a small terrace, but this terrace offers breathtaking views of the Ponte Vecchio. The star chef, Peter Brunel, offers mouthwatering entrées. Save room for the purple potato sorbet with various toppings, including gold leaf, for dessert.

A popular stop for many tourists is La Menagere. La Menagere is home to both a café and cocktail bar, but you'll also find beautiful bouquets in the flower shop as well as quality Italian homeware in the store. Dinner entrées can include everything from spaghetti with squid to beef with pears.
Nightlife & Entertainment
While it's common to stop for a cocktail in the evening before turning in, nightlife in Florence is relatively calm. In fact, one of their most popular bars offers cappuccino and pastries in the morning, a light lunch in the afternoon, and a buffet dinner as well as cocktails in the evening. This bar, known as Caffe degli Artigiani, is in the center of the artisan district.

The La Casa del Vino is a popular wine bar near the center of town. If you're looking to try some of the top wines in the area of Tuscany or even find some less common wines from all over the country, you'll want to stop by. To go with the extensive wine list, there is a menu of light snacks that includes meats, cheeses, crostini, and salads.
Getting Around
Getting around by car in the city of Florence is nearly impossible. Much of the city is off-limits to drivers. Of those streets that are drivable, many are narrow and might even be one-way. If traveling by car is necessary, you'll want to take a taxi. However, taxis are quite expensive. The best way to get around Florence is on foot. In fact, it's possible to walk from one side of the city to the other in less than an hour. If your feet are getting tired or you have a longer distance to travel, a bus system is available. You can find tickets at local convenience stores.
Accommodations
If the city of Florence had a theme, it would be luxury. From the historical sites to the most modern hotels, from street food vendors to well-known eateries, Florence is the epitome of luxury. If you'd like to experience that firsthand, be sure to research your accommodations. If you're familiar with the Four Seasons brand, you may know what to expect from the Four Seasons Florence.

However, Florence is home to some very unique accommodations as well. The Palazzo Vecchietti features just 12 bedrooms and suites along with two apartments. Each is named after famous Italian artists. This 16th-century Palazzo has been turned into a luxury bed-and-breakfast of sorts, with meals being served in a common area on the top floor. A luxury Florence hotel with more of a retro feel is the Continentale.
Weather

You may want to avoid July and August when planning a trip to Florence. January is usually the coldest month with temperatures in the low 40s, Fahrenheit. While the average temperature in July is in the mid-70s Fahrenheit, the humidity can make it feel unbearably warm. The best times to travel to Florence are in the spring and fall.
Attractions

You'll find the attractions in Florence mostly based on the history and food of the region. While the Statue of David is arguably one of the most popular sights to see in Florence, getting in to see Michelangelo's famous artwork can take some time. Lines are usually very long, but it's worth it.

You may also want to stop at Piazzale Michelangiolo, a terrace overlooking the city. The skyline of Florence seen from this terrace is the same often seen on postcards. Late afternoon or early evening are ideal times to visit as the crowds have died down.

There is no shortage of museums to visit while in Florence. Gucci Museo, or the Gucci Museum, is quite fun and a bit different than most other museums in the area. An archeological museum, the Museo Archeologico, features much of the regional history prior to the Medicis. The Galleria dell' Accademia is home to the Statue of David and other popular exhibits such as several Stradivarius violins and famous paintings.
Enjoying the Wine That Makes Florence Famous
While one of the most popular tourist activities in Florence is wine tasting, be sure not to miss out on the beauty and history of the city itself. Florence may be a small city compared to some, but the experiences had during even a short vacation here will last a lifetime.

If you're headed to Florence, what are you looking forward to the most? Let us know!
Sites Seen
Tour Guides
Value
The Cinque Terre Semi-Private Day Trip is our Editor's Choice for the best Cinque Terre tours from Florence with its combination of sites seen, tour guide and value.

User Rating:

Be the first one !