The Snæfellsnes Peninsula is one of the most breathtaking regions in Iceland, which is really saying a lot when you consider the country's diverse landscapes.
While Reykjavik is certainly amazing, if you'd like to get away from the city for a day we have the perfect tours for you. This area encapsulates the varied terrain, earning itself the nickname of "Iceland in miniature" so you can expect to see cliffsides, magnificent fishing villages, volcanic craters, waterfalls, and much more.
We have the  top Snæfellsnes Peninsula tours from Reykjavik right here, so let's jump right in!
Best Snaefellsnes Peninsula Tours From Reykjavik
---
Quick Answer: The 7 Best Snæfellsnes Peninsula Day Tours For 2023
---
Snaefellsnes Peninsula Day Trips From Reykjavik Reviews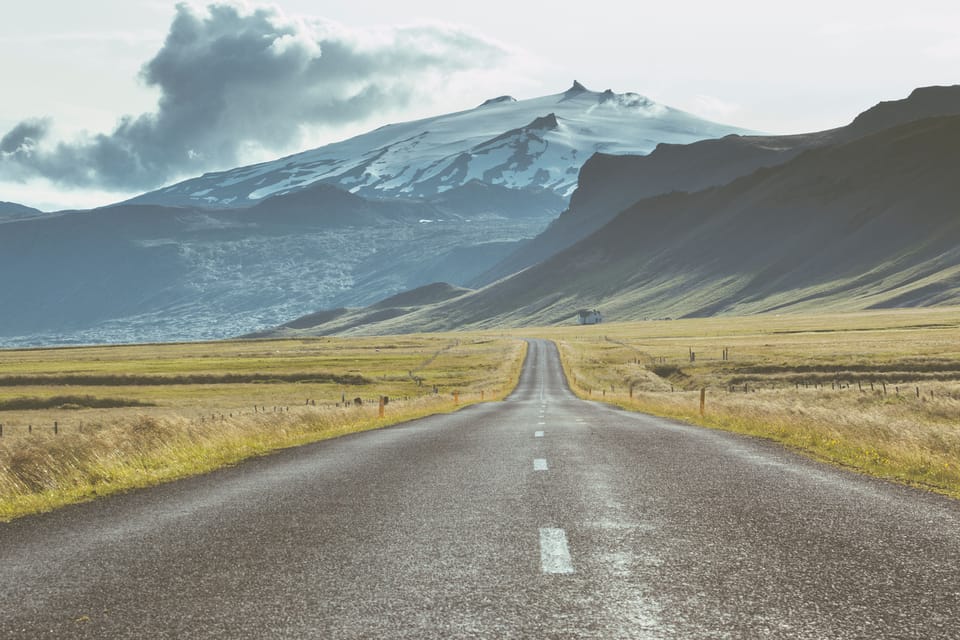 Tour Highlights
:
---
Duration: 11 hours
Departure: Hotel pickup and drop-off included
Departure Time: 9:00 AM
Includes: 

English-speaking driver-guide, 

Wi-Fi on board, 

Hotel pickup and drop-off in Reykjavík, 

Home-cooked lunch at a horse ranch
Starting things off on the right foot, we bring you a tour that's consistently maintained incredible popularity. The Snæfellsnes Day Tour and Home Cooked Meal from Reykjavik allows you to venture through otherworldly landscapes and enjoy incredible volcanic views.
That's just the tip of the iceberg, so buckle up and get ready for a day full of fun! Your tour will start off in the morning with a convenient pickup right from your hotel, though the exact time will vary depending on the location of your hotel.
Your transport for the day is a comfortable, air-conditioned coach or bus (depending on the size of your group). I appreciated that there was plenty of legroom and free Wi-Fi on board, which is important if you want to stay connected in a location like Iceland.
Our guide did a fantastic job of explaining the different surroundings to us, as well as any other points of interest you may pass along the way.
Expand To See MoreSee Less

The drive is an easy one, as there's simply so much to see through the windows! Your first stop is at the peninsula where you'll get to see all kinds of different sites such as volcanic craters, lava fields, hidden coves, interesting rock formations, and more.

As you explore, your guide will be there to share local legends and anecdotes to add even more enrichment to your experience.

After you walk around, you'll then head to a nearby horse ranch owned by a local family. They're very warm and inviting, and the delicious, home-cooked meal they prepare for you is even more so!
100% refund for cancellations within 24 hours of tour experience
---
Tour Highlights
:
---
Duration: 10 hours
Departure: Hotel pickup and drop-off available
Departure Time: 8:30 AM & 9:00 AM
Includes: Private tour for your party, Driver/guide services, SUV or Minibus transportation
Snæfellsnes Peninsula is a name that beckons adventurous souls to the lunar-like landscapes of Iceland, with cascading waterfalls and untouched beauty for miles. This sensory overload takes place in the form of a private, full-day expedition with luxury and convenience at the forefront.
If that sounds like fun to you, hurry up and grab your place on the Snæfellsnes Peninsula Private Day Tour from Reykjavik. Just like with the other tours, you'll be picked up in the morning right at your hotel and head off into one of the most remote parts of the country.
Your transport today will either be an SUV or minibus, but both are very luxurious and comfortable. After all, this is a private tour so you can expect the highest quality in everything you do and personalized attention from your guide, and customization with your itinerary.
First thing on the agenda is Bjarnarfoss, which is one of the most stunning waterfalls with water launching over unique basalt rock formations. Take a short walk through a picture-perfect trail to a small bridge overlooking the rushing waters.
Expand To See MoreSee Less

Then, head to Budir where you'll see the famous black church contrasting against the rich, green backdrop perfect for taking amazing photos.

You'll then stroll on over to the coast, where you'll witness golden beaches against the black lava rocks thanks to the nearby volcanos.

Then, it's onto Arnarstapi: a charming fishing village filled with wildlife and picturesque coastal views. Lóndrangar basalt cliffs are really a sight to see, with these volcanic plugs that have been created thanks to thousands of years of erosion.

Djupalonssandur Beach is a hidden cove that was once busy fishing spot, and you'll get to walk around and explore all of its secrets! Don't forget Kirkjufellsfoss, which is a gorgeous mountain overlooking the town below. Its striking beauty, adorned with crystalline waterfalls, has made it the focus of many famous photographers.
100% refund for cancellations within 24 hours of tour experience
---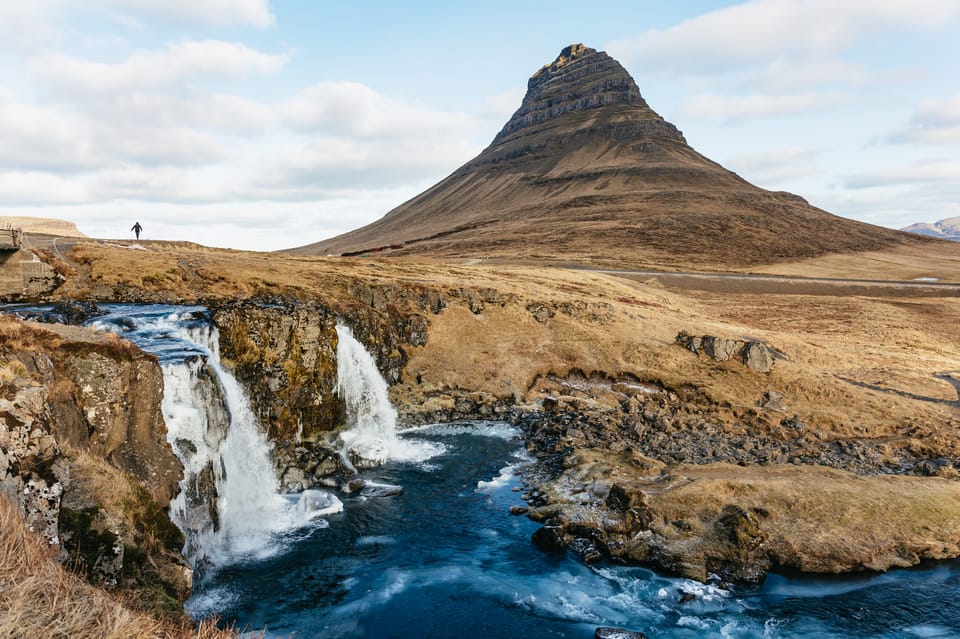 Tour Highlights
:
---
Duration: 11 hours
Departure: Hotel pickup and drop-off available
Departure Time: 9:00 AM
Includes: Bus tour, hotel transfer, wi-fi on bus
Travel back in time through the myths and legends of brutal Scandinavian warriors, the half-troll, half-man, Titans, and much more with this captivating tour.
If you're looking for a history lesson and amazing views all mixed into one experience, check out the Snæfellsnes Peninsula Full-Day Tour from Reykjavik! If you're limited on time in Iceland and would like to really jump into the deep end of things, this is it.
This epic journey starts off with a convenient hotel pickup in a spacious bus, complete with padded seats, large windows, and free Wi-Fi. As you traverse the region, your guide will offer educational commentary and interesting historical stories along the way.
You'll see volcanoes looming in the distance, sea cliffs standing tall against crashing waves, and other sights that are a true testament to the brutal circumstances that make up this area.
However, dramatic scenery isn't all Iceland offers – there are plenty of serene places like Grundarfjordur, Arnarstapi, and Hellnar.
Expand To See MoreSee Less

Charming fishing villages, narrow streets, friendly locals, and a warm atmosphere are all found here. Kirkjufell and Ljósufjöll are both incredibly inspiring, along with the magnificent black sand beach of Djúpalónssandur that contrasts against the bright waters.

The incredible Snæfellsjökull glacier stands high in the air, exuding a kind of mystery and quite the history behind it! Any kind of Snæfellsnes Peninsula tour has to include a trip to the famed Black Church at Budir, with its stark contrast to the green landscape surrounding the structure.

I love the way nature and history intertwine in Iceland, and this respect for the land is something I also love about the locals.

The revered, Jules Verne, once spoke about this region in his book, "Journey to the Centre of the Earth", and here, you really do feel like you're experiencing a universe where the imagined and reality collide.
100% refund for cancellations within 24 hours of tour experience
---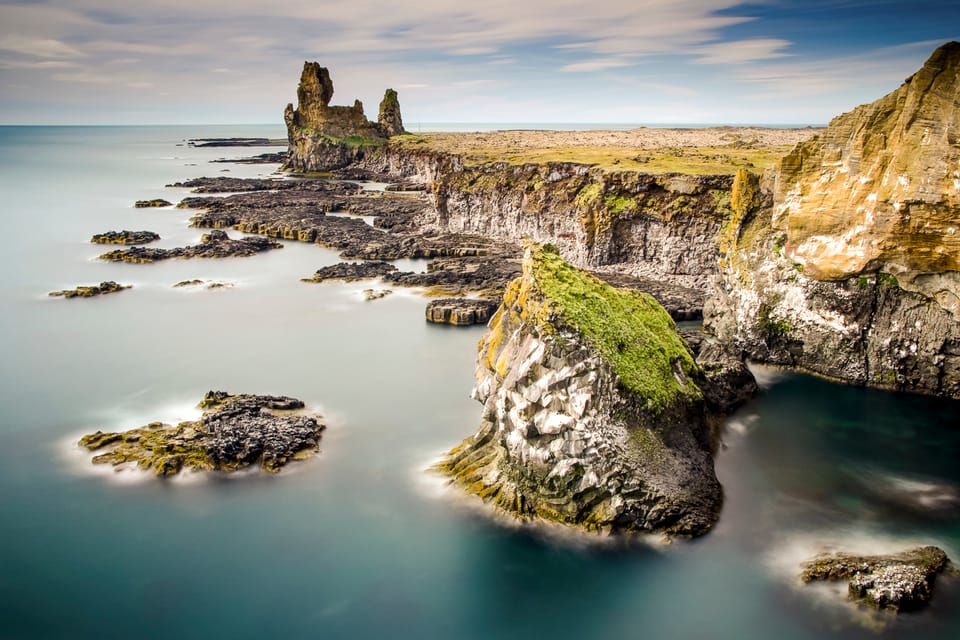 Tour Highlights
:
---
Duration: 12 hours
Departure: BSI Bus Terminal
Departure Time: 8:00 AM
Includes: Bus fare, guided tour, free wi-fi on bus
If you're in Reykjavik, take my advice and seize the opportunity to experience the breathtaking beauty of the iconic Snæfellsnes Peninsula. Filled with mesmerizing landscapes, myths, and mysteries, this region is sure to leave anyone in awe.
The Wonders of Snæfellsnes Peninsula from Reykjavik Tour will transport you to places you thought only existed in your imagination, and beyond.
Start off this 12-hour tour by meeting your guide at the BSI Bus Terminal in the morning, ensuring you wear comfortable shoes and bring at least a jacket in the summertime. The weather is known for being inconsistent, so just come prepared so you're comfortable and can focus on the tour.
While this tour doesn't come with a hotel pickup like the others do, this is a much more budget-friendly option ideal if you're looking to save some cash.
Cruise along until you reach this natural wonderland, discovering the immense Snæfellsnes Glacier sitting regally atop the Snæfellsnes volcano, which is the highest peak of the peninsula.
Expand To See MoreSee Less

This icy giant has captured the attention of explorers and writers for hundreds of years, and that energy is truly contagious. The lava fields complete with soft moss were amazing to me, and made me feel like I was on another planet!

However, we can go beyond extraordinary landscapes here and also explore other impressive features like trout lakes, salmon rivers, and lovely fishing villages.

The unique harbors are like nothing I've ever seen before, and that's considering that I've been to quite a few around the world! It feels like time has stopped in its tracks here, making it the perfect place to stop and chat with the locals or simply breathe in that salty air.
100% refund for cancellations within 24 hours of tour experience
---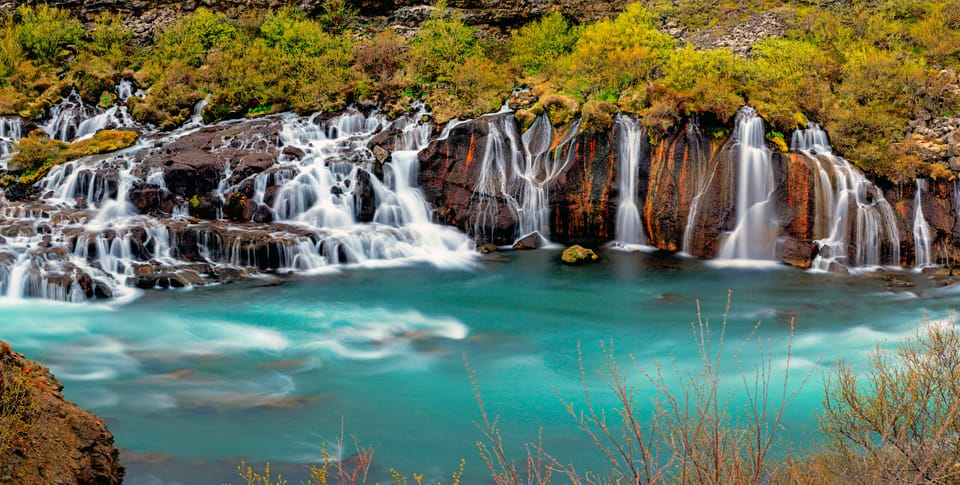 Tour Highlights
:
---
Duration: 2 days
Departure: Hotel pickup and drop-off included
Departure Time: 9:00 AM
Includes: 

Accommodation in a double or twin room with a private bathroom, 

Professional tour guided in English with a minibus, 

Pick-up and drop off within Reykjavik, 

Admission fee to the Vidgelmir Lava Cave or Husafell Canyon Baths, 

WiFi onboard the bus
Next up, we bring you the most comprehensive tour of its kind: the 2-Day West Tour with Snæfellsnes & Silver Circle from Reykjavik!
As you can probably deduce from the title of the tour, this is a 2-day expedition that's perfect if you're looking for something longer than the others on this guide. If you're a particularly adventurous person, I can't recommend this one enough!
Prepare for this whirlwind of a tour as you get picked up right from your hotel in a comfortable and air-conditioned minibus. The scenic drive along Route 1 will lead you to Borgarnes as you meander through postcard-like landscapes until you reach Hraunfossar.
Known as the "Lava Waterfalls", they feature cascades of rushing water intertwined with the rugged lava formations created by erosion and volcanoes.
You'll also get to see the Barnafossar waterfalls, Glanni Waterfall, witness the raw power of Deildartunguhver – the most powerful hot spring in all of Europe, see the Husafell woodland oasis, and the Reykholt historic site.
Expand To See MoreSee Less

From here, you have a choice to make – you can either opt to explore inside the depths of the largest lava cave in the country or zoom around on a 4WD tour to the Canyon Baths and Langifoss Waterfalls.

Spend the night rejuvenating in Borgarnes: a town lined with charming cafes and restaurants, with perhaps the Northern Lights dancing throughout the sky if you're lucky!

The second day starts off with the captivating beauty of Snæfellsnes Peninsula, where the guide takes you to venture around the immense Snæfellsnesjökull glacier! Marvel at the raw beauty of Kirkjufell mountain, and see the large seal colony at Ytri-Tunga Beach (which is pretty cute).

This day is all about taking in the awe-inspiring sights with excellent planning, storytelling, and excitement all around!
100% refund for cancellations within 24 hours of tour experience
---
Tour Highlights
:
---
Duration: 11 hours
Departure: Hotel pickup and drop-off available
Departure Time: 9:00 AM
Includes: Transportation by air-conditioned bus, guide
The Land of Fire and Ice is certainly an appropriate nickname for Iceland, where Mother Nature really shows off. This next tour is one of the best ways to see a treasure trove of natural wonders within the country, complete with mystical tales and captivating structures.
The Small-Group Snæfellsnes, Mt. Kirkjufell & Black Sand Beach Tour from Reykjavik is for the nature-lover, history buff, and everything in between.
The adventure begins with a convenient hotel pickup and 9:00 am, by an air-conditioned bus or coach. As this is a small group setting, you don't have to worry about large crowds being herded around from site to site.
Rather, you'll get a more personalized experience where you can really connect with your guide and ask them any questions you may have.
Start off with Kirkjufell Mountain, jutting out from the earth with sky-high peaks, commanding attention from those near and far. If the weather is right, you'll also get to revel in the amazing nearby waterfall to create a picture-perfect scene.
Next up is Djupalonssandur Beach, where smooth, round stones sit now thanks to the powerful volcanic activity taken place over centuries.
Expand To See MoreSee Less

Make your way over Ytri Tunga Beach, where you may just catch some little critters lounging along the shoreline! This beach is known for the seals who love this place and is a perfect example of the country's diverse wildlife all around.

Next, is Lóndrangar View Point, where you'll enjoy views of the expansive ocean and towering rock formations that look like they're from some kind of fairytale.

The experience wouldn't be complete without a visit to the quaint village of Arnarstapi, which perfectly displays Icelandic culture with its ancient sagas and magical coastline.

Budakirkja and the Black Church at Budir are one of the most impressive parts (which is really saying a lot), with the wild and untamed landscape contrasting against the sleek, black building.
100% refund for cancellations within 24 hours of tour experience
---
Tour Highlights
:
---
Duration: 12 hours
Departure: Hotel pickup and drop-off available
Departure Time: 8:00 AM
Includes: Driver/guide, live commentary on board
Have you ever watched series like 'Game of Thrones' or movies like 'Lord of the Rings' and wished you could experience those rugged environments that seem too incredible to be real?
Now you can, with the Snæfellsnes: Hidden Gem of the West Small-Group Day Trip from Reykjavik Tour! Avoid the massive groups and tourist coaches and soak in all of the majesty this region has to offer with organized and knowledgeable guides.
Our adventure commences with a convenient pickup right from your hotel or the nearest bus stop in Reykjavik, boarding an air-conditioned bus with large windows.
The first stop on this escapade is Kirkjufell Mountain, which you may recognize if you're a GoT fan! The famous landmark created over 12,000 years served as the "Arrowhead Mountain" in the series, but is also one of Iceland's most photographed sites.
Nearby, you'll find the enchanting Kirkjufellsfoss waterfall if the weather is right, making for some seriously Instagrammable photos.
Expand To See MoreSee Less

You and your group will have around half an hour to immerse yourselves in this beauty, with the roaring waterfall as the soundtrack. Continue on to the southern coast of the peninsula, where you'll encounter a tiny village and the iconic black church.

Built all the way back in 703, it's been safeguarded by the Búdir parish and with the untouched landscape in the background, creates an amazingly romantic scene. While that part was certainly one of the highlights for me, the Ytri Tunga Beach was another one of my favorite experiences.

Glowing magma once collided with the wild Atlantic ocean, resulting in the brutal coastal cliffs and impressive stone arcs (oh, and cute seals come and lay here).

Next, are the Lóndrangar basalt pinnacles which stand a whopping 75 meters high, with fulmars and puffins soaring overhead. Djupalonssandur Beach is hauntingly beautiful, and it's here where you'll learn all about the tragic pasts of many Icelandic men.
100% refund for cancellations within 24 hours of tour experience
---
FAQs About The Snaefellsnes Peninsula
Q: What is the Snaefellsnes Peninsula and why should I visit it?
A: The Snaefellsnes Peninsula is a stunning region in western Iceland that offers a variety of natural wonders and cultural attractions. It's often called "Iceland in miniature" because it showcases everything that makes this country so unique and beautiful: volcanoes, glaciers, waterfalls, lava fields, black sand beaches, fishing villages, and more.
Q: How can I get to the Snaefellsnes Peninsula from Reykjavik?
A: The easiest and most convenient way to get to the Snaefellsnes Peninsula from Reykjavik is by joining a guided tour that includes transportation, admission fees, and a professional guide. There are a variety of options, such as a small-group tour, a private tour or a luxury tour.

We review our favorite picks above. You'll enjoy a comfortable ride in a climate-controlled vehicle with large windows for panoramic views of the scenery. You'll also learn fascinating facts and stories about each destination from your knowledgeable and friendly guide.
Q: What are some of the highlights of the Snaefellsnes Peninsula?
A: There are so many amazing sights and activities to enjoy on the Snaefellsnes Peninsula that you'll never get bored! Some of the highlights include:
Q: What should I wear and bring for the Snaefellsnes Peninsula tour?
A: The weather in Iceland can be unpredictable and change quickly, so it's important to dress in layers and wear warm and waterproof clothing. Don't forget your camera, as you'll want to capture every moment of this unforgettable adventure!
Q: How long will it take to see the Snaefellsnes Peninsula?
A: The Snaefellsnes Peninsula is a relatively small area that can be explored in one day. There is a lot to see and do so if you can spend more time you should. Most tours from Reykjavik last between 10 and 12 hours, including the driving time, which is around 2.5 hours each way.

You'll have enough time to visit the main attractions and enjoy some leisure time at your own pace.

You should consider staying overnight at one of the hotels or guesthouses on the peninsula. This way, you'll have more flexibility and opportunities to discover the hidden gems and secrets of this magical place.
Q: What will I see at the Snaefellsnes Peninsula?
A: The Snaefellsnes Peninsula is a feast for the eyes and the soul. You'll see some of the most breathtaking and diverse landscapes in Iceland, from rugged mountains and glaciers to lush valleys and fjords. You'll also see some of the most iconic and historical sites in the country, such as the Snaefellsjokull glacier, the Kirkjufell mountain, and the Budir church.

You'll also see some of the most charming and authentic villages and towns in Iceland, where you can experience the local culture, cuisine, and hospitality. You'll also see some of the most amazing and unique wildlife in Iceland, such as seals, birds, whales, and horses. You'll see all this and more on your unforgettable journey to the Snaefellsnes Peninsula!
Here is an itinerary to see the Snaefellsnes Peninsula in one day:
8:00 am: Pick up from your hotel in Reykjavik and drive to the peninsula along the scenic route.

10:00 am: Stop at Lake Attersee for some stunning photos of the water and the mountains.

10:30 am: Arrive at the Klimt Village and visit the perfumery to learn about the traditional methods of making fragrances.

11:00 am: Continue to the Snaefellsjokull National Park and admire the glacier that covers an active volcano. If you have booked the option, you can also go inside the glacier for a thrilling experience.

12:00 pm: Head to the Kirkjufell Mountain and take some pictures of the most photographed landmark in Iceland. You can also hike around the mountain and see the nearby waterfalls.

1:00 pm: Have lunch at one of the local restaurants or cafes and enjoy some delicious Icelandic cuisine.

2:00 pm: Drive to the Djupalonssandur Beach and see the remains of a shipwreck and the four ancient stones that were used by fishermen. Take a walk along the black sand beach and enjoy the views of the ocean.

3:00 pm: Visit the Arnarstapi Village and explore the coastal path that leads to the basalt cliffs and rock formations.

4:00 pm: Stop at the Budir Church and admire the contrast between the white wooden church and the black lava landscape. You can also enter the church and feel the peaceful atmosphere inside.

5:00 pm: Drive back to Reykjavik.
Sites Seen
Tour Guides
Value
The Snæfellsnes Day Tour and Home Cooked Meal From Reykjavik is our Editors Choice for the best Snæfellsnes tour.

User Rating:

Be the first one !