If you're in Puerto Rico, you have to take advantage of the natural beauty around you and the opportunity for adventure and fun.
However, there are a ton of things to do in PR, and it can be hard trying to figure out which ones are worth it or not. One activity that everyone seems to love are the horseback riding adventures!
We've taken it upon ourselves to do the investigating for you, to bring you the top Puerto Rico horseback riding tours available. We know you're eager to get started, so let's hop right in!
Best Horseback Riding Tours in Puerto Rico
| | Puerto Rico: Horseback Riding On Secluded Beaches, Tropical Forests | Horse Riding at a Private Ranch From San Juan | Horseback Riding Tour in Carolina Puerto Rico |
| --- | --- | --- | --- |
| | | | |
| | | | |
| Departure Point: | 400 Bo Bajuras, Isabela, PR 00662 | Avenida Campo Rico ("Roberto Sanchez Vila Avenue"), Este Final, Carolina | 535 Av. Campo Rico, Carolina, 00985 |
| Departure Time: | Variety Available | Variety Available | Morning & afternoon departures |
| Duration: | 2 hours | 2 hours | 2 hours |
| Includes: | Helmet, tour wrangler/ guide | Basic horse riding instructions and safety procedures, time to relax at a private ranch | Professional guide, use of helmet |
| | | | |
---
Quick Answer: The 4 Best Puerto Rico Horseback Riding Tours
---
Puerto Rico Horseback Riding Tour Reviews
Tour Highlights
:
---
Duration: 2 hours
Departure: 400 Bo Bajuras, Isabela, PR 00662
Departure Time: Variety Available
Includes: Safety helmets (available upon request)
To kick things off on the right hoof, we have the Horseback Riding on Secluded Beaches, Tropical Forests, and More tour. The title pretty much sums up the activity, where you'll ride on an experienced horse all over the natural landscapes of Puerto Rico.
This 2-hour tour is the perfect amount of time for fitting an outing into a busy day, or simply taking a break to enjoy some fresh air and sunshine.
Finding the place is pretty easy with Google Maps, though it's a good idea to map it out beforehand to make sure your lodging isn't too far away. Once you arrive to the location, you'll meet up with the staff who are friendly and knowledgeable from the very beginning.
They'll match you up with your Paso Fino horse, where you'll get some time to get to know them before you start off on your adventure.
The staff will make sure to give you a thorough briefing on how to ride the horse, and answer any other questions you may have. Even if you're an absolute beginner and have never ridden a horse before, they'll make you feel secure so you can just focus on the fun ride ahead.
Once on your horse, you'll all follow a guide or two down beaches that are secluded away from crowds of people. Check out beach cliff caves, dense patches of tropical foliage, almond forests, and other places where most people don't get to see.
If you're going anywhere between December and April, you may even get lucky and get to see some whales cruising through the blue Caribbean sea!
100% refund for cancellations within 24 hours of tour experience
---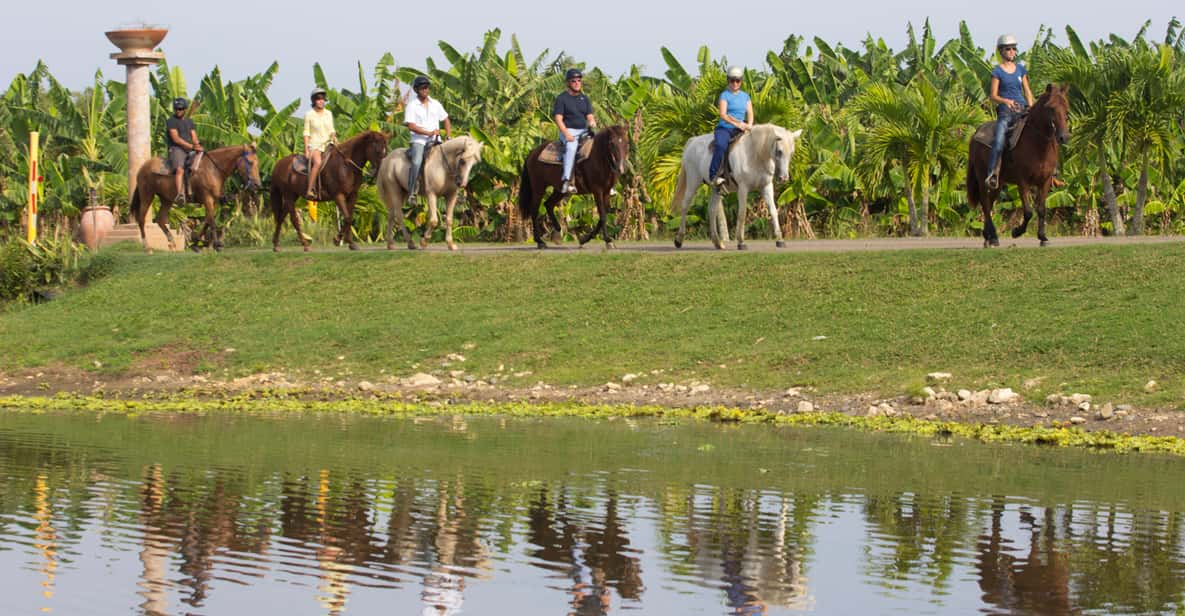 Tour Highlights
:
---
Duration: 2 hours
Departure: Avenida Campo Rico ("Roberto Sanchez Vila Avenue"), Este Final, Carolina
Departure Time: Variety Available
Includes: 

Basic horse riding instructions and safety procedures, t

ime to relax at a private ranch
While the first tour is definitely adrenaline-filled with coastal views and more, this one is a bit more relaxed. If you're looking for a calm trot around open land, you'll love our next tour.
The Horse Riding at a Private Ranch tour is yet another 2-hour tour that will give you a taste of horse-riding in an environment where you'll get to learn from experienced staff as well as acquire interesting facts about the area.
Head over to the beautiful Hacienda Campo Rico, where it seems like going back to another era as soon as you pass through the front gates. Surrounded by all kinds of tropical plants and wildlife, you're sure to become enamored by this charming place.
Meet up with your experienced guides once at the ranch, where they'll show you to your horse and give you a basic briefing on how to ride them, along with other valuable tips. You'll have some time to get properly acquainted with your furry partner, then head out onto the expansive 2,200 acres of private land.
If you've never ridden a horse before, this environment is the perfect place to do so. It's serene, spacious, and with the guides to lead you, it's a great place to get your sea legs.
Soak up that island sun while you take in the fantastic views of the mountains, coastal plains, lagoons, unique limestone formations, and even some native critters!
The guides will tell you all about the history of the area, as well as any flora and fauna you come across. After you've gotten a good adventure in, you'll head up to the hilltop Mojito Bar for a chance to quench your thirst and put your feet up.
The bartenders are very friendly, and have some entertaining anecdotes of their own! If you'd like to take home some interesting souvenirs, there's also an onsite gift shop! Here, you can even rent some GoPro cameras and other gear to get some awesome footage of your horse-riding fun!
100% refund for cancellations within 24 hours of tour experience
---
Tour Highlights
:
---
Duration: 2 hours
Departure: 535 Av. Campo Rico, Carolina, 00985
Departure Time: Variety Available
Includes: Professional guide, use of helmet
Next up, we have another 2-hour tour full of exploring all kinds of native flora and fauna! The Horseback Riding Tour in Carolina also takes place on a private ranch, which is great for the entire family – especially if you've never ridden a horse before!
This tour is the perfect amount of time to get acquainted with riding, while checking out all kinds of different Puerto Rico landscapes. Meet up with your guides once you arrive to the ranch, where you'll be matched up with a Paso Fino horse.
Meaning "light step", they are known for cantering around in a very specific way that's often reserved for competition. Brought over to the Caribbean from Spanish colonial times, they are "the smoothest riding horse in the world". This makes them perfect for newbies!
Before hopping on, take some time to get to know your horse. They are all very experienced and well-trained, but just like humans, need some time to get to know you and feel comfortable with you.
You'll be matched not only on personality, but on skills and experience. The pace of the group's ride will also be based off of your skills and comfort level.
Head out with the guides to lead you, and explore around the ranch where you'll see various types of vegetation and native animals. The surrounding mountains and coastal plains are certainly a sight to see, while your guides tell you all about the history of the Paso Fino horses and the area.
The historic plantation home on the property is also beautiful, and we highly recommend checking it out if you can! Cool down afterward with some delicious drinks at the hilltop Mojito Bar before heading back or checking out the onsite souvenir shop!
100% refund for cancellations within 24 hours of tour experience
---
Tour Highlights
:
---
Duration: 3.5 hours
Departure: Hotel pickup included
Departure Time: Variety Available
Includes: Hotel pickup and drop-off in San Juan metropolitan area, basic horseback riding lessons, guided journey by one of the ranch's trainers
Are you looking for an excursion that's a bit lengthier than our other tours? If so, then you're in the right place because the Scenic Horseback Riding Tour from San Juan is just the ticket. This tour is 3.5 hours, which gives you almost twice the amount of excursion time as the others.
As it is a longer tour, you do have a hotel pickup and drop-off included, which is nice because you don't have to worry about transportation. All you have to do is make sure you're in your hotel lobby on time!
However, from San Juan, it's not too long of a journey so you can still fit in as much as possible into your day. This tour is a wonderful way to get out of the hustle and bustle of most tourist spots, and get some fresh air and exercise in!
Once you arrive on location, you'll start at the stables to be matched with a horse based on your experience level and skill.
You'll receive a basic lesson to make sure you're well-acquainted with the area, your horse, and how to ride them. After your lesson, you'll head onto the rugged countryside with a professional trainer. Here, you and your group are in good hands.
They'll take all of you trotting through breathtaking vistas, while you spot and identify local wildlife as you go. We're sure you'll feel comfortable on your horse, as they're incredibly friendly and know exactly what they're doing.
There are tons of pristine lakes, unique mountain formations, and a lot more to explore on the 2,200-acre Hacienda Campo Rico. At about the halfway point, you'll take a bit of a break, where you'll get to relax and take in the sights.
100% refund for cancellations within 24 hours of tour experience
---
Puerto Rico Travel Guide
Getting There –
By far the easiest way to get to Puerto Rico is to fly, as it's an island (rather, comprised of various). However, if you're coming from the Dominican Republic or Virgin Islands, you can head over by ferry. PR's main airport is Luis Muñoz International Airport/San Juan Airport (SJU), located in Carolina.
With various nonstop flights from the US every day, you'll find the most affordable ones are those departing from gateway cities located in the south and east of the US. This makes sense, as it's closer to the island. Miami and New York are the most common departure airports, though you'll find flights through all major US carriers such as US Airways, JetBlue, and Continental.
Getting Around –
San Juan is a very easy city to move around in. The most "touristy" areas are perfect for walking, and we found it overall quite a safe city to do so in. In fact, you could realistically walk for the entirety of your stay in the city, depending on what you want to see.
Walking – If you really want to get to know the city, walking is the best way to do it. If you're in Old San Juan, you'll find the hottest attractions all within 5 or so blocks. Condado, Isla Verde, and Ocean Park are all great options as well, and here you can walk to beaches, restaurants, and some of the best shopping spots.
Rental Car – We personally recommend renting a car for at least a day, so you can check out beaches and other parts of the island not within walking distance. However, as you can see by the tours on our guide, there are many situations where transportation comes included in the tour price. Driving here is pretty intuitive and not much different from driving in most cities in the US.
Trolley – Another plus goes to Old San Juan, for having their free trolley service. This service will transport you with style, to and from the top attractions in this part of the city. Running from 7am to 7pm during the week and 9am to 7pm on the weekend, it's a nice alternative if you don't feel like walking.
Taxi – Taxis are of course an option, and a more convenient one if you don't want to hassle with having to find parking with a rental car. You'll find these taxis lined up outside the airport, near hotels, and most main tourist attractions.
Bike – With the amazing weather San Juan has the vast majority of the year, why not get some fresh air and bike? The city has created designated bike lanes which are really fun to use along the beach.
Where to Stay –
With so many great neighborhoods to stay in, it can be hard to decide which one is right for you.
Old San Juan – Old San Juan is our personal favorite, and is the top in terms of sightseeing. Almost all of the top tourist attractions are located here, such as the San Juan Bautista Catedral, Puerta de San Juan, La Fortaleza, Castillo de San Cristobal, El Morro, Paseo De La Princesa, and much more. Not only that, but you have one of the best beaches, upscale dining spots, and fun bars. Nightlife here is practically incomparable to anywhere else on the island.
Condado – If you're going with the entire family, Condado is probably the best spot. It's very close to some of the best beaches in the country, with plenty of outdoor activities, restaurants, and more. A good portion of the hotels found here are more "luxurious" with rooftop terraces, pools, spas, and an ocean view from your room.
Ocean Park – If your main reason for going to San Juan is the tropical vibes and beaches, then Ocean Park may be where you want to stay. The beach is within walking distance and very close to Condado and Isla Verde. However, you'll definitely need to get a taxi or other form of transporation to get to Old San Juan. This is a "younger" area with plenty of nightlife and exciting bars to explore.
Isla Verde – Are you looking to get away to San Juan for a romantic vacation? If so, then Isla Verde is a great option. There are plenty of charming hotels, fine dining restaurants, bustling nightclubs, and more. We recommend starting off the morning with a romantic stroll down the beach!
Restaurants and Eating Out –
You can find just about any type of cuisine in San Juan, as it is a cosmopolitan city. It all depends on what you're looking for.
Fine Dining – Marmalade is a top option if you want to go upscale. French, Caribbean, and Spanish flavors are all combined here. With modern trends and interesting visions, you're sure to try something new here. 1919 is sophisticated seafood, from passionfruit curd to coconut ganache, this beachfront restaurant is supremely romantic and high-class.
Local – You simply can't visit San Juan without trying the local cuisine. Hecho en Casa or "homemade" is definitely aptly-named. The family-owned spot prides themselves on their comida criolla that the country is known for. As everything is sourced locally, the flavors are rich and pure.
La Casita Blanca is another authentic, traditional restaurant that has a menu which changes every day with 10-12 dishes posted on a whiteboard. However, you can't get more authentic than a chinchorro. These are little food "kiosks" that simply offer the best-tasting, traditional dishes in the city.
International – We love the way they've managed to combine Asian and Creole flavors in the restaurant, Shibo. We love their sushi bar as well, with ultra-fresh fish and fusion cocktails like the sake sangria! If you're in the mood for some tacos, head on over to Acapulco Taqueria Mexicana. The tacos de pollo al pastor and the chilaquiles are our favorites!
Nightlife and Entertainment –
The vibrant nightlife found here is never-ending, between casinos, nightclubs, lounges, and more.
Old San Juan – As we mentioned previously, Old San Juan is an idyllic spot for nightlife. Just walking around at night is full of music, smiling faces, and a general liveliness. The wrought iron lanterns illuminate the cobblestone streets, offering a more romantic vibe. Salsa, flamenco, and the smells of delicious food fill the air.
Try heading to South Fortaleza, San Sebastian, or Calle del Cristo for the best bar and food options. However, you'll also find local artists, live music, and kiosks dotting this area.
New City – This area consists of Condado, Ocean Park, and Isla Verde/Carolina. While Old San Juan tends to be a bit more "old-school" and laidback with their nightlife, these districts are filled with trendy hotspots, casinos, nightclubs, and generally more flashiness. Isla Verde Avenue is lined with fun places, such as the upbeat Brava nightclub or Chico Cabaret at Fairmont El San Juan Hotel.
West Coast – Perhaps you're the kind of person who wants to keep their swimsuit and flipflops on the entire trip. If so, then the west coast is the place for you. Rincon features some of the best beachfront bars in the country. Tamboo Bar offers unmatched beach views and everyone is so nice here.
Bonus – Try out kayaking at night in the Laguna del Condado! If you prefer you can also paddleboard! With LED lights attached, you'll have fun with the rest of your small group and see the bright city lights reflecting off the blue waters as you paddle the night away.
Weather –
San Juan's climate really doesn't vary a whole lot throughout the year. For example, the temperatures tend to always stay between 72 degrees and 89 degrees Fahrenheit. You won't often find it hotter or colder than that.
As they are a bunch of islands, it can be pretty humid throughout almost the entire year. From the beginning of June to the end of August, it can also get relatively windy, too. The wetter season is from April 24th to December 2nd, which isn't really the best time to go. In fact, the best time to visit San Juan is from early December to mid-April. The weather during this time of year is sunny, warm, and not windy or rainy.
Attractions –
San Juan has a very interesting history, and it's something that we highly recommend exploring. There are various castles and forts that are not only impressive visually, but inside as well. Castillo San Cristobal is over 500 years old, and is actually the biggest Spanish fort in the "New World". Castillo San Felipe del Morro or "El Morro" is a whopping 6 levels tall!
Make sure to check out El Cuartel de Ballaja, after trekking through El Morro. Built between 1854 and 1864 as a way to house Spanish soldiers and their families, it's a museum, café, restaurant, dance school, and offices today.
If you happen to be staying in Condado, stop by Fortin Geronimo which is a small yet very interesting fort located inside of Caribe Hilton. Built in the 17th century, it now risks falling into the ocean so this may be the only chance you get to see it.
Other Notable Pieces of Architecture – La Fortaleza/Palacio Santa Catalina and Casa Blanca were the first buildings built in the city, which are obviously very important and very beautiful. Today, the country's governor resides in the Palacio Santa Catalina. Casa Blanca was originally created to be the home of Ponce de Leon, the first governor of Puerto Rico. Today, we recommend taking a self-guided tour of the gorgeous gardens and inside the mansion.
You don't have to be religious to appreciate Cathedral San Juan Bautista. As the second-oldest church in all of the Americas, it's quite the sight to see. Not only that, but the remains of explorer Juan Ponce de Leon rest inside the cathedral.
Paseo de La Princesa – If you have some time and are looking to take a low-key stroll by yourself or with your significant other, this is an excellent option. The 19th-century promenade goes all throughout Old San Juan, with colonial architecture, fountains, street food, and cobblestone streets and trees with views of the bay in the background.
Hang Out on The Beach – There are various beaches to choose from, and no matter where you stay, you'll likely have a beach within walking distance. Condado Beach is very popular with families, and draws some parallels with Miami with its luxury high-rise resorts surrounding it.
Balneario del Escambron is another solid option, with clean sand, relatively calm waters, and is oftentimes easy to find a spot on the beach.
Museums – San Juan is a very artistic city, and their museums are some of the best places to see some of it firsthand! The Museo de Arte de Puerto Rico is the most popular, with a massive 24 exhibition galleries to see. The Puerto Rico Museum of Contemporary Art is a fine alternative, though is much newer than the Museo de Arte de Puerto Rico.
For more of a history lesson, you need to see the Museo de Las Americas. Here, you'll learn all about the history of the Americas, with 4 galleries. It's obviously a smaller museum, but is definitely worth checking out their Indigenous America section.
Tips –
Make sure you keep mosquito repellent handy. You're going to be on a tropical island in the Caribbean. As you can probably imagine, there are going to be quite a few mosquitos flying around.
If you're only going to San Juan for a short period of time (like a weekend), we recommend hanging out mainly in Old San Juan. You can get around by walking everywhere in this zone, and is home to most of the notable tourist spots and general points of interest.
If you can leave San Juan, do check out the surrounding areas like the El Yunque rainforest! Be sure to see Puerto Rico from the water and take a sunset cruise at sunset. See old San Juan Bay from the water. Speaking of water, be sure to check out the coral reefs with a snorkeling tour.
Try to keep an umbrella with you when in the city. While almost every month is sunny, it tends to rain quite frequently. From April to November is the rainy season, and from June to November there is a hurricane season.
Puerto Rico uses the US dollar, and you don't need your US passport. That's right, with PR's political status, if you're a US citizen you can travel to and from PR with just your license! If you're not a US citizen, it'll be just like you're traveling to the US – whatever you need to enter the United States is what you'll need in Puerto Rico.
The Horseback Riding On Secluded Beaches & Tropical Forests is our Editor's Choice the best horseback riding tour in Puerto Rico