Oahu is one of the most breathtaking places in the world! As you can imagine, there are all kinds of tours and activities that will grant you some amazing views.
However, if you love getting that adrenaline pumping and want some of the best views Oahu has to offer, you need to sign yourself up for a parasailing tour.
We've done the "hard" part for you, and have checked out all the options to bring you the best Oahu parasailing tours out there. Let's get started!
If you would like some ideas of other things to do, please see our list of the Top 15 Things To Do In Oahu and Top 10 Things For Couples.
Best Waikiki Beach & Honolulu Parasailing
Quick Answer: The 5 Best Rated Oahu Parasailing For 2023
Be sure to see our reviews of Oahu Helicopter Tours, Oahu Sunset Dinner Cruises, Oahu Whale Watching Tours.
---
Oahu Parasailing Reviews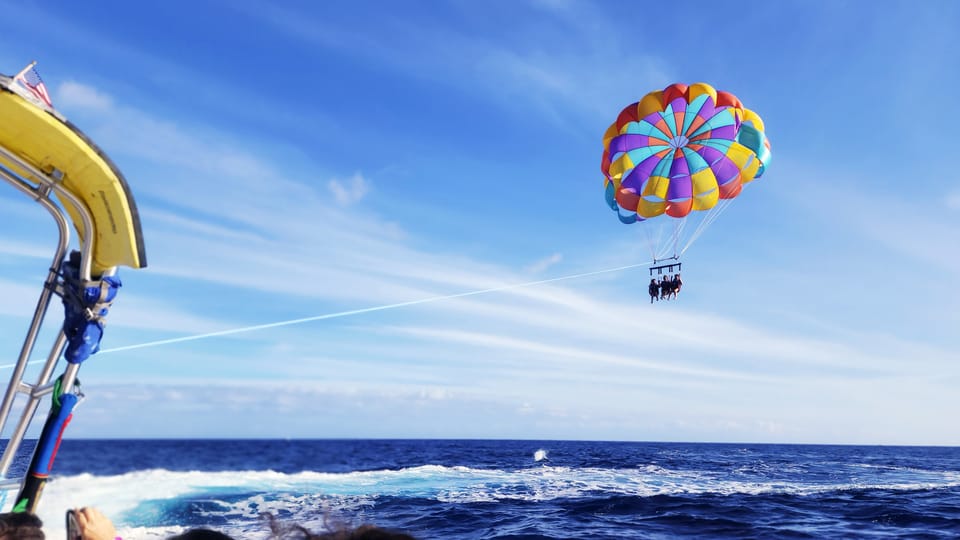 Tour Highlights
:
---
Duration: 1 hour
Departure: Contact tour operator
Departure Time: 10:00 AM – 3:00 PM
Includes: 500 ft parasailing adventure, life vest
Let's start things off on the right foot with the Honolulu Parasailing Experience! This tour is great if you want one of those best-bang-for-your-buck experiences! This 1-hour tour is budget-friendly and a blast for the entire family or group.
You'll start off by meeting up with the rest of your group at the booth on Slip F18 that's easy to spot. Hop on board a shared boat, which is speedy and smooth. This is an excellent option if you are brand-new to parasailing.
The guides are experienced and will make you feel safe with their knowledge and briefings. Buckle into your harness while the guides make sure that you're safely strapped in, and you'll take off from the boat and into the air!
Soar up to 500 feet (you'll get to choose between different line lengths) above the stunning Oahu coastline, where you'll be able to catch picturesque views of Diamond Head and Oahu's south shore.
While you can absolutely take your own photos – in fact, it's encouraged – you can also choose to purchase professional snapshots and GoPro footage. This makes for a great memento to remember your trip by. As it's just an hour, you don't have to worry about committing to an entire day or compromising other plans or tour options.
100% refund for cancellations within 24 hours of tour experience
---
Tour Highlights
:
---
Duration: 1 hour
Departure: 1651 Ala Moana Blvd #600b, Honolulu, HI 96815, USA
Departure Time: 8:00 AM – 4:00 PM
Includes: All necessary gear, fuel surcharge. round-trip hotel transport
Next up, we have another 1-Hour tour: the Guided Hawaiian Parasailing in Waikiki tour! Just like with the previous one, it's great if you're a beginner and don't want to have to commit to a longer tour that will take up more of your day.
While it is a bit more expensive than our first tour, you are going out on a 12-seater boat which is much more private and exclusive.
Meet up with the rest of your tour group at the Ala Wai boat harbor, where you'll see a yellow-and-green hut that's easy to spot. Make sure that you get there at least 30 minutes before your scheduled tour time to allow for a seamless experience.
At this time, you can also opt to pre-order some professional photos of your flight! Once you board the 12-seater, your crew will go through safety guidance with you along with tips for how to have the smoothest takeoff and flight possible.
You can feel confident knowing that you're in good hands and are safe. Once the captain finds the perfect spot out on the water, every member of your group will take turns parasailing. Just like with the first tour, you get to select between different line lengths.
The highest altitude you can reach is a whopping 500 feet, offering aerial views of Oahu that are hard to see anywhere else.
Once you're done with your exhilarating ride, you can kick up your feet and take in the scenery and maybe even some glimpses of sea creatures around the boat! Depending on the time of year, you'll realistically get to see dolphins, sea turtles, and perhaps even whales!
100% refund for cancellations within 24 hours of tour experience
---
Other Experiences You May Enjoy:
---
Tour Highlights
:
---
Duration: 1 hour
Departure: 1025 Ala Moana Blvd, Honolulu, HI 96814, USA
Departure Time: 9:00 AM – 5:00 PM
Includes: Parasailing Tour
If you really want to try parasailing but think 500 feet isn't quite high enough for you, we have just the solution. The 750ft Parasailing with Paradise Water Sports Waikiki Beach O'ahu tour will be right up your alley!
As you can probably deduce from the name, you get to choose different lengths of line all the way up to an impressive 750 feet! Lasting approximately 1 hour, you get to choose from various different tour times which offers versatility that so many of us value while on vacation.
You will have a flight buddy, so there's no need to be nervous as you won't be alone. uch like the other tours we've covered so far, if you're an absolute newbie who's never done parasailing before, this is an awesome choice.
Located right in the heart of Waikiki, Paradise Watersports has a professional, friendly crew that really makes this such an amazing experience. Once you board, they ensure you're safe and confident, which is crucial to any successful parasailing trip.
In our experience, you practically have the entire boat to yourself so you don't have to share with people you don't know (aside from the crew, of course). This makes it easier to take photos of others in your group, and offers more room for relaxing when you're not up in the air!
100% refund for cancellations within 24 hours of tour experience
---
Tour Highlights
:
---
Duration: 1 hour
Departure: 377 Keahole St, Honolulu, HI 96825, USA
Departure Time: 9:30 AM – 1:30 PM
Includes: 6 minute tandem parasailing flight, safety briefing and introduction, professional guide, boat cruise, transfer from Hawaii Kai Shopping Center to parasail launch spot (rides depart every 30 minutes)
The Maunalua Bay Parasailing Adventure is simply one that cannot be missed if you're serious about snagging the most breathtaking views in Oahu! You'll get to choose from either going 500 feet or 700 feet in the air, depending on how much adventure you're willing to go on!
Take in incredible vistas of the Ko'olau Mountain Range, Koko Head, Kai coastline and more! The tour starts off in the Hawaii Kai Shopping Center, where you'll meet the crew at the agreed-upon time.
The 1-hour tour comes with varying different start time options to ensure you can pack in as many activities as you want during your Oahu time. We highly recommend you wear a swimsuit for the purpose of safety and comfort.
After riding 20 minutes to the launch site and receiving a safety briefing/instructions, you'll be ready to go. If you choose the Extreme RideSoar, you'll go 700 feet above the water which offers the best views of the area!
If you're a bit nervous for your first time parasailing, you may prefer the Standard RideRiders which goes up to 500 feet high.
Both options are incredible and will provide you with magnificent views of the area. The guide will even let you take a brief dip in the water before you land! Once you get back to shore, you'll have the option of purchasing digital photos or GoPro footage of your flight.
100% refund for cancellations within 24 hours of tour experience
---
Tour Highlights
:
---
Duration: 1 hour
Departure: 377 Keahole St, Honolulu, HI 96825, USA
Departure Time: 9:30 AM – 1:30 PM
Includes: 6- to 8-minute tandem parasailing flight, boat cruise, transfer from Hawaii Kai Shopping Center to parasail launch spot (rides depart every 30 minutes, professional guide, safety briefing and introduction

Last but certainly not least, is the Maunalua Bay Parasailing tour. Trust us when we say even if you're scared of heights or have never been parasailing before, you'll love this experience! The crew makes all the difference, and will make sure you feel secure and know exactly what you're doing when taking off!
The whole meetup and check-in process was a breeze, and you'll spend very little time waiting for the water taxi to transfer you to the boat. This parasailing crew has had over 30 years of experience, and it shows in their professionalism and how well they teach newbies how to parasail.
While the tour in total lasts approximately 1 hour, the tandem parasailing flight itself is about 6-8 minutes long. While this may sound short, it's actually the perfect amount of time.
Once you feel the wind around you and see the water under you, that adrenaline will really start pumping! However, there's no need to be scared – more than anything it will invoke laughs and a ton of fun!
Not only that, but this tour takes small groups of up to 6 people at a time, only. This offers you more one-on-one time with the crew where you can ask any questions you'd like without feeling nervous.
The boat has ample space for you to relax before and after your flight, too. After you're back on shore, you can purchase some digital photos of GoPro videos of your flight!
100% refund for cancellations within 24 hours of tour experience
---
FAQ About Parasailing in Oahu
What is parasailing? Parasailing where you are attached to a parachute and pulled behind a boat. You are lifted into the air and float at varying heights depending on the length of the towline and how fast the boat goes.
Is parasailing safe? Parasailing is safe when done with a reputable tour operator who follows safety regulations. However, as with any activity that involves heights, there is a small element of element of risk.
What is required to go parasailing? To go parasailing, you will typically need to be at least 6 years old and weigh between 75 and 300 pounds, depending on the size of the parachute. You also need to be in good physical condition and able to understand and follow safety instructions given by the operator.
How long does a parasailing last? A parasailing trip typically lasts between 15 and 30 minutes, depending on the operator, how high you go and how many people are waiting.
How high can you go while parasailing? The height you can reach while parasailing depends on the length of the towline. Some operators offer flights at low altitudes at about 100 feet,  while others offer flights at higher altitudes at up to 400 feet. The higher you go, the longer your time in the air will typically be.
Can you go parasailing in any weather? Parasail operators will not take people parasailing in adverse weather, such as strong winds, rain, or lightning. It is important to check with the operator before booking a parasailing trip to make sure the weather is going to be suitable.
The Oahu Waikiki Xtreme Parasail is our Editors Choice for the best Oahu Parasailing adventure.