If you and your significant other are planning a trip to Oahu, you may be feeling overwhelmed by the sheer amount of activities there are available on the island.
Sometimes, it's harder to plan when there are too many things to do. We want to make sure that you have the best time possible, which is why we took on the "grueling" task of researching the ones that will be worth your time and money.
These are not only well-rated time and time again by many adventurers, but we can personally vouch for them, as well. Without further ado, we bring you the best things to do in Oahu for couples.
Things to Do in Oahu for Couples
---
Horseback riding is a must-do when you're in Oahu. Even if you've never been on a horse before, it's an activity that we're sure you'll love and highly recommend everyone try at least once. Essentially trusting another being with your life, you'll undoubtedly develop a certain bond with your horse that will be matched with you depending on your experience level and personality.
We tried the "Horseback Ride Like an Authentic Paniolo in Kahuku" tour which lasted 1.5 hours, which we found to be just the right amount of time. You get the chance to check out a Hawaiian ranch, explore this beautiful area, and learn about paniolos, which are Hawaiian cowboys.
Oahu is an absolutely beautiful place, and going horseback riding around the less touristy parts is really a highlight. The guides are very well-trained, informative, and will make sure everyone has a good time. The small group sizes are ideal for all experience levels, and allow you to receive personalized attention.
Not to mention, they're typically a walking-only ride so everyone goes slow, rides safe, and gets to hear all about the area as you go along the trails.
100% refund for cancellations within 24 hours of tour experience
---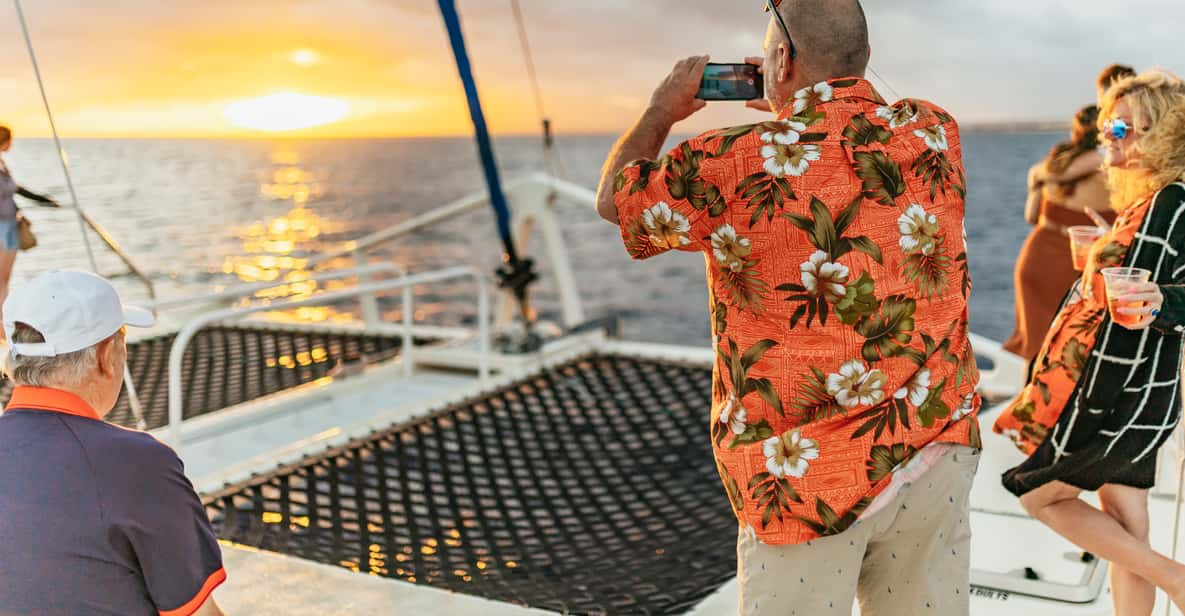 What's better than being with the one you love, out on a boat cruising the Hawaiian ocean while a golden sunset reflects off the water? The weather tends to just about always be perfect for it, with a warm breeze blowing through your hair as you enjoy a refreshing cocktail, local appetizers, and more.
The Honolulu Diamond Head Cruise with Drinks and Appetizers offers all that and more. You'll actually be sailing on a luxury catamaran, which takes the experience to a whole new level. They usually serve local winners like pipikaula, avocado poke, penne pasta, and other delicious eats.
Depending on the time of year, you may even catch sight of some local critters like dolphins! While it does depend on the tour you go on, some do have live music so you can just sit back and relax or get your groove on! The staff on these cruises tend to have quite a lot of experience, so you can expect professionalism from the very beginning.
100% refund for cancellations within 24 hours of tour experience
---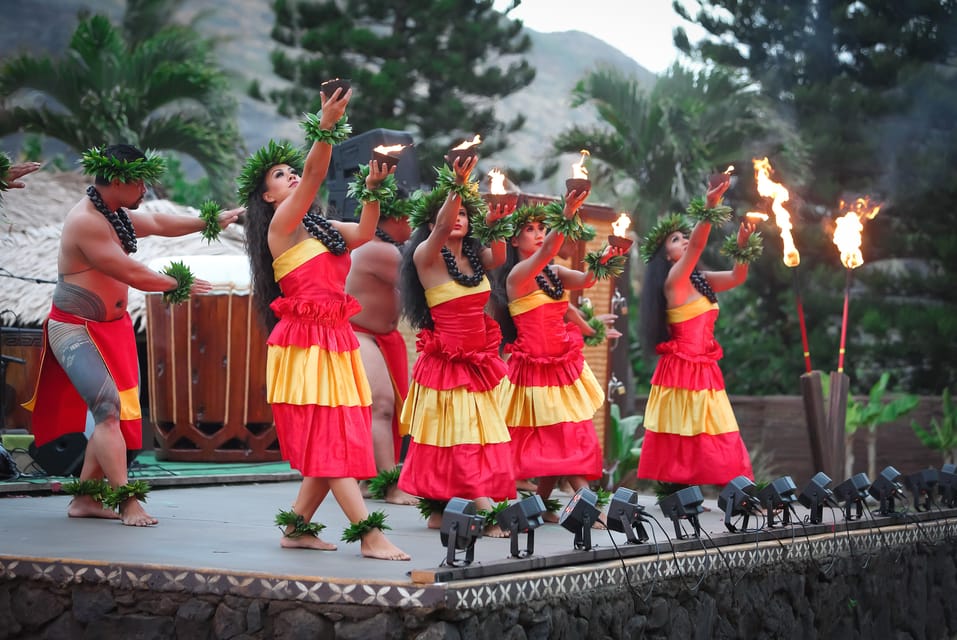 If you're going to be in Hawaii, you can't miss going to a luau! These are easily one (if not the most!) festive experiences you can attend on the islands. While each one varies a bit, you can typically expect some upbeat traditional music, dancing, and a feast. After all, these Polynesian/ancient Hawaiian rituals are made to unite and celebrate!
The feasts consist of various local foods, such as taro rolls, poi, sweet potatoes, island greens, fruit salad, Lomi Lomi salmon, grilled Mahi Mahi, chicken yakitori, Kalua pork, pineapple cake, coffee, tea, fruit punch, and an array of cocktails, beer, and wines.
After enjoying your dinner, you'll get to sit back and enjoy the incredibly vibrant production of the luau, complete with the Polynesian Sword of Fire dance in some cases. If you're on the east side of Oahu, there really is only one luau of a high caliber, and it's the Oahu: Ka Moana Luau at Sea Life Park with Dinner & Show.
100% refund for cancellations within 24 hours of tour experience
---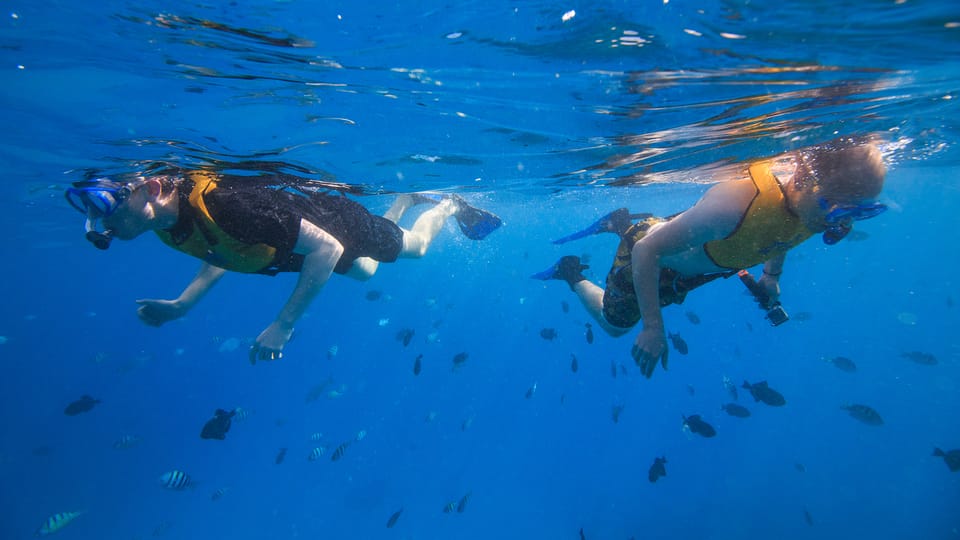 Oahu offers some of the best snorkeling on the entire planet. With that being said, even if snorkeling never caught your attention before, you'd be remiss to not try this activity here. With over 100 miles of coastline, countless coral reefs, all kinds of aquatic life, and warm, clear waters, you'll never want to leave the water!
With so many snorkeling tours to choose from, you can bet on there being some experts out there to make sure you're comfortable. They'll teach you how to snorkel correctly, how to stay safe, and how to make the most out of your time in the ocean.
They know all the best spots to take you, so you can see brightly-colored schools of tropical fish, sea turtles, and perhaps even dolphins and whales!
We really liked the Waikiki: Turtle Canyons Snorkel Excursion which is a 2-hour tour that will give you the basics of snorkeling and show you some of the best that the island has to offer. Not to mention, you'll have a certified lifeguard watching to make sure everyone is taken care of.
100% refund for cancellations within 24 hours of tour experience
---
Are you someone who enjoys a bit of an adrenaline boost? Do you like things related to fun and adventure? If that sounds like you, then we're sure you'll love going parasailing in Oahu.
Trying parasailing for the first time can be intimidating, especially if you aren't with anyone who's experienced. That's why it's a smart idea to go on a parasailing tour where you'll have an experienced guide to teach you how to parasail, proper precautions to take, and know what kind of weather is ideal for the activity.
They'll always offer a safety briefing and take age and activity level into account. Some even will pick you up and drop you off at your hotel so you don't have to worry about finding the meetup spot.
The 1-Hour Guided Hawaiian Parasailing In Waikiki excursion was a load of fun, affordable for those on a tight budget, and is so much more than just parasailing. It's the full experience of meeting others in your group who are passionate about trying new things, sailing on a boat, and just having fun out on the Hawaiian waters.
100% refund for cancellations within 24 hours of tour experience
---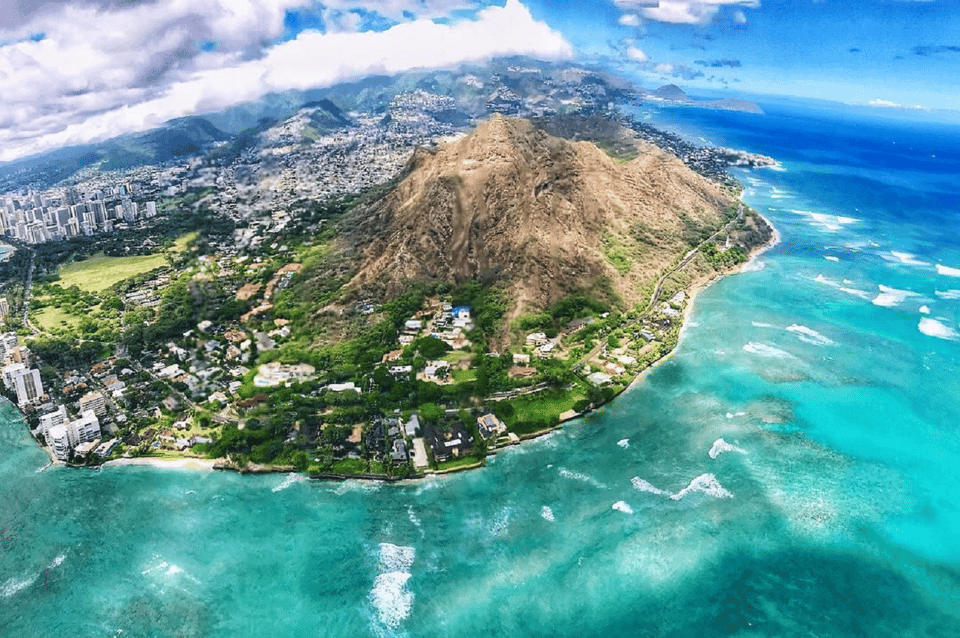 If you didn't already know, Hawaii has some of the best lookout and vantage points in the world. However, you have to know where to go to make the best of it. Not only that, but some places won't let you go unless you have an authorized guide to take you! You can find hikes of all lengths and difficulty levels, but some of the best sights are going to require more time.
One of the most popular hikes to take is the Diamond Head Crater due to the insane lookout point over Waikiki and Honolulu. The turquoise waters, lush green land, and cityscapes are all visible from high up at this point.
Typically, these start in the morning so you make the most of your time and also avoid the hottest part of the day. It's a fantastic way to get some fresh air and exercise, and see more than just the city.
The Oahu: Diamond Head Crater Hike and North Shore Experience is a crowd favorite, lasting 10 hours. However, you'll not only get to take the hike – you'll learn all about Hawaiian culture and history, while getting to try local lunch options, visit the Dole Plantation, and more.
100% refund for cancellations within 24 hours of tour experience
---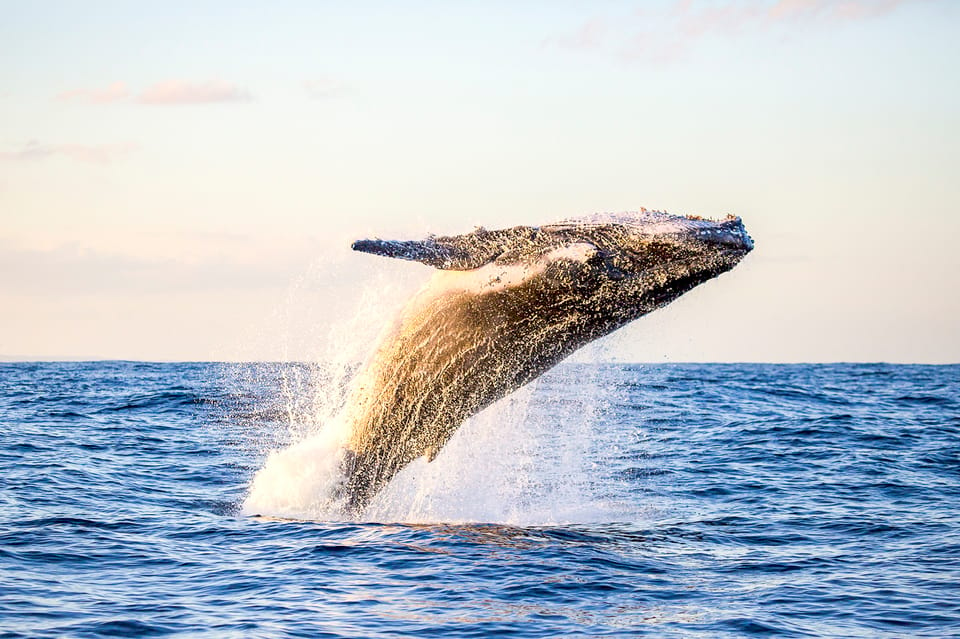 It's not every day or any place where you get to see whales! In fact, the vast majority of us have never seen a whale in our lives! If you're going to be in Oahu, don't just expect to see whales unless going on a tour specifically for them. You'll need to know where to look, and go at the right time of year/day for the best chance at seeing these gentle giants.
Whale watching involves an expert guide/captain who knows exactly where to go while also making sure to never have a negative effect on the wildlife who inhabit these waters. The Waikiki Beach: Eco-Friendly Whale Watching Cruise checks all these boxes, offering sodas, cookies, and chips as you keep your eyes peeled for some Humpback whales!
While it's never guaranteed, chances are you're going to see multiple whales frolicking around. Some will even put on a show for you and the rest of your group if you're lucky! It's a fantastic way to see these beauties and get some insight into how sweet and intelligent they are.
100% refund for cancellations within 24 hours of tour experience
---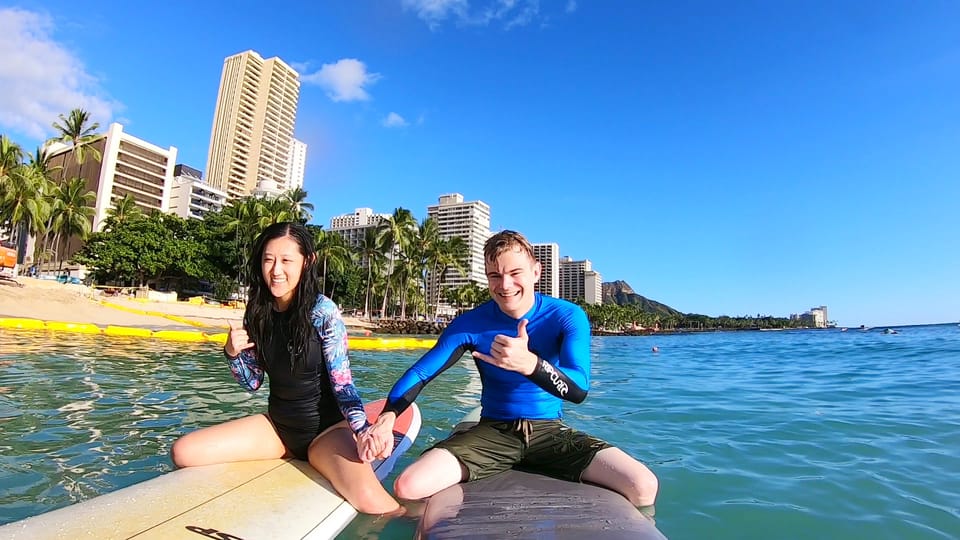 How many of us have wanted to learn how to surf but simply don't know where to start? It's not like swimming in a pool – you have to navigate the ocean with its waves, rocks, and animals! Not only that, but you have to simultaneously focus on your surfing form!
The best way to learn how to surf is by engaging in a semi-private surf lesson. These usually consist of 2 students and 1 teacher, and is perfect if you and your significant other want to learn something new together. If you have an ocean nearby at home, you may be able to bond over your new skills and continue this hobby together!
The Waikiki Beach: 1-Hour Surf Lesson for 2 People activity is exactly what you're looking for. A professional big-wave surfer will be your instructor, giving you a head up above the rest and giving their full attention to ensuring you learn as much as possible. By the time you're done, you'll know how to stand up on a surf board and maybe even catch a wave or two!
100% refund for cancellations within 24 hours of tour experience
---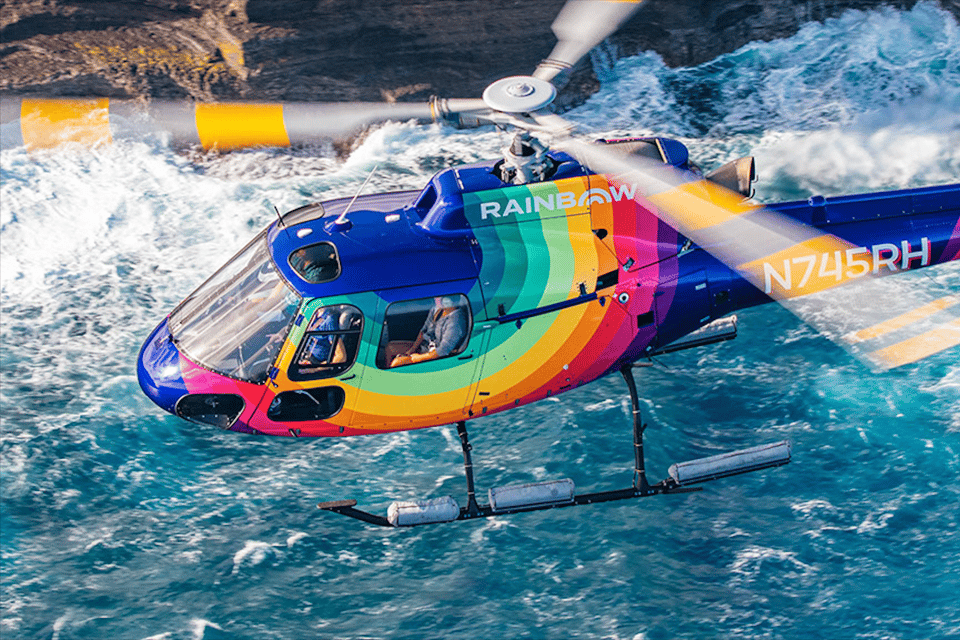 One of the best ways of seeing Oahu is undoubtedly by helicopter! It's an excellent way to see all over the island in a relatively short amount of time. Many tours let you choose whether you want the doors on or off, depending on just how adventurous you're feeling!
These guided flight tours are flown by professional pilots who know all about Hawaiian history, culture, and of course are well-versed in all of the landmarks you'll see. You'll have the opportunity to see places that the vast majority of people never get to see. The Waikiki skyline from above is simply beautiful, and offers a different perspective on the city.
We highly recommend the From Honolulu: Oahu Helicopter Tour with Doors On or Off tour which will show you volcanic cliffs, lighthouses, coral reef formations, along with various other notable spots like the Ka'a'awa Valley and the Banzai Pipeline (a must-see if you've taken your surfing lessons!). If you've never ridden in a helicopter before, this is an excellent experience that you're sure to do again.
100% refund for cancellations within 24 hours of tour experience
---
Paddle boarding is not only an excellent workout and great for improving the balance, but it's a wonderful way to check out areas with large bodies of water. Surfing is as well, but with paddle boarding, you're standing up and have time to just really sit in the moment and appreciate the beauty around you. It isn't as risky nor does it require quite as much athletic prowess, making it more appealing to a wider range of people.
Now, when you're in Hawaii, you can count on all that, plus turquoise water and all kinds of wildlife! By taking a paddle boarding tour on the island, you have an expert guide to instruct and lead you.
This means that you'll know exactly what to do and how to do it, which will allow you to really relax and just have fun. All equipment is provided as well, so you don't have to worry about rentals and hoping you know how to use it.
Take things to another level with the GLOW Stand Up Paddle at Twilight tour. You'll go with your group right before the sun sets, so you can see Hawaiian green sea turtles, and enjoy the serenity and calmness of the waters in the dark. The boards come with lights attached to the bottom, which illuminate the water below you.
100% refund for cancellations within 24 hours of tour experience
---
Looking to see some of the more remote areas of Oahu or some adventure? Well an ATV might just be the ticket for you!
If you like the movie Jurassic Park, you will appreciate a tour of some of the sites that are featured in the movie. There are hidden views of the ocean are awesome!
These guided tours are a perfect way to enjoy a day of adventure while seeing Oahu's finest scenery. You can read reviews of our favorite ATV tours here.
100% refund for cancellations within 24 hours of tour experience