If you enjoy kayaking, Maui is a perfect vacation destination. The warm tropical waters surrounding the island are warm and pleasant. The hidden coves along the western coastline offer calm stretches of water ideal for kayaking beginners.
The beautiful coral reefs surrounding the island are not only pretty to look at, but they also help to ensure the ocean near to the shore is much calmer than further out at sea. The clear water is perfect for snorkeling and admiring the local marine wildlife.
There are many kayaking trips in Maui to choose from. To help you select the one that's best for you and your family, we have investigated the top 5 Maui kayaking and snorkeling adventures and review them below.
Best Kayaking Tours in Maui
| | Maui: Turtle Town Kayak and Snorkel Tour | Maui: Premium Turtle Town Kayak and Snorkel Tour | Maui: West Side Discovery Kayak and Snorkel Tour |
| --- | --- | --- | --- |
| | | | |
| | | | |
| Departure Point | Makena Landing | Makena Landing | Ukumehame Beach State Park |
| Departure Time | 7:15 AM, 10:30 AM | 7:00 AM | 7:15 AM, 10:30 AM |
| Duration | 3 hours | 4 hours | 3 hours |
| Includes | Experienced guides, kayak hire, guided tour of Turtle Town, life jacket, snorkeling equipment, beverages, & snacks | Experienced guide, kayak hire, guided tour of Turtle Town, life jacket, snorkeling equipment, beverages, & snacks | Experienced guide, kayak hire, guided kayak excursion off the West Maui Coast, snorkeling equipment, beverages, & snacks |
| | | | |
---
Quick Answer: The 5 Best-Rated Kayaking Tours in Maui
---
Kayaking Tours in Maui Reviewed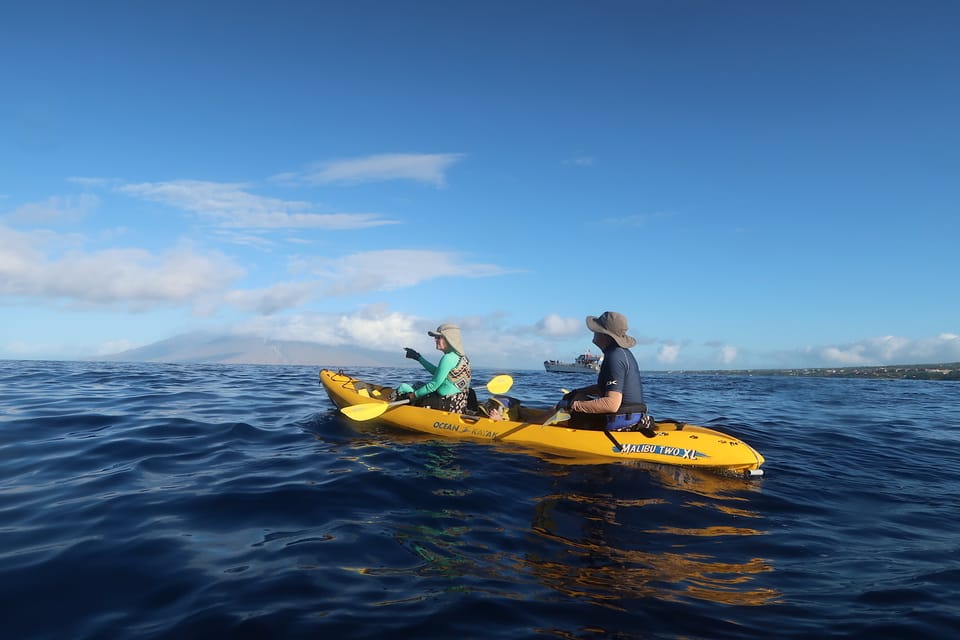 Tour Highlights at a Glance
:
---
Departure Point: Makena Landing
Departure Time: 7:15 AM, 10:30 AM
Duration: 3 hours
Includes: Experienced guides, kayak hire, guided tour of Turtle Town, life jacket, snorkeling equipment, beverages, & snacks
This is the best kayaking tour in Maui for family groups, especially those with young children of 5 years old or older. The qualified guides on this family-friendly Maui kayak adventure will ensure you're provided with all the necessary safety equipment and give you a safety talk before you hit the waves.
This safe kayaking destination is ideal for learning how to paddle. Your experienced guide can teach novices how to paddle and help intermediates to improve their paddling techniques.
During this group kayaking tour in Maui, you will kayak 2.5 miles across Makena Bay. This is where you'll find Turtle Town, a popular gathering place for green sea turtles. You may also spot spinner dolphins, manta rays, and monk seals.
During the winter months, humpback whales mate and give birth in Makena Bay. You may have the opportunity to kayak past whales, watching them spurt jets of water high into the air and breaching the water with their characteristic tails.
This Maui guided kayak tour takes you to two perfect snorkeling sites. You'll be guided down through the warm, crystal-clear water to swim alongside tropical fish and over the colorful coral reefs.
100% refund for cancellations within 24 hours of tour experience
---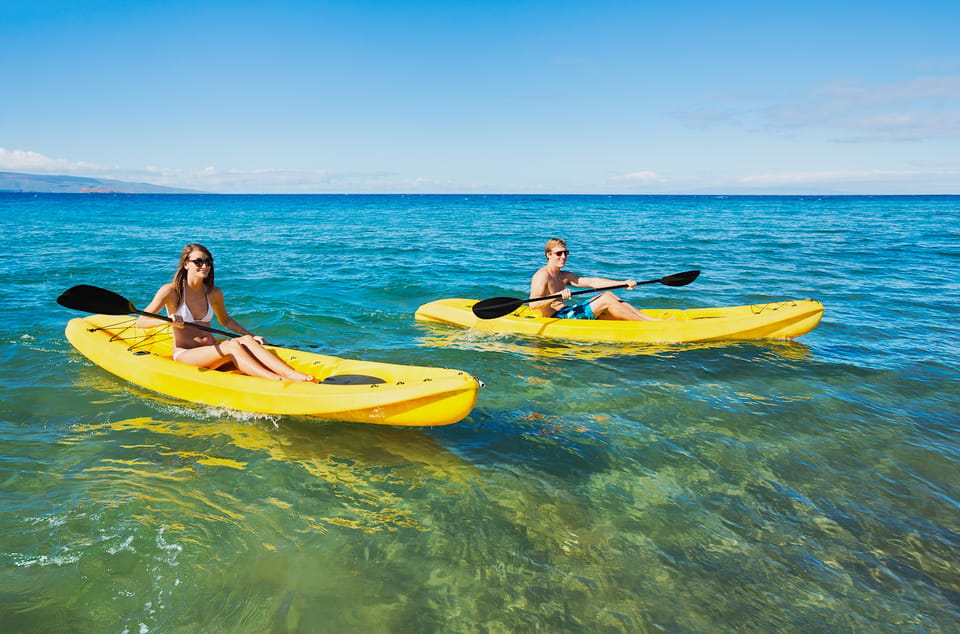 Tour Highlights at a Glance
:
---
Departure Point: Makena Landing
Departure Time: 7:00 AM
Duration: 4 hours
Includes: Experienced guide, kayak hire, guided tour of Turtle Town, life jacket, snorkeling equipment, beverages, & snacks
This is the best kayaking tour in Maui for visitors who dream of swimming with turtles. The highlight of this tour is a visit to Turtle Town in Makena Bay, famous for its high turtle population. And with a longer duration than most Maui kayak excursions, you'll have plenty of time for getting close to your favorite testudines.
This tour is more physically demanding than many others. It involves a 4-mile paddle, and you'll be snorkeling for longer than on other Maui snorkeling excursions. But don't worry if you're a beginner. You will be on a small group tour, enabling your experienced guide to give you personal attention. And your Maui kayak adventure will begin with a safety orientation and introduction to kayaking.
The extra distance paddled and extra time in the water mean that you will visit more remote and interesting snorkeling spots than on other tours. Makena Bay is already the premium snorkeling spot in Maui, but this kayaking adventure will take you to see underwater delights few other people have witnessed.
Turtle Town is an amazing snorkeling site. Get ready to swim alongside green sea turtles, manta rays, spinner dolphins, and tropical fish. You'll also see colorful corals and other unique marine life under the waves. This is easily the most memorable Maui kayaking excursion.
100% refund for cancellations within 24 hours of tour experience
---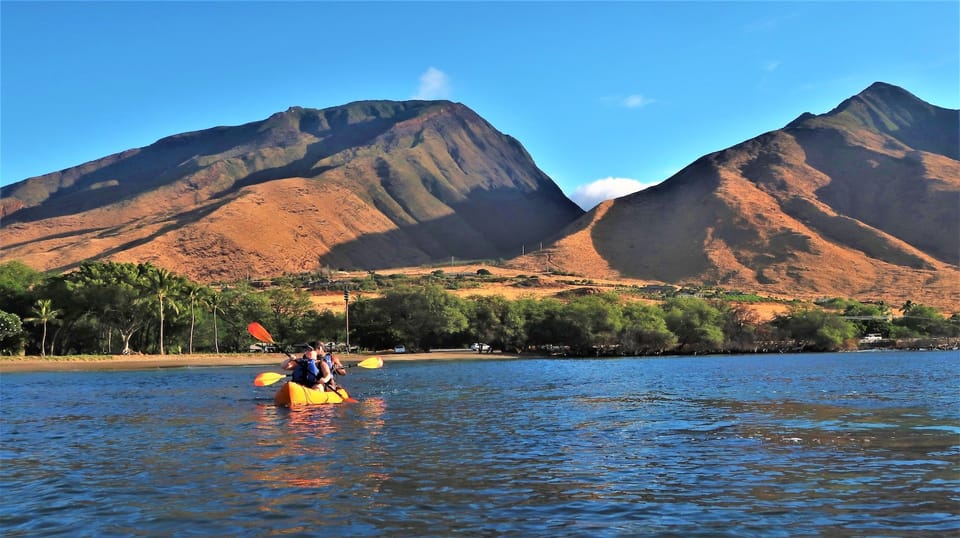 Tour Highlights at a Glance
:
---
Departure Point: Ukumehame Beach State Park
Departure Time: 7:15 AM, 10:30 AM
Duration: 3 hours
Includes: Experienced guide, kayak hire, guided kayak excursion off the West Maui Coast, snorkeling equipment, beverages, & snacks
This is the best kayak tour in West Maui for visitors who want to snorkel through the crystal-clear tropical water and come face-to-face with marine wildlife. It is a family-friendly kayaking excursion suitable for families with children of 5 years old and older.
On the guided kayak excursion, you will paddle for 2.5 miles along the Ukumehame Coast. During this trip, you will stop off twice to snorkel in the turquoise water where you come face-to-face with colorful corals, schools of tropical fish, monk seals, green sea turtles, manta rays, and spinner dolphins.
If you visit during the winter, humpback whales migrate from Alaska to mate and give birth in the warm water off the coast of Maui. The best time to spot whales breaching the waves and swimming with their calves is between October and April.
If you and your family are complete beginners, the early morning tour typically offers the calmest ocean waves. But whether you take the earlier or later tour, the expert local guides will provide you with a safety orientation and accompany you on your West Maui kayaking adventure.
On this family friendly West Maui kayak excursion, you will learn many amazing facts about the marine life found off the western Maui coastline. This kayak and snorkeling trip will undoubtedly be the highlight of any Hawaiian vacation.
100% refund for cancellations within 24 hours of tour experience
---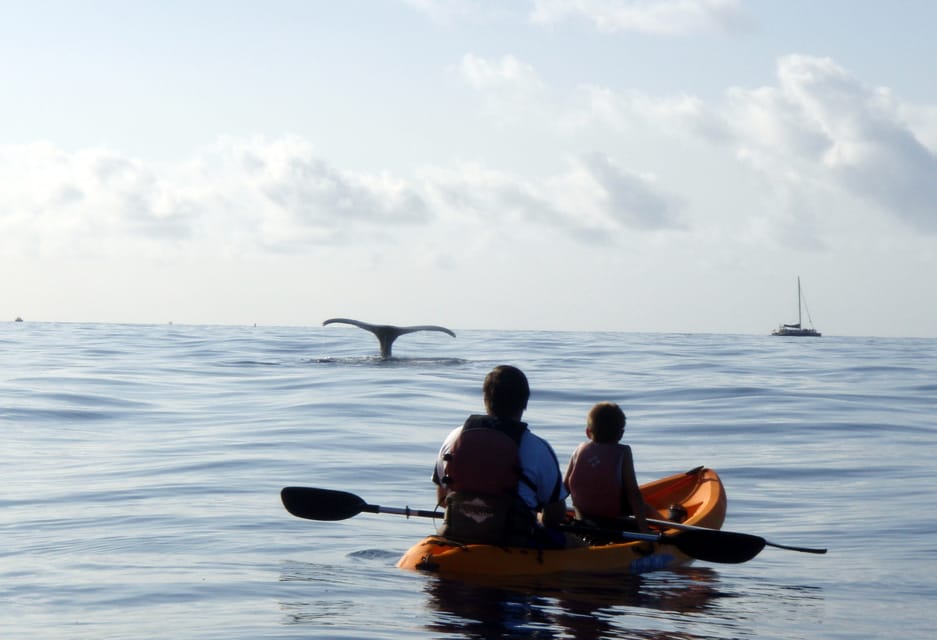 Tour Highlights at a Glance
:
---
Departure Point: Makena Landing Park
Departure Time: 7:15 AM, 10:30 AM
Duration: 3 hours
Includes: Experienced guides, kayak hire, guided kayak tour, snorkeling equipment, water, juice, & snacks
This is the best Kihei kayaking and snorkeling trip for visitors who want to learn more about Maui's culture, folklore, history, geology, and marine wildlife. The knowledgeable local guides will entertain you with stories and information about how the island was formed by the eruption of two huge volcanoes and how time and nature shaped the Maui we know today.
This Maui kayaking adventure features hands-on lessons about paddling and snorkeling provided by experienced instructors. The "sit-on-top" kayaks are designed for easy entrance and exit, making them ideal for combined kayaking and snorkeling trips.
After your snorkeling lesson, you will be ready to swim beneath the waves. You will have the privilege of swimming over coral reefs, admiring schools of tropical fish, watching manta rays consume plankton, and seeing green sea turtles in their natural habitat.
During the winter months, this Maui kayaking and snorkeling tour will focus on whale watching. Your experienced local guides know the best places to go to encounter humpback whales in the wild. Listen carefully to your experienced guide and they will ensure you don't come too close to the whales and teach you all about this wonderful sea mammal's natural history.
100% refund for cancellations within 24 hours of tour experience
---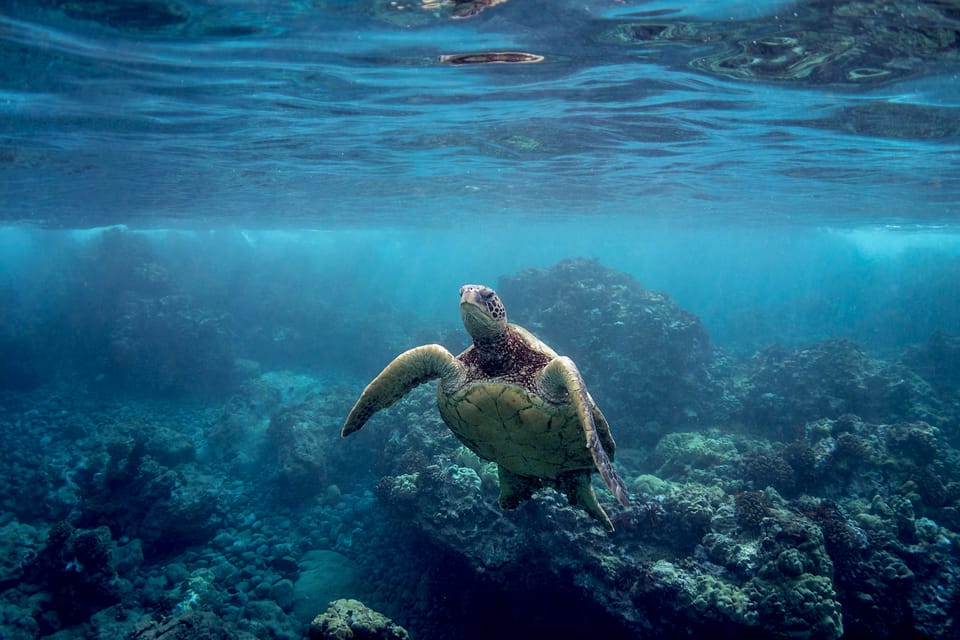 Tour Highlights at a Glance
:
---
Departure Point: Papalaua Beach Park
Departure Time: 7:00 AM
Duration: 5 hours
Includes: Experienced guide, kayak hire, guided tour of Turtle Town, life jacket, dry bag, snorkeling equipment, lunch, snacks, & beverages
This is the best West Maui snorkel and kayak tour for more ambitious paddlers. You will experience kayaking and snorkeling in remote and difficult to reach coves beneath the breathtaking Pali Sea Cliffs.
As part of this kayaking adventure in Maui, you will paddle for 4 miles and visit up to 3 prime snorkeling sites. This is your chance to swim through crystal-clear tropical waters and see colorful corals in real life.
The Pacific Ocean off the western coast is teeming with marine wildlife. You can look forward to swimming alongside spinner dolphins, manta rays, green sea turtles, and vibrant tropical fish. This is a unique snorkeling experience you cannot experience in any other state of the union.
Your kayaking adventure will take you to the Pali lighthouse and back passing some of Maui's most iconic scenery. You cannot visit the Hawaiian Archipelago and not snorkel. Few places in the world offer such clear and pleasant underwater conditions. This is the best place in the world to explore tropical seas.
100% refund for cancellations within 24 hours of tour experience
---
Maui Travel Guide
When Polynesian adventurers found and settled the previously uninhabited island of Maui, they thought they had found Paradise.
You will too! There is so much to see and do on this compact island that you are spoiled for choice. You can go whale watching, climb a volcano, hike through tropical rainforest, and learn how to hula dance from professionals.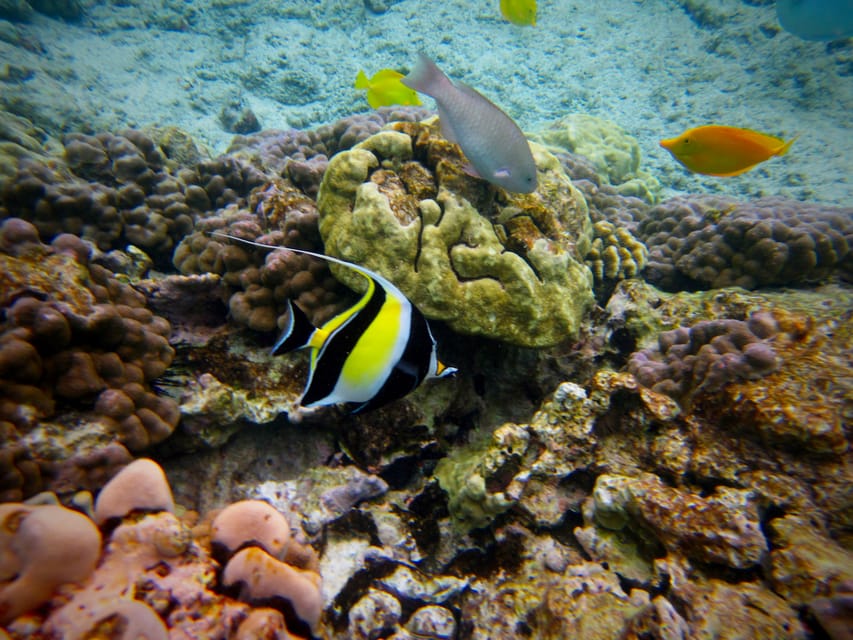 Before you go, it is in your interest to fully research the accommodations, transport arrangements, local foods, and attractions to ensure you get the most out of your visit. This guide is designed to help you on your way.
Airports & Entry
Most visitors to Maui arrive on an airplane or a cruise liner. Using either method, you'll most likely arrive in Kahului.
Kahului is the main settlement on Maui, hosting its commercial shopping centers, light industrial areas, a deep-draft harbor for cruise liners, and Kahului Airport.
Although Maui only boasts a population of 155 thousand, over 5 million passengers pass through Kahului Airport every year. Many flights from the mainland involve a layover in Honolulu, but there are direct flights.
When booking, try to get a direct flight to save time. There is only one terminal building at Kahului, but you can find all the usual amenities on the second floor.
The Visitor Information Office in the central building is open from 7:45am to 9:45pm, and there are information desks throughout the airport. ATMs and internet stations are found throughout the second floor.
The airport shops—a DFS, gift store, jewelers, and newsstand—open at times varying from 6am for the newsstand to 8:45am.
All the shops close around 9pm. While the earliest of the 9 food outlets—Starbucks—opens at 5:30am, they are all closed by 10:30pm.
There are 8 car rental companies operating from the airport, but it's a good idea to book in advance to save time at the airport and ensure that there's a vehicle available.
A convenient and affordable shuttle service connects the airport to the main tourist accommodation locations on the island, including Wailea, Napili, Makena, Lahaina, Kihei, Kahana, Ka'anapali, Honokawai, and, of course, Kahului's commercial center.
The Maui Airport Shuttle Service desk can be found in the Baggage Claim area, and no reservations are required. The desk opens at 5:30am and closes after the last flight arrival of the day.
If you are traveling light, the local public transportation system is an affordable option. Cash fares on the Maui Bus service are $2 per person for a single ride or $4 for a day pass.
Route 35 (Haiku) and Route 40 (Upcountry) operate every 90 minutes from 5:30am and 6:00am to 9:40pm and 10:11pm respectively.
However, the public bus has a strict luggage policy, so only one suitcase or carry-on bag is allowed and must fit on the passenger's lap or under their seat. So, Maui Bus is only an option if you are a "hand luggage only" kind of flyer.
Taxis pick up from the front of the baggage claim area, but they are expensive. The metered rate is $3:00 per mile. That means it would cost you approximately $65 to Makena, $78 to Lahaina, and $105 to Kapalua.
Cruise ships moor at Pier 1 in Kahului Deep Draft Harbor. Maui Bus operates a service that stops at the harbor, and taxis are an option. It is a 25-minute walk from Pier 1 to the Queen Ka'ahumanu Center, Kahului's main commercial center and transport hub.
Traveling in the time of Covid
Like many other destinations worldwide, tours and visitor attractions in Maui have adopted special procedures.
Wearing a mask in mandatory in many locations. You will be expected to supply your own mask and wear it when you enter public buildings.
Keep your distance from other visitors who are not in your family group or bubble. You will be expected to keep your distance inside minibuses and other vehicles and when seated in restaurants.
At the time of writing, the State of Hawaii welcomes visitors but requires pre-travel testing for Covid-19. You can obtain the most up-to-date information directly from the State of Hawaii Portal.
Eco-Tourism and Sustainability in Maui
The Hawaiian Archipelago offers many areas of outstanding natural beauty and protected wildlife areas you can explore. In order to maintain this wonderful place for future generations, many of the local tour companies operate eco-friendly tours.
When considering the tours we review on the World Travel Guides website, note that there are often eco-friendly options that empower you to become a more sustainable traveler. This is especially true around the islands of Hawaii. Take care of our world and it will take care of our children.
Kayaking & Watersports in Hawaii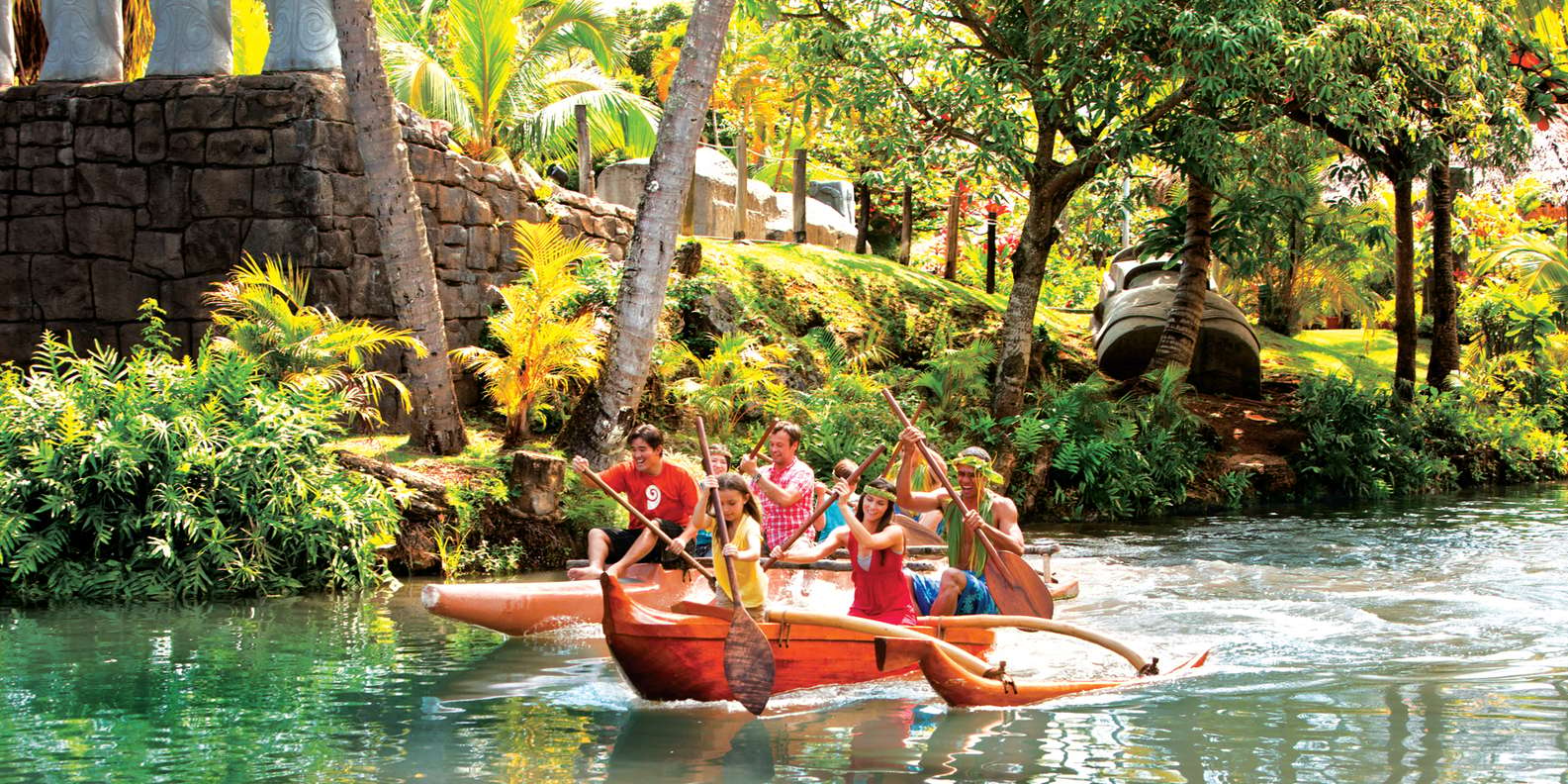 Outrigger canoes are an important part of the local culture in Hawaii. The Hawaiian Islands are among the last habitable places on Earth to be colonized by humankind.
It is believed the Polynesian colonists first came to the islands aboard outrigger boats during the 13th century CE. Once settled, they used outrigger canoes both for fishing and for commuting between the various islands of the Hawaiian Archipelago.
The rivers and coastal waters of Maui are perfect for kayaking and paddleboarding. In many places, coral reefs create calm areas where it is safe to kayak.
There are many fascinating islands a mile or so off the coast of Maui that make perfect kayaking excursion destinations. Plus, the warm tropical water and fine weather make kayaking in Hawaii a pleasurable experience.
In some of the protected natural parks, kayaking is the only way to access areas of natural beauty and locations where you can observe some of Hawaii's amazing wildlife. Kayaking is an eco-friendly way to explore Maui's pristine waters. It doesn't hurt the wildlife or pollute the ocean.
Planning Tips
It's always best to be prepared. Here are 5 tips to help you make the most of your stay on Maui.
Tip #1: If you want to see whales, go in winter
During the summer, humpback whales feed and congregate around Alaska. In winter, they migrate south to mate and calve. From mid-December to mid-April, there are an abundance of whale sightings in Maui.
Between 10 and 12 thousand whales congregate in these tropical waters. Whales are often visible at a distance from the beaches and will circle any small boats that approach their pods. Winter is the best time to whale watch in Maui.
Tip #2: Take your time to appreciate all that Maui has to offer
Perhaps you only want to see the whales or surf in the sunshine, but there's a lot more to see and do in Maui.
Don't miss the opportunity to climb a volcano, explore inside a lava tube, experience a traditional luau, and visit the historical royal town of Lahaina. See the information on Nightlife and Attractions below.
Tip #3: Book Maui tours in advance, especially during winter
Maui is a popular destination for tourists, so tours quickly sell out. Book in advance to avoid disappointment. You wouldn't be able to forgive yourself if you went all that way only to miss your opportunity to whale watch because the tours were full.
Since many tours offer free refunds up to 24 hours before the activity begins, you're not taking a risk if you book before you go. Just check the refund policy of each tour before you book.
Tip #4: Take summer clothes and raincoats
Because Maui is tropical, you need to pack summer clothes. However, don't forget it also rains a lot on the island. Light raincoats are an excellent idea.
If you intend to see the sunrise or sunset from the top of Haleakalā, you will definitely need a jacket. And if you plan to visit a plush Martini lounge or attend a luau, you should bring something a bit smarter for those special occasions.
Tip #5: Buy traditional local craft souvenirs
If you want to take home something unique, check out the Maui Crafts Guild in Paia, a small settlement a little east of Kahului just off the Hāna Highway.
This store is a member owned and operated cooperative where you will find the actual artists inside the store eager to speak to you about their arts and crafts.
Restaurants & Eating Out
Maui not only has a unique ecosystem with plants not found in the other 49 States, but it also boasts an uninterrupted cultural history.
That means during your stay you have the unique opportunity to taste genuine Polynesian food untainted by European colonial influences.
Because Maui is an island surrounded by abundant marine life, it's no surprise many restaurants feature seafood on their menus.
A popular dish is Opakapaka, which is crimson snapper either steamed, baked or grilled. Monchong is a deep-water fish marinaded and grilled.
Raw tuna is a favorite with the locals and is found in traditional foods like Poke. Poke is like Japanese Sashimi but with the raw fish served in hearty chunks rather than thin slices.
Something unique to the Hawaiian Islands is luau food cooked in an earth oven called an imu. A tasty example of luau food is Laulau, made with pork, chicken, or fish.
The selected meat is wrapped in taro leaves and then cooked inside the imu for hours until it grows soft with a smoky taste. Delicious!
While many North Americans might consider either bread or potato to be their staple food during meals, on Maui taro is the staple root crop.
Taro is most often consumed as Poi, a thick paste that is either baked or steamed. Poi is slightly sour due to fermentation during its preparation.
And for dessert, why not try some Banana-Apple Fruit, Breadfruit, or Kulolo. Banana-Apple is a common fruit eaten cold or hot.
Breadfruit is melon-sized and is served boiled, deep-fried, baked, or steamed. Kulolo is steamed taro pudding. Yes! Taro is a versatile root.
Nightlife & Entertainment
Despite Maui's small size, you will find a good selection of venues to let your hair down.
The island offers something for everybody's taste, from a plush Martini lounge to a rowdy beach watering hole where locals play pool and watch the big game live. But something truly special only experienced in the Hawaiian Islands is a luau.
If you want to dress up and drink in style, you could head to the Ritz-Carlton in Kapalua and visit the Alaloa Lounge.
They offer outdoor or indoor seating and live entertainment Thursday through Monday. The Kapalua Martini is a local specialty you should try.
At the other end of the scale is Life's A Beach in Kihei, a beach lounge frequented by locals.
As well as the football and pool tables you'd expect from a popular watering hole, they also have regular evening entertainment. They offer everything from open mic nights to live reggae bands.
But for a fun-packed evening of traditional songs, stories, food, and drink, you won't do better than an organized traditional luau.
For around $130, you can experience Lei Greetings, observe the Imu Ceremony (cooking a pig in an earth oven), Hula Dance, and play Hawaiian games.
The highlight is a performance by locals telling the story of how their ancestors first discovered and populated Maui, aided by the gods.
Getting Around
If you want to explore the Hāna Highway with the flexibility to stop wherever and whenever you choose, your best option is to rent a car.
However, if you don't want to do this, you can get around by public transportation, shuttle bus, on a tour, or by taxi. Maui Bus, the public bus service, is an extremely efficient and cheap way of getting around the island.
But Maui Bus' focus is on getting the locals where they need to go, which might not be what you want to see.
A tour bus will take you exactly where you need to go, but on their schedule, not yours. Taxis are an option for nearby attractions, but at $3 per mile, they are expensive for long journeys.

Accommodations
Most visitors to Maui stay near one of the larger settlements along the coast, but not Kahului, which is relatively industrial and less touristy than other towns.
Popular locations include Kā'anapali, Kapalua, Kihei, Lahaina, Mākena, and Kapalua. There are also hotels and resorts in the Up Country area around Kula.
When deciding where you want to stay, think about what you most want to see and do while you're on the island.
Bear in mind that towns like Kā'anapali, Kapalua, and Lahaina on the leeward, west coast will be a lot drier and a little warmer than towns like Hāna on the windward, east coast.
Also remember that although the island is small and settlements close to one another, the roads meander, and there are mountains in the way. If you decide to stay in Hāna but intend to visit Lahaina, allow 3 hours each way for the drive.
When you've chosen your target location, you will find lots of resorts, hotels, hostels, and B&Bs to choose from. Tourism is big business in Maui, so there are rooms available to suit any budget.
Weather
Although Maui is a small island, you will experience several distinctly different climates while traveling around. This is a product of the island's unique geography.
There are two important variables: elevation above sea level and position in relation to the two mountainous regions.
If you are on one of the whale tours in Maui, your boat will be at an elevation of 0 feet, but if you are admiring the view from atop Haleakalā, your elevation is 10,000 feet.
The higher you climb, the cooler the air temperature will be. As a rough guide, every 1,000 feet you rise above sea level, the temperature will drop 3.20F.
This means that when the beach is 700F, the summit is 380F! Although Maui's climate is tropical, snow sometimes appears at the summit. If you decide to climb Haleakalā, make sure you take warm clothing in your backpack.
You may begin your ascent in the tropics, but you'll arrive to weather more like the Arctic. Up Country Maui is wetter and cooler than neighboring South Maui because it sits at a higher elevation.
The low-lying central valley, where the airport is situated along with Kahului and Maalaea, is windy but dry and usually sunnier than other areas.
The trade winds hit the windward, eastern shores of the island, bringing moist air. As that air climbs the mountains, it releases the moisture as rain.
This leads to a lot of rain on the east side of the island, hence the rainforests.
The leeward, western shores, because they are sheltered from the wind by the mountains, only get a remnant of the rain. This makes the western shores relatively dry, especially where sheltered by Haleakalā.
The average temperatures on Maui don't change too much from the winter to the summer. Because the island is in the tropics, it's almost always warm.
In the coolest winter months, the average high is 800F and the low 650F, but around 10F cooler along the Hāna Highway.
If you want to snorkel, the ocean temperature is a pleasant 750F. Winter is the season that sees the most rainfall. In the warmest summer months, the average high is 840F and the low 700F but 830F-690F around Hāna. The ocean temperature rises to around 800F in summer.
Attractions
Maui is an island steeped in natural beauty and cultural history. There are many interesting places to visit and activities to enjoy. You can hike through the rainforest, snorkel in the crystal-clear water offshore, watch whales in the Pacific, or attend an authentic luau.
Maui is volcanic in origin, created by lava flows from two volcanoes. Haleakalā is the larger of the two volcanoes, responsible for over 75% of Maui's landmass. You can find Haleakalā at the heart of Haleakalā National Park, which is a popular destination for tourists.
If you enjoy photography, you'll love the sunset over the Pacific Ocean viewed from the summit of Haleakalā. And once the sun has gone down, Haleakalā is also a fantastic place to stargaze, when it is not cloudy.
At 10,000 feet elevation and with no light pollution, you get an uninterrupted view of the cosmos. The main feature of the park is the volcano's crater. It is 7 miles long, 2 wide, and approximately 2,600 feet deep.
Another popular attraction inside the park is Hosmer's Grove. This is an unusual collection of invasive trees from all around the world, including eucalyptus from Australia and pine from North America.
Visitors love to explore the Hāna Highway—Hawaii Routes 36 and 360. The highway winds along the North Shore between Kahului in Central Maui and Hāna in East Maui. Built by King Pi'ilani in the 16th century, this ancient road has a longer history than the Union.
It is only 64½ miles long but features 59 bridges, most only one lane wide, and many sharp bends. Driving along the highway, you will frequently stop to photograph the lush tropical rainforest.
You can also visit waterfalls, walk along stunning black-sand beaches, and view scenic mountains. However, if you decide to travel this route, expect delays. Even without stopping, the drive between the two towns takes 2½ hours.
Over in West Maui, the most popular destination for hikers is Iao Valley State Park. This is a stream-cut valley within the tropical rainforest, which features a distinctive natural landmark. Rising 1,200 feet from its base, the Iao Needle is a stunning basalt formation.
Not far away, on the north coast, you can find Nakalele Point. This scenic area of cliffs is famous for its blowhole, which spouts jets of seawater 100 feet into the air like a geyser.
Tourists fascinated by the cultural history of Maui flock to Lahaina, the largest settlement in West Maui. Once the residence of the royal family, Lahaina was the capital of the Kingdom of Hawaii from 1820 to 1845.
Here is where you'll find the oldest buildings and learn about local history. Lahaina still projects the ambiance of a 19th-century whaler's seaport. The settlement's historic district boasts 9 important historical buildings built between 1823 and 1901.
The 1859 Court House was constructed over the site of the royal palace, and the United States Marine Hospital dates to 1842. Banyan Tree Park occupies the site of the 1831 Lahaina Fort and features the largest banyan tree in Hawaii planted in 1873.
See our #1 Pick Editor's Choice for Maui kayaking tours.