If someone asked you what comes to mind first when speaking of Irish culture, it's not unlikely that a certain spirit would come to mind. Nope, there's no denying the Irish love of whiskey and the rich heritage it was born from.
So, if you find yourself in Dublin, it would be practically offensive to not honor tradition by going on a whiskey tour. We've done the hard work for you, combining our first-hand knowledge and others' reputable reviews to bring you the top Dublin whiskey tours out there.
Whether you're a history buff, a whiskey fiend, or some mix of the two, we have something perfect for you right here on this guide! Be sure to try a Dublin pub crawl tour as well.
Best Whiskey Tours in Dublin
| | Dublin: Premium Whiskey Tasting Guided by Local Expert | Private Guinness Storehouse & The Working Distilleries of Dublin | The Whiskey Trail Dublin Tasting Tour with Local Guide |
| --- | --- | --- | --- |
| | Best Value Tour | Best Private Tour | Most Flexible Tour |
| | | | |
| | | | |
| Departure: | 58 York St, Dublin 2, D02 RW67 | Hotel pickup and drop-off included | 59 William St S, Centre, Dublin 2, D02 HF95 |
| Start: | 2:30 PM, 5:00 PM | 2:30 PM | 2:00 PM |
| Duration: | 2 hours | 4.5 hours | 2.5 hours |
| Includes: | Local guide, Welcome cocktail, 6 whiskey tastings, Mineral water | Transport, Whiskey Specialist Host, Teeling Whiskey Distillery with a private sampling, Tour of Guinness Storehouse, Pearse Lyons Distillery, private tasting of 3 whiskeys and gin | Beverages, food tasting (deluxe option only), local guide |
| | | | |
---
Quick Answer: The 5 Best Rated Dublin Whiskey Tours For 2023
Dublin Whiskey Tour Reviews
---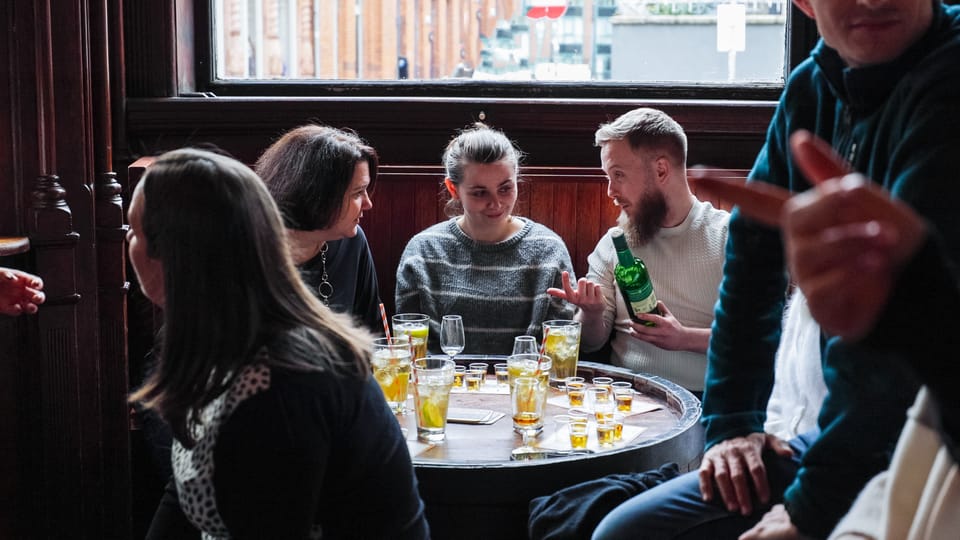 Tour Highlights
:
---
Duration: 2 hours
Departure: 58 York St, Dublin 2, D02 RW67
Departure Time: 2:30 PM, 5:00 PM
Includes: 

Local guide, 

Welcome cocktail, 

6 whiskey tastings, 

Mineral water
If you're a whiskey enthusiast like I am, and are trying to persuade your less-than-enthusiastic spouse or friend to join you on this immersive experience, this is the one.
From the very beginning, you're thrown right into the world of Irish whiskey, complete with funny stories, historical accounts, flavors, and cultural significance.
While I almost guarantee everyone who takes the Dublin: Premium Whiskey Tasting Guided by Local Expert Tour will love it, if by some miracle they don't, they only have to deal with it for 2 hours.
Don't expect this to be your run-of-the-mill whiskey-tasting group, either. This is a comprehensive experience that will cover just about every aspect of Irish whiskey's heritage, history, different styles, and how they came about. So much so, that you're likely to walk out feeling like a local whiskey expert, too!
It's no secret that there are tons of pubs in Dublin, but your tour takes place at one that's completely unique from the rest: The Swan.
Expand To See MoreSee Less

This authentic Victorian pub literally was born from a Medieval Inn dating from the 17th century, as horse-drawn coaches rolled on by.

Here, you'll meet up with your expert guide and sip on a welcome cocktail before kicking off a highly-engaging whiskey-tasting masterclass!

You'll be able to taste 6 of the country's best whiskies from various national distilleries, exploring the different styles, processes, and stories behind each brand. More specifically, you'll learn about the Kilbeggan blend, Slane Triple Cask, Bushmills Black Bush, Teeling Small Batch, Powers Three Swallow, and Jameson Caskmates IPA.

With such passionate guides and other staff, there's no option but to have a fantastic time and feel like you made new family members.
100% refund for cancellations within 24 hours of tour experience
---
Tour Highlights
:
---
Duration: 4.5 hours
Departure: Hotel pickup and drop-off included
Departure Time: 2:30 PM
Includes: Executive transport, whiskey/Beer Specialist Host to accompany you throughout, private city tour of Dublin, visit to Teeling Whiskey Distillery with a private sampling, Guided tour of Guinness Storehouse with pint of Guinness, visit to Pearse Lyons Distillery, private tasting of three whiskeys and a gin
As you probably already know, whiskey isn't the only beverage Ireland is known for. This next tour perfectly combines 2 iconic aspects of local culture: both the Guinness Storehouse and the working distilleries (various stops).
Even if you aren't necessarily a beer or whiskey aficionado, you're sure to find the Private: Guinness Storehouse & The Working Distilleries of Dublin Tour to be fascinating!
The order in which you see all of the different locations may vary, but you'll always see and try the same products. Oftentimes, the tour will start off with a trip to the infamous Guinness Storehouse: a mecca for beer connoisseurs.
The 7-floor building is much larger than I expected it to be, with each floor showcasing a different aspect of the history behind the extremely successful brand through interactive displays, exhibits, and top-tier storytelling.
Expand To See MoreSee Less

One of my favorite parts of the tour was enjoying a pint at the top-floor Gravity Bar while soaking in the incredible panoramic vistas of Dublin. Your guide will lead you through each of the different distilleries, and we received world-class service at each stop.

It's evident here that artistry, craftsmanship, and passion are 3 key ingredients to a good Irish whiskey! You'll get to see the distillation process up close, while the staff shares facts behind each approach, and captivating stories about the distilleries themselves, the founders, and the whiskeys.

You can expect to taste the following: Teeling Small Batch, Single Grain, and Single Pot Still, as well as the Pearse Lyons Original, Distillers Choice, and Founders Reserve. Oh, and if you want a pro tip, make sure to befriend your guide as they come with a ton of recommendations of things to do in Dublin!
100% refund for cancellations within 24 hours of tour experience
---
Tour Highlights
:
---
Duration: 2.5 hours
Departure: 59 William St S, Centre, Dublin 2, D02 HF95

Departure Time: 2:00 PM
Includes: Beverages, food tasting (deluxe option only), local guide
This next tour seamlessly combines Dublin's liquid heritage along with their pub culture and cuisine, making it ideal for just about anyone who'd like to get to know the capital city a bit better.
With a professional local guide to lead you through the doors of various notorious locales, you'll also get an insider perspective of the nightlife in this wild and lively place! The Whiskey Trail Dublin Tasting Tour with Local Guide is truly one of the best times you can have, and highly recommended if it's your first time in the city.
If you already have a packed itinerary and are worrying about trying to fit more activities in, this is a super easy one to squeeze in without worry. It lasts around 2.5 hours, and you have a lot of flexibility with the start time so you're sure to find something that works for you.
Oh, and please do yourself a favor and select the "Deluxe" version of the tour where you'll get some extras like cheeses, breads, and some local dishes that we all loved.
So, there are 2 different itineraries you can choose from, though both heavily focus on sampling classic Irish whiskeys like Jameson, Bushmills, Wild Geese, and Connemara.
Expand To See MoreSee Less

I mean, the tour guide literally leads you on an adventure through the Dublin Whiskey Trail, which is their collection of whiskey establishments, pubs, distilleries, and more.

Each one offers a unique whiskey, history, and personality, and it's kind of cool to see how these are almost like living, breathing entities.

As this is a small-group tour environment, it feels more like a close friend is taking you out to show you their expertise. You can feel free to ask any questions you may have, and they do a great job at making sure everyone's happy.

After the tastings, take a stroll around the Temple Bar district where you'll get to take in the energy and sites from the Dublin nightlife!
100% refund for cancellations within 24 hours of tour experience
---
Tour Highlights
:
---
Duration: 1 hour and 45 minutes
Departure: 19 Lincoln Pl, Dublin
Departure Time: 5:30 PM
Includes: Professional whiskey guide, 5 whiskey tastings, Small group sizes
Maybe you're not quite what you'd consider a whiskey aficionado, but you'd like a taste (literally and figuratively) of Dublin's whiskey scene and history. If so, then perhaps a shorter tour is in order, like the Whiskey Tasting Tour of Dublin.
While it is somewhat brief, it is a highly-immersive experience that's sure to stir up some laughter and a general good time!
We met up with our guide at the first pub on our itinerary, who did a fantastic job at making all of us feel like longtime friends despite all of us being from different places on the globe.
I felt like their friendliness and easygoing manner of explaining things to us made everyone feel welcome, rather than gatekeeping the production and tasting techniques that you may find elsewhere in the spirits world.
Expand To See MoreSee Less

While nothing is really "set in stone" we did end up trying 3 whiskeys at the first pub, and the history, production, and qualities of each were explained to us as we sipped.

Something else that was cool, was learning about the different types of glasses and the logic behind using each. After getting a bit more comfortable, we then moved on to the second pub where the guide had already reserved a "snug" for us all to lounge about in.

At the second, we were able to sample 2 more premium Irish whiskeys with guidance on how to correctly appreciate the aromas, flavors, and differences between each.

Not only that, but we learned quite a bit about the drink's significance in Irish culture, and how it came to be throughout social and economic changes in the country. We all loved hearing the stories about famous distillers, traditions around whiskey, and a whole lot more!
100% refund for cancellations within 24 hours of tour experience
---
Tour Highlights
:
---
Duration: 1 hour and 45 minutes
Departure: 19 Lincoln Pl, Dublin
Departure Time: 7:30 PM
Includes: Professional whiskey guide, 5 x Deluxe whiskey tastings, Artisan Irish Farmhouse Cheese's, Handmade Irish Chocolates, Blue Badge guide with local knowledge
We couldn't hand-select the best whiskey tasting tours of Dublin and leave our next tour out! The Deluxe Whiskey and Food Tasting in Dublin Tour is yet another one perfect for those who don't want to commit to a longer tour, and would like a comprehensive look at the spirit and its history.
It's also ideal if you'd like to tag along for the ride and try some tasty Irish cheeses and handmade chocolates!
Imagine this: the sun has just set on the timeless city of Dublin, and you can feel the city just starting to wake up. You take a stroll through the lively atmosphere on the cobblestone streets, and you start to feel thirsty!
Well, you're in the right place because The Lincoln's Inn is right there, with your professional guide waiting to show you the ins and outs of Irish whiskey culture! I know that all sounds a bit romantic, but it truly is!
Expand To See MoreSee Less

The Lincoln's Inn is a gourmet delight, with the warmth of not only the whiskey to greet you but the hospitality of the staff, as well.

You'll immediately understand why this place is so renowned, with a load of whiskeys, regional cheeses, and chocolates that work perfectly together. The food made a big difference and kept everyone from getting too "overwhelmed" by the liquor, too quickly.

At your second stop at The Palace Bar, you'll really get treated like royalty in your own private section with the rest of your group. Here, you will try 2 more premium Irish whiskeys, and learn about the craftsmanship and traditions that have made them.

For anyone who's looking to have a fantastic night out on the town, I can't recommend this one enough!
100% refund for cancellations within 24 hours of tour experience
---
FAQs About Dublin Whisky Tours
Why should I do a Dublin whiskey tour?
A whiskey tour is a great way to learn about the history and culture of whiskey in Ireland along with tasting different varieties and styles of Irish whiskey.

You will also get to see historic places in Dublin like the Old Town, the Grand Canal and the River Liffey. You will have a fun and memorable experience with your guide and your fellow whiskey enthusiasts.
How can I choose the best whiskey tour for me?
There are many options for whiskey tours in Dublin. You can either visit one or more of the whiskey distilleries in Dublin, such as Pearse Lyons Distillery, Teeling Whiskey Distillery, Jameson Distillery Bow St., The Dublin Liberties Distillery, or Roe & Co Distillery.

Most tours have a guided tour of the production facilities, a history of the brand and the whiskey making process and of course a tasting. You do a guided whiskey bar tour. This is our recommended choice.

Here you will go to some of the best whiskey pubs in Dublin with a whiskey expert. They will tell you to different styles and flavors of Irish whiskey. You can also combine both types of tours for a more comprehensive and diverse experience.
How much do the whiskey tours cost?
The prices vary depending on the tour option, the duration, and the number of tastings included. Expect to pay $60 or more. Some tours may also include transportation, entrance fees, food pairings, or souvenirs.
How long do the whiskey tours last?
The distillery tours usually are between 45 minutes to 2 hours. It just depends on the distillery and the tour option. The bar tours usually last between 2 and 3 hours, depending on the number of pubs visited.
How can I book a whiskey tour in Dublin?
You can book a whiskey tour online through various platforms, such as Viator, GetYourGuide, or Tripadvisor. See our tour reviews above for the best tours. You can also book directly through the distilleries' or the bars' websites or by phone. You should book your tour in advance to secure your spot.
Tips for doing a whiskey tour in Dublin
Read the terms and conditions carefully before booking, as some tours may have age restrictions, cancellation policies, or other requirements.
Choose a time of day that suits your schedule and preferences. Some tours may be busier or quieter at different times.
Drink responsibly and enjoy the whiskey in moderation. Don't drink on an empty stomach and drink plenty of water between tastings.
Ask questions and learn from your guide. They are usually very knowledgeable and passionate about whiskey and will be happy to share their insights with you.
Have fun and explore other aspects of Dublin's culture and history along the way.
Whiskeys Tasted
Tour Guides
Value
The Dublin Premium Whiskey Tasting Guided by Local Expert is our Editors Choice for the best Dublin whiskey tour

User Rating:

Be the first one !