Best Wine Tours in Australia from Melbourne
Quick Answer: The 4 Best Wine Tours in Australia from Melbourne
---
Wine Tours in Australia from Melbourne Reviews
Tour Highlights at a Glance
:
---
Duration: 8 hours
Starting Location: Hotel pickup and drop-off available
Start Time: n/a
Includes: Round-trip transportation from Melbourne, wine tastings, 1-course lunch at a winery restaurant, glass of wine, wine guide
First off, we bring you the Melbourne: Full-Day Yarra Valley Wine Experience with Lunch. This 8-hour excursion is a perfect way to spend the day learning about and tasting some of the most premium wines the region has to offer. Not only that, but if you're looking to escape the hustle-and-bustle of the city, you'll be able to relax and enjoy this beautiful outing.
Start off with a pickup at your Melbourne accommodations, and travel for around an hour with your group to the Yarra Valley. Throughout the drive, your knowledgeable guide will offer some interesting insight into the area and its history in wine. Your first stop of the day will be at Greenstone.
Located right at the bottom of Christmas Hills, this winery is located in the middle of a vast section of natural beauty. Learn all about how to properly taste wines, while enjoying the fresh air and picturesque landscapes. After, you'll be able to try a variety of cellar door tastings.
Next up is Balgownie Estate, which is equally as easy on the eyes, although a bit more swanky. Enjoy a delicious lunch and glass of their wine, while overlooking the green hills. After refueling, it's time to check out a more "boutique" winery: Yering Farm.
More of a rustic location, you'll see how they make wines in a traditional way with antique copper wine-making equipment! Learn about how the pioneers of winemakers used this same gear, offering a taste and body unique to this region.
After, check out Soumah of Yarra Valley, which produces fantastic chardonnays and pinot noir. Theirs are similar to those found in Italy in France, thanks to the notably cooler climate experienced here.
100% refund for cancellations within 24 hours of tour experience
---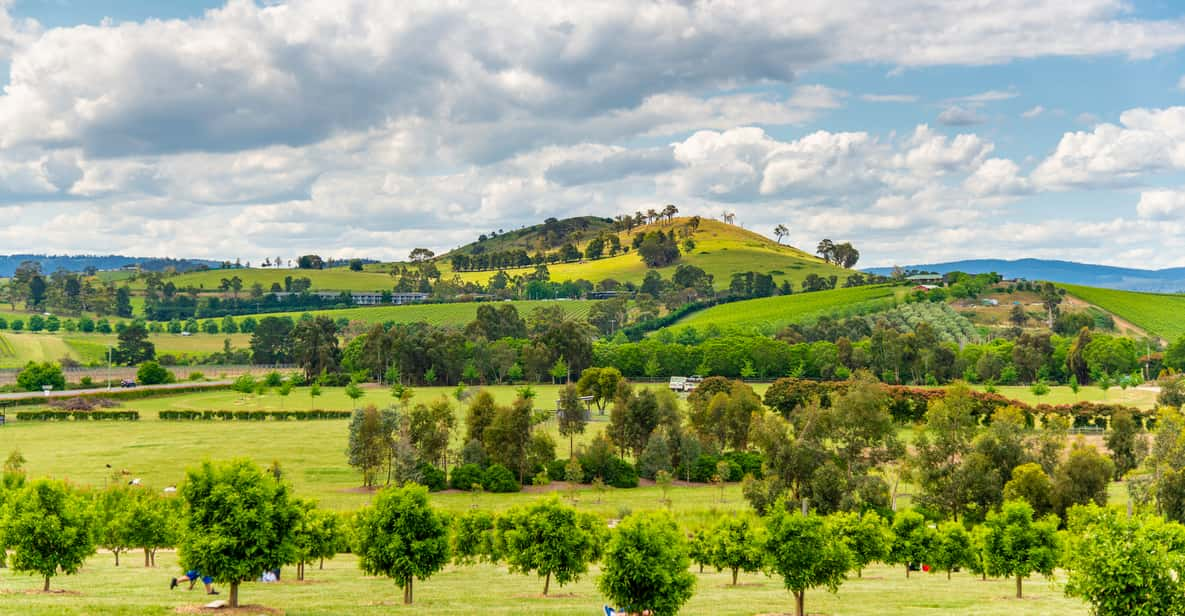 Tour Highlights at a Glance
:
---
Duration: 8 hours
Starting Location: Hotel pickup and drop-off available
Start Time: n/a
Includes: All tastings, restaurant lunch, on-board Wi-Fi service, translation app in 16 languages
This tour is yet another 8-hour adventure into the Yarra Valley to try some of the best wines in the country. The Yarra Valley: Full-Day Gourmet Tour with Lunch is a wonderful way to experience this beautiful valley and get out of the city for a day. Whether you're a wine connoisseur or an absolute newbie, you're sure to learn some new things!
Start off by being picked up at your hotel in the morning, and head off to the Yarra Valley! The route there is very charming, with all kinds of flora and fauna along the way. First, stop at Yarra Farm Fresh: a cool little place serving up seasonal produce and local gourmet foods. Everyone will partake in a delicious fruit tasting and sample freshly-pressed juices to really cleanse the palate!
Now, head to the Balgownie Estate, which is an upscale and well-reputed winery. Learn about how to correctly taste wines with an array of their distinguished wines made in this perfectly cool climate.
The Yarra Valley Dairy is next! Sample their incredibly fresh, melt-in-your-mouth cheeses that pair perfectly with a fine wine selection. You'll then go to Rochford Wines, where you'll enjoy a 4-course meal complete with their wine, tea, and/or coffee. Climb up their spiral staircase to take in expansive views from their lookout tower!
Next, you'll see Yering Station, recognized in the Australian Tourism Hall of Fame! This estate is one of the oldest in the country, and follow it up with the Yarra Valley Chocolaterie. These delicious, handcrafted chocolates are made by French and Belgian chocolatiers, and is quite possibly the best way to follow up a day of exploring!
100% refund for cancellations within 24 hours of tour experience
---
Tour Highlights at a Glance
:
---
Duration: 7 hours
Starting Location: Hotel pickup and drop-off available
Start Time: n/a
Includes: Commentary, transportation, water on the bus
Are you interested in exploring wineries, but would like to choose your own schedule? If so, we have the perfect tour for you! The Melbourne: Yarra Valley Wine Region Hop-On-Hop-Off Bus – Red tour lets you completely customize the winery stops you want to take, and skip the ones you could do without.
Start off by being picked up in central Melbourne, where you'll be able to relax and enjoy the view without worrying about transportation throughout the day. The bus heads to the Yarra Valley, which is renowned for its supreme wine, gin, beer, and local produce – particularly cheeses and chocolates.
Some of the wineries listed have other specialties as well, such as the Napoleone Cider Bar & Punt Road Wines. This family-owned business has been making their own cider from their own orchards' apples. Innocent Bystander is not only a reputable brewery, but also holds one of the best national bakeries inside. Meletos is a delicious restaurant and serves up some of the best regional coffee out there.
It's a great idea to reach out with any questions you may have about the locations, but the staff is usually great about providing ample information beforehand. You will have to make your reservations/choices before the day of the tour, so your bus will be ready to pick you up and take you to your next location.
This configuration is a fantastic way of learning all about different types of wines in the regions, and the various practices they instill in order to make theirs stand out.
100% refund for cancellations within 24 hours of tour experience
---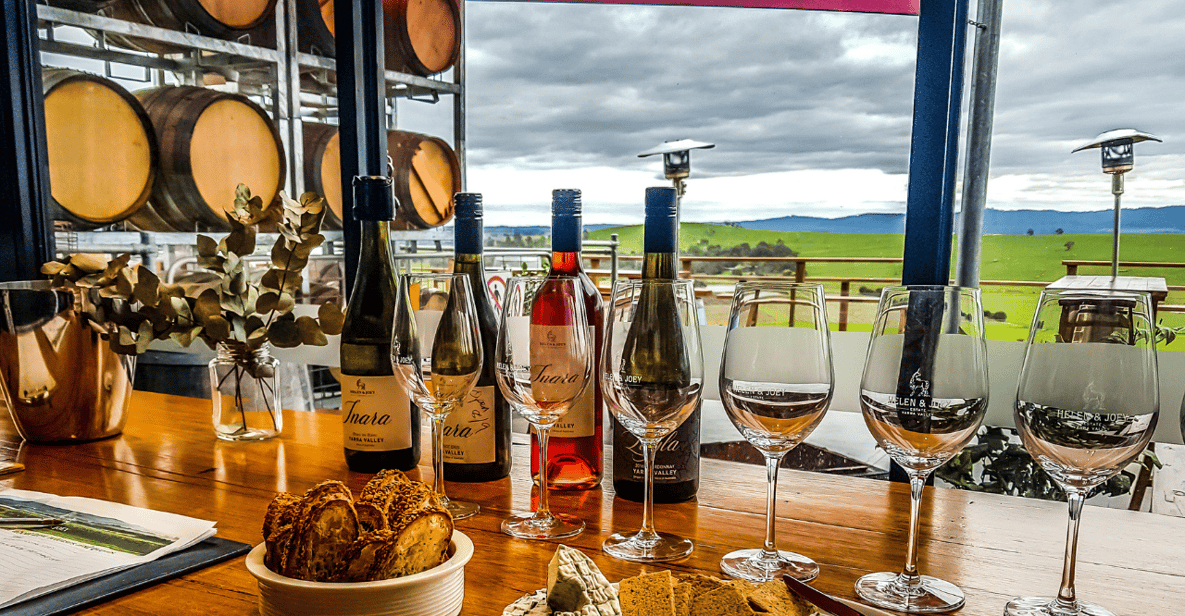 Tour Highlights at a Glance
:
---
Duration: 8 hours
Starting Location: In front of St. Paul's cathedral, near steps on Flinders Street
Start Time: 9 am
Includes: Wine tastings, shared grazing board at one of the wineries, tasting paddle or glass at Coldstream Brewery, shared lunch at Coldstream Brewery, tasting paddle at Four Pillars Gin Distillery
Perhaps you're interested in trying not just local wines, but beers, ciders, and gins as well. If so, we can't recommend the Melbourne: Yarra Valley Gin, Wine, Beer, Cider Tasting Tour enough. This comprehensive tour really provides valuable insight into local culture and the best drinks the country has to offer.
Start off by being picked up by your guide and set off to the Yarra Valley in the morning. Transportation is always comfortable and air-conditioned, which is important especially in the summertime! You'll arrive to the first winery for an hour-long guided wine tasting and tour. After walking around the beautiful premises, share a grazing board before heading off to the second winery.
Coldstream Brewery is next up, and is known for their craft brews: ciders and beer. With a brewpub-type vibe, you can expect a laidback, welcoming atmosphere. The best way to get a feel for their offerings, is to try their flights of beers and ciders. After that, enjoy a shared lunch feast of gourmet pizza and fries!
After recharging your battery, head to the renowned Four Pillars Gin Distillery. Steeped in Shiraz grapes, their gin is incredibly unique and unlike anything you've ever tried before! Their modern tasting room is gorgeous, and perfect for sitting down and trying a flight of their top 4 gins.
Overall, this one consists of a nice, varied selection of locations that are very reputable and really do produce top-notch products. The way they combine lunches and snacks is also crucial to making sure you keep your energy up and feel great the whole time.
100% refund for cancellations within 24 hours of tour experience
---
Guide to the Best Wine Tours in Australia from Melbourne
Getting There
Seeing as Australia is an island, you're likely going to arrive there by plane. There are 4 airports in and around Melbourne: Melbourne International, Avalon, Essendon, and Moorabbin. However, you'll likely fly into either Melbourne or Avalon.
If you're flying in from the US, you'll be arriving at Melbourne Airport. Located around 20 km from downtown Melbourne, you can access the city either by bus, car, or rideshare. SkyBus operates every 10 minutes usually, and is the most economic method to get there. Alternatively, you could take a train or tram if you're coming from Southern Cross Station.
For a quicker method, there are always taxis lined up outside the main airport entrance, so they're easy to access. If you'd like to plan ahead for how much you'll be tentatively paying, check out this online fare calculator.
Getting Around
Melbourne is a really easy, pleasant city to move around in. This is largely due to the city's grid layout, which makes it simple to figure out, even if it's your first time in Melbourn.
Buses
 The city's buses operate often to major hubs like commercial shopping centers, schools, hospitals, sports and concert venues, entertainment-heavy neighborhoods, and more. If you'd like to check out the area outside Melbourne, try their V/Line service which will take you to nearby towns and beautiful scenery.
Trains
 Operating within the outer suburbs and Flinders Street Station located in Melbourne proper, you'll likely find great use for their city loop. The underground system connects 5 stations located in the central business district: Southern Cross Station, Flagstaff, Melbourne Central, Parliament, and Flinders Street.
Trams
 Trams are also very convenient, and you can head to one of the stops which display maps, route numbers, and a timetable so you always know where and when to go. As is typically the case, the route numbers are shown at the front of the tram on a screen. If you use it within the downtown area, you don't even need to pay!
Taxi/Rideshare
 Taxi, Uber, Taxify, and DiDi are all available in Melbourne, and the latter two are highly recommended. In particular, Taxify, tends to have really good customer service, with many drivers offering water bottles, reading material, and more extras.
Taxis are usually either yellow, silver, or white, and are very easy to spot. Hailing a taxi isn't difficult here, but you can also take one by heading to a signposted spot or a set location.
Walking
 If you'd like to see the city by foot, it's quite easy to do as well. Melbourne is overall a very safe and friendly city, with well-kept walkways. This is one of the best ways to explore, as you'll get to see buildings and sites up close and perhaps stop at locations you wouldn't otherwise when traveling by car or public transport.
Where to Stay
 Melbourne is a very culture-rich city with people from all over the world, incredible food, beautiful beaches, and much more.
City Center
 You'll likely be staying in the downtown area due to its convenience and close proximity to most of the main tourist attractions. Located right along the beautiful Yarra River, you'll find tons of cute bars, restaurants, shops, markets, arcades, and so many other fun things to do.
Thanks to the excellent public transport in the area, you'll be able to take trains, trams, buses, etc. anywhere.
St Kilda
 This hipster beach suburb is great if you're a music lover. It contains 3 of the city's best music and cultural venues: Palais Theatre, Hotel Esplanade, and The Price of Wales Hotel. They're all easy to walk between, and this area is easy to walk or bike around, as well. Full of cute cafes, it's a nice spot to leisurely stroll around and enjoy the local vibe. Not to mention, the over a century-old Luna Park amusement park is here if you love adrenaline!
Southbank
 Located along the southern side of Yarra River, this is the place to be if you like upscale and classy. World-class bistros, wine bars, dinner cruises, and more await you here, with wonderful waterside views. It's close to everything, and easy to navigate between Southbank and the rest of the downtown area.
Docklands
 If you're bringing the whole family along for the ride, this is the perfect neighborhood to stay in. Located just a few tram stops away from the city center, it's right on a beautiful harbor and marina. If you love running, biking, or just strolling around, it's a fantastic way to get some fresh air and clear the mind.
Not only that, it has a massive shopping center where you can go ice skating, see a movie, play in the arcade, mini-golf, and more.
Restaurants and Eating Out
 Cutler + Co. – This is one of the most quintessentially "Melbourne" restaurants in the city. It perfectly mixes Australian outback with a more bistro, upscale twist. You have to try the rousted flounder or their massive ribeye. If you like this one, also check out Cumulus Inc. or Supernormal, by the same chef.
Cookie – Who doesn't love some good Thai food? Cookie offers some of the most flavorful, memorable Thai food in the country. The location is also a blast, as half of it is a bar.
Kaprica – This place is great for a fun night out or just stopping by for some delicious pizza on the way back to the hotel. It's often pretty packed with locals, but it's perfect for enjoying wine in a tumbler and cheesy pasta while chatting it up with guests.
Chin Chin – Melbourne also has incredible Vietnamese food, and Chin Chin is at the top of the food chain. Be prepared for a line if you end up going after 7 pm.
Tonka – This upscale Indian location is another excellent date night spot. They feature many of the Indian classics, like tandoori chicken, but their highlights are really twists on classics. Duck korma with apple and beetroot is one of the most popular examples.
Café Di Stasio – You can't go to Melbourne and not try this one. It's upscale Italian that you only take someone to if you love them. Their pastas are life-changing, and is not a common place for tourists.
Pacific Seafood BBQ House – This unique restaurant is based off of traditional Chinese food, with an Australian influence. Salt-and-pepper calamari and hot pots are must-haves here.
Nightlife and Entertainment
 Melbourne has a very interesting, thriving nightlife and there really is something for everybody. Locals are known to party hard and enjoy life, and that's evident when you go out here!
Nightclubs – La Di Da across King Street is a lively place known for its 3 different rooms full of banging dance music. Loop Project is a more trendy spot with very tropical house music and the like, offering delicious craft cocktails and beautiful outdoor spaces. Revolver Upstairs is a place perfect for anyone – no matter your age or background. If you like underground music, this is the spot to be.
Late-Night Diners – If you love whiskey or beer, you have to stop at Boilermaker. Sip on some rarities while trying their expertly-curated charcuterie plates. Cumulus Up is kind of like a hip wine bar perfect for deep conversation or people watching.
Bars – 1806 is located on Exhibition Street, and is where you should head if you're serious about the art of crafting cocktails. Having been around for almost 100 years now, they have a premium wine list and cave-aged cheddar and gouda. Bar Ampere arguably has the best spirits in town, and takes you back in time with their menu and atmosphere.
Pilgrim offers gorgeous riverside views, park bench setups and an incredible selection of mostly-vegetarian options. Cabinet Bar is a very cozy spot perfect for enjoying some halloumi sliders or fresh cheeses illuminated by romantic candles.
Others –
 Charlton's Karaoke Bar
 Everyone needs to try karaoke at least once, and Charlton's is one of the best karaoke bars in the world. Delicious cocktails and mocktails run in high supply, and the friendly staff only adds to the great experience.
The Comic's Lounge
 If you want to get some laughs in, this one offers some of the best local and international touring comedians.
Strike
 Bowling is always a fun time, whether you go with your significant other or a big group. Not only that, but Strike has karaoke, laser tag, and escape rooms!
Dinner Cruise
 Located right on the water, we can't recommend the Spirit of Melbourne Cruise enough! Not only do they serve up a delicious 4-course dinner menu, their music, views, and customer service is top-notch.
Weather
 If you're someone who enjoys going to places that have "seasons", you'll enjoy Melbourne. Warm summers, gorgeous springs, mildly chilly autumns, and crisp winters, it's varied yet never extreme. However, it can get pretty windy and rainy in the winters which make it a bit annoying to walk around and enjoy Melbourne the way it should be.
Attractions
 Royal Botanic Gardens – Established in the mid-1840s, these massive gardens cover Melbourne and Cranbourne boundaries. Covering a whopping 38 hectares, you'll be able to see over 10,000 species of plants, offering a relaxing spot to just sit and enjoy the sound of the birds singing.
In the summer, the live theater offers musical entertainment and the moonlight cinema is set up in the evening.
National Gallery of Victoria – Known as the oldest public art gallery in the entire country, it displays over 70,000 works crossing Europe, Asian, Oceania, and the Americas.
Block Arcade – Located in Collins Street, this cool place has a mosaic floor, boutique shops, and little details that will make you feel like you're in another century. Here, you'll find everything from delicious chocolates to vintage clothing and jewelry, to charming tearooms and cafes.
Melbourne Cricket Ground – Known as the sporting capitol of Australia, Melbourne has a ton of sports fans. The MCG has a 100,000-person capacity and is considered one of the most historic, greatest stadiums in the country. Make sure to visit the National Sports Museum, too!
Skydeck at Eureka Tower – For some of the best views of the city, head up to the 91-story Eureka Tower in Southbank. The Skydeck is located on the 88th floor, and even has a glass room with a glass bottom for extra adrenaline.
Melbourne Museum and Royal Exhibition Building – Housing all kinds of interesting artifacts, this museum contains fascinating pieces of Australian and worldwide history. Some of the most popular exhibits include the Bunjilaka Aboriginal Cultural Centre, Phar Lap racehorse, and Children's Gallery.
City Circle Tram Tour – Get on the City Circle Tram, and see some of the most beautiful and interesting sites around Melbourne. This free method of transportation is obviously very budget-friendly and you can hop on and off at notable places like the Parliament House, Old Treasury Building, Princess Theatre, and more.
Captain Cook's Cottage, Fitzroy Gardens – Literally brought to Melbourne from Captain James Cook's hometown of Yorkshire, England, it offers insight into how he lived and all of his adventures locally and around the world. Nearby, you'll see the mission-style conservatory, which is surrounded by gorgeous flowers.
River Cruise – These are such a blast to take! Located along Southbank, cruises are going all the time, day or night.
Parliament House – You have to take a tour at the spot where Australia's first federal parliament met starting in 1901. As one of the country's oldest buildings, it was constructed with a luxe gold leaf interior, complete with opulent chandeliers, and a beautiful mosaic floor.
Phillip Island – This island is a sanctuary for a variety of native Australian wildlife. It's best known for the penguins. Be sure to do a Phillip Island penguin parade tour!
Tips
Stand on left, walk on right. When on an escalator, if you'd like to pass, you should do so on the right side.
Go walking. This is undoubtedly the best way to see Melbourne. There are also plenty of walking tours to take advantage of.
Some bars close early. It depends, but many close anywhere from 1 to 3 pm. Make sure you check beforehand or on the outside of the restaurant, for the hours listed.
Try the coffee. Known as the coffee capital of Australia, Melbourne has some world-class stuff.
If you're looking to surf, go outside of Melbourne. The local beaches don't really have waves, which is great for tranquil hangouts but not so much cruising a barrel.
Consider the seasons. As we've mentioned briefly, during the wintertime, it can get quite cold and frigid. Due to being right on the water, it gets really windy. In the summertime, it's perfect for walking around and exploring. Spring is also beautiful, with nice weather and flowers blooming everywhere.