Out on the west side of Maui, Hawaii's second largest island, there is a historic town that used to be known as Lele, meaning "relentless sun". It was once a whaling village back in the 1800's during the great whaling boom. Thousands of sailors from hundreds of ships went to the village to hunt the whales. Even the famous author of Moby Dick, Herman Melville found himself in the village.
Nowadays, that village is known as Lahaina and it has, yet again, become a major destination for those seeking out the humpback whales that migrate there for mating season. Of course, now whales are a protected species in Hawaii and visitors are more interested in thrilling encounters and some memorable photographs than in hunting.
Lahaina is a hit destination year-round for its incredible beaches, countless art galleries, variety of shops and restaurants as well as invigorating local culture and stunning sights. During the winter to spring months, it is also renowned for whale watching!
During this time, over 10,000 of these captivating whales pass through the warmer shallow waters surrounding Maui. It is here that they mate and give birth to their young. This provides the ideal chance to observe their incredible size up close and get a little peek into their behaviors. Many tourists are able to see dozens of whales including mother and calf pairs!
Best Whale Watching Tours from Lahaina, Maui
---
Quick Answer: The 5 Best Whale Watching Tours from Lahaina, Maui For 2023
---
Whale Watching Tours from Lahaina, Maui Reviews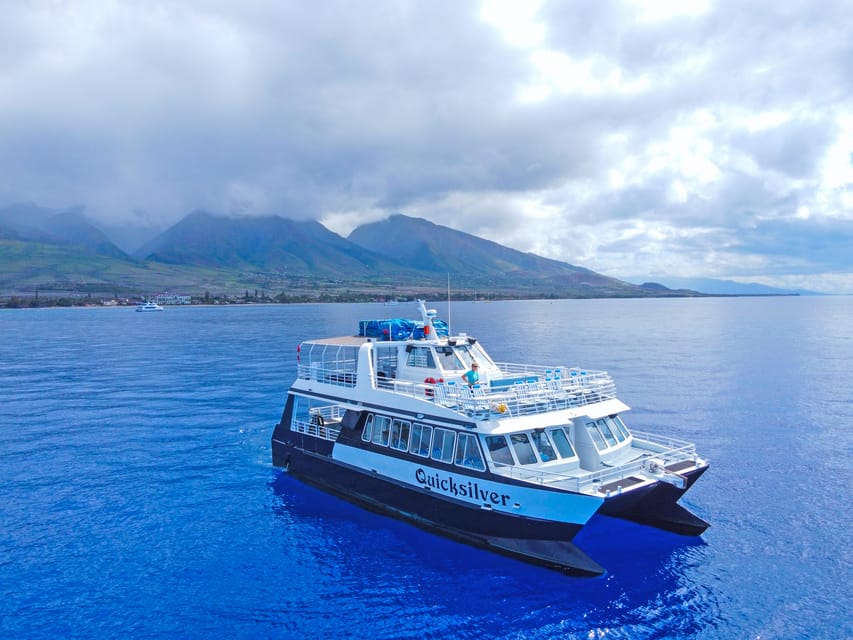 Tour Highlights
:
---
Duration: 2 hours
Meet-Up Location: Main Loading Dock, 675 Wharf Street, Lahaina
Watercraft Type: Double-deck power catamaran
Free water, juice, or soda (alcohol available for purchase)
You'll love the grandeur of this incredible double-deck power catamaran – The Quicksilver! The Quicksilver along with her skillful captain and crew will have you cruising high-speed straight from the Lahaina Harbor into the Maui Channel where you'll see stunning humpback whales in their native environment.
The catamaran's two levels and sizable decks leave plenty of room for comfort and convenience even on a sold-out tour. Smart designing even guarantees you a perfect view from whatever part of the ship you're on.
Of course, the top deck may allow you an even better vantage point for those once-in-a-lifetime photographs adding to the benefit of a double decker like the Quicksilver. Plus, a spacious bottom-level cabin gives you a chance to enjoy some shade on your cruise.
As one of the most accommodating whale watching ventures in Maui, you will find the utmost comfort on  this cruise. Not only do they have comfy seating, plenty of legroom, and actual restrooms available for use onboard the ship, they also happen to be one of the less common whale watching cruises that are wheelchair accessible.
Did we mention that this cruise also offers free refreshments such as water, juice, and soda? You even have the option of purchasing an alcoholic beverage to help further enhance your experience. Just make sure to bring your ID with you to get those drinks if you want them!
During the 2-hour cruise tour, you will get the chance to view many interesting and exciting aspects of humpback whale behavior. Not only will you possibly get to see fun behaviors like tails and fins slapping and splashing the water, but many cruise-goers get to witness breaching or spy-hopping where the whales peek out up above the water – hey, they may want to watch you back, after all!
100% refund for cancellations within 24 hours of tour experience
---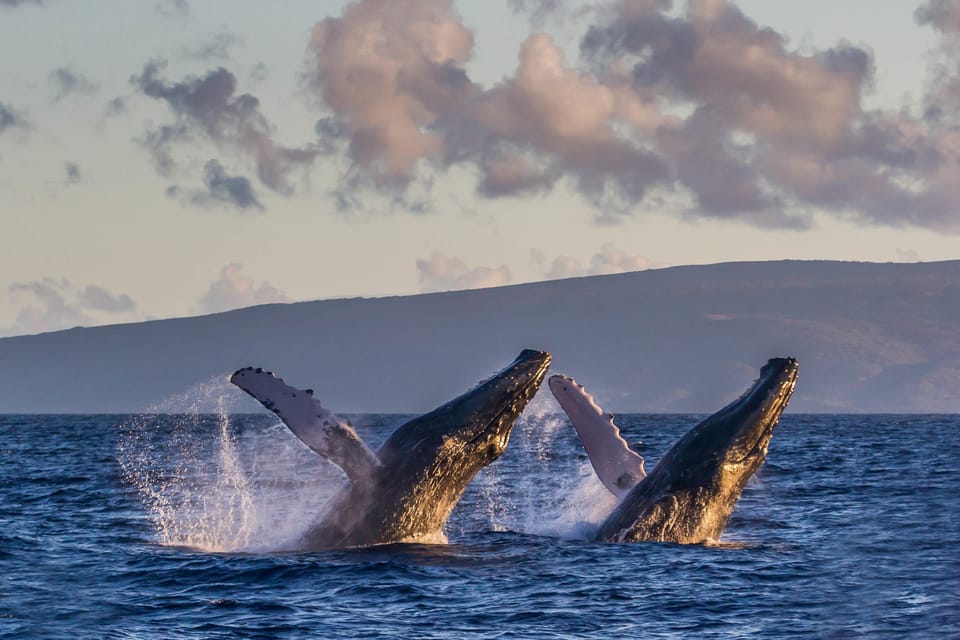 Tour Highlights
:
---
Duration: 2 hours
Meet-Up Location: Pacific Whale Foundation Ocean Store located at 612 Front Street, Lahaina
Watercraft Type: Luxury sailing catamaran
All profits go towards ocean and wildlife conservation
Sail in guilt-free luxury on the stunning eco-friendly sailing catamaran Ocean Spirit! This vessel is bright, beautiful, spacious, and sustainable without damaging the environment. It's not just the ship itself that is environmentally friendly here – this entire cruise happens to be run through a non-profit organization called Pacific Whale Foundation dedicated to ocean preservation.
The foundation was founded over 40 years ago with the goal of protecting the population of humpback whales from further declining. All profits from this cruise go directly to research support for learning more about the ocean as well as finding ways to better protect it and conserve the wildlife that thrives within it. This tour also happens to be led by a Marine Naturalist to guarantee both a fun and highly educational experience!
Since these tours take you through the mating grounds of humpback whales at the perfect time of year, you will have the chance to observe many fascinating behaviors. Whenever possible, your Marine Naturalist guide will be able to point out male humpback whales competing for the females. They can also help you spot mother whales with their calves and answer any questions you can think up!
The Ocean Spirit is also equipped with special under-water headphones called hydrophones. These incredible devices will allow you to hear the songs of these astonishing creatures live! An Onboard Junior Nationalist program also means this is an amazing family option. They even guarantee whale sightings on every tour! If for some reason your tour doesn't see any whale activity, they offer another tour for free.
While alcohol isn't available on this tour, they do offer free filtered water to all cruise-goers. You will also get a lovely photo card of marine wildlife with a gloss finish to help memorialize the whale watching experience!
100% refund for cancellations within 24 hours of tour experience
---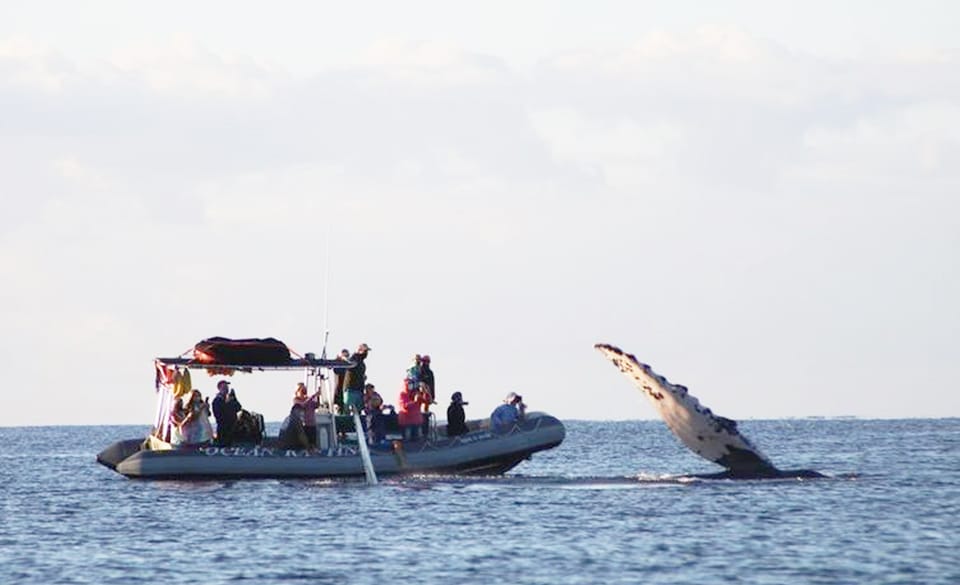 Tour Highlights
:
---
Duration: 2 hours
Meet-Up Location: Lahaina Harbor, Slip 8 at 675 Wharf Street, Lahaina
Watercraft Type: Eco-friendly raft
Wheelchair accessible
For another eco-friendly option that keeps you down low right at the surface of the water, look no further! This tour features a considerably smaller vessel for whale watching. On this tour, you will climb aboard an environmentally friendly eco-raft! It will keep you perfectly eye-level as whales splash around you.
Since this tour does take place on a raft closer to the surface of the water than other vessels, you should prepare to get wet! It is quite possible water will be splashing up into the raft at times. It is recommended that you bring a waterproof camera for those special shots. A waterproof bag for your personal belongings and some water shoes aren't bad ideas either. Purified water is offered to all tour-goers.
This tour proudly follows all environmental regulations. Whales are a highly protected species in Maui, so the raft will not approach the whales beyond 100 yards. However, the tour proudly boasts that the whales themselves will often close that distance themselves providing you with the opportunity for a truly close-up encounter.
This whale-watching raft tour is also led by a Marine Naturalist. This Marine Naturalist guide will teach you tons about the humpback whales, their mating behaviors during the season, and their migratory patterns. Since it is one of the tours that takes smaller groups at a time, you will have a more personal experience with plenty of time to ask questions and talk to the staff.
100% refund for cancellations within 24 hours of tour experience
---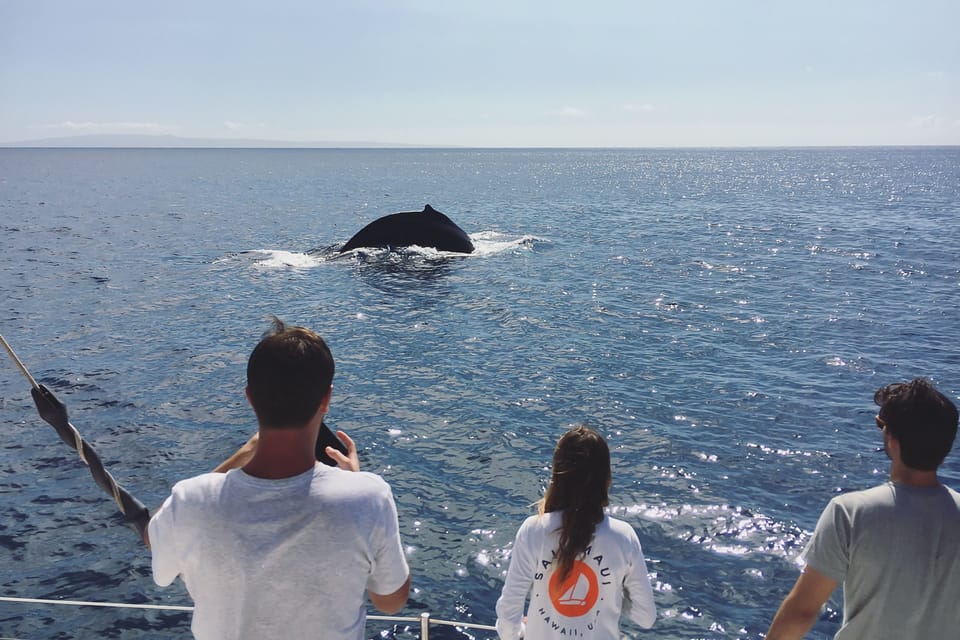 Tour Highlights
:
---
Duration: 2.5 hours
Meet-Up Location: Slip 72 at Māʻalaea Harbor
Watercraft Type: Sailing catamaran
Complimentary coffee and juice (wine and local beer available for purchase)
If you want the most adventurous whale-watching tour you can find, this might just be the perfect opportunity for you. A sleek and versatile sailing catamaran is the vessel of choice for this tour. It has the valuable benefit of no noisy motor, so you can really relax into the experience with just the sounds of the ocean.
Speaking of ocean sounds – this vessel also features hydrophones to allow you a much more complete whale-watching experience where you actually get to hear these mind-blowing animal's unique form of communication live as they sing breathtaking songs to each other. You will sail along with the winds to find the whales and keep in mind that when the winds pick up, the ride can become quite exhilarating!
While you keep an eye out for those breaching whales, you can also relax with your beverage of choice. Coffee and juice are complementary to anyone on the tour, while wine and several local beer options are available for purchase. Going along with the laid-back sailing, this is one of the longer whale-watching tours at around 2.5 hours.
The captain and crew will keep you well-informed throughout the tour and help you spot the whales and understand their behavior. You will be going from the harbor into the famous Maui channel, also known as the 'Au 'au channel. This area is known for having the highest concentration of the humpbacks during their mating season.
100% refund for cancellations within 24 hours of tour experience
---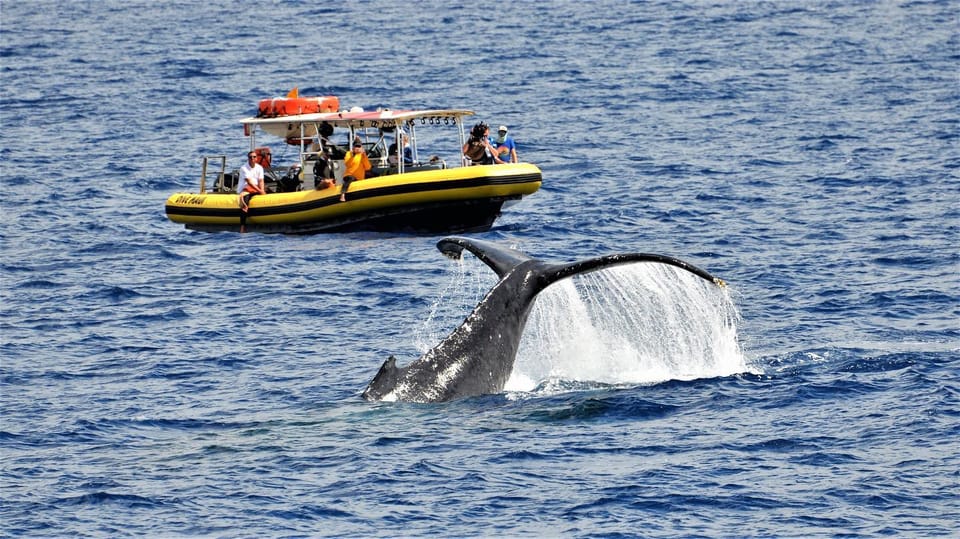 Tour Highlights
:
---
Duration: 2 hours
Meet-Up Location: Hawaiian Rafting Adventures at 1223 Front St, Lahaina, HI 96761
Watercraft Type: Custom ocean raft
Locally owned and operated by a Lahaina-native family
For a small group-style experience where you will be made to feel a part of the family, this tour from Hawaii Ocean Rafting is hands-down the best choice. The company is owned and operated by a family with a rich local heritage. One of their goals on these tours is to help tourists understand and respect the unique Hawaiian culture.
The rafting boats used for this tour measure 27 feet in length with a hard underside and inflatable sides. They are actually modeled directly after coast-guard rafts used for rescue. This helps ensure greater maneuverability while providing an exciting ride close to the ocean's surface.
Each tour has no more than 16 guests in total. This really enhances that more personal feel and helps provide each tourist with one-on-one time for talking to the captain and crew. The high-quality speakers combined with state-of-the-art hydrophones allows guests to enjoy the songs of these astounding creatures while taking in the sights as well.
Going right along with that one-to-ohana feel that this tour is all about, all whale watching tours guarantee whale sightings. If you do not see whales your first time out, you will be welcomed freely along another tour to ensure you get what you came for.
100% refund for cancellations within 24 hours of tour experience
---
We chose Maui Channel Whale-Watching Catamaran Cruise as the best whale watching tours from Lahaina, Maui.