Cabo San Lucas is one of the top vacation destinations not only for Americans, but for residents around the world. Why? Aside from its obvious natural beauty, it's highly accessible by international flights, is budget-friendly, has incredibly fresh food, and much more.
While Cabo should be on everyone's list, there are certain activities you can partake in to make your experience even more memorable. One of those has to be a sailing and sunset tour.
We've taken on the grueling task of trying them all out to bring you the best 5 sailing and sunset tours in Cabo San Lucas so you just have to decide among the cream of the crop!
Quick Answer: The 5 Best Sailing and Sunset Tours in Cabo San Lucas
We have reviewed the top rated Sailing and Sunset Tours, providing overviews and highlighting the details of each. We also make recommendations on staying in Cabo San Lucas in our guide section.
Best Sailing and Sunset Tours in Cabo San Lucas
| | Los Cabos: Shared Sunset Sailing Cruise | Snorkeling & Sailing Half-Day Trip | 2 Hour Sunset Cruise with Food and Wine |
| --- | --- | --- | --- |
| | | | |
| | | | |
| Departure Point: | IGY Marina, F dock, about 50-meters head of Lorenzillio's restaurant | Dock F, at the 4th gate passing from Lorenzillo's Restaurant towards the Wyndham Hotel, Cabo San Lucas | Your hotel lobby |
| Departure Time: | 20 minutes before (varies) | Sunset | 5 minutes before scheduled pickup time (varies) |
| Duration: | 2 hours | 3 hours | 2 hours |
| Includes: | 1st-class luxury sailboats, all taxes and fees, delicious light snacks (cheeses, salami selection, fresh baguette, chips, salsas and dessert), open bar stocked with alcoholic and non-alcoholic beverages, professional bilingual crew | Professional service, snorkeling gear, towels, light lunch, open bar (alcoholic and non alcoholic), wetsuits (winter) | Round-trip transportation, 2-hour cruise, premium wines, open international bar, appetizers, Jazz music |
| | | | |
Best Sailing and Sunset Tours in Cabo San Lucas Reviews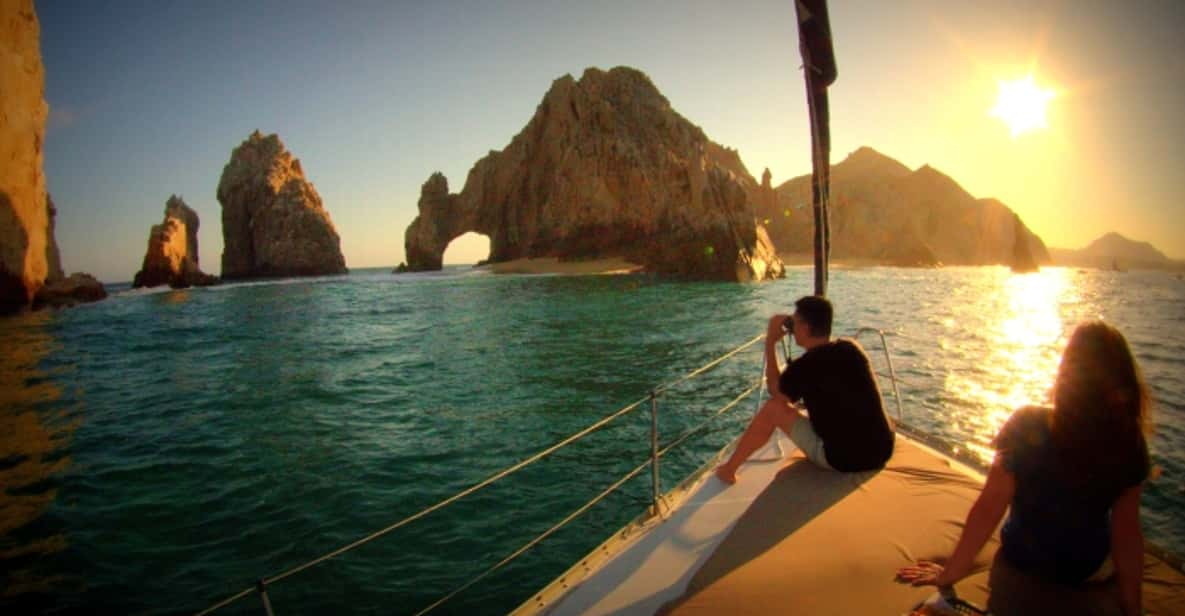 Tour Highlights
:
---
Duration: 2 hours
Departure: IGY Marina, F dock, about 50-meters head of Lorenzillio's restaurant
Departure Time: 20 minutes before (varies)
Includes: 

1st-class luxury sailboats, a

ll taxes and fees, d

elicious light snacks (cheeses, salami selection, fresh baguette, chips, salsas and dessert), o

pen bar stocked with alcoholic and non-alcoholic beverages, p

rofessional bilingual crew
Are you looking for an evening to just soak in the natural beauty around you, sip on a nice beverage, and relax? If that sounds like what you have in mind, then the Los Cabos Shared Sunset Sailing Cruise is right up your alley. Golden hour here is unlike anywhere else, where the light reflects off the pacific waters and against the natural rock formations.
This 2-hour tour is just long enough for you to relax or is great for enjoying before you go out to dinner or a night on the town. After all, it takes place in the bridge between day and night on a luxurious, 1st-class sailboat. Your sail will start out going past Lovers' Beach, Land's End, along with the famous "El Arco", which is a unique arch-like rock formation known in this area.
Along the way, you'll have a live tour guide filling you with interesting facts about the area. You can choose either a Spanish-speaking or English-speaking tour guide, as well. What better way to accompany a shared sunset cruise than with a drink from their premium open bar and delicious appetizers?  You can also go with the wine that they've selected for you, which consistently seems to be a wise choice, too. Appetizers are pretty basic and typically consist of meats and cheeses, fresh baguette, chips, salsas, and things of that nature.
If you're going with your significant other and are looking for a romantic date idea, or with smaller groups just looking to enjoy the sea, this is a great option.
For tour prices, transportation and availability:

---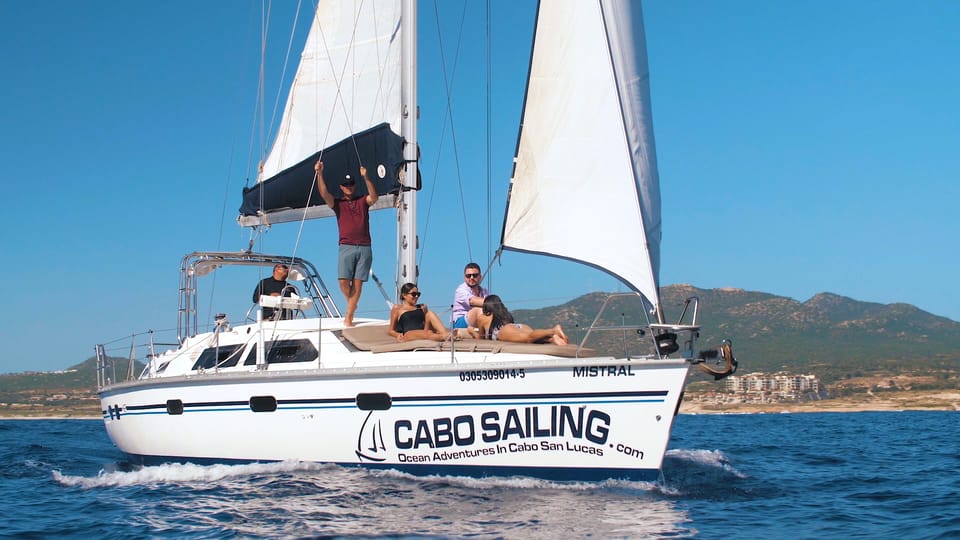 Tour Highlights
:
---
Duration: 3 hours
Departure: Dock F, at the 4th gate passing from Lorenzillo's Restaurant towards the Wyndham Hotel, Cabo San Lucas
Departure Time: Sunset
Includes: 

Professional service, s

norkeling gear, t

owels, l

ight lunch,

 open bar (alcoholic and non alcoholic), w

etsuits (winter)
Next up, we have the Snorkeling & Sailing Half-Day Trip, which is a bit longer than our first tour. If you're looking for something a bit more active and adventurous, but nothing too lengthy, then this one is worth partaking in. You'll get time to sail and relax, along with snorkeling and swimming in the beautiful blue waters.
This tour is another one that works best for couples or very small groups of people, due to the size of the boat. The luxury sailing fleet is smooth and comfy – perfect for catching some sun on the deck and watching out for dolphins, sea turtles, marlin, rays, and more exciting sea creatures!
Your tour begins by boarding the sailboat, passing along the Arch, Lover's Beach, as well as the sea lion colony who live around here. This is a rather brief trip, but is very much appreciated. It's a different way of seeing the area, and is nice to relax with some ice-cold beverages. After you get to your snorkeling site, you'll get in the water and explore the underwater ecosystem.
Your onboard guides will brief you first and safety precautions and how to use and wear all gear. Snorkeling gear comes included with your tour, so no need to worry about renting them ahead of time. In the wintertime, they'll provide you with wetsuits, as the water can get pretty chilly and these help to keep you warm.
Once you've finished your snorkeling adventure, you'll head back onto the boat and enjoy more refreshing drinks and a mouth-watering lunch as you go back to shore.
For tour prices, transportation and availability:

---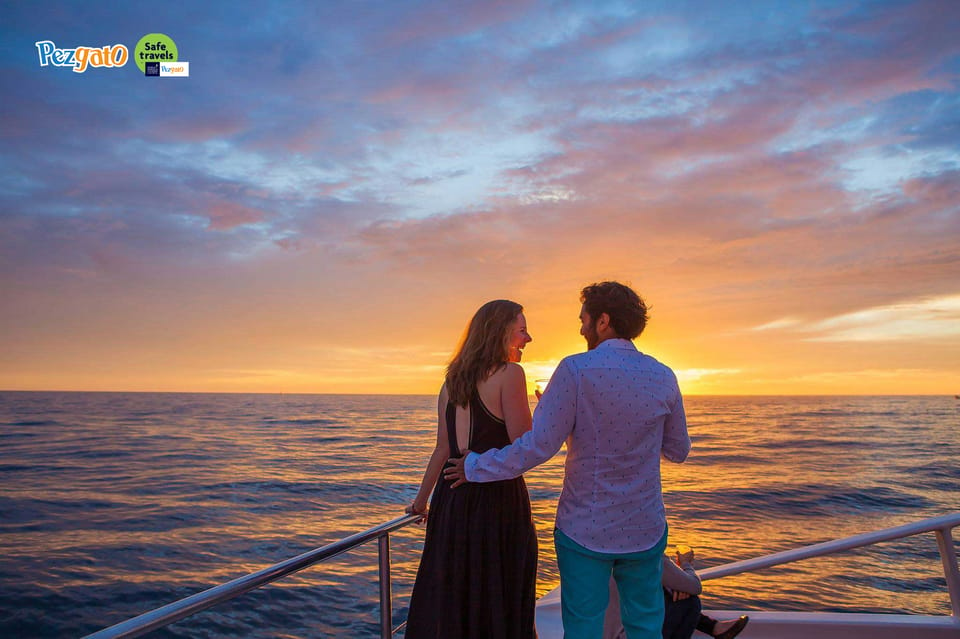 Tour Highlights
:
---
Duration: 2 hours
Departure: Your hotel lobby
Departure Time: 5 minutes before scheduled pickup time (varies)
Includes: 

Round-trip transportation, 2-

hour cruise, p

remium wines, o

pen international bar, a

ppetizers, 

Jazz music
Following that up, we bring you another brief yet comprehensive tour: the 2-Hour Sunset Cruise with Food and Wine. Combine these delicious eats and drinks with the electric sunset and you have the recipe for the perfect evening out with a significant other, friends, or the entire family! This one takes place on a luxury catamaran that we found plush, comfortable, smooth, and just the right size for these groups.
In most cases, your pickup will take place right in your hotel lobby. Can't get more convenient than that, right? This memorable cruise sets sail on the Pacific Ocean, taking you past all of the most notable landmarks of the area, including Land's End, El Arco, and Lover's Beach. No Cabo trip is complete without one of these sunset cruises, but if you're also a wine-lover, this one should be near the top of your list.
Premium wines are the only ones served on board, as the staff takes quality seriously. Alternatively, if you feel like opting for an alcoholic beverage other than vino, there's an open international bar on board that is filled with just about everything else you could think of. To keep you feeling good, they even throw in some tasty appetizers! We're fans of the varied meat and cheese plates, but there are other options, too.
If that weren't enough, there's a live Jazz band to complement the romantic overtones of this tour. You're sure to want to take this tour multiple times – trust us!
For tour prices, transportation and availability:

---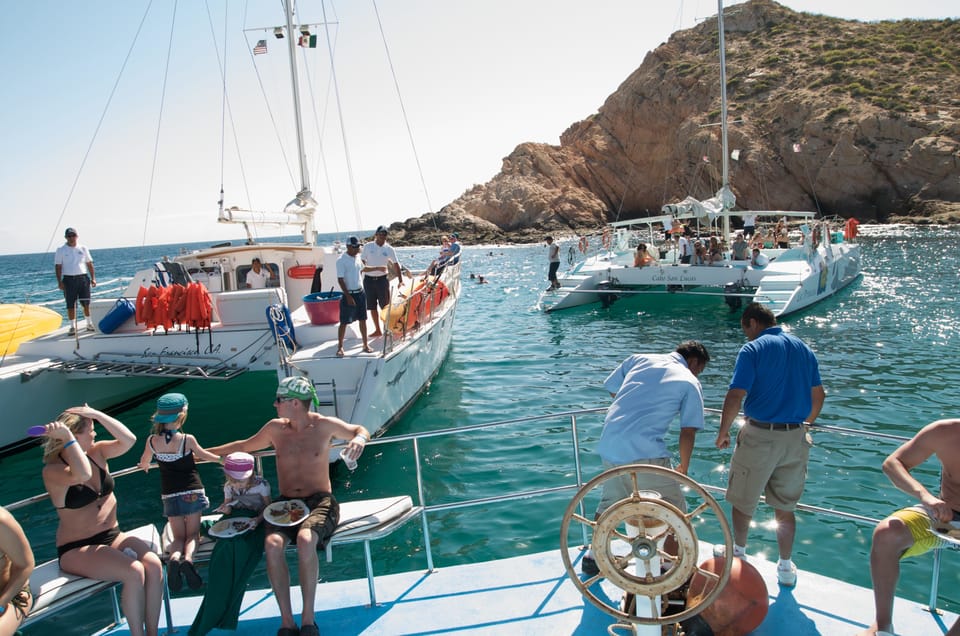 Tour Highlights
:
---
Duration: 3 hours
Departure: Marina Cabo San Lucas IGY Muelle D, Centro, 23450 Cabo San Lucas, B.C.S., Mexico
Departure Time: Varies
Includes: 

Snacks, a

lcoholic beverages, bottled water, and soft drinks, u

se of snorkeling equipment, a

ll fees and taxes
Once again, we bring you another excellent snorkeling tour! The Snorkel Tour with Open Bar & Snacks seems to be a little more oriented towards younger adventurers, but if you're fine with a slightly more fast-paced tour, then we can't recommend this one enough for you. Yet again, you'll be on a luxe catamaran that seems to glide effortlessly over the water.
The 3-hour tour starts out by departing from Cabo San Lucas. Unfortunately, these don't typically come with pickups in your hotel lobby, though it doesn't hurt to ask. You'll set sail on the crystalline-blue Sea of Cortez, where you'll pass by some of the most beautiful beaches in the world, including Playa del Amor and El Medano Beach. The former's name alone is captivating, translating to "Beach of Love" or "Lover's Beach".
Right when you get to port, you'll see how stunning this beach is, with elaborate rock formations jutting out into the sea. Playa el Medano is one of the main safe swimming beaches in Cabo, thanks to the powdery white sands and warm, calm waters. Both are perfect for snorkeling, if you go at the right time, and your guides know all of the best times.
You'll also stop at two picturesque swimming spots: Santa Maria Bay and Chileno Bay. Both are perfect for taking a dip and cooling off from the heat Cabo San Lucas is also known for. Your guides will give you a brief about safety and how to use your snorkel gear, before you put it on.
Once underwater, you'll swim around with exotic creatures like King Angelfish, Blacknosed Butterflyfish, Cortez rainbow wrasse, Bicolor Parrot, Moorish Idol, and much more. If you're lucky, you may even catch sea turtles, dolphins, whales (depending on the season), rays, and more.
Once you've grown tired, you'll head back to board the catamaran, dry off, and enjoy the view. They'll provide you with an array of refreshing beverages (both alcoholic and soft drinks) from the open bar. Snacks are also included for you to indulge in while you make your way to port.
For tour prices, transportation and availability:

---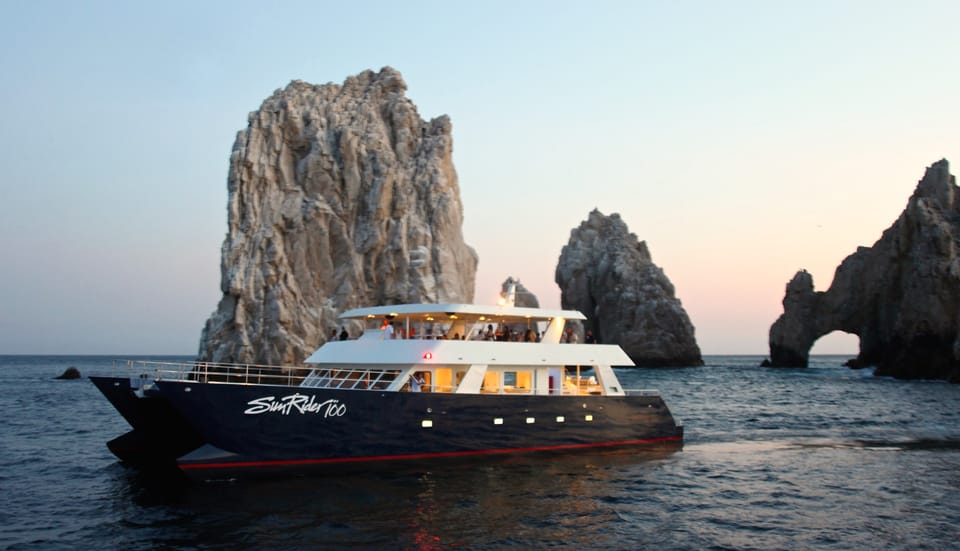 Tour Highlights
:
---
Duration: 2.5 hours
Departure: In front of Sr. Frogs restaurant, between Cabo dolphins and craft market
Departure Time: 20 minutes before
Includes: 

2.5-hour tour, 

Mexican buffet consisting of grilled beef, chicken skewers, melted cheese, fired beans, white rice with vegetables, hot Mexican sauces, guacamole, chips, tortillas and fresh fruit, o

pen bar with rum, tequila, vodka, gin and cocktails
No guide to the best sailing and sunset tours in Cabo San Lucas would be complete without this Sunset Dinner Cruise. Nope, this time we're not going on the smaller catamarans the other tours feature! Instead, we are taking a ride on the Sunrider 100, which is a double-deck catamaran. Featuring 9 separate bathrooms for men and women, full panoramic views at any point of the boat, and much more, it can't be missed.
Clocking in at 2.5 hours long, this tour is a great way to spend one of your evenings before you head back to your lodging or for a night out on the town. The journey alone is worth the money, sailing by El Arco, the sea lion colony, Lover's Beach, and Land's End. Land's End is where the arch is located, along with a peninsula consisting of sandy beaches and other notable rock formations.
However, this is much more than just the cruise over water. We hope you're hungry, because the experienced staff have prepared you a delicious, authentic Mexican buffet! The on-board chef uses local, fresh ingredients along with ice-cold drinks from an international open bar. The bartender will create drinks for you using rum, tequila vodka, gin, or other fun ingredients.
After you're done eating and drinking, you can head to the back of the dock where you can enjoy the pink and gold sunset reflecting wonderfully off of the water. If you'd like, you can even get up onto the dancefloor and dance as night approaches!
For tour prices, transportation and availability:

---
Cabo San Lucas Travel Guide
There are many good reasons why TripAdvisor rated Cabo San Lucas one of the best tourist destinations in Mexico for 2019. Where else can you combine mountain views with a vibrant nightlife and then jump on a boat to watch whales in their natural environment?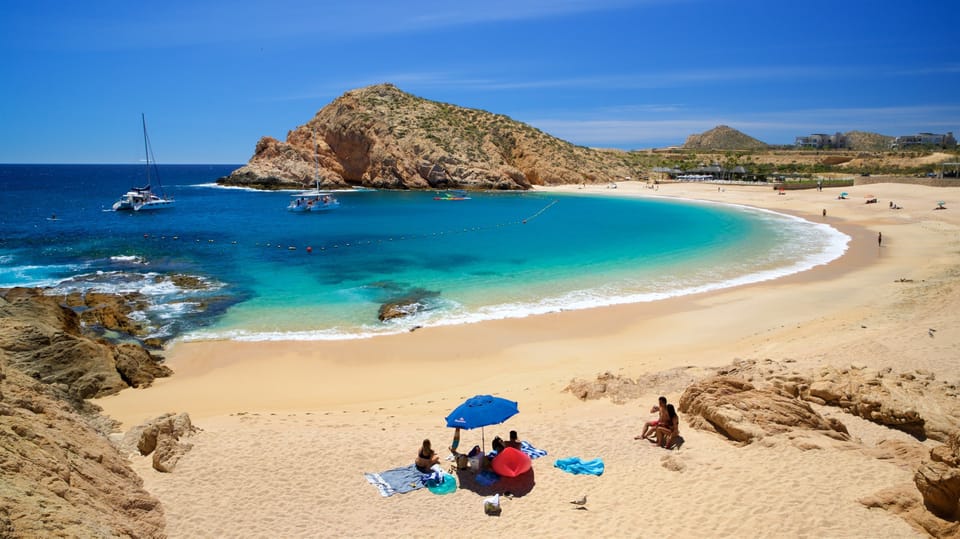 But what you choose to do in this versatile city, locally known as Cabo, is entirely up to you. In the region surrounding Cabo, you can do anything from scuba diving in the Pacific Ocean to ziplining over the beautiful landscape of a national park.
Have you ever dreamed of watching whales in their natural environment? Whales are the most magnificent mammals on Earth, and from December to April, you can see them swimming off the coast of Cabo San Lucas.
Winter is the best time to whale watch in Cabo. Every year, approximately 10,000 humpback whales migrate through the Baja California Sur region.
A Cabo San Lucas whale watching tour is the best opportunity you will ever have to get up-close and personal with the largest mammals on the planet.
Don't miss this once-in-a-lifetime opportunity to join one of the Cabo San Lucas tours and come face-to-face with Mother Nature's most fascinating creatures.
It is in your best interest to carefully research the local conditions and attractions to ensure you get the most out of your stay in Cabo. This guide can help you start that journey of discovery.
Airports & Entry
Despite being a small city with a population of only 81,000 people, Cabo San Lucas boasts two international airports and is a frequent port of call for pleasure cruises.
If you're flying into Cabo, you will most likely land at Los Cabos International Airport, which serves the wider metropolitan area of Cabo San Lucas and San José Del Cabo, which is known as Los Cabos.
This busy airport has three terminals and four concourses. Most international flights arrive at Terminal 2, but it is possible your flight could land at Terminal 1.
Inside the airport, you will find a good selection of shops and places to eat as well as ATMs and foreign exchange desks in the arrival areas.
However, note that most shops and the foreign exchange desks only operate from 9 am to 8 pm and the food outlets from 4 am to 7 pm. For free Wi-Fi, connect to the "GAP FREE" network, and charging outlets for your cellphone are located throughout the airport.
For a fee, you can experience the luxury of one of the first-class lounges. Several car rental agencies operate out of the airport.
It is possible but extremely unlikely your flight would arrive at Cabos San Lucas International Airport, which is a much smaller facility than Los Cabos International Airport and does not provide any amenities for tourists.
The downtown marina is a popular stop for all cruises along Mexico's Riviera. If you arrive on a cruise ship, you should check to ensure your stay in Cabo will be long enough to allow you to enjoy tours like the ones above.
Planning Tips
You deserve to have a really great time in Lanzarote, so here are 6 tips to help you make the most of your visit.
Tip #1: If You Want To Whale Watch, Go In Winter
Humpback whales and gray whales congregate in the Sea of Cortez from mid-December to mid-April each year and are often visible from the shore.
They arrive in this region after completing a 6,000-mile migration from Alaska so the pregnant cows can birth their calves in the warm waters near Cabo.
Humpback whales are especially curious about people, so they will frequently approach and circle boats that come close to their pods.
Tip #2: Take Your Time To Enjoy All The Attractions Of Los Cabos
Maybe you only want to watch the whales or laze on the beach, but there is a lot more to Cabo than sun and surf. Don't miss the opportunity to climb a mountain, clamber around some ruins, or zipline across a desert.
And if it's Nature you love, there are sea lions around El Arco and turtles below the old lighthouse. Check out the brief list of attractions below.
Tip #3: Book Tour Tickets In Advance, Especially During Winter
Because Cabo is a popular destination, you will find the tours and attractions busy, especially from October to May when the climate is ideal.
To ensure you don't miss out, book in advance. This applies not only to the tours described above but any attractions. It would be a shame if you missed your opportunity to come face-to-face with a humpback whale because the tours were fully booked.
Because many tours offer a 24-hour-in-advance free cancellation, you take no financial risk booking before you fly. Ask about free cancellation before booking.
Tip #4: Book Your Ride From The Airport In Advance
The taxis at Los Cabos International Airport are expensive, especially if you're headed to Cabo San Lucas, which is 30 miles away. However, some hotels operate a shuttle service.
If you haven't yet arranged your hotel, look out for this feature. Alternatively, pre-booking a vehicle with an independent company, like All Ways Cabo Transportation or Cabo Shuttle Services, would be more affordable than jumping in a cab.
Tip #5: Buy Local Craft Souvenirs
If you want to buy your friends and relatives something unique, check out La Coyota. It's a shopping village specializing in local arts and crafts, like local art, hand-crafted glass, Mexican ceramics, and hand-embroidered clothing.
Restaurants & Eating Out
Because Cabo San Lucas is a seaport, it's only to be expected that many of the local foods are seafood based.
The fish tacos from the Baja California Peninsula are world-famous, and smoked marlin is especially popular in Los Cabos. Other popular foods include squid, crab, stingray, abalone, lobster, and shrimp, to name but a few.
An unusual marine dish is the Chocolate Clam (Almejas Chocolatas). The freshly harvested shellfish is covered in a locally-sourced herb called romerito and cooked on a stone bed.
You eat the herb as an aperitif while the clam is cooking. Another strangely named dish is Comida de Pobres (Food for the Poor), which is seafood soup, rice, and beans, eaten alongside corn flour tortillas.
Chicken tamales fajados, made with chicken, olives, raisins, and olive oil, and tamales de Guemes, also prepared with chicken or pork, are popular.
It is traditional to serve Damiana Liquor (brewed from the Damiana plant using sugar cane) or Clamato (a clam and tomato drink) with food.
Damiana Liquor is reputed to be an aphrodisiac and was originally used by the Guaycura Native Americans in their ritual ceremonies.
There are many popular restaurants around Cabo serving traditional foods, but one that stands out is The Office On The Beach, which you can find on Medano Beach.
This busy establishment offers traditional foods, like Mexican steaks, Baja-style shrimp, and burritos, especially for tourists, and is literally on the beach.
This famous restaurant was established in the 1970s before tourism began to flourish. As well as local food, it offers live entertainment in the evenings and a beautiful view.
However, because this restaurant specifically caters to tourists, you will find it expensive compared to other, less well-known food outlets.
Nightlife & Entertainment
Given that TripAdvisor rated Cabo San Lucas the 3rd best tourist destination in Mexico for 2019, it's not surprising to discover Cabo boasts a vibrant nightlife.
It also offers a wide variety of exciting activities, such as scuba diving, snorkeling, parasailing, boat charter, horse-riding, popular beaches, and, of course, whale-watching cruises.
There is even a bi-weekly, English-language newspaper called Gringo Gazette, which provides information about what's going on for tourists.
If you love the clubbing scene, you've hit gold in Cabo. In this tiny city, you will find more nightclubs than you can visit in one holiday, including El Squid Roe, Hard Rock Café,
The Jungle Bar, Tiki Bar, Giggling Marlin, Pink Kitty, and the famous Cabo Wabo Cantina founded by Sammy Hagar, a former member of Van Halen. Note that the legal drinking age is 18! There's a good reason Cabo San Lucas is dubbed Cabo San Loco.
However, if you prefer a quiet life, there are many late-night cafés and low-key bars for a relaxed ambiance and fun night.
Getting Around
Because most attractions are clustered around the downtown area, it's easiest to get around on foot and take taxis to visit places further afield. However, taxis in Cabo are expensive.
If you plan to visit places outside of downtown, car-hire or local buses would be more economical. For something a little more adventurous, take a scenic water taxi from the marina to one of the beaches. The small local buses are super cheap,
Accommodations
Most tourists visiting Cabo stay in one of the hotels along the Los Cabos Corridor, which is a stretch of the southern coastline of the Baja California Peninsula between Cabo San Lucas and San José del Cabo.
The standard and cost of the hotels vary from the affordable Hyatt Place Los Cabos up to the plush Grand Velas Los Cabos, with its infinity pools, whirlpool tubs, and 8 restaurants.
Outside of the Los Cabos Corridor, a good number of hotels are scattered to the west of Cabo in Paraiso Escondido.
Many of the hotels with a reputation for being quiet and relaxing are found around there, like the adult-only Pueblo Bonita Pacifica Resort and Spa and the child-friendly Pueblo Bonito Sunset Beach Resort and Spa.
In the center of Cabo are several small and affordable, quiet hotels, like The Bungalows Hotel, which has only 16 rooms but is within walking distance of the marina and downtown.
Weather
If you love the sun, you'll love Cabo, which averages over 350 days of sunshine every year. Realistically, all you need to worry about is using enough sunscreen.
The geographical position of Cabo on the end of the peninsular also means that during summer you'll find the Sea of Cortez coastline and San José Del Cabo approximately 50F warmer than the Pacific coastline and Cabo San Lucas.
The average temperature ranges from 640F in January to 850F in August. And if you plan on taking a dip in the Pacific Ocean or the Sea of Cortez, you'll be delighted to hear the average water temperature ranges from a warm 710F in February up to an impressive 850F in September.
Cabo lacks the unpleasant tropical humidity of some other Mexican resorts because it enjoys an arid tropical desert climate.
However, it is north of other tourist hotspots so expect cool evenings and pack accordingly, especially during the winter months. Check the weather forecast before planning your trip because Cabo sometimes experiences hurricanes.
Hurricanes result in long periods of heavy rain, though the usual summer thunderstorms don't come close enough to Cabo to bring rain.
The peak tourist season in Cabo is from October to May because the weather is neither too hot nor too cold and rain is rare.
Attractions
The whales swimming in the Pacific Ocean are not the only attraction around Cabo San Lucas. Beyond the beautiful beaches and popular nightclubs, you will also find a range of natural and man-made attractions to tempt you away from the poolside.
The most famous landmark in Cabo is El Arco, a three-stories-tall sea arch formed by natural seawater erosion of the cliffs. El Arco de Cabo San Lucas stands on the end of a promontory know as Land's End to the east of the marina.
This natural rock formation is so well known that its image is utilized in advertising by local businesses. Because it is scenic and frequented by sea lions, it has become a popular sightseeing spot.
The two popular beaches nearby are dubbed Lover's Beach and Divorce Beach.
You can snap breathtaking, panoramic photographs of Los Cabos from the summit of Mount Solmar. Hiking to the top takes 30 minutes.
If you time yourself to arrive at sunset, you can take amazing photographs over the Pacific Ocean that your Instagram followers will love. The climb is steep but relatively easy. However, wear sensible shoes rather than sandals, because it can be dusty and rocky, and apply sunscreen and carry plenty of water.
Three miles from Cabo stands the abandoned lighthouse of El Faro de Cabo Falso (Lighthouse of the False Cape). This fascinating ruin may only be visited by foot, horseback, or in a 4×4 vehicle.
This guardian of the port of Cabo San Lucas was built in 1890 and protected ships from 1895 to 1961. The ruin stands on a base 500 feet above the sea, providing a spectacular view of the ocean and a shipwreck. Turtles lay eggs on the beach below.
But if an adrenaline rush is more your scene, look out for the many zipline adventures around the Los Cabos area, including the Superman Zipline, reputed to be Mexico's fastest, highest, and longest zipline ride.
The Superman zips you 1,800 feet over the top of UNESCO monitored Boca de Sierra National Park.
Tours are available to many of the local attractions. Watch out for "Tours en Los Cabos" signs around the city.