Most of Moreton Island is part of a fantastic natural park, and it is a wonderful island to visit if you love marine life, snorkeling, and shipwrecks. The island is one of the most popular attractions for Brisbanites who love to go on a Moreton Island day trip from Brisbane.
On the island, you can snorkel around shipwrecks, swim in a blue lagoon, feed wild dolphins on the shore, visit the oldest lighthouse in Queensland, and more. There are a wide variety of Moreton Island tours from Brisbane. I've chosen 5 of the top-rated ones to review.
Every one of these excursions from Brisbane provides unique experiences and great value for money. However, everyone has different tastes, and some visitors will prefer one Moreton Island tour from Brisbane more than any other. I know which one's my favorite. Now it's your turn to choose. Also see our Brisbane Travel Guide.
Best Moreton Island Tours From Brisbane
| | From Brisbane: Moreton Island 2-Day Explorer Tour | Moreton Island Shipwreck, Sand Dune & Kayak 1-Day Adventure | Moreton Island: Dolphin and Snorkel Cruise Adventure |
| --- | --- | --- | --- |
| | | | |
| | | | |
| Departure Point | Brisbane Coach Terminal, adjacent to Roma Street Train Station | Brisbane Coach Terminal, adjacent to Roma Street Train Station | Rivergate Marina or hotel pick-up |
| Departure Time | 7:00 AM | 7:00 AM | 9:00 AM |
| Duration | 2 days | 1 day | 1 day |
| Includes | Professional guide, off-road bus transport, snorkeling, kayaking, sand tobogganing, equipment hire, 1-night's basic hostel accommodation, and meals | Expert guide, snorkeling, kayaking, sand tobogganing, equipment hire, and lunch | Expert naturalist guide, cruise around the island, snorkeling equipment, marine park fees, lunch, licensed bar, and morning & afternoon tea |
| | | | |
---
Quick Answer: The 5 Best-Rated Moreton Island Tours From Brisbane
---
Moreton Island Tours From Brisbane Reviewed

Tour Highlights at a Glance
:
---
Departure Point: Brisbane Coach Terminal, adjacent to Roma Street Train Station
Departure Time: 7:00 AM
Duration: 2 days
Includes: Professional guide, off-road bus transport, snorkeling, kayaking, sand tobogganing, equipment hire, 1-night's basic hostel accommodation, and meals
This 2-day tour is a fantastic way to ensure you see everything worth seeing on Moreton Island. The transparent kayak is an especially great way of exploring the famous Tangalooma shipwrecks and tropical marine life around this fascinating island.
Keep outdoor pursuits enthusiasts will love that this tour includes many physical activities, such as snorkeling, kayaking, and sand tobogganing. You'll have great fun sliding down giant sand dunes on a toboggan.
Snorkeling with a guide, you'll visit coral gardens and watch out for dolphins, manta rays, sharks, and turtles.
Expand To See MoreSee Less

Your 4×4 bus will also transport you to some of Moreton Island's best-kept secrets. You'll be charmed by hidden beaches, freshwater lakes, and island headlands.

Enjoy swimming in a beautiful blue lagoon. You'll stay overnight in Moreton Island accommodation and wake in paradise.

History buffs will enjoy visiting Queensland's oldest lighthouse at the Cape Moreton Lighthouse and Museum.

Not only is this lighthouse the oldest in the state, but it's also the only one constructed of stone by convicts from New South Wales before Queensland was founded as a separate state.
For tour prices, transportation and availability:
---
Tour Highlights at a Glance
:
---
Departure Point: Brisbane Coach Terminal, adjacent to Roma Street Train Station
Departure Time: 7:00 AM
Duration: 1 day
Includes: Expert guide, snorkeling, kayaking, sand tobogganing, equipment hire, and lunch
If you're mainly interested in fun, outdoor activities, this is a great Tangalooma day trip for you. You'll snorkel, kayak, and sand toboggan.
A full, guided tour of Moreton Island means that you'll get to see all the highlights around this wonderful nature park and island. A picnic lunch on the beach allows you to fully appreciate the breathtaking scenery.
Expand To See MoreSee Less

When snorkeling, you'll visit the famous Tangalooma shipwrecks. These are 15 ships scuttled off the beach to create calm waters for mooring.

The crystal-clear waters mean you can observe them in detail while snorkeling or kayaking over them in one of the transparent kayaks provided. If you want, you can join a guided snorkel tour.

Since being deliberately scuttled, the shipwrecks have become home to a wide range of marine creatures. Watch out for dolphins, manta rays, sharks, and turtles.

During late fall and late spring, you can also see humpback whales breaching off the coast of Moreton Island.
For tour prices, transportation and availability:
---
Tour Highlights at a Glance
:
---
Departure Point: Rivergate Marina or hotel pick-up
Departure Time: 9:00 AM
Duration: 1 day
Includes: Expert naturalist guide, cruise around the island, snorkeling equipment, marine park fees, lunch, licensed bar, and morning & afternoon tea
This is the best Moreton Island day tour if you're really interested in the ecology of Moreton Island. Aboard your dolphin-and-whale-friendly cruise ship, you'll listen to live commentary from a naturalist guide.
Moreton island snorkeling around the renowned Tangalooma shipwrecks is a popular activity. You'll come face to face with fascinating marine animals, such as dolphins, manta rays, sharks, and turtles.
Ask your naturist guide any questions you like about the fantastic animals and plant life you observe.
Expand To See MoreSee Less

Explore the Moreton Bay Marine Park, home to giant loggerhead turtles, dugongs, and bottlenose dolphins. Dugongs are a unique and rare species, somewhat resembling a small, underwater hippopotamus.

Midday, you'll enjoy a chicken, prawn, and salad lunch. Then enjoy a little free time relaxing on a pristine, sandy beach under the tropical sun and enjoying the stunning scenery of this island nature reserve.

If you wish, you can also purchase alcohol from the onboard licensed bar.
For tour prices, transportation and availability:
---
Tour Highlights at a Glance
:
---
Departure Point: Holt Street Wharf
Departure Time: 7:00 AM, 10:00 AM
Duration: 11 hours
Includes: Boat transfer from Brisbane, access to Tangalooma Island Resort, lunch, and Eco Ranger experience
This is my favorite tour! If you also love dolphins, this is a fantastic tour for you, too. You'll have the opportunity to hand-feed wild bottlenose dolphins! You also get a choice between taking either a marine discovery cruise or a desert safari tour.
While on Moreton Island, you can make use of the day pass provided to utilize facilities within the Tangalooma Island Resort, such as pools, a day lounge, bars, and restaurants.
You can choose any of the restaurants at the resort to eat your lunch as you'll be provided with an AU$20 lunch voucher.
Expand To See MoreSee Less

Those who choose the desert safari will journey by 4×4 to the Tangalooma Desert and enjoy a bumpy and thrilling tour of the dunes. You'll also have the opportunity to try your hand at sand tobogganing.

But if you choose the marine discovery cruise, you'll sail around the island in search of dolphins, green sea turtles, sea cucumbers, and dugongs.

Enjoy a full eco commentary as you explore the beautiful coastline on this Moreton Island cruise.

At the Eco Center, you can enjoy the "Discover the World of Dolphins" presentation and then attend the wild dolphin feeding program on the jetty.

The dolphins regularly visit the shallow shore, knowing they'll receive treats from their human friends who organize the Tangalooma dolphin feeding.

Watch the bottlenose dolphins gallivant in the water as they wait for feeding time. Then wade into the shallow water and assist an expert to hand feed them with fish.

You'll be guided by the Eco Rangers and Dolphin Care Team.

This is an excellent tour for those who really want to visit Moreton Island and admire the wonderful marine life, but who don't necessarily wish to swim or snorkel there.
For tour prices, transportation and availability:
---
Tour Highlights at a Glance
:
---
Departure Point: Tangalooma Wharf, 220 Holt Street
Departure Time: 7:00 AM, 10:00 AM
Duration: 1 day
Includes: Cruise to Moreton Island, snorkeling tour of the Tangalooma Shipwrecks, access to the Tangalooma Island Resort, meet Eco Rangers, 1 free beverage, and lunch
This is the most affordable of the Tangalooma day trip deals and offers fantastic value for money. You'll get transport to the island, lunch, and an amazing Eco Ranger experience.
The snorkeling tour of the Tangalooma Shipwrecks is the favorite part of this tour for most people.
The 15 scuttled ships off the coast of Moreton Island provide a home to a wide variety of coral formations, reef fish, as well as dolphins, manta rays, sharks, and turtles.
Expand To See MoreSee Less

If you take one of these Tangalooma tours during late spring or late fall, you might even see humpback whales breaching off the coast of Moreton as they travel to and from the Antarctic on their annual migrations.

At the Eco Center, you'll love the "Discover the World of Dolphins" presentation. This is your opportunity to meet and talk with Eco Rangers and learn all about the unique marine life around Moreton Island.
For tour prices, transportation and availability:
---
Brisbane Travel Guide
I don't think I've ever come across a more welcoming city than Brisbane. There are whole districts of the city especially dedicated to culture, entertainment, or nature, each with special laws to ensure your safety and help you have fun.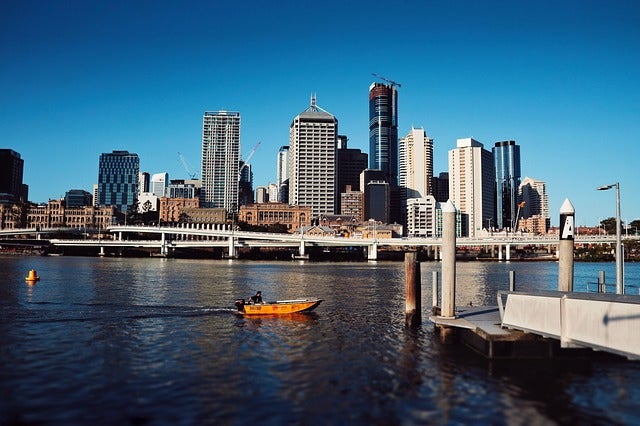 The local government even provides selected free buses and ferries in the central area to encourage you to explore.
And what's more, there's lots to do and see around the capital of Queensland. Whether you want to cuddle a koala, swim around the shipwrecks of Moreton Island, or appreciate modern art, you'll find something you love in Brisbane.
Airports & Entry
Brisbane Airport is the 3rd busiest in Australia handling around 25 million passengers a year. There are 2 terminals connected by a train service: International and Domestic. Both terminals offer superb facilities.
Brisbane Airport must be one of the most helpful in the world. Watch out for ladies and gentlemen dressed in a blue shirt with a yellow "I" logo.
These are the Airport Ambassadors empowered to assist throughout the airport. You'll also find an Information Desk in both terminals.
While you're waiting for your flight, you can connect to the free "@BNE_FREE WI-FI" network. And Brisbane offers a unique mobile charging solution.
If you wish, you can use a Watt Bike in the International Terminal (near the food court) to use your own pedal power to charge your phone or USB device. But if you want to be lazy, regular charging stations are located throughout the airport.
Parents with babies will appreciate the single Parenting Room in the Domestic Terminal and 9 in the International Terminal. These Parenting Rooms provide changing benches, microwaves, and a private feeding area.
If things go horribly wrong with your kids, you'll find free showers in multiple restrooms in both terminals.
For those nervous about flying, you'll find a Prayer Room in the International Terminal on Level 4 and a designated Smoking Area in the International Terminal airside, behind the Coffee Club.
You'll find ATMs throughout the airport and multiple Travelex Currency Exchange offices in both terminals. There's also a handy Tourist Refund Scheme office in the International Terminal Airside that provides refunds for the Sales Tax on some purchases if you produce the item and the receipt.
There are lots of stores throughout the airport, including Duty-Free shopping in the International Terminal and a 24-hours Woolworths. There are also multiple food outlets, some open 24 hours.
You'll find handy free drinking water dispensers throughout the airport and one hot water dispenser in the International Terminal near the Coffee Club for your Cup O' Noodles.
If there was ever an airport to endure a medical emergency, it must be Brisbane! Not only are First Aid services and defibrillators available in both Terminals, but there's also a 24-hours emergency Dental Service.
The Direct Chemist Outlet in the Skygate Center offers free blood pressure and weight checks.
The easiest way to get into Brisbane from the airport is by train. Airtrain operates services from early morning until 10:00 pm.
During peak times, these run every 15 minutes from both Terminals and only take 22 minutes to Brisbane Central Railway Station.
Train tickets are very affordable at around AU$19, and the fare is free for Virgin Australia passengers who show their boarding passes.
If you prefer, Con-X-Ion Airport Transfers operates a bus service into Brisbane. It takes longer than the train but offers the advantage of services to multiple points around the city rather than one train station.
Or you can walk over to the Skygate Center and take a public bus operated by Translink.
If you prefer, you can grab a taxi operated by Yellow Cabs or Black & White Cabs. However, these will take longer than the train and be relatively expensive.
Car Rental Companies have counters in the International Terminal Level 2 and Domestic Terminal Level 1.
Planning Tips
The people of Brisbane are so friendly and welcoming, I'm sure you won't have any problems. But, just in case, here are 5 tips to help you enjoy your stay.
Tip #1: Decide what you want to do before planning when to go to Brisbane
The weather is best in spring and fall when it's not too hot or wet. If you go in spring, especially September, your visit will coincide with many local festivals, such as the Brisbane Festival.
During this time, there's more to do but you'll find the city crowded and hotels fully booked.
If you want to travel on a tight budget, the wet season (December through March) is the best time to go. You'll get great deals on accommodation and airfares. However, you will get wet during outdoor activities.
Tip #2: Buy unique Aboriginal art and crafts
If you want to take home something unique from your visit to Brisbane, consider investing in a unique piece of Aboriginal art.
If you want something truly authentic, consider driving 26 miles north to Scarborough where you'll find Bam Bam Brisbane Aboriginal arts and crafts gallery.
This is a unique gallery that encourages indigenous people to express themselves in art.
Tip #3: Beware the tropical sun
You're visiting the tropics. You will need to apply plenty of sunscreen or you'll fry. Stay hydrated. Carry bottled water when you go out.
Tip #4: Book in advance, especially in September
Brisbane is becoming more popular every year. You should book tours and hotels early to avoid disappointment. In September, it's common for everything to be booked solid months in advance.
Better tour operators offer full refunds when you cancel with reasonable notice.
Tip #5: Smokers should watch out for smoke-free zones
In Australia, there are strict rules against smoking in public areas. You can't smoke on public transport, including inside the train and bus stations.
Smoking is forbidden inside all food outlets and many public areas, like parklands. If you want to stop smoking, Brisbane is a great destination.
Restaurants & Eating Out
Australian cuisine can be divided into three distinct kinds. The first is the traditional foods eaten by indigenous people before European contact. Today, such native dishes are collectively termed "bush tucker".
The second kind is the British food introduced to Australia by the first wave of colonists but slightly modified by separation and the different range of raw materials found locally. This altered British food tends to be the most popular.
The third kind is the international food introduced by the many later waves of immigrants in more recent times.
This means that in Brisbane today you're spoiled for choice. You can eat unique Australian dishes, like kangaroo steak, or British style fish and chips, or choose a delicious Italian spaghetti Bolognese or Chinese noodles. Whatever you most love to eat, you can probably find it here.
Bush tucker is composed of gathered wild plants, such as bush tomato, edible insects, and locally sourced meat, such as emu or wallaby.
While it's difficult to find anywhere where you can eat bugs, you can certainly find great restaurants where kangaroo is served.
For example, at Kingsleys Waterfront Restaurant, you can dine on fine seafood prepared with locally-sourced ingredients, or a nice grilled kangaroo fillet or wagyu rump.
Or at the Six Degrees Café, you can enjoy a delicious crocodile lemon risotto or kangaroo steak.
When it comes to old British dishes, an old Scottish favorite is popular in Brisbane restaurants. Freshly prepared Scotch eggs are found everywhere. These are hard-boiled eggs wrapped in sausage meat and coated in breadcrumbs.
An interesting variant on traditional American cuisine is Kentucky fried duck. These are typically deep-fried duck nuggets.
Many Italian dishes have become popular in Brisbane but with Australian flourishes. Examples include pappardelle with goat ragu, sand crab lasagna, and potato gnocchi.
And for dessert, a strange Campari sherbet, orange sorbet, curds and whey ice-cream is popular in the city. It's a strange bitter-sweet combination that has gathered a broad fan base.
Nightlife & Entertainment
Partly because of its proximity to the Gold Coast and partly due to the incredibly supportive attitude of local government, Brisbane is one of the best cities in the world for nightlife.
Brisbane is also reputed to be one of the top 5 cities in the world for live international music.
Fortitude Valley—a suburb immediately northeast of the Central Business District—is a government-designated Special Entertainment Precinct, with especially relaxed laws relating to noise levels and drinking hours.
There you'll find many excellent and long-established live music venues, such as The Zoo.
Fortitude Valley is a great area for nightclubs, like The Met, which boasts 3 dance floors offering techno, house, and RnB music. For young and enthusiastic dancers, Family is a lively dance club.
Outside of Fortitude Valley, you'll also find lively nightlife in the South Band and West End areas. South Bank is, as its name implies, the entertainment center south of the river.
There you'll find live jazz and rock music venues and concerts. The West End is the district where traditionally cultures blended together, producing an eclectic mix of clubs, bars, and live music venues.
Because of its tropical climate, you'll find rooftop bars all over Brisbane. For example, you can relax with a cool bar in Elixir Rooftop Bar in Fortitude Valley.
Alternatively, check out the fantastic panoramic views from inside the highest bar in Brisbane, Sazerac Bar on the 30th floor of the Four Points By Sheraton Hotel in the CBD
If your focus is on drinking and socializing, you'll find plenty of cocktail bars and specialist bars around the city, such as Dutch Courage Officer's Mess, which is a traditional gin bar and restaurant in the Alfred Street Precinct.
And, of course, you'll find a fine assortment of English and Irish style pubs all around the city.
However, with great pleasure comes great responsibility. Strict laws apply around many areas of Brisbane, including Fortitude Valley, to increase safety for party-goers around popular nightspots. The affected areas are called Safe Night Precincts.
Even if you're 92, you won't be served alcohol in a Safe Night Precinct without ID. After 10 pm, drinking establishments are legally obliged to scan your ID in a special machine before you may enter. Some bars and nightclubs may enforce that rule at any time.
Getting Around
The easiest way to get around Brisbane is by public transport. Some bus and ferry services are FREE! For regular services, you'll need a TransLink Go Card.
Go Cards are used to pay for trains, buses, and ferries around the city. You can purchase these at the airport, train stations, or convenience stores.
The Go Card provides special offers for tourists and other visitors to Brisbane. You load up your Go Card at fare machines and in convenience stores.
When you board a bus or train, you tap your pre-loaded card on the reader to pay for your journey. You must tap the reader a second time when your journey ends.
The Go Card is valid throughout southeast Queensland, so you can use it to get to the Sunshine Coast and Gold Coast.
Trains
Train services run daily from early morning to late night and are fast and comfy. Currently, there are 7 suburban lines around the city, but a new Cross River Rail line is under construction that will add another 5 new city stations.
You can reach many of the key attractions by rail, such as the Central Business, the Gallery of Modern Art, the Queensland Museum, and the nightlife in Fortitude Valley.
Buses
Because of the efficient placement of bus lanes throughout the city, you'll find buses a quicker way to reach your destination than driving during peak traffic times.
And there are 2 FREE bus services that loop around the major attractions in the city center. These clockwise and anticlockwise FREE loop services run every 10 minutes between 7 am and 6 pm.
Ferries
Because the city is bisected by a large river, many Brisbanites use ferries to get around. The CityHopper ferry is FREE and stops at 8 ferry terminals along the river.
This service operates between 6 am and midnight, 7 days a week. There are also 21 CityCat ferries that cover a wider area, but you must pay for these using your Go Card.
You can, of course, rent a car, catch a taxi, or even walk around the city. But with free buses and ferries and quick trains, why would you bother?
Accommodations
With an efficient public transport system, you can stay almost anywhere around Brisbane and still enjoy all its wonderful attractions. However, you'll find different atmospheres in different districts, so you may have preferences.
Many people come to Brisbane on business, and such travelers generally stay in the Central Business District. That's where you'll find a good selection of luxury hotels.
The CBD is where you'll find the best inner-city shopping and many major attractions. You'll find executive suites at hotels like the Sofitel Central Hotel and the Stamford Plaza Hotel.
If you want convenience and can afford the best hotels, this is a great place to stay.
If you're more interested in an active nightlife, then Fortitude Valley is the best place to stay. Here you can find luxurious hotels like the Calile Hotel and the more affordable TRYP Hotel.
The South Bank district is great for visitors who love culture. In the South Bank, you'll find more luxury hotels, like the Emporium Hotel, and a selection of more affordable tourist hotels, like the Rydges Hotel.
If you're on a family hotel, you might prefer to stay in self-catering accommodation in the CBD or South Bank.
For those who enjoy something a little different, you can rent modern, Queensland style houses from Sanctuary by Sirromet. These single-story houses on stilts are found in a vineyard in Mount Cotton, 21 miles southeast of Brisbane.
Weather
When planning your trip to Brisbane, you should remember it's in the Southern Hemisphere. The seasons are the opposite way around to the Northern Hemisphere, like Europe and the US.
When it's winter in Washington, it's boiling in Brisbane, and when it's fall in France, the spring flowers in Brisbane are blooming.
Having said that, Brisbane has a humid, subtropical climate. There's not as great a variance between summer and winter as in more southerly latitudes.
The difference in day length between midwinter and midsummer is only 3½ hours. 22nd December is the longest day, lasting almost 14 hours. The shortest is 21st June, which lasts just under 10½ hours.
Brisbane is on the coast, so the ocean does moderate the heat. It's cooler in summer and warmer in winter than further inland.
It's hottest in January, with an average daily high of 870F and low of 710F, and it's coldest in July, with a high of 710F and low of 500F in July.
December through March sees Brisbane's wet season. Outdoor activities during this time may leave you rather soggy!
If you're planning on swimming or surfing on the Gold Coast, note that the sea temperature ranges from a hot 810F in February down to a warm 700F in July.
So, it's always pleasant to splash around in the waves in the region around Brisbane.
Attractions
There are an incredible number of attractions to see in Brisbane. For me, the must-see thing isn't a museum or area of natural beauty. It's the famous and distinctive Queenslander architecture.
When the first settlers came to Brisbane, they faced the challenge of adapting their traditional British homes to the tropical environment. Taking inspiration from other solutions around the Pacific, they decided to build single-story homes on stilts.
These off-the-ground houses are reached using tall steps and feature large enclosed verandas to provide plenty of aired living space to the inhabitants. The British influence is the typical Victorian gabled roofs you find on these wooden structures.
You'll find examples of Queenslander homes dating from the 1840s to the close of WWII in many Brisbane suburbs, such as Paddington, Bulimba, Balmoral, New Farm, and parts of Manly.
You can easily use a City Cat ferry to reach Bulimba and New Farm.
Closer to the center, there is a designated Cultural Precinct in South Bank. There you'll find attractions for the whole family, such as the South Bank Parklands, the Queensland Performing Arts Center, the State Library of Queensland, the Queensland Museum & Science Center, the Queensland Art Gallery, and Queensland Gallery of Modern Art.
The two art galleries are particularly interesting. They stand side-by-side but with contrasting architecture. Together they exhibit over 1,700 artworks focusing on Australasia and the Pacific.
But the most popular attraction is the Wheel of Brisbane, a giant, 197-feet-tall Ferris wheel in the South Banks Parklands. A 10-minute ride in the wheel provides stunning views of the river and city.
The Brisbane River is the single most important natural landmark in Brisbane, dominating the shape and transportation networks of the city and its suburbs. Several bridges crossing the river are worthy of note, including the Story Bridge.
This beautiful bridge completed in 1940 is one of the symbols of the city and is lit up by fireworks each year as part of the annual Riverfire Festival. Tours of the bridge are available, including ones to abseil from the top.
If you're more interested in the natural beauty of Queensland, you'll love the Lone Pine Koala Sanctuary. This is the first and largest Koala sanctuary in Australia.
The sanctuary not only offers you the opportunity to cuddle a koala, but you also get to see crocodiles, dingoes, kangaroos, platypuses, snakes, Tasmanian devils, wallabies, and wombats in this amazing conservation center.
And you can experience more of Queensland's natural beauty in the Brisbane Botanic Gardens at the base of Mount Coot-tha.
The gardens are 4 miles from the CBD and feature 128 acres of horticultural delights, including a huge collection of Australian rainforest trees and world-renowned Japanese gardens.
While you're in the area, check out the view from the Mount Coot-tha Lookout. The mountain is 941 feet high and provides the best panoramic views over the city of Brisbane.
You'll also find popular walking trails through the surrounding Mount Coot-tha Forest Reserve.
If you want to get away from the city for a day or two, nearby Moreton Island is popular. This beautiful island is a national park with white sandy beaches and lush vegetation.
You'll find the oldest lighthouse in Queensland at Cape Moreton, built in 1857, and snorkelers will love the 15 shipwrecks just off the coast, all filled with marine life.
We chose "From Brisbane: Moreton Island 2-Day Explorer Tour" as our Editor's Choice for the best Moreton Island tour from Brisbane.