If you've never been to Mexico City before, you're going to be simply shocked at how massive it is. Not only is it one of the biggest cities in the world by population, it's just incredibly expansive.
When you're flying into CDMX airport, it's like there are endless houses everywhere you look, even until the horizon! While exploring the city by foot is definitely fun and enlightening, one of the coolest ways to see the Latin American capital is by air.
We are here to bring you the top Mexico City hot air balloon rides so you can see this interesting terrain and man-made buildings from one of the best vantage points possible.
Best Mexico City Hot Air Balloon Rides
| | Hot Air Balloon & Walking Teotihuacan Tour From Mexico City | Teotihuacan Air Balloon Flight & Breakfast From Mexico City | Hot Air Balloon in Teotihuacan From Mexico City |
| --- | --- | --- | --- |
| | | | |
| | | | |
| Departure Point: | Hotel pickup and drop-off included | Hotel pickup and drop-off included | Hotel pickup and drop-off included |
| Departure Time: | Morning | Variety Available | 5:15 am |
| Duration: | 8 hours | 4 to 9 hours | 8 hours |
| Includes: | Transportation to the balloon port, 30-50 minute hot air balloon flight, entrance to the pyramids, breakfast, lunch, snacks, local guide, use of bicycle, walking tour | Transportation to the balloon port, 30-50 minute hot air balloon flight, coffee at the balloon port, shared hot air balloon flight, buffet breakfast, honor toast and flight certificate, transfer to the Teotihuacan archaeological site | Coffee break in Globopuerto, balloon flight of 45 minutes, toast with sparkling wine, customized flight certificate, breakfast after the flight, tickets for the archeological zone of Teotihuacan |
| | | | |
---
Quick Answer: The 5 Best Hot Air Balloon Rides From Mexico City For 2023
---
Mexico City Hot Air Balloon Ride Reviews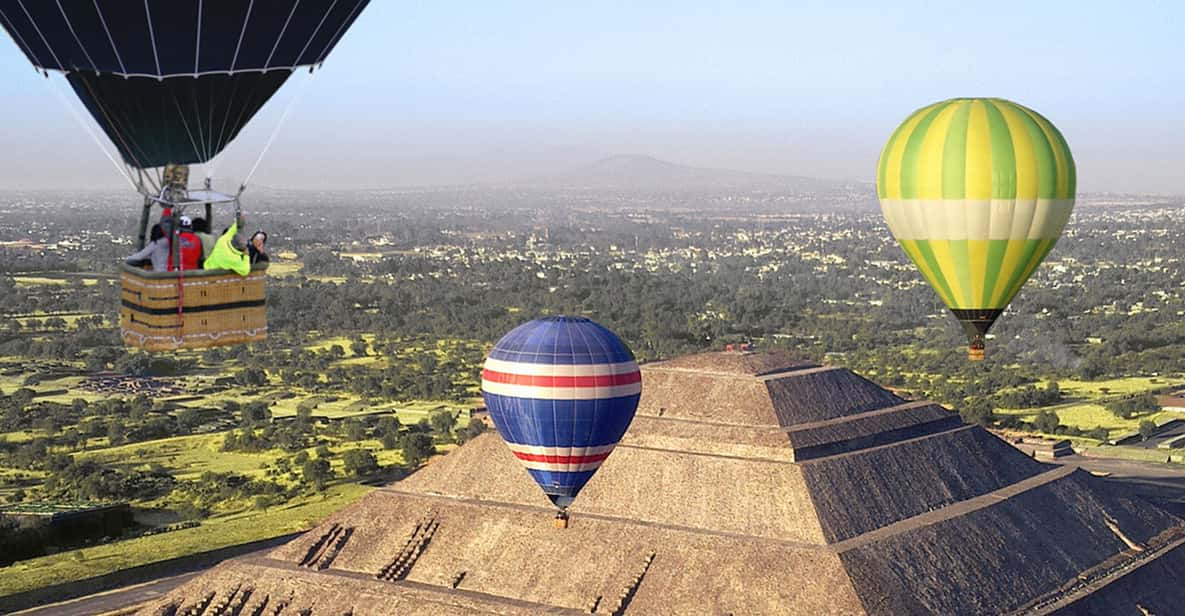 Tour Highlights
:
---
Duration: 8 hours
Departure: Hotel pickup and drop-off included
Departure Time: Morning
Includes: 

Entrance fees to the pyramids, b

reakfast, l

unch, s

nacks, l

ocal guide, u

se of bicycle, h

ot air balloon flight, w

alking tour
First off, we bring you one of the consistently top-rated hot air balloon tours in the city. The Hot Air Balloon & Walking Teotihuacan Tour from Mexico City is a fantastic way to spend the day and be back to your hotel or home in time for dinner.
This comprehensive tour will take you all over the "City of the Gods" as well as through some of Mexico City's most iconic neighborhoods. Your tour will start out with a hotel pickup located in the Colonia Centro, Condesa, Polanco, or La Roma.
These are all pretty central locations and Mexico City is huge so if your location is outside of here, you'll have to schedule your own transportation. Once you arrive on site, your instructor will offer a safety briefing and answer any questions you may have.
You'll then board the hot air balloon and take off, heading toward the Teotihuacan Pyramids. Being at these pyramids is absolutely incredible but seeing them from an aerial view really is something else.
Expand To See MoreSee Less

Make sure to take plenty of photos as the sun rises up over the Pyramids of the Sun and Moon and the mountains in the distance.

You're sure to have a grumbling stomach by now, so it's time to enjoy a delicious traditional Mexican breakfast and continue exploring the archaeological site. This place is certainly fascinating, and your guide will tell you all about how important it's been throughout history.

You'll then be welcomed into a local artisan's home, where they'll teach you all about obsidian and the 3 iconic Mexican alcoholic drinks: tequila, mezcal, and pulque.

After you get a chance to try them all, you'll then walk it off and check out the local fresco murals that remain well-preserved in the older barrios. Enjoy a traditional Mexican lunch in San Martīn de las Pirámides, which is home to bright colors, various boutiques, museums, and of course delicious food!
100% refund for cancellations within 24 hours of tour experience
---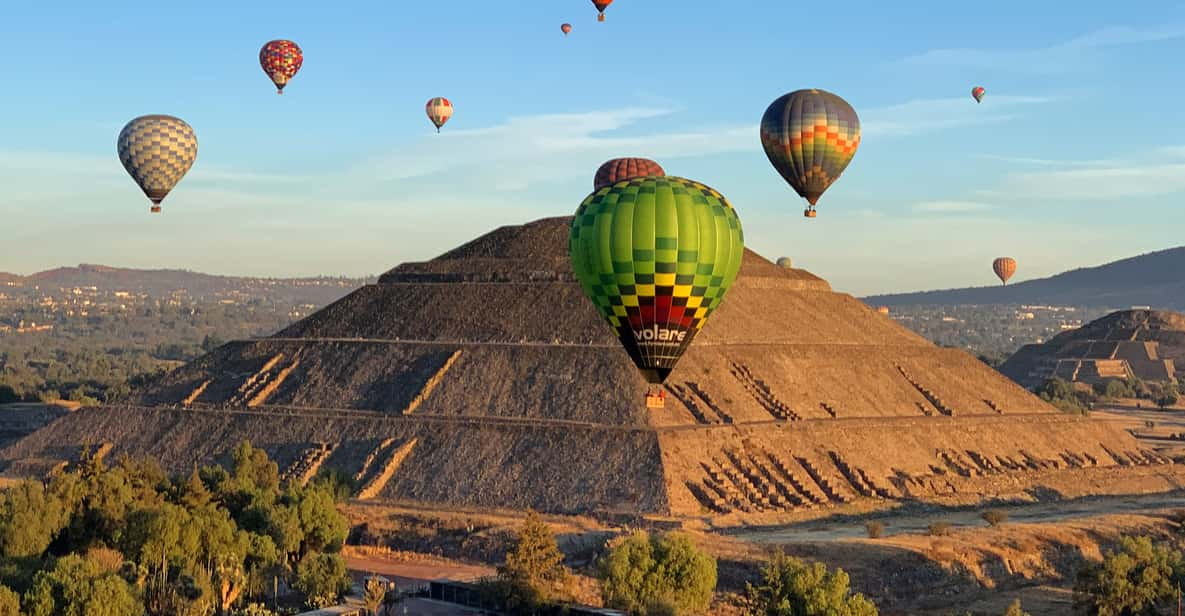 Tour Highlights
:
---
Duration: 4 to 9 hours
Departure: Hotel pickup and drop-off included
Departure Time: Variety Available
Includes: 

Hotel pickup and drop-off from Mexico City and shared transfer to the balloon port (selected hotels only, depending on option booked), c

offee break at the Balloon Port, s

hared hot air balloon flight, b

uffet breakfast at the Balloon Port, h

onor toast and flight certificate, t

ransfer to the archaeological site
Next up, we have another tour that's very similar to our first one. However, on this tour, you have the option of just experiencing the hot air balloon ride or continuing on to explore the archaeological zone on the ground as well.
The Teotihuacan Air Balloon Flight & Breakfast from Mexico City tour is simply magical, and we know you're going to love it, too! This tour does offer an included hotel/Airbnb pickup within the "touristy" zones of the city, like La Condesa, La Roma, etc.
Once you arrive to the liftoff site, you'll be greeted and receive a safety briefing as well as an idea of what to expect on your flight. Enjoy a delicious local coffee while you listen to what the crew has to say.
You're then ready to fly over the majestic Teotihuacán valley, starting early in the morning.
Expand To See MoreSee Less

There's often a little bit of fog over the city below, which is illuminated just perfectly by the rising sun. With officially-certified pilots, you can rest assured that you're in good hands.

Once you're finished flying after about 30 to 50 minutes, you'll return back, make a toast with the rest of your group and receive a flight certificate! You more than deserve a delicious buffet breakfast, and that's exactly what you are going to get!

After filling up, you'll have the option of transferring to the Teotihuacán Archaeological Zone so you can check out the ruins up close.

If you choose, you'll spend 3 hours here and get to learn all about these fantastic pyramids, what they were used for, and why they're so important.
100% refund for cancellations within 24 hours of tour experience
---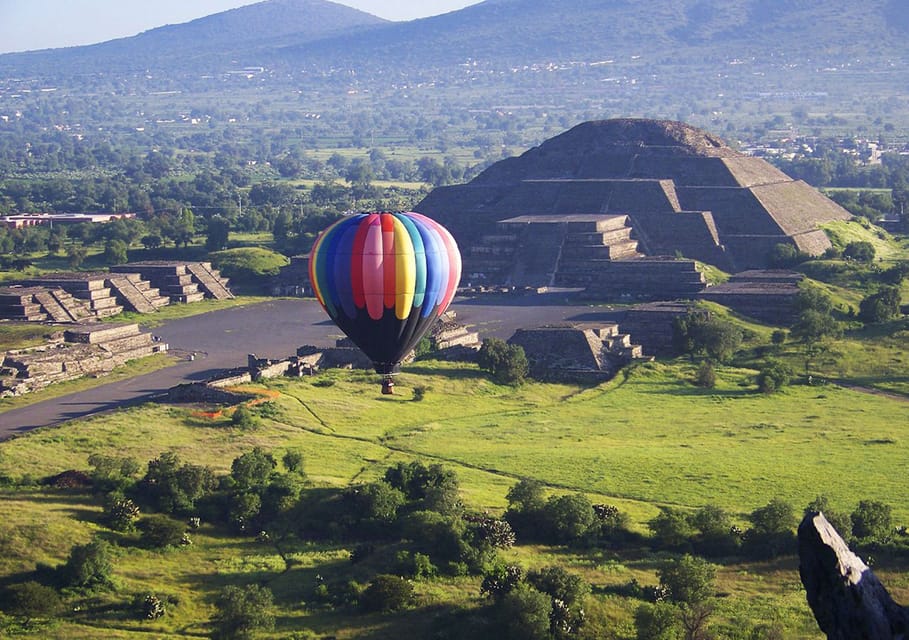 Tour Highlights
:
---
Duration: 8 hours
Departure: Hotel pickup and drop-off included
Departure Time: 5:15 am
Includes: 

Meeting point from Angel de la Independencia or lobby of your hotel, g

reeting with coffee break in Globopuerto, ba

lloon flight of 45 minutes, t

oast with sparkling wine from Freixenet winery, c

ustomized flight certificate, b

reakfast after the flight, t

ickets for the archeological zone of Teotihuacan
Starting off at the crack of dawn, you'll have all day to see Mexico City and the surrounding area the way it was meant to be seen. The expansive city has so much to offer, it's hard to see it all in just a few days (or even months!).
However, with the Mexico City: Hot Air Balloon in Teotihuacán tour, you'll be able to cover a lot of ground in a short amount of time. Hotel pickup is included, so you don't have to worry about waking up even earlier and arranging transportation on your own.
At 5:15 am, just come on down to your lobby and they'll be there waiting for you. Alternatively, you can meet at the Angel de Independencía. With small groups limited to just 10 participants, you can count on having a personalized experience that you're sure to want to repeat!
Once you arrive, you'll meet with your pilot where they'll give you a rundown of what to expect, as well as a safety briefing and some time to answer any questions you may have.
Expand To See MoreSee Less

Once everyone is on the same page, you'll board and take off! Once you're high up in the sky, with the perfect sunny view of the pyramids down below, your pilot will crack open a bottle of sparkling wine and celebrate. These toasts have been tradition for almost 250 years, if you can believe it!

Once you land back on the ground, you can enjoy a walking tour through Teotihuacán. It's certainly a lot different then seeing it from up in the air, and you'll be able to learn about its history as a rich trade metropolis, and its time as a flourishing pre-Columbian city.

Afterward, it's time to sit down, relax, and enjoy a delicious Mexican breakfast in a restaurant with limitless panoramas. It's the perfect time to reminisce and chat about the incredible experience you all just had!
100% refund for cancellations within 24 hours of tour experience
---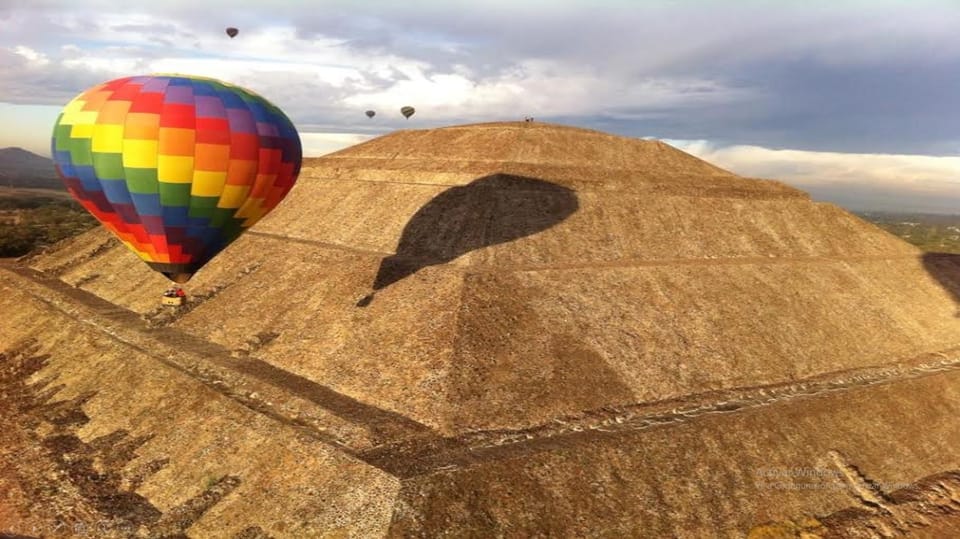 Tour Highlights
:
---
Duration: 3 hours
Departure: Hotel pickup and drop-off
Departure Time: 7:00 am
Includes: 

Pick-up from your meeting point, h

ot air balloon flight
Are you wanting to go on an epic Mexico City hot air balloon tour but have a busy schedule? Perhaps the other tours look enticing but you need something shorter? If so, then check out the Hot-Air Balloon Flight Over the Teotihuacán Pyramids tour.
Lasting just 3 hours long, this is a magical tour that will take you up and over the history-rich pyramids and ruins but will have you back to your hotel before breakfast. Just be ready at your hotel lobby by 7 am, and they'll take you to the liftoff location!
Once you arrive, the crew will welcome you and tell you all about what you can expect on this exciting journey! They'll start off with inflating the hot air balloon which is pretty fun to watch!
Expand To See MoreSee Less

 While you do this, your pilot will give you instructions and tips on how to keep safe while having a good time.

You'll then climb aboard and take off to experience the stunning panoramic, aerial views of the pyramids! While you're up there, your guide will tell you all about how it was once a massive trade city and is incredibly important to history and our present-day.

As some of the biggest pyramids built during this time (somewhere between 1 and 250 AD), they were there long before even the Nahuatl-speaking Aztec arrived! Starting as a religious center, the pyramids were long regarded as the origin of civilization by the Aztecs and believed that this was where the gods had created the "present era".
100% refund for cancellations within 24 hours of tour experience
---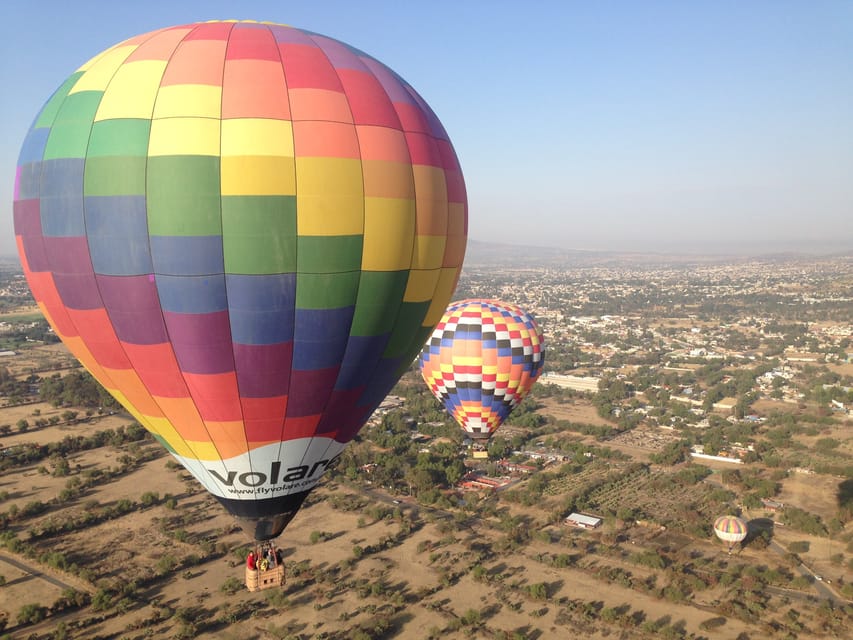 Tour Highlights
:
---
Duration: 6 hours
Departure: Angel de Independencía or hotel pickup/drop-off
Departure Time: 5:30 am
Includes: Private transportation, bottled water, archaeological zone tickets, guided visit
This next tour is one where you can really sit back and relax with your guide and the rest of your group, enjoying the experience. The Private Tour to Teotihuacán and Hot Air Balloon Ride not only involves experiencing the pyramids from an unmatched view, but enjoying traditional Mexican drinks on board and more.
Clocking in at 6 hours long, it's a bit shorter than most others on our guide but still long enough that you won't feel like you're missing out on anything.
Your adventure starts before sunrise, and you'll be picked up from your hotel by your guide. This is intentional, so that when you're already up in the air you'll all be able to watch the sunrise from quite possibly the best view out there.
Expand To See MoreSee Less

Once you arrive, your professional guide will help get you acquainted with everything while the hot air balloon is inflated. From the very beginning, it's evident just how experienced and knowledgeable the guides are – not to mention, incredibly hospitable.

Watching the sunrise from up above is truly unmatchable, coming up over the mountains and illuminating the beautiful pyramids!

Once back on the ground, you'll be able to participate in an educational, delicious tasting of tequila, mezcal, and pulque. If you've never had pulque before, think of it almost as a kind of eggnog with different flavors available!

You'll also head to an artisan workshop where you'll get to see all kinds of different handmade crafts and have the chance to purchase some.
100% refund for cancellations within 24 hours of tour experience
---
Mexico City Tour Guide
Getting There
Air – Getting to Mexico City is pretty easy, all things considered. As it's the capital of Mexico, and one of the biggest cities in the world, you can count on most airlines to serve the destination. However, if there's not a direct flight available you can rest assured there are plenty of convenient connecting flights from various cities around the country.
You'll want to fly into Benito Juárez International Airport, abbreviated as MEX airport, which is absolutely enormous. They recently constructed a second airport in the city, but most flights are still just going to MEX. Less than an hour away is Toluca International Airport, though you'll find that it's mostly private planes that fly into here.
Rail – Did you know that Amtrak offers various railway connections along the border? One of the most common stops are San Ysidro and then transferring to Tijuana and going from there. You also have some more luxe train options like the Sierra Madre Express, which operates within Tucson, AZ and Copper Canyon in Mexico. There are other companies as well, doing similar routes with luxury services like restaurant cars and more.
Driving – If you've never done so before, you'd probably be surprised at how easy it is to cross the border into Mexico. If driving your own car, you will probably be able to just drive it right in without showing any kind of documentation. However, if taking a private car/car for hire, they'll have to show originals and a photocopy of their car registration and driver's license.
Water – Alternatively, you could get into Mexico by boat or ship. There are a ton of cruise lines that operate routes from the US to Mexico (both the Pacific and Caribbean).
Getting Around
Getting around Mexico City is incredibly easy, however, be prepared for a lot of traffic if you'll be traveling by car. There are tons of big, wide avenidas around that are perfect for walking (especially in touristy areas) or renting one of the electric scooters that have exploded in popularity over the last few years.
The metro is an excellent option as well! It's very cheap, and they manage to keep it very clean and efficient. If you need to get somewhere fast, this may be the best option as you completely avoid the issue of traffic and most tourist attractions are accessible by metro. If you're going to be hanging out in el Zócalo/downtown, you may find hopping on a bus easy as well. They're a nice alternative to the metro throughout busy streets.
Rideshares and taxis are prevalent in Mexico City, though to be honest, Uber and DiDi are preferable to taxis. Why? Taxistas are known to jack up the prices, drive more dangerously, and from a safety aspect there's really nothing that shows you ever rode with them. Uber and DiDi are both app-based services for hailing a ride and are more affordable. Not to mention, their vehicles seem more well-maintained and the drivers more friendly.
Where to Stay
As we've said many times now, Mexico City is vast. That can easily make it overwhelming figuring out where to stay. The good news is that the same areas are pretty consistently the most popular for tourists: La Condesa, El Zócalo/Centro Histórico, La Roma, Polanco, Coyoacán, and Cuahtémoc.
La Condesa – This is a more upscale residential neighborhood, known to be home to many Mexican celebrities and just more wealthy people in general. You'll find out why when you visit. The homes are beautiful, with wide, walkable streets and various international restaurants and markets close by. You'll see everyone out walking their dogs in the evening, without a care in the world.
There are many boutique hotels located here, and they just continue to keep popping up. As El Bosque de Chapultepec and various world-class museums are nearby, it makes sense to stay here.
El Zócalo/Centro Histórico – If you love history and amazing architecture, you can't beat this area. Some of the city's best art museums are located here, as well as some delicious restaurants with excellent views. You'll find many upscale hotels located here – both boutique and big chains.
La Roma – La Roma draws many similarities to La Condesa, with Roma edging more towards "hípster" culture. You'll find awesome local bars, an excellent music scene (from rock to reggaeton and techno), and tons of upscale clubs. If you're into partying or dancing the night away, this neighborhood should be at the top of your list.
Polanco – Again, very similar to La Condesa in the sense that it's upscale and luxurious. Some of the best fine dining is found here, with various Michelin-starred restaurants taking up residency. Not only that, you'll find tons of designer stores and 5-star hotels here. It's very walkable, and close to El Bosque de Chapultepec/La Reforma, which can take you pretty much anywhere in the city.
Coyoacán – Located far to the south, it's another residential neighborhood. However, it has more colonial architecture, and a bit of old-school charm with its cobblestone streets and little cafes that dot the sides. It's probably most well-known for the fact that Frida Kahlo's former house is here, which now serves as the Frida Kahlo Museum.
Cuahtémoc – If you're a foodie, you'll want to consider staying here. Another option, is if you're staying here for work. With a ton of international hotel chains here, it's ideal for business travelers.
Restaurants and Eating Out –
First off, you should know that you don't even have to go to a restaurant to enjoy delicious food in Mexico City. There are plenty of food carts located around every neighborhood, ranging from tacos and tortas, to churros and fruit. Everything is made fresh, and it's a quick and easy way to fill up on something delicious.
Cafes – Mexico City has so many amazing cafes! The Churrería El Moro tops our list in this category, and is known by everyone for its incredible churros and various types of hot chocolate. However, they also have delicious, fresh coffee which we highly recommend along with a bag of churros to dip in chocolate. There are 7 different locations around the city! Quentin Café, Chiquititio Café, and Finca Don Porfirio are honorable mentions, with the latter offering amazing views of Bellas Artes.
Lunch – If you're looking for a fine-dining spot for lunch, it's hard to beat Pujol. Located in Polanco, it's become famous world-wide! Not to mention, the location is absolutely beautiful. Café Nin is a beautiful spot great if you are craving something "fresh" like a sandwich, some tostadas, or delicious baked goods. Rincón Tarasco has incredible carnitas served on fresh, hand-made tortillas accompanied by some beers!
Dinner – El Cardenal is known around the city for its rich mole, and traditional dishes such as escamoles con espazote. While there's often a waitlist, you can just stroll around the picturesque Zócalo in the meantime. If you're in the mood for seafood, Contramar in Roma Norte is an open-air spot with delicious tostadas de mariscos! La Gruta is located close to Teotihuacan and is one of the best for traditional Mexican food!
Nightlife and Entertainment
Mexico City has an incredible nightlife! It's truly one of the best in the world, and you can honestly find just about anything you're looking for here.
Underground – We have to start off by saying that if you're into underground electronic music, Mexico City is one of the best cities in Latin America for it. There are of course famous clubs like AM LOCAL or La Santa, but the unnamed venues are really the best with world-class DJs presenting here until it's light outside.
Speakeasies – Hanky Panky Cocktail Bar involves a bit of sleuthing, and you'll find yourself going through a refrigerator door to get there. However, if you're looking for an old-timey spot with traditional cocktails, it's great. Jules Basement is another top-notch selection and was the first speakeasy in the country.
Mainstream – MN. Roy is very multicultural, and is always a fun time with live DJs and unique cocktails. Pink Rooftop is a blast if you're a reggaeton fan, and is known for the pink lighting that covers the entire venue. If you're into top 40 music, Leonor is a good shot and most people seem to have a good time here. For something a bit different, try the legendary Salon Pata Negra, which serves up everything from hip-hop and rock to Latin.
Weather –
In Mexico City, the weather can vary quite a bit. You may think that Mexico is just hot and sunny all the time, but not in the capital. Due to its close proximity to the mountains, it can be everything from hot and dry, to wet and cold. December and January can get quite cold, and it has actually snowed in the city before. It's not all that common, but it's not unheard of either. Between March and May seems to be the sweet spot, as it's warm but not rainy. At any other time of the year, expect rain to be a possiblity.
Attractions  –
Zócalo – No matter what you're into, we guarantee you've never seen anything like El Zócalo. Site of where the country's first constitution was proclaimed over 200 years ago, it's a massive plaza and has served as a location for various important events throughout history. Including important pieces of architecture like the National Palace, Metropolitan Cathedral, and Templo Mayor, it's a hot photo op spot, too.
Museum of Anthropology – This is one of the most important cultural museums in the world, sitting in Chapultepec Park. It's known for its enormous stone shelter and extensive collection of archaeological finds from around the world.
Palacio de Bellas Artes – The architecture alone is incredible! This enormous marble building has clear Art Deco and Art Nouveau influences, and is so heavy that it's sunk more than 4 meters in the almost 100 years since its construction. This palace has been the location of many a opera, and comes lined with famous artwork done by Diego Rivera, David Alfaro Siquieros, José Clemente, and many more.
El Bosque de Chapultepec – This park, or "forest", is absolutely massive, covering miles of space. It was once the home of the Toltecs, then Aztecs, and then became home of the intrusive Mexican "royalty" years later. It actually contains the only royal castle in all of North America: El Castillo de Chapultepec. Many former Mexican presidents have also lived here, and it's open almost every day to tourists.
National History Museum – Speaking of the castle, this museum is actually housed in it! You'll get to see some interesting relics from Mexico's history, arms and armor, maps, plans from the Conquistador period, clothing, and even the apartments where Emperor Maximilian and Empress Charlotte once lived. Oh, and we should mention that Maximilian and Charlotte weren't even Mexican. Their reign lasted just a bit over 2 years once they unwelcomely arrived in Mexico, and Maximilian's fate definitely attests to just how unwelcome they were.
Museo de Soumaya – Founded by the ultra-wealthy Carlos Slim, the Museo Soumaya is an absolutely beautiful piece of architecture. However, there is much more inside: a whopping 66,000+ pieces of art spanning over 3,000 years.
Xochimilco – No trip to Mexico City is complete without hopping on one of the boats at Xochimilco! As remnants of an elaborate water transport system constructed by the Aztecs, it's colorful and fun with food vendors and mariachi bands floating past. It's like one big party!
Tips –
1. Always tip – There are a lot of people who will say that Mexico doesn't use the United States' tip culture, but this is untrue. Make sure to tip your servers and bartenders (15 to 20% is ideal), along with your drivers, bellman, and basically anyone else performing a service for you. It is not considered rude and is always appreciated.
2. Bring a jacket. Like we mentioned briefly already, be prepared for rain at any time. The weather can change quickly and without warning.
3. Bring rainboots. This goes hand-in-hand with our last point. Mexico City's streets tend to flood in certain neighborhoods when it rains enough, so it's always a good idea to have them on hand – particularly in the evenings.
4. Try the street food! There are so many amazing restaurants in the city, but you'd really be missing out if you didn't try the street food. It's part of the culture, and it will give you new insight to how delicious everything is. It's freshly-made, too, and you won't be paying a premium just to sit at a trendy table.
5. Check out at least a couple of museums. Did you know that Mexico City has the most museums of any city in the world? That's really saying something when you think of cities like Paris, New York, or Rome.
The Hot Air Balloon & Walking Teotihuacan Tour is our Editor's Choice for the best Mexico City hot air balloon ride.