If we had to recommend you one of the most beautiful places on Earth, it would be Kauai. If we had to recommend you one of the most beautiful ways of seeing Kaui, it would be by helicopter.
The arial views are unlike anything else, offering you vistas that truly let you appreciate the area's varied and dramatic landscapes that few other locations have.
There are a ton of tours out there, but we've done the hard part by investigating ourselves. Without further ado, we answer the question: what is the best Kauai helicopter tour that is well worth your time and money! Let's hop right in!
Best Helicopter Tours in Kauai
| | Kauai Island Highlights Helicopter Tour | "PRIVATE" Kauai Helicopter Tours with "NO MIDDLE SEATS" | Kauai Waimea Canyon, Jurassic Falls, & More Helicopter Tour |
| --- | --- | --- | --- |
| | | | |
| | | | |
| Departure: | 3225 Akahi St, Lihue | 3745 Ahukini Rd, Lihue | 3225 Akahi St, Lihue |
| Start: | 11:00 AM, 1:00 M | Between 7:30 AM - 4:45 PM | 8:00 AM, 9:30 AM, 2:00 PM, 3:30 PM |
| Duration: | 1 hour | 1 hour 15 mins | 1.5 hours |
| Includes: | Pilot and guide, helicopter tour | Lanyards for cell phones, 10 minute pilot safety briefing | Helicopter tour, pilot, land at the movie-famous Jurassic Park Falls |
| | | | |
---
Quick Answer: The 5 Best Rated Kauai Helicopter Tours For 2023
---
Kauai Helicopter Tour Reviews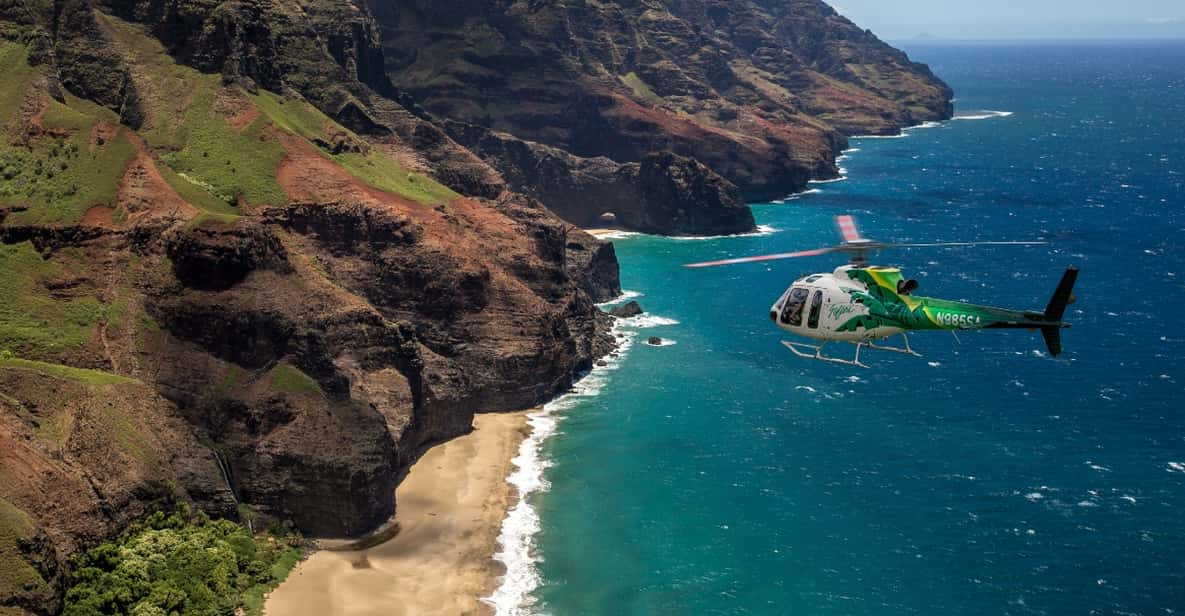 Tour Highlights
:
---
Duration: 1 hour
Departure: 3225 Akahi St, Lihue
Departure Time: 11:00 AM, 1:00 M
Includes: 

Pilot and guide, h

elicopter tour
If you know anything about Hawaii, you'll know that its natural beauty is endless. While hiking, ziplining, and boat rides are certainly great ways to see it all, helicopters are still king in that regard.
The Kauai Island Highlights Helicopter Tour is one of the best around, offering views that look like something from a dream! Lasting just an hour, you'll cover a ton of ground (and water), yet still be able to work the tour into a busy schedule without issue.
With a maximum group size of just 6 participants, it's perfect for couples, families, friends or even solo travelers! Upon arrival to the tour headquarters, you'll be greeted by your professional pilot/guide who will give a safety briefing and all equipment necessary.
Hop onto your helicopter, put on your headphones and take off over the breathtaking Hawaiian wilderness.
One of the first iconic locations you'll pass by are the thundering Jurassic Falls, which were actually featured in the Jurassic Park movie! Next, soar over the red hills and valleys that mark the Waimea Canyon, and then the Na Pali Coast.
As you pass over each location, your guide/pilot will make sure to tell you all information about them so you know just how significant each one is.
You'll have the perfect view for snapping pics and videos and showing them to those who didn't take the tour! We really enjoyed this tour, complete with music that was perfect for accompanying this gorgeous island. Educational, entertaining, and definitely beautiful!
100% refund for cancellations within 24 hours of tour experience
---
Other Experiences You May Enjoy:
---
Tour Highlights
:
---
Duration: 1 hour 15 mins
Departure: 3745 Ahukini Rd, Lihue
Departure Time: Between 7:30 AM – 4:45 PM
Includes: Lanyards for cell phones, 10 minute pilot safety briefing
If you're looking for some of the most incredible views in Hawaii, look no further. One of the complaints people have about helicopter tours is that they may get stuck in a middle seat without much access to the windows.
That's not a problem with the Private Kauai Helicopter Tours with No Middle Seats! Everyone gets their perfect window view here for a full hour and 15 minutes with no disappointment to speak of.
Well, not a window really as you can fly with the door off which means no window glare or obstructing the scenery! The tour guide/pilot is always professional and knows the area like the back of their hand.
Not to mention, they're highly trained and offer a 10-minute safety briefing beforehand to ensure everyone stays safe and comfortable.
We thought it was really thoughtful of the company to provide lanyards for everyone's cell phones before takeoff as well, just to make sure no incidents happen.
Set off and soar over Manawaiopuna Falls, aka "Jurassic Park Falls". The 400-foot giants sit in the middle of a wooded valley in a way that the falls are only visible by helicopter!
You'll also get to see the Olokele Canyon, Waimea Canyon, Na Pali Coast, North Shore, Wai'ale'ale crater, and so much more. As you cruise around, your pilot will offer an interesting educational commentary telling you fascinating stories about each location.
They'll not only give you a top-notch narration of the island, but offer an interactive adventure where you can ask all the questions you want.
100% refund for cancellations within 24 hours of tour experience
---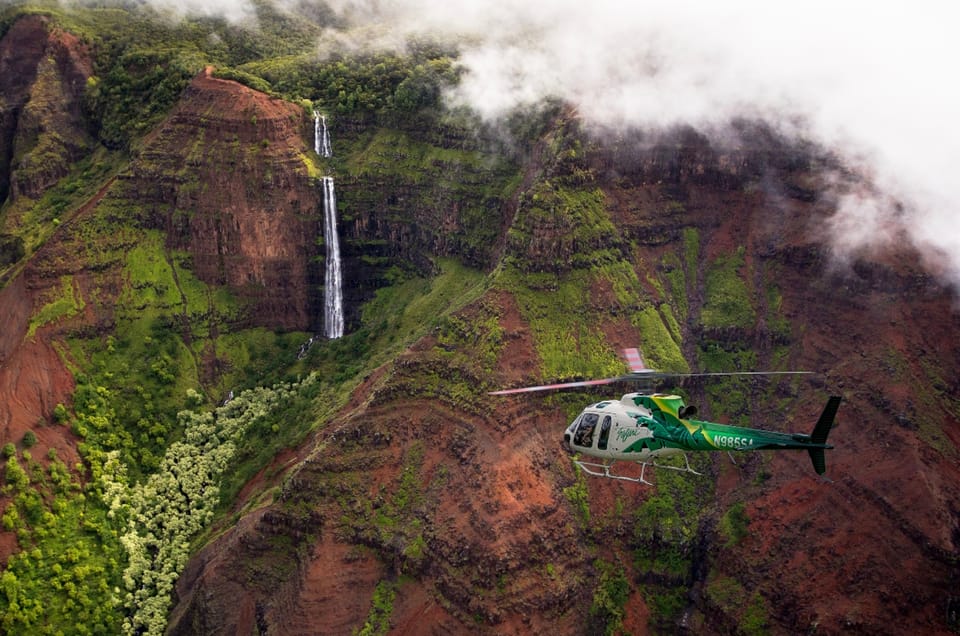 Tour Highlights
:
---
Duration: 1.5 hours
Departure: 3225 Akahi St, Lihue
Departure Time: 8:00 AM, 9:30 AM, 2:00 PM, 3:30 PM
Includes: 

Helicopter tour, p

ilot, land at the movie-famous Jurassic Park Falls

Have you ever wondered where so many movies film these insanely beautiful scenes? The answer for many of those (most notably, Jurassic Park) Blockbuster films is Kauai!
With the Kauai: Waimea Canyon, Jurassic Falls, & More Helicopter Tour you'll be able to see and learn firsthand about how they chose the locations, behind-the-scenes anecdotes, and more.
This 1.5-hour tour will take you all over the island to enjoy that unmatched beauty very few are able to witness. You'll see why so many Hollywood directors have tried to capture or even replicate the area, but that it's never really as incredible as in real life.
Once you arrive on site, you'll meet with your pilot who will be there to make sure everyone is safe and has on proper equipment. You'll start with one of the most famous attractions of the bunch: the Manawaiopuna Falls, colloquially known as "Jurassic Park Falls".
This is due to its feature in the hit movie, as you may recall. Next, check out Olokele Canyon known for its endangered plants, Waimea Canyon with its jagged cliffs, and the Na Pali Coast with its lush green scenery covered by a light fog.
The bird's eye views of these rich jungles, green contrasting with the red canyons, intensely blue seas, and more is out of this world. It really is hard to believe that what you're witnessing is real life. After all, 80% of what you're witnessing isn't even accessible by car!
If it does sound interesting to you, we recommend booking soon as these tours sell out for months in advance!
100% refund for cancellations within 24 hours of tour experience
---
Tour Highlights
:
---
Duration: 45 minutes
Departure: 3651 Ahukini Rd, Lihue
Departure Time: Between 8:00 AM – 4:00 PM
Includes: 

Helicopter tour, p

ilot
Are you searching for an unforgettable experience to share with your loved ones? Perhaps you'd like to really get out into the Hawaiian wilderness where there's not a person to speak of aside from others in your party?
If that sounds like a good time to you, check out the Amazing Air Kauai Helicopter Tour that will take you on the ride of your life!
If you've never been on a helicopter before, we can tell you that it's a load of fun! However, you don't have to be an adrenaline junkie to enjoy this excursion. Photographers and movie directors are notorious for trying to capture Hawaii's beauty with these arial perspectives.
It's difficult to really appreciate Hawaii's diverse landscapes in under an hour without the help of a helicopter. You'll be in the hands of an expert pilot who knows how to navigate with precision and keep everyone safe.
As you cruise along the Garden Isle, they'll tell you all about the different locations as well as interesting stories and anecdotes.
Feel free to take photos and videos as you pass over the Waimea Canyon State Park, Na Pali Coast State Park, and Jurassic Park Falls.
Waimea Canyon is known for its dry and jagged landscape which contrasts quite dramatically against the surrounding green landscape the state is more recognized for.
Seeing the bright blue ocean, streams, and waterfalls jetting off of steep cliffs is a sight for sore eyes, too! Overall, this is an experience that can't be missed! From the scenery, to the smooth ride, to the staff – everything is impeccable.
100% refund for cancellations within 24 hours of tour experience
---
Tour Highlights
:
---
Duration: 50 minutes
Departure: Lihue Airport, 3730 Ahukini Rd #8, Lihue
Departure Time: Between 8:30 AM – 3:30 PM
Includes: Bose Aviation-grade, electronic noise-cancelling headsets, use of microphones with 2-way communication with pilot, State of Hawaii Certified Tour Guides
While it's important everywhere, Hawaii definitely seems to be more aware of humans' effects on nature. This means that a lot of their tours have become more eco-friendly to keep nature and animals healthy and unharmed.
The Kauai ECO Adventure Helicopter Tour is one that falls into that category, making it that much more pleasant! This 50-minute adventure is super easy to fit into a busy schedule, as there are so many start times available throughout the day.
If you're looking for a high-quality, professional-grade experience this one is one of the top-rated. Every pilot/guide is certified by the state of Hawaii, and their professionalism is apparent in every aspect.
You'll be able to use Bose aviation-grade, noise-cancelling headsets so you can perfectly hear your pilot's captivating commentary on every location you pass by. They also have microphones with 2-way communication enabled so you can speak to your pilot and ask them questions, too.
They always do their best to entertain and accommodate, and that was half of why we were so impressed by this tour.
Seeing Hawaii in any capacity is always a pleasure, but seeing it from up above is really taking things to new heights. The Manawaiopuna Falls, for example, is really only accessible by helicopter. You can see how it's perfectly wedged between the deep green Hanapepe Valley and stands hundreds of feet tall!
The Na Pali Coast is just magical, with 3,000-foot sea cliffs which tower high above the magnificent, turquoise Hanalei Bay. Waimea Canyon is known as the "Grand Canyon of the Pacific" but also boasts dozens of stunning waterfalls.
If the weather allows for it, you'll be able to see the dormant shield volcano of Mt. Wai'ale'ale which is the second wettest place on earth!
100% refund for cancellations within 24 hours of tour experience
---
Your Guide to Vacationing in Kauai
When planning any vacation, it is important to know the details about where you are going so that you are well-prepared. Figuring things out last minute, or when you actually arrive, can mean disaster for your trip and that's the last thing you need. Here is some valuable information about Kauai that may make planning your vacation easier.
Getting Around in Kauai
If you plan on seeing more of the island than just the immediate area around the resort you are staying at and a few select tours or attractions, you may want to plan on renting a vehicle. However, if your hotel or resort is centrally located around an area with a lot of the attractions you wish to visit, you will probably want to save the money on the rental car and just use a taxi or even rent a scooter or other cheaper methods of travel.

Staying Safe in Kauai
Kauai has relatively low crime rates and is generally considered a safe place to travel. However, as with any tourist destination, you always want to take precautions when traveling to protect yourself. It's important not to show off flashy jewelry or expensive cameras. Always have your identification on you in case you are injured or sick and need to get medical help. And always keep your wits about you – don't drink too much so you can keep your bearings at all times.
Because Kauai is an island, there are a lot of beaches to swim and many Na Pali boat tours. Don't swim on secluded beaches unless you are familiar with the tides. When swimming at popular beaches, always be aware of lifeguards and obey their rules and instructions. When on Kauai snorkel tours, your captain and crew will brief you with safety instructions and it is important to follow these at all times.

Traveling in the time of Covid
Like many other destinations worldwide, tours and visitor attractions in Kauai have adopted special procedures.
Wearing a mask in mandatory in many locations. You will be expected to supply your own mask and wear it when you enter public buildings.
Keep your distance from other visitors who are not in your family group or bubble. You will be expected to keep your distance inside minibuses and other vehicles and when seated in restaurants.
At the time of writing, the State of Hawaii welcomes visitors but requires pre-travel testing for Covid-19. You can obtain the most up-to-date information directly from the State of Hawaii Portal.
Eco-Tourism and Sustainability in Kauai
The Hawaiian Archipelago offers many areas of outstanding natural beauty and protected wildlife areas you can explore. In order to maintain this wonderful place for future generations, many of the local tour companies operate eco-friendly tours.
When considering the tours we review on the World Travel Guides website, note that there are often eco-friendly options that empower you to become a more sustainable traveler. This is especially true around the islands of Hawaii. Take care of our world and it will take care of our children.
Communicating in Kauai
English is the official language of Hawaii. However, Hawaii is home to many cultures and you will probably run into both locals and tourists that speak many other languages. Pidgin English is the local language of Kauai. You can also hear Chinese, Filipino, Japanese, and Portuguese. Native Hawaiians appreciate Hawaiian words and locations being pronounced correctly so if you don't know how to say something, it is best to ask. A local guide can help you as well.

What to Pack When Vacationing in Kauai
The atmosphere is very casual in Kauai. You can wear shorts even when dining at a restaurant but if you are wearing a swimsuit, be sure to wear a coverup or shirt over it. Many people wear slippers even to dine out at a restaurant as it is part of the customary "dress code" of the island; however, some places may require close toed shoes. If you are coming from one of the many Kauai snorkel tours, you will want to make sure you are covered up appropriately with an Aloha shirt or cover up as well as dry shorts and slippers or shoes.

Interesting Facts About Kauai
The highest point on the Kauai island is Kawaikini Peak and the whole island is only 552 square miles. This makes it a relatively small island. Its state bird is the Nene and the "island color" is purple. The state flower that represents Kauai is the Mokihana which can be found abundantly in the tropical forests that cover most of the island.

Get Ready to Have Fun in Kauai!
Kauai is one of those places that must be seen and experienced to really appreciate. Its beauty is unique and cannot be surpassed except by other Hawaii locations which offer similar beauty but always different. You cannot see the stunning cliffs or unique tropical forests unique to this island anywhere else.
So, pack your bags and get ready to enjoy a whole new world at your resort, on beautiful beaches, and of course, on your Kauai snorkel tours!
Kauai Things To Do
Kauai is an island paradise with many things to do. We will cover a few of them here:
Kayaking: The Wailua River is a beautiful and easy kayak paddle. There are quite a few guided kayak tours available that combine a hike to the famous "Sacred Falls"
Helicopter Ride: A great way to take in the Garden Island is from the air with a helicopter tour. You will get to see many areas of the island that you can't see any other way because they are off limits.
Luau: The traditional Polynesian luau is a great way to not only have a great meal with entertainment but also learn about the Hawaiian culture.
Zipline: Going ziplining through the treetop is not only a great adrenaline rush but an awesome way to see the flora and wildlife in the treetops that you would never get to see!
The Kauai Island Highlights Helicopter Tour is our Editors Choice for the best helicopter tour in Kauai