If you are on vacation in Miami, a boat tour is the best way to experience the city. The view of the city's skyscape from the ocean is breathtaking, and a Miami boat trip is the only way to explore many of the barrier islands.
Some visitors to Miami want to see the sights. Some anglers are enthusiastic about catching unique fish in its fertile waters. And some thrill-seekers want to experience the power of a jet boat. Whatever your interests, you can find a Miami boat tour or a Miami fishing tour that's perfect for you.
We have researched the top-rated fishing excursions and boat trips from Miami. Our findings are presented in the reviews below.
Best Miami Boat Tours
| | Miami: 45-Minute Sightseeing Speedboat Tour | Miami: Adrenaline Junkie Jet Boat Ride | Miami: Peacock Bass Fishing Trip |
| --- | --- | --- | --- |
| | | | |
| | | | |
| Departure Point: | Bayside Marketplace in Downtown Miami | Sea Isle Marina Office, Pier 3, N Bayshore Dr, Miami | 8888 SW. 136th Street, Miami |
| Departure Time: | 11:00 AM – 7:00 PM on the hour | 11:00 AM, 1:15 PM, 3:00 PM, 4:30 PM, 5:15 PM | 7:00 AM, 2:00 PM |
| Duration: | 45 minutes | 30 minutes | 4 or 8 hours |
| Includes: | Speedboat tour, views of South Beach and the city from the ocean | Guided jet boat tour, experience high-octane jet boat tricks, views of Hibiscus and Star Island from the ocean | Boat charter, life vest & safety equipment, fishing gear, lures, "no fish no pay" experience, and cold bottled water |
| | | | |
---
Quick Answer: The 5 Best-Rated Fishing & Boat Tours From Miami
---
Miami Boat Tour Reviews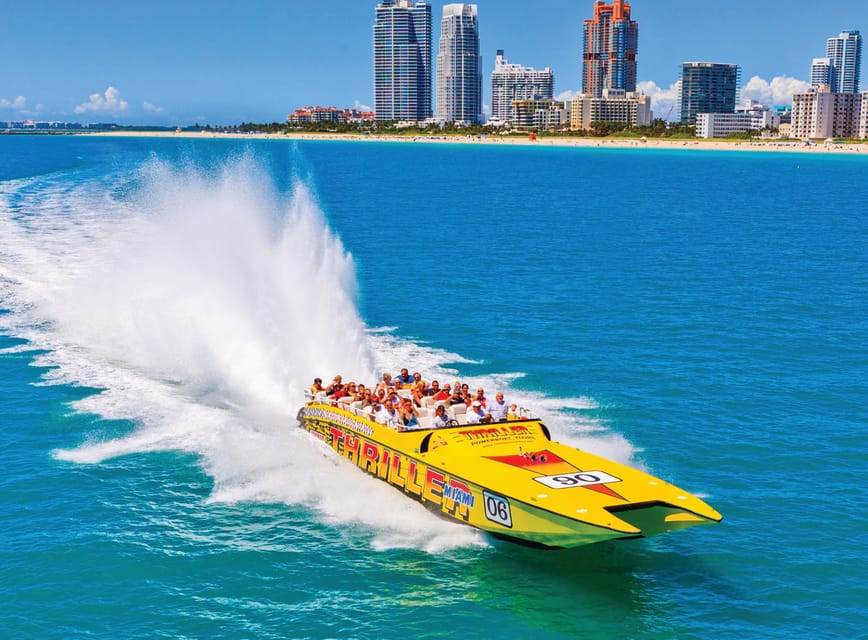 Tour Highlights at a Glance
:
---
Departure Point: Bayside Marketplace in Downtown Miami
Departure Time: 11:00 AM – 7:00 PM on the hour
Duration: 45 minutes
Includes: Speedboat tour, views of South Beach and the city from the ocean
This is the best Miami boat trip for fun out on the water. You only have to glance at the many positive reviews to know this Miami excursion will provide you with top-quality entertainment and a memorable ride.
The safe powered catamaran provides you with a unique experience of speeding through the ocean waves off the Atlantic coastline with musical accompaniment and an entertaining crew. What's more, this luxury catamaran is clean and comfortable, providing you with the best possible Miami boat tour experience.
Despite the speed, you won't miss the main sights of the city's skyline. Relax into the plush seating as you pass by celebrities' mansions on Miami Beach, Fisher Island, and Star Island. Enjoy fantastic views of South Beach's Art Deco district from the ocean.
You can easily fit this Miami speedboat excursion around your vacation. This fast-paced adventure departs from Bayside Marketplace on the hour during weekdays and every thirty minutes on holidays and weekends. You can even take a boat tour on Christmas Day!
For tour prices, transportation and availability:
---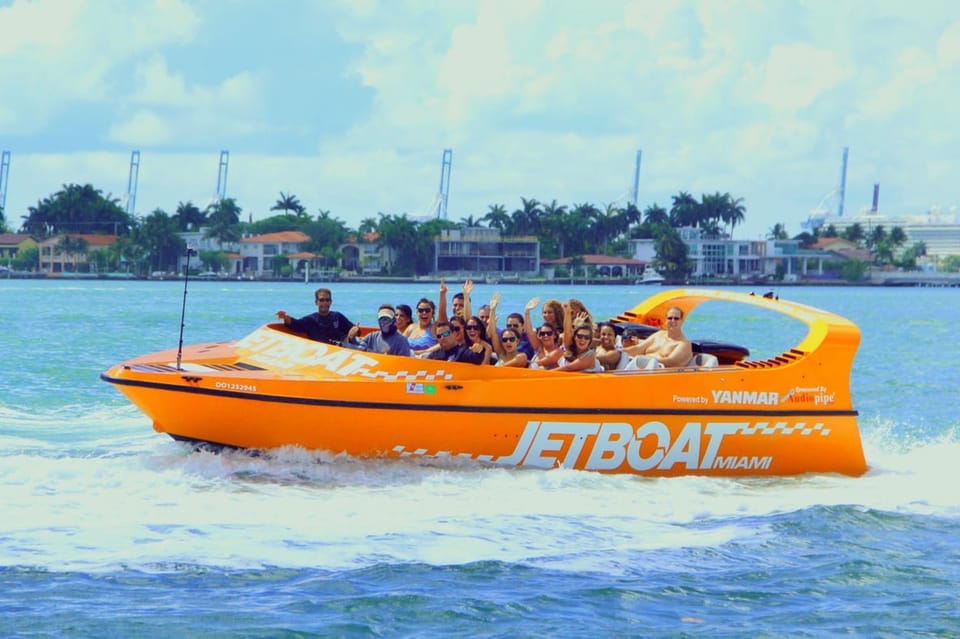 Tour Highlights at a Glance
:
---
Departure Point: Sea Isle Marina Office, Pier 3, N Bayshore Dr, Miami
Departure Time: 11:00 AM, 1:15 PM, 3:00 PM, 4:30 PM, 5:15 PM
Duration: 30 minutes
Includes: Guided jet boat tour, experience high-octane jet boat tricks, views of Hibiscus and Star Island from the ocean
This is the best Miami boat trip for adrenaline junkies. Not only will your jet boat plow through the waves at incredible speed, but your Miami jet boat experience includes high-speed tricks. Don't eat immediately before you board because you can expect thrilling 180° spins and 360° twists.
As well as the exciting high-speed tricks, this Miami boat excursion provides you with great views of Miami from the water. Admire the homes of the rich and famous as you speed past Hibiscus Island, Star Island, and Memorial Island. Your knowledgeable guides will point out all the most important landmarks and fill you in on the local celebrity gossip.
If you want to experience more exciting tricks, be sure to let your captain know. There are two boats to choose from that offer a slightly different experience during the drifts, spins, and twists. This is an unforgettable experience.
For tour prices, transportation and availability:
---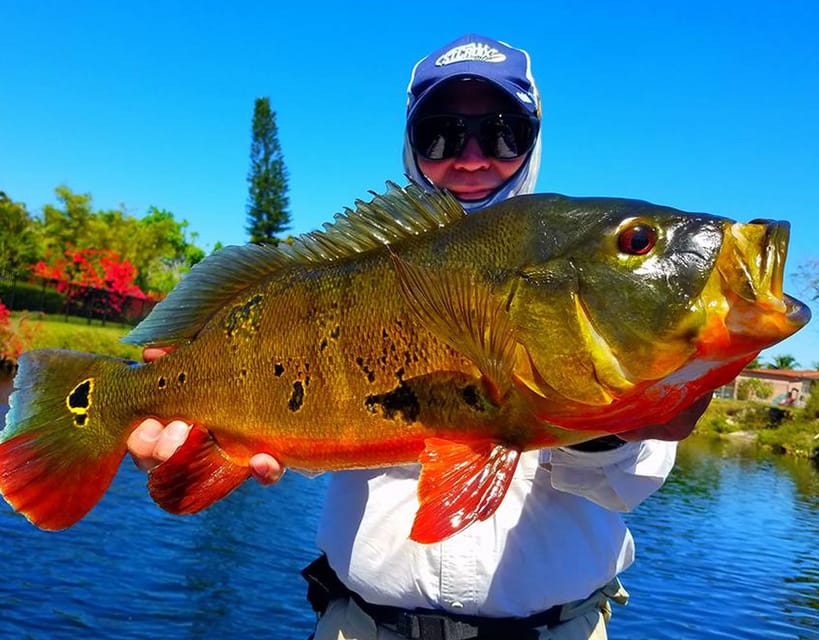 Tour Highlights at a Glance
:
---
Departure Point: 8888 SW. 136th Street, Miami
Departure Time: 7:00 AM, 2:00 PM
Duration: 4 or 8 hours
Includes: Boat charter, life vest & safety equipment, fishing gear, lures, "no fish no pay" experience, and cold bottled water
This is a perfect Miami fishing trip for beginners and families with children. You won't get seasick in the calm waters of Miami's canals. The experienced guides are happy to help, and all the fishing gear you need is provided.
The man-made urban lakes and canals near Miami Airport feature abundant stocks of largemouth and butterfly peacock bass. The tour operators are so confident you'll catch fish, you won't have to pay if you don't.
More experienced anglers will also have fun on this relaxing Miami angling trip. Cold bottled water is provided, but you're also welcome to bring your own beer (in cans) and store it in their cooler. Butterfly peacock bass are in season year-round, so you can enjoy this Miami fishing excursion any time of the year.
For tour prices, transportation and availability:
---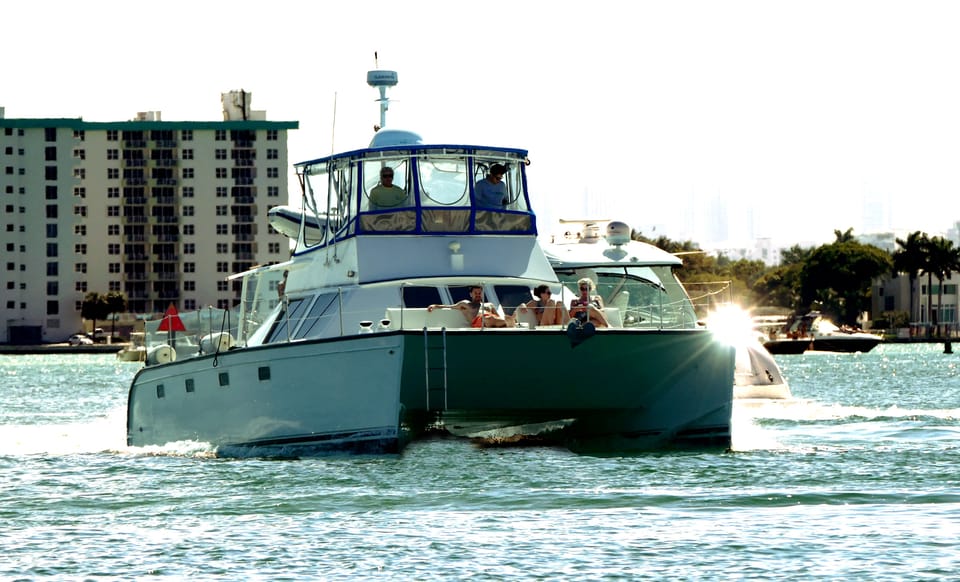 Tour Highlights at a Glance
:
---
Departure Point: 10800 Collins Avenue, Dock A, Miami Beach
Departure Time: 10:00 AM
Duration: 4 hours
Includes: boat charter, experienced crew, lunch, chips & fruits, soft drinks, water toys, and snorkel gear
This is the best Miami boat charter if you want to organize a party. This is a perfect boat charter for a family or close group of friends who want to live like millionaires in Miami for one memorable day.
This private charter will take you and your friends to a sandbar out in the Atlantic Ocean within sight of the iconic Miami skyscape. The shallow water provides a perfect environment for safe swimming and snorkeling.
Food and soft drinks are provided for your party. If you want something a little stronger, you're also allowed to bring your own beverages. The sandbar is shallow enough for you to enjoy a fun game of water volleyball, or you can stay aboard the luxury catamaran and soak in the sun.
Water sport lovers can make use of the paddleboards and kayaks provided. Explore the sandbar or wander off a short distance. However, if you prefer to stay in the shade and relax, there's a cool shaded area on the catamaran.
This is an excellent family boat excursion from Miami and will be the highlight of any Florida vacation. What better way to bond than on a boat?
For tour prices, transportation and availability:
---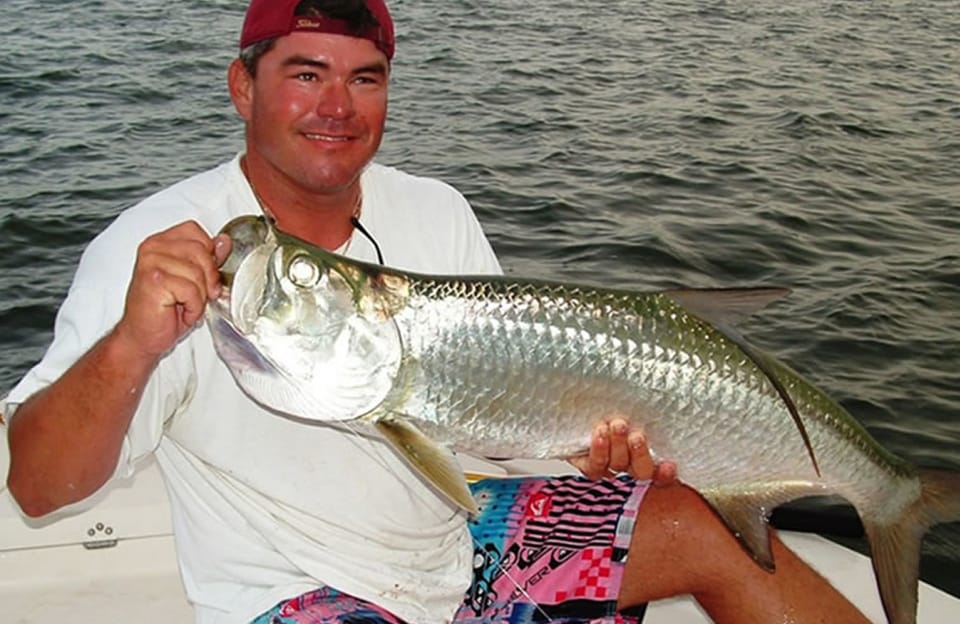 Tour Highlights at a Glance
:
---
Departure Point: 1275 NE 79th Street, Miami
Departure Time: 7:00 AM, 2:00 PM
Duration: 4 or 8 hours
Includes: Boat charter, life vest & safety equipment, fishing gear, lures, fishing licenses, and cold bottled water
This is the best Miami fishing trip for exploring the inshore inter-coastal and backwater canals. These waters are teeming with abundant stocks of jack crevalle, ladyfish, mackerel, sea trout, snapper, snook, and tarpon.
Your experienced captain knows the best fishing spots. He can also coach you in the best casting techniques and will prepare and clean your catch.
The backwaters of Key Biscayne are calm and steady, so you won't get seasick. From your chartered fishing boats, you will enjoy breathtaking views of the Miami skyscape from the ocean.
Anglers of any experience level will enjoy this Miami fishing adventure. You may encounter unique fish near the shore, such as shallow-water sharks and bonefish. When they are in season, your knowledgeable captain can guide you to their locations and show you show to catch them.
No vacation in Florida is complete without a fishing expedition in Miami. Be prepared for the angling trip of a lifetime in Biscayne Bay.
For tour prices, transportation and availability:
---
Miami, Florida Travel Guide
Miami is a city that thrives of nightlife but that doesn't mean there aren't plenty of things to do that are family friendly. In fact, a vacation in Miami might even be educational for all travelers, in a fun and not so obvious way.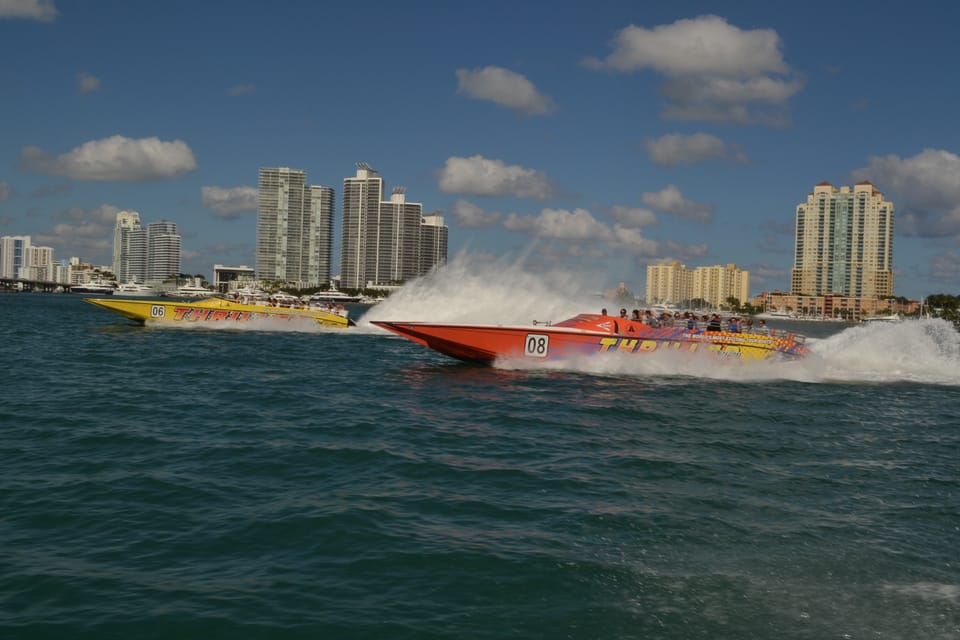 Whether you plan on spending your time in Miami at the beaches, partying at the Clevelander or at South Beach, or you plan on taking in the cultural and historical aspects of the city, Miami is a place everyone can enjoy.
Key West is a popular travel destination in the US and for many good reasons.
Not only can you visit some great places, like the seaport, one of the many museums, and even the famous Sloppy-Joe's Bar, you can also bask in beautiful weather and enjoy watersports in the crystal-clear waters.
Airports & Entry
If you are flying into Miami, you'll likely land at Miami International Airport, dubbed MIA. This airport is very busy every day of the week and 24 hours a day. In fact, over 1,000 flights depart or return here each day. This means that things can get hectic, but there is usually staff around that can help point you in the right direction.
When leaving the airport, you have several options. If your hotel offers a free airport shuttle, this is going to be your best bet for getting to your accommodations quickly and affordably. If they don't and you don't mine ridesharing, there are several shuttle services leaving the airport often. You can choose from SAS Transport Service or Go Airport Shuttle.
If you are flying into Miami from another country, you will need your passport as well as authorization. If you will be staying less than 90 days, which most visiting travelers do, you will need to apply for an ESTA, Electronic System for Travel Authorization. Essentially, this is waiving your visa that you would need if you intend to stay for more than 3 months.
Traveling in the time of Covid
Like many other destinations worldwide, some tours and visitor attractions in Miami may have adopted special procedures during the pandemic.
Wearing a mask may be mandatory in some locations, especially in enclosed public areas such as travel hubs and shopping malls. You may be expected to supply your own mask and wear it when you enter buildings.
It is in your own interest to keep your distance from other visitors who are not in your family group or bubble. You may be expected to keep your distance inside minibuses and other vehicles and when seated in restaurants.
At the time of writing, the State of Florida welcomes visitors but requires pre-travel testing for Covid-19 for visitors arriving from overseas not more than 3 days before traveling. Visitors must also sign an attestation that their documentation is genuine. Visitors will be required to hand over "covid-free" certification at the airport You can obtain the most up-to-date information directly from the Florida Health website.
Boat Trips in Miami
Miami benefits from beautiful beaches, iconic skyscapes, and its barrier islands. Many celebrities and the super rich have made their homes on these islands. A boat tour here is like taking a bus tour around Beverly Hills. Listen to your experienced and knowledgeable guides to hear the latest celebrity gossip and discover how the wealthy folks in Miami really live.
You may be surprised to learn that many of Miami's islands are man-made. For example, the Venetian Islands in Biscayne Bay were built in the 1920s in response to the Florida land boom. Originally, many more islands were planned. However, the depression brought an end to this scheme.
The warm waters of the Atlantic Ocean make a perfect playground for swimming, snorkeling, kayaking, and paddle-boarding. They are also filled with abundant fish stocks, making Miami the premiere destination for keen anglers who want to catch unique fish. No trip to Miami is complete without a boat trip out into the ocean.
Planning Tips
It's important to keep several things in mind when planning your vacation to Miami. If you have other tips for those who will be visiting the Magic City, or if you have questions about your trip that aren't answered in this guide, we would love to hear from you in the comments!
Tip #1: Miami vs Miami Beach
The City of Miami and Miami Beach are two different places. While you may want to spend time in both places during your stay, you should choose accommodations in the place where you intend to spend the most time. The easiest way to get from one to the other and back again is with either Uber or Lyft. It's also the most affordable.
Tip #2: Choose Local & Day Trip Tours
Just as with any city that attracts many travelers each year, there are plenty of tours available. You might want to take a guided tour of several different museums, or of the art district. You can even take a day trip tour away from the hustle and bustle of Miami and head to the Keys or even to several botanical gardens in the area.
Tip #3: Spend at Least One Day at the Beach
Even if you aren't going to Miami to sit on the beach the entire time, you should spend at least one day there. There are many beaches up and down the coastal areas of Miami and Miami Beach so you're sure to find one that has the vibe you're looking for. Don't really want to sip cocktails all day under an umbrella? Try a more family-friendly beach instead.
Tip #4: Get Wrapped Up in the Cuban Influence
The Latin American influence is everywhere in Miami, from food and drink to music and dancing. Most likely, you won't get the same authentic Cuban experience anywhere else outside of Cuba so soak in the culture.
Try a cafecito, a strong and delicious Cuban coffee. Be mindful of the caffeine kick, however. Try various Cuban meals. And even if you only go just to listen and watch, step into a Cuban bar or nightclub one night just to get a feel for the flavor.
Tip #5: Safety First
Leave any expensive items you won't need while you're out and about back in your hotel room. If you won't need them on your trip at all, you might want to think about leaving them at home. Try not to flaunt flashy jewelry and or an expensive camera. Not only do these things indicate you're not local, but they can also make you a target for theft.
Because you most likely won't be familiar with the areas of Miami you will be visiting, grabbing an Uber or Lyft to get to where you are going is probably the best idea. This way you get where you need to go without getting lost.
You may also want to ensure your health insurance will cover you while you are in Miami. If it won't, supplemental health insurance plans for travelers is available.
Restaurants & Eating Out
There's no denying the Latin American influence in Miami. Even if you only pick up a small lunch from a food truck to try a bit of Cuban flare, you should at least try something with the Cuban kick. In Miami, you will find everything from modern restaurants ran by celebrity chefs to food trucks that offer anything you can imagine.
Some of those celebrity chefs at work in Miami are Tom Colicchio at the Beachcraft restaurant and Paul Qui at Pao by Paul Qui. Want a modern throwback? The Wynwood Diner is a modern take on the classic roadside diner. Then you also have gastro-pubs such as Finka Table & Tap.
Nightlife & Entertainment
While there are plenty of nightclubs up and down the beach as well as in several areas of the city, you'll also find plenty of dive bars with a laid-back vibe as well as some craft brewery options that have finally made their way to Miami.
Craft beer is a newcomer to the nighttime scene in Miami. As a "cocktail town," Miami is the perfect place to find the classic cocktails alongside new, modern cocktail inventions. No matter what style of late-night entertainment you enjoy, you'll find it in Miami.
One recommendation: The Ball & Chain. Once a favorite watering hole for the likes of Billie Holiday, Frank Sinatra, and others, this bar and lounge will take you back through history just by walking in the door.
Getting Around
Driving in Miami may be more stressful than helpful. Many locals get frustrated with tourist traffic and many of those who decided to rent a Ferrari or Lambo usually get frustrated with the locals who don't drive as fast as they want to. This means that renting a car isn't your best option.
You also won't want to depend on public transportation. It's not very reliable and oftentimes won't get you where you need to go.
The two best options are either a traditional taxi or the modern equivalents, Uber and Lyft. A taxi will most likely cost you much more than an Uber or Lyft ride, and Uber or Lyft will come to pick you up. This is much easier than trying to hail for a taxi.
Accommodations
You'll find a wide range of accommodations in both Miami and Miami Beach. Luxurious high-rises are just as common as smaller, boutique hotels. If your trip is centered around the beach, you may even want to rent a bungalow.
When staying in Miami for a longer period of time, perhaps a week or more, then home sharing services such as Airbnb are a great option. You get to live like a local and save a few dollars as well, being able to cook a few meals at "home."
The hotel where a party is always happening is The Clevelander. If you've come to Miami to party, that's where you'll want to stay. Then there are the classics like the Fontainebleau Hotel with its unique architecture. Frank Sinatra was a regular guest there and even today you may bump into a few familiar faces.
Weather
The perfect time to visit Miami is between March and May. If you're still dealing with the cold and it's been a long winter, head to Miami for a few days to warm your toes in the sand. The summer months can get pretty hot and humid, but some say that just makes the party even better.
Starting in the fall, you'll encounter hurricane season so unless you have travel insurance in the event of poor weather, booking your trip to Miami in the Fall may not be best.
However, it doesn't matter when you visit, there will always be something going on in Miami. Miami Fashion Week and the South Beach Wine & Food Festival are popular, annual events. If you'd like to visit during the time of a specific event, there's really not a horrible time to visit.
Attractions
Snorkeling, scuba diving, and other watersports are a popular activity for families, couples, and groups alike. The waters off the beaches of Miami and Miami Beach are known for being clear and cool, perfect for enjoying the sight of some beautiful marine wildlife.
The art scene is huge in Miami. There are many galleries, and art museums as well, around the city. However, most are located in the art district. There are tours that can take you to several of these locations. Sometimes you can even get discounted entry into several locations all for one, bundled price.