The Florida Everglades are world famous for their beauty and the abundance of rare animal and plant species. If you want to see alligators in their natural habitat, the Everglades are the best place to go, and much poetry has been written about the eerie beauty of the cypress knees.
Many Hollywood action movies include scenes set in the Everglades, with heroes zipping through the hidden, narrow channels in speedy airboats or fighting off the alligators with their bare hands. Did you know you can experience these adventures yourself?
There are many Florida Everglades airboat tours available that you can take to get up-close to nature and experience the adrenaline rush of an airboat ride through the swamps. However, not all these tours are worth your time and money.
We have researched the top-rated Everglades airboat adventures, so you don't have to. We review the top 5 airboat excursions to the Everglades below.
And you also might like to check out our Orlando, Florida Travel Guide.
Best Everglades Tours
| | Florida Everglades Airboat Ride & Gatorland Adventure | Kissimmee: 1-Hour Airboat Everglades Adventure Tour | Orlando: 90-Minute Airboat Everglades Adventure Tour |
| --- | --- | --- | --- |
| | | | |
| | | | |
| Departure Point: | Hotel pick-up | 2830 Neptune Road, Kissimmee | 2830 Neptune Road, Kissimmee |
| Departure Time: | 7:25 AM - 8:15 AM, depending on hotel | 11:00 AM, 1:00 PM, 3:00 PM | 11:00 AM, 1:00 PM, 3:00 PM |
| Duration: | 6 hours | 1 hour | 1.5 hours |
| Includes: | Hotel transfer, airboat tour, alligator "wrestling" show, petting zoo, Flamingo Lagoon, and admission into Gatorland | Airboat tour, free parking, Everglades-themed gift shop, knowledgeable local guide, life jacket, ear protection, rain gear, and binimy top sun protection | Airboat tour, free parking, life jacket, ear protection, rain gear, binimy top sun protection, and gift shop |
| | | | |
---
Quick Answer: The 5 Best Rated Everglades Tours
---
Everglades Tours Reviewed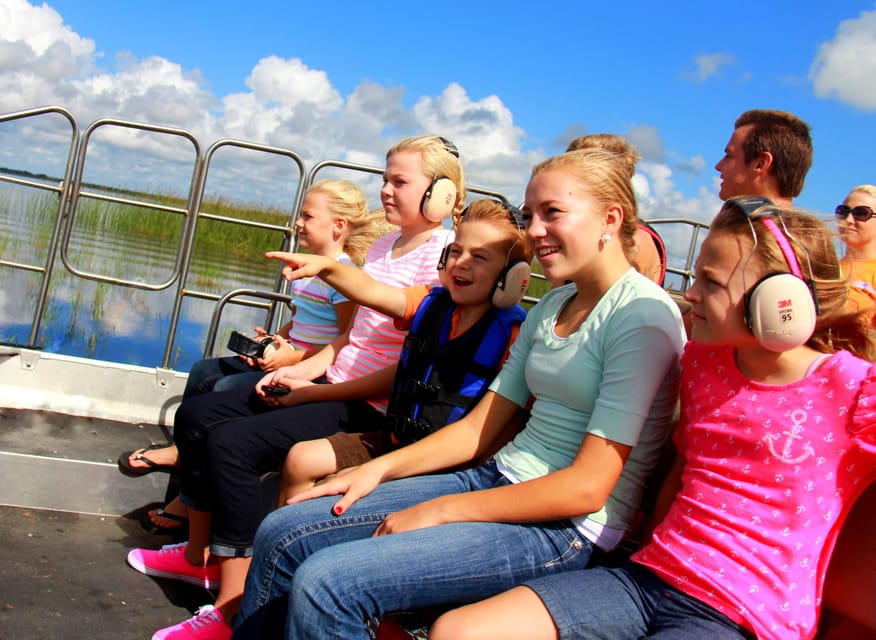 Tour Highlights at a Glance
:
---
Departure Point: Hotel pick-up
Departure Time: 7:25 AM – 8:15 AM, depending on hotel
Duration: 6 hours
Includes: Hotel transfer, airboat tour, alligator "wrestling" show, petting zoo, Flamingo Lagoon, and admission into Gatorland
This is unarguably the best Florida Everglades airboat tour you can choose. It provides you with more access than any other excursion to all the wonderful natural sites and rare animal species there are to see in the US's largest sub-tropical wetland area.
This tour includes access to Gatorland, a 110-acres wildlife preserve. In this amazing park, you are guaranteed to see all the rare animal species found within the Everglades.
Gatorland is dedicated to Florida's fascinating wildlife. You'll find turtles, snakes, crocodiles, ibis, egrets, heron, and — of course — alligators! And imagine the beautiful views you'll enjoy at Flamingo Lagoon.
You also have the opportunity to watch trained professional wildlife handlers "wrestle" with 8-foot alligators in a family-friendly, action-packed 'gator show. And for the youngest members of your family group, there's a petting zoo to introduce your kids to some of the cuddliest critters in the Everglades.
While at Gatorland, you can also enjoy an educational nature walk, climb aboard a miniature train for a ride, and purchase 'gator-themed souvenirs. You can also enjoy a great meal in the Gatorland smokehouse.
The highlight of this Florida Everglades tour is the fast-paced airboat trip. You will be zipped out across the swamps to see the most famous plants and animals of the Everglades out in the wild. An Everglades airboat tour is undoubtedly the best way to explore Florida's swamplands.
If you're looking for an all-inclusive Florida Everglades tour, this is your best choice. You'll be picked up from and returned to your hotel, and you're guaranteed to see all the best natural attractions the Everglades have to offer.
100% refund for cancellations within 24 hours of tour experience
---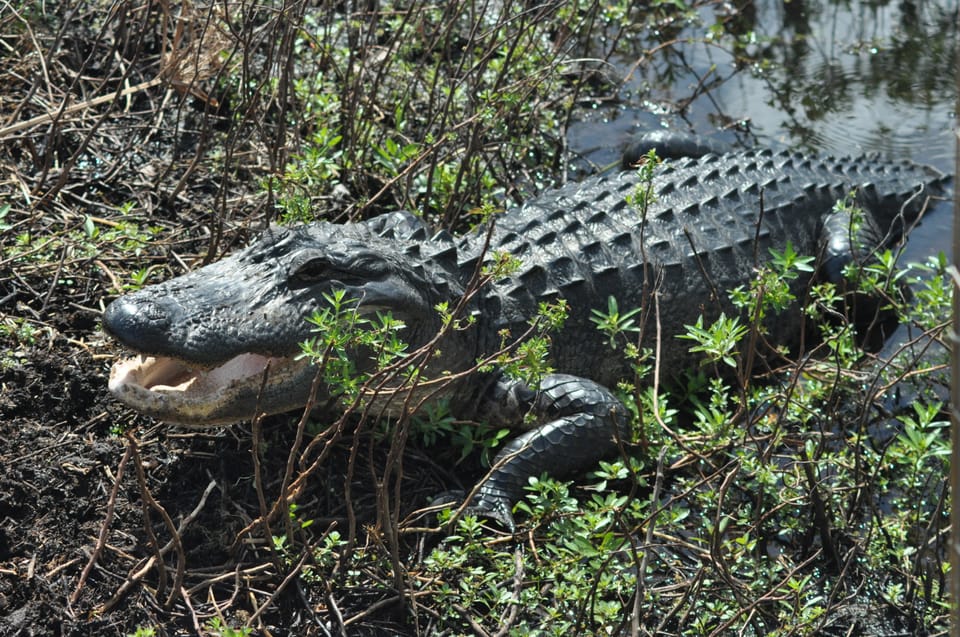 Tour Highlights at a Glance
:
---
Departure Point: 2830 Neptune Road, Kissimmee
Departure Time: 11:00 AM, 1:00 PM, 3:00 PM
Duration: 1 hour
Includes: Airboat tour, free parking, Everglades-themed gift shop, knowledgeable local guide, life jacket, ear protection, rain gear, and binimy top sun protection
This is the best value Everglades airboat adventure from Kissimmee. This is your opportunity to explore the most unspoiled swamp marshes and wet prairies in the US and spot rare critters you won't see anyplace else in the Union.
You've seen airboats featured in countless action-films set in Florida. Now you too can fly through the swamps past ancient cypresses and through thick vegetation on an adrenaline-pumping adventure.
The state-of-the-art airboat provides you with unrivalled access to the fascinating wildlife found only in the Florida Everglades. Your knowledgeable local guide can fill you in not only about the local ecology but also Shingle Creek's interesting history.
Learn about the Seminoles and the early European settlers who lived their lives in and around the swamps. Both depended upon Shingle Creek for its abundant natural resources.
Bird watchers in particular will love this Florida Everglades tour. With rare waterfowl species and American bald eagles, you'd better bring along your birdwatching binoculars and a camera with a telephoto lens for the best shots.
This Everglades airboat trip is one of the most popular Kissimmee tours for a good reason. You won't regret going along to find out why.
100% refund for cancellations within 24 hours of tour experience
---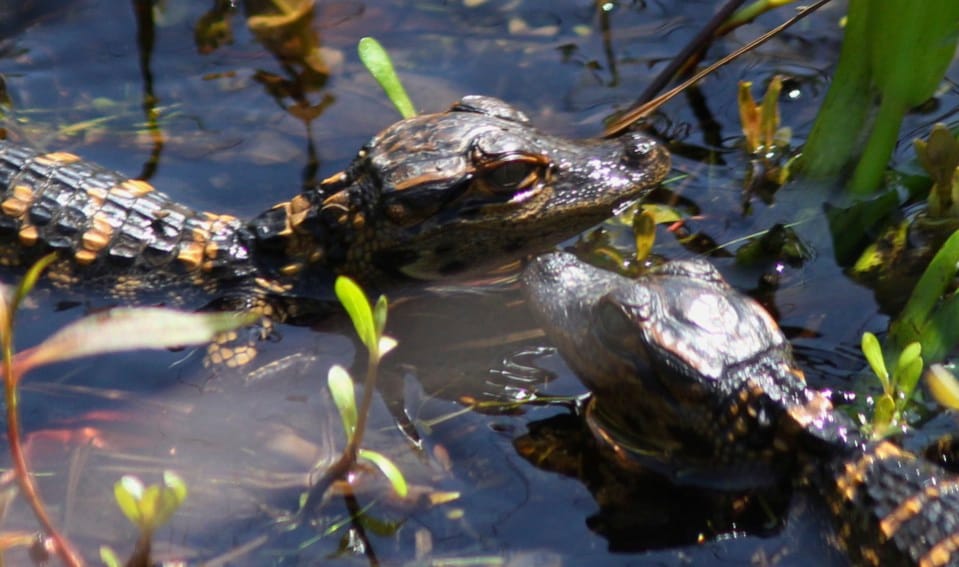 Tour Highlights at a Glance
:
---
Departure Point: 2830 Neptune Road, Kissimmee
Departure Time: 11:00 AM, 1:00 PM, 3:00 PM
Duration: 1.5 hours
Includes: Airboat tour, free parking, life jacket, ear protection, rain gear, binimy top sun protection, and gift shop
This is a fantastic airboat Everglades trip from Kissimmee for anyone interested in exploring Shingle Creek. This fascinating waterway in central Florida forms the northern headwaters of the Everglades watershed.
Your expert tour guide will tell you all about Shingle Creek's history and how important it once was as a source of food and raw materials for early settlers. In fact, the creek's name harks back to days when the cypress trees growing here were cut down and sliced up to make roof shingles.
Today, that can't happen because Shingle Creek is a protected wetlands area within Shingle Creek Regional Park. Because this is where the world's biggest estuary begins, it is a wonderful location for observing the rich biodiversity of the Florida Everglades.
During this Everglades airboat excursion, you may see American bald eagles and alligators alongside many other rare and sometimes endangered species unique to the Everglades. This is a perfect opportunity to try out your wildlife photography skills so you can share your experiences with all your friends and family back home.
The top-of-the-range airboat provides unobstructed views of the surrounding lush scenery. The Florida Everglades boasts the continental US's biggest sub-tropical eco-system, and this Kissimmee Everglades tour is the best way to explore this natural wonder.
100% refund for cancellations within 24 hours of tour experience
---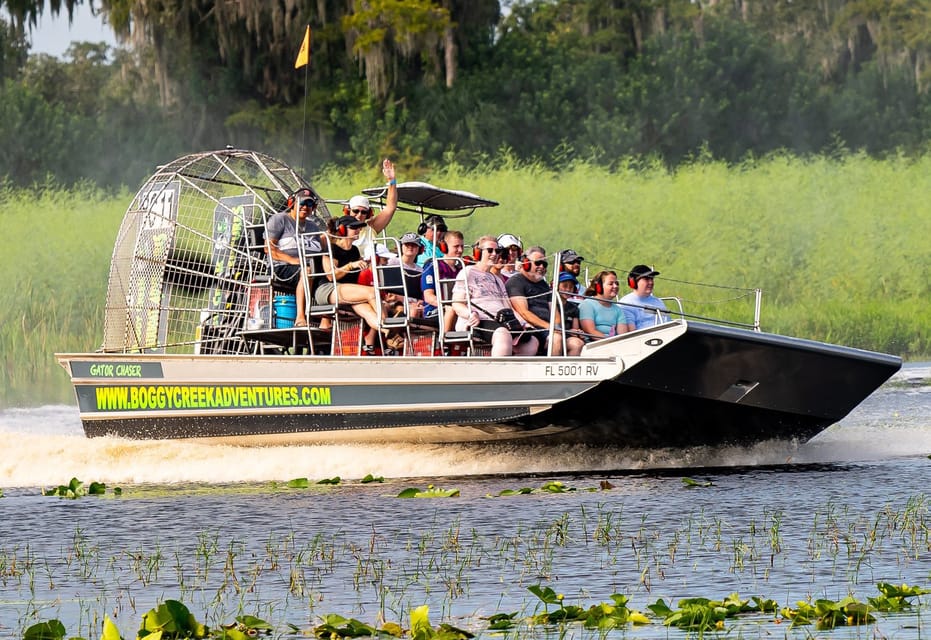 Tour Highlights at a Glance
:
---
Departure Point: 2001 E. Southport Road, Kissimmee
Opening Hours: 9:00 AM – 5:00 PM
Duration: 30-60 minutes
Includes: Scenic airboat tour, professional captain, park admission, floatation vest, and ear protection
This is the best Florida Everglades tour for visitors who want to see the sights normally hidden from tourists. You will be guided by a local expert who knows all the most interesting backwaters.
Expect to pass through hidden and narrow water trails clogged with greenery that look impossible to navigate. Only a native of the Everglades could hope to find their way through the swamps.
The captain will select stops along the way where you'll encounter some of the fascinating wildlife found in the Everglades. Naturally, you'll most want to encounter Florida's State Reptile, the alligator.
You will also encounter other rare and interesting species in this pristine wilderness area teeming with wildlife. Deer, turtles, bald eagles, blue herons, and other waterfowl can be viewed in their natural habitat.
This tour also includes a visit to the Gem Mining Station where you and your family can experience panning for gemstones. All-in-all this is a great value Everglades tour from Kissimmee.
100% refund for cancellations within 24 hours of tour experience
---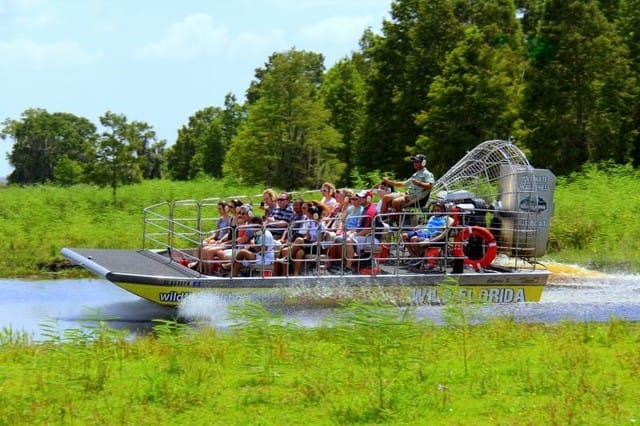 Tour Highlights at a Glance
:
---
Departure Point: Meeting point transfers
Departure Time: 8:30 AM
Duration: 5 hours
Includes: Hotel transfer, airboat tour, and admission into Wild Florida Wildlife Park
This is the best Everglades adventure tour for anyone who dreams of traveling back through time to explore pre-Columbian Florida. During this thrilling Everglades airboat trip, your expert local guide will transport you into a wilderness area untouched by the modern age where you can imagine yourself in the shoes of the earliest settlers to arrive in this region.
Aboard a modern airboat, you'll glide through pristine marshes and swamps where you'll be surrounded by fascinating local wildlife. This is a fantastic opportunity to observe alligators, turtles, otters, golden eagles, and blue herons in their natural habitat.
This Everglades boat trip includes a transfer from Orlando. You'll be glad of that because Wild Florida Wildlife Park is situated in a truly remote location far away from civilization. As well as the thrilling airboat ride through the Everglades, you also get to explore the wildlife park on foot and see many rare and interesting animals. You haven't truly experienced Florida until you've seen all its unique wildlife species.
Nature lovers will love this Everglades airboat adventure because it provides access to the most untouched areas of the Florida Everglades, which is a UNESCO World Heritage Site. Don't forget your camera because you'll need it!
100% refund for cancellations within 24 hours of tour experience
---
Orlando, Florida Travel Guide
The city of Orlando is famous world-wide. Many who have never stepped foot in the US can point to this fascinating city's location on a world map. But Orlando isn't famous because of its history or fine architecture. Instead, it is so well known because of a simple business decision made by the Walt Disney Company in the late 60s to build Walt Disney World in its southern suburbs.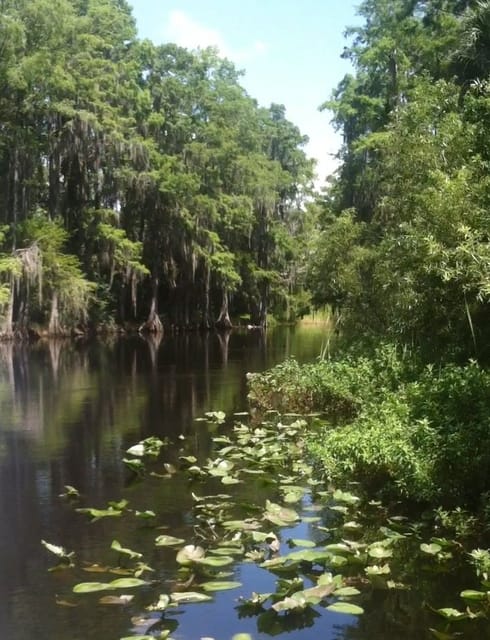 The opening of Walt Disney World in 1971 was followed by the construction of other major theme parks in the area, such as Fun Spot America, Universal Studios Florida, the Holy Land Experience, and Legoland. This makes Orlando the world's capital for theme park fanatics.
But Orlando isn't only about theme parks. It is also home to the internationally renowned Kennedy Space Center and a range of other cultural and educational sites. For example, there is Central Florida Zoo and Botanical Gardens, Gatorland, and Orlando Museum of Art.
Orlando boasts easy access to a broad range of unique natural attractions. For example, it is a great base for exploring the fascinating wilderness areas of the Florida Everglades. You can enjoy a boat safari through this unique environment and admire the waterfowl, reptiles, and amphibians that make it their home.
The city is also surrounded by a near countless number of lakes, many of which are perfect fishing destinations. Florida is the sport-fishing capital of the world, and Central Florida around Orlando boasts the best freshwater bass fishing you can find. Thousands of keen anglers flock to Orlando every year to fish at Clear Lake, Lake Ivanhoe, Sarke Lake, Turkey Lake, Lake Underhill, Lake Tohopekaliga, and other fantastic angling spots.
The Florida Everglades
The Florida Everglades make up the US's 3rd-largest national park in the Lower 48. Only Yellowstone and Death Valley are bigger. The preserved pristine wilderness areas within the park boast a unique subtropical ecology. There are many plants and animals here you won't see anywhere else in the world.
Observing alligators in the wild is on most visitors' bucket lists, but there are rarer animals to watch out for. American bald eagles fly over the Everglades, and around this wilderness area you'll find unique migratory birds, crocodiles, and the endemic Florida panther. That's why the Florida Everglades are a UNESCO World Heritage Site.
Specially licensed guides can transport you deep into the swamps and prairies of the Everglades so you too can experience one of the world's last true wilderness areas. While you can join a Florida Everglades kayaking tour or enjoy a hiking adventure on trails around the creeks, the most exciting way to visit the Everglades is on a thrilling airboat trip.
For anyone who prefers to stay on dry land while they admire nature, there's always Gatorland. This 110-acre wildlife preserve has boardwalks built across a section of marshes so you can explore without setting foot in a boat or getting your feet wet. Gatorland contains all the rare plants and animals the Everglades have to offer, so you won't miss anything. And if you want to watch 'gator "wrestling", this is the place to go.
Traveling in the time of COVID
Like many other destinations worldwide, some tours and visitor attractions in Orlando may have adopted special procedures during the pandemic.
Wearing a mask may be mandatory in some locations, especially in enclosed public areas such as travel hubs and shopping malls. You may be expected to supply your own mask and wear it when you enter buildings.
It is in your own interest to keep your distance from other visitors who are not in your family group or bubble. You may be expected to keep your distance inside minibuses and other vehicles and when seated in restaurants.
At the time of writing, the State of Florida welcomes visitors but requires pre-travel testing for Covid-19 for visitors arriving from overseas not more than 3 days before traveling. Visitors must also sign an attestation that their documentation is genuine. Visitors will be required to hand over "covid-free" certification at the airport You can obtain the most up-to-date information directly from the Florida Health website.
Airports & Entry
The easiest way to travel to Orlando is by air. Orlando International Airport (MCO) is a major travel hub for Central Florida. In 2019, MCO handled over 50 million passengers, though this dropped to 21 million in 2020 due to the pandemic.
Obviously, MCO is extremely busy 24/7. At the time of writing, the new South Terminal Complex is still under construction, which will help to handle the expected surge of visitors after the COVID restrictions are ended. However, even now, MCO has the well-trained staff and facilities to make your arrival and departure as painless as possible.
MCO is packed full of stores and restaurants alongside the other facilities you'd expect in such a busy airport. While many of the stores close by 5 pm and the restaurants by 8 pm, the Main Terminal McDonald's is open from 5:30 am to 10 pm.
An interesting fact is that Orlando is the world's biggest rental car market. You'll find 10 major car rental companies at the airport on the Ground Transportation Level on the A-Side of the Terminal: Alamo, Avis, Budget, Dollar, Enterprise, Hertz, National, Payless, Sixt, and Thrifty. Avis, Budget, and Payless also operate on the B-Side. Given that MCO is only a short 15-minute drive from downtown Orlando and several of the local major attractions, renting a car is an easy option.
Lynx operate an airport bus service from the A-Side of the Main Terminal. Regular Shuttle Bus services operate from both the A-Side and the B-Side. Alternatively, taxis are available on both sides. You should expect taxi fares from MCO of around $45 to downtown Orlando and $65 to Walt Disney World.
If you are taking an international flight into Orlando, you will need your passport as well as authorization and your "covid-free" certification. If you play to stay fewer than 90 days, you will need an ESTA, Electronic System for Travel Authorization. This is a form of visa waiver.
Planning Tips
Many people believe Orlando is the same year-round and an easy place to visit. Given that so many tourist-focused attractions are based around this city, this is partially true. However, there are some important facts you should take into consideration.
Here are a few tips. If you have questions about your visit that aren't covered by this guide or other tips for visitors, leave us a message in the comments.
Tip #1: Go in Spring or the Fall
For fewer crowds and better weather, it is preferable to visit Orlando in the spring or the fall. If you must visit in summer due to your kids' school holidays, go late in August when local children are back in school.
With 75 million visitors a year, there are always queues in Orlando. You should be prepared for this. Major US holidays should be avoided at any cost unless you want to be stuck in the longest queues at the airport and attractions. Especially avoid Spring Break, Thanksgiving, and Christmas — unless you have your heart set on seeing the special holiday season events and decorations.
Tip #2: Be Prepared for the Tropical Weather
When you see Orlando attractions on the TV or in films, the weather is always beautiful. There is a lot of truth to this. However, if you visit during the summer, it is important to prepare for the humidity and draining heat. The temperatures can reach as high as 1000F and the humidity 100%.
Brief but sharp thunderstorms are common, so light plastic ponchos you can don in a hurry are advisable. Ensure you use plenty of sunblock and consider wide-brimmed hats for added protection from the sun.
Tip #3: Enjoy Day Trip Tours but Book Ahead
With more theme parks and tourist attractions than any other city in the world, there are lots of tours available in Orlando. You might want to take a guided tour of the Kennedy Space Center or enjoy a safari in the Florida Everglades. However, with so many tourists pouring into Orlando, you should book ahead to avoid disappointment.
Tip #4: Spend at Least One Day in Nature
If you're on vacation with your family, it's tempting to spend all your time at theme parks. There are so many! However, if you do this, you will miss one of Orlando's greatest benefits.
With the Florida Everglades on its doorstep plus more lakes than any other major destination, Orlando is a wonderful location for nature lovers. Whether you want to go kayaking on a lake, enjoy some quiet time fishing, or see the alligators in the Everglades, there are many ways to enjoy the great outdoors in Orlando.
Tip #5: Allow Plenty of Time at the Theme Parks
When you glance at those colorful park maps online, you might get the impression that you can walk from one ride to the next in a couple of minutes. Don't be fooled! The Walt Disney World Resort, for example, is spread over an area of 47 square miles. It is not always practical to walk from one ride to the next and walking in the Florida sun can be tiring.
Allow plenty of time in your plans for enjoying all the rides and park attractions that you want to experience. And remember your young kids may become tired quicker than you expect in the tropical weather. Also note some rides and attractions are too scary for young children and some unsuitable for pregnant ladies.
Restaurants & Eating Out
As you can easily imagine, the large number of tourists regularly flocking to Orlando has given rise to a vast range of restaurants offering every kind of food you might want. Within the theme parks, there is a wide choice of fast-food outlets. However, these can be overpriced. Outside the parks, you will find many relatively inexpensive eating outlets.
A great place to visit is Restaurant Row on Sand Lake Road. Here you'll find the greatest range of choices in Orlando. Restaurant Row offers you the chance to sample some of this city's finest restaurants and its culinary diversity.
Many seasoned Orlando visitors head for the restaurants for breakfast before hitting the theme parks. There are many "eat all you can" buffet-style restaurants that offer fantastic value for money.
In the afternoon and evening, watch out for Early Bird Specials. Because so many visitors stick to the theme parks until late, the restaurants outside the parks offer incentives to attract early diners.
Early Bird Specials are typically served at a la carte restaurants between 4 pm and 6 pm. Note that doggy bags are a norm in Florida a la carte restaurants, so don't be shy about asking for one if you cannot finish your meal.
Also watch out for meal discount vouchers. You may find these scattered among the tourist leaflets at your hotel or even on display outside the restaurants. With the competition between eateries so intense, discount vouchers are common.
A quick visit to the Tourist Information Center will provide you with information about restaurants offering significant discounts and possibly a physical card that entitles you to discounts at participating restaurants. To encourage repeat visits, some restaurants offer an extra-large discount to returning customers who produce their last bill.
Nightlife & Entertainment
The profusion of theme parks in Orlando has led to an interesting broad range of evening dinner shows. If you ever wanted to attend a medieval banquet in a castle complete with jesters and jugglers, you're in the right place.
Alternatively, eat with pirates or enjoy live wrestling while you eat. Whatever kind of entertainment you enjoy the most, you can probably find a dinner show in Orlando to suit you and your family's taste.
Much like with the restaurants, the large number of visitors has given rise to a wide variety of nightlife in and around the city. You'll find some of American's top nightclubs, live music venues, and bars waiting to welcome you.
Two especially popular night spots are Disney Springs in Walt Disney World and Universal City Walk in the Universal Orlando Resort. These two locations offer a range of shows, bars, and night clubs to suit all tastes.
If you prefer a quiet evening and enjoy sampling unique craft beers, check out Orlando's local brewery scene. There are many craft breweries to choose from, including the Crooked Can Brewing Co., Sea Dog Brewing Co., Ocean Sun Brewing, and Dead Lizard Brewing Co.
Getting Around
Due to the large number of visitors and the way the various theme parks are spread widely across the city, public transport is a viable way of getting around in Orlando. In fact, the LYNX bus is one of the most convenient and cost-effective ways of traveling within the city.
There are 60 LYNX routes that cost $2 per ride running at either 15-minute, 30-minute, or 1-hour intervals. And LYNX also operates a FREE loop bus service around downtown Orlando running every 5 minutes called LYMMO. Watch out for bus stops marked with a pink bus symbol or paw prints.
Many large Orlando hotels offer free shuttle bus services to the major theme parks and the airport. Check with your hotel before you travel.
If you're looking for a more personal service from doorstep to doorstep, there are dozens of taxi companies in Orlando. The majority use a meter with a $2.23 standing charge followed by a $1.76 per kilometer rate. Uber is generally cheaper and growing ever more popular in Orlando.
However, as mentioned earlier, car hire is the most popular transport option in Orlando. This is a city designed with cars in mind, so the road network is well-built and maintained and there are ample parking facilities at all the major attractions. Driving yourself around offers the most flexibility and is the most convenient if you're staying in a rented vacation villa.
Note that you'll need a US or International Driving License to hire a car in Orlando. There are toll roads in the city, including the routes from the airport to Orlando's main attractions. And the gas stations closest to the theme parks and the airport charge inflated gas prices.
Accommodations
With more tourists than residents, you'll find a broad range of accommodation available in Orlando. There are thousands of rental homes close to the theme parks and major attractions, many with luxury amenities like a gym and a swimming pool. And there are over 450 resorts and hotels to choose from.
The best advice we can offer is to first decide what kind of accommodation best suits your family and then shop around. Generally, hotels inside the more popular theme parks will charge premium prices, and you can rent a villa a few miles from the gates for a fraction of the cost.
If you are traveling as part of a large family group, a vacation rental home will usually be your best value choice. But if you are traveling alone or just with your partner, you may find a hotel room more convenient and affordable.
The hotels are mainly clustered in three areas: International Drive, Kissimmee, and Lake Buena Vista.
If you are not hiring a car, International Drive (I-Drive) is your best option. Along the 11-mile length of I-Drive, you'll find attractions, stores, restaurants, and hotels side by side. These attractions include The Orlando Eye, Aquatica, Sea World, and Universal Studios. Most of the hotels here offer free shuttle services to the major theme parks.
If you prefer somewhere quieter and away from the busy parks and attractions, you'll like Kissimmee. It is only a short drive from Disney World and International Drive but far enough away to avoid the noise and crowds. You'll find lots of high-quality vacation rental homes in this area. Kissimmee also makes a great base for exploring other parts of Florida beyond the city, such as the Kennedy Space Center.
If you've come to Orlando because you've always dreamed of visiting Walt Disney World and intend to spend most of your time there, stay in Lake Buena Vista. It is the most convenient location for reaching all 5 Disney Parks. Lake Buena Vista is also a prime destination for outlet shopping and golfing.
Weather
As mentioned earlier, Orlando benefits from fine sunny weather year-round, but there are distinct seasonal variations. Orlando's weather can be summarized into two seasons: one warm and dry, the other hot and wet.
From mid-October to April, the weather is typically warm and dry, with daily temperature maximums ranging from 700F to 840F and minimums from 490F to 650F. There is little rainfall during this period.
From May to mid-October, the weather tends to be hot but wet. The average daily temperature maximum hovers around 900F and the minimum around 750F. During the summer, there are frequent rainstorms that are short but sharp.
While hurricanes rarely hit Orlando, there is a small risk. The hurricane season occurs toward the end of the summer between mid-August and mid-October. There are often bargain vacation deals offered during this period, but it's a good idea to check the Orlando weather updates before visiting.
Attractions
Orlando boasts the world's best selection of major theme parks and other must-see attractions, such as the Kennedy Space Center, the Holy Land Experience, and Central Florida Zoo.
You can't possibly see everything during a single visit. Here is a brief selection of highlights.
Walt Disney World
It's no big secret that the majority of tourists headed for Orlando go there to see the mouse. Walt Disney World is the world's most visited resort welcoming 58 million guests per year before the pandemic.
Walt Disney World is divided into four parks, of which Magic Kingdom is the best known. That's where you'll find Cinderella's Castle and all your favorite cartoon characters. Epcot Spaceship Earth is where you can visit other countries and experience different cultures.
The Hollywood Studios park offers visitors an insiders view of movie magic. There you can tour movie studios, see stunt people in action, and watch live special effects. If you're interested in African animals, you'll love the Kilimanjaro Safari Experience at Animal Kingdom where you can see big game animals running free in their natural habitats.
Universal Studios Florida
Not to be outdone by Disney, Universal Studios offer a combined working movie studio and theme park experience in Orlando designed with the help of Steven Spielberg.
There are 7 themed islands withing Universal's Islands of Adventure. Each island is dedicated to a major theme franchise, such as the Marvel Superhero Island and the Jurassic Park Island. There you can meet your favorite movie characters and enjoy thrilling themed rides.
Many younger visitors are lured by the magic of The Wizarding World of Harry Potter. Here you'll find Hogsmeade village, Diagon Alley, and Hogwarts School of Witchcraft and Wizardry.
Orlando Sea World
This world-famous sea life center is renowned for its huge aquariums where you can enjoy whale and dolphin shows. A behind the scenes tour is a great way to learn about marine conservation as well as seeing the baby dolphins at play.
Sea World also features adrenaline-pumping rides including a selection of refreshing water rides. Those who enjoy roller coasters will be eager to ride the Kraken Virtual Reality Coaster, the Manta Coaster, and the Mako Hyper Coaster.
Gatorland
While you're in Florida, you won't want to miss this opportunity to get up close and friendly with a whole bunch of crocodiles, alligators, and other reptiles. Gatorland features daily shows and demonstrations where you can learn all there is to know about Florida's most famous animals.
Gatorland also features 2 exciting ziplines: the Gator Gauntlet and the Screamin' Gator. These ziplines zip you through the air over the crocodile and alligator pens. You might also enjoy the self-guided swamp walk and the Gator Gully Splash Park for younger visitors.
The Airboat Ride & Gatorland Adventure is our Editor's Choice for the best tour of the Everglades Park