Famous for its rich environment, beautiful animals, and incredible snorkeling, the island of Cozumel is not one to miss. While boat tours are common, there's so much to do on land that you'd be missing out if you didn't explore it as well.
One of the best ways to get to know this area is off-roading, because we all know a paved road isn't typically the most exciting.
Instead, we encourage you to take one of the best Cozumel jeep, 4×4, and ATV tours out there! Each one of these are highly-rated not just by us, but by countless other explorers!
Best Cozumel Jeep and ATV Tours
| | Cozumel Private Jeep Tour with Lunch and Snorkeling | Cozumel: ATV Adventure to Jade Cavern | Cozumel Island: Half-Day Private Jeep Tour and Eco Park |
| --- | --- | --- | --- |
| | | | |
| | | | |
| Departure Point | Seven Eleven in Plaza Maya | Local partner's office | Varies, depending on the port/dock you choose |
| Departure Time | Varies depending on the tour selected | 10:30 am or 12:30 pm | Varies |
| Duration | 5 hours | 3.5 hours | 6 hours |
| Includes | Hotel or port pick-up and drop off, local guide, fuel surcharge, beers, soda and water in the vehicle, Mexican meals, use of snorkeling equipment, tequila tour | All entrance fees and admissions, bottled water, helmet, bilingual guides | Bilingual guide, tequila tasting, cooler with beers, water and soda in the Jeep, entrance fees, snorkel guide and equipment, gas and mileage |
| | | | |
Quick Answer: The 7 Best Cozumel Jeep and ATV Tours For 2022
Cozumel Tour Reviews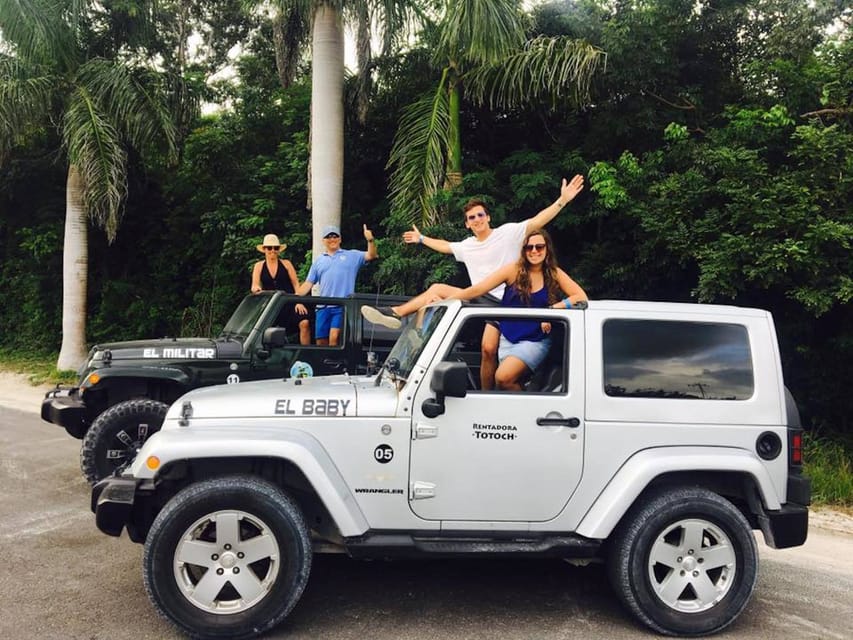 Tour Highlights:
---
Duration: 5 hours
Departure: Varies depending on the tour selected
Departure Time: Varies
Includes: 

Hotel or port pick-up and drop off, l

ocal guide, f

uel surcharge, b

eers, soda and water in the vehicle, 

Mexican meals, u

se of snorkeling equipment, t

equila tour, e

xtended time at beach and stops
To start things off, we bring you the ever-popular Cozumel Private Jeep Tour with Lunch and Snorkeling. If you want to see all over the island without getting stuck in a crowded bus or going on a generic tour, then this is a great choice for you. The tour guides are knowledgeable and friendly, and you're bound to have a ton of fun exploring a wide array of unique spots that many tourists don't get to see!
While traveler pickup is offered, your meetup point will vary depending on if you're meeting at Punta Langosta, Puerta Maya Pier, or International Pier. If you are at least 18 years of age with a valid driver's license, you'll be able to get behind the wheel of the Jeep.
Otherwise, you do have a guide that can drive you. Regardless, it's going to be a load of fun and you don't have to just get stuck into someone else's tour plans.
Instead, you'll get to plan your own itinerary, which can include horseback riding, shopping, eating, seeing wildlife, jet skiing, and much more.
If you're interested in learning more about Mayan culture, you'll love this tour. The San Gervasio Mayan Archaeological Site can't be missed, which lies inside the Quintana Roo State Park. These ruins were where Mayan women visited to pay tribute to their goddess of love and fertility, Ixchel. Beginning around 100 BC, this is a holy site that is simply fascinating.
You'll drive roads through the forest, where you may just spot some tropical birds and other animals. Once you reach the Caribbean sea, you'll be able to choose to snorkel with marine life, or simply relax on the sand and take in some rays.
Afterward, you and your group will enjoy some authentic Mexican cuisine, which is sure to replenish your energy supply! Afterward, head to a tequila factory, where they'll explain how it's distilled, and how each gets its own flavor.
For tour prices, transportation and availability:
---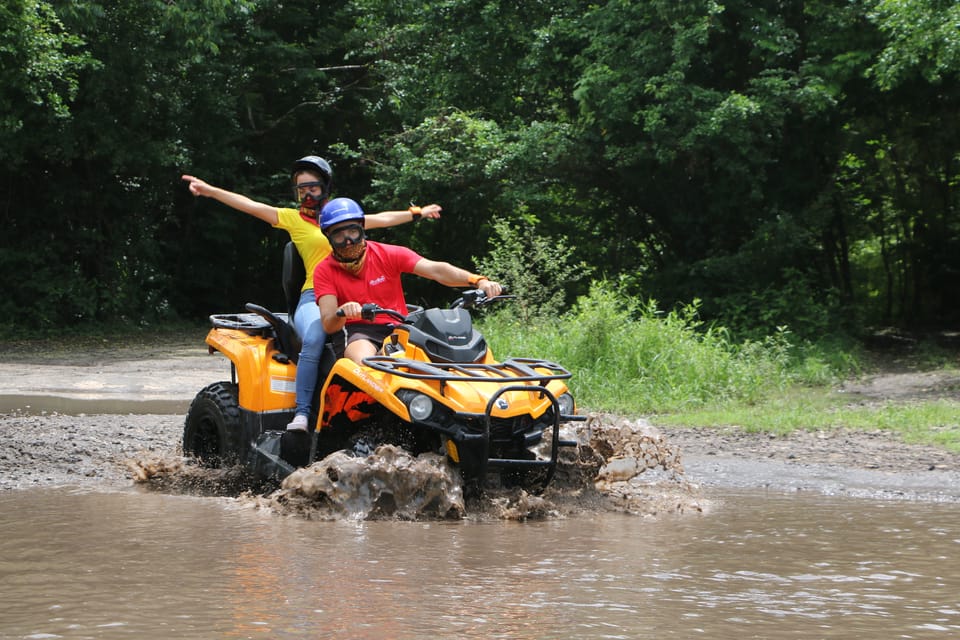 Tour Highlights
:
---
Duration: 3.5 hours
Departure: Local partner's office
Departure Time: 10:30 am or 12:30 pm
Includes: 

All entrance fees and admissions, b

ottled water, helmet

, b

ilingual guides
While Jeeps are certainly fun, ATVs offer a bit more independence as it will hold 1-2 people only. They're also much smaller, meaning that they can go to places Jeeps cannot reach. The Cozumel ATV Adventure to Jade Cavern is a blast, even if you've never driven an ATV before!
Just like with the last tour, you'll be able to plan your own tour more or less, choosing how long you'd like to stay at each stop. Meet your guide at the designated meeting point along with the rest of your group at either 10:30 am or 12:30 pm, depending on which time you select.
Before you hop on your vehicle, your guide will walk you through a safety briefing to make sure everyone has fun and to minimize risk of injury. This tour includes a helmet, though it's a smart idea to bring a bandana, goggles (sometimes mud or dust can get in the eyes), and clothing that can get dirty. The tour reception does offer lockers to keep your valuables safe, as well as closed-toe sandals for rent.
You'll ride through all kinds of trails as you make your way to a cenote, which is a deep kind of tropical swimming hole which is located underground/in a cave! Just seeing one is an unforgettable experience, but you'll actually be able to swim in it!
This cenote is connected to various underground tunnels, so once you're finished swimming, you'll head through the coral cave.
Your guide will tell you all about this area, including the native people who once lived there. Water bottles and photos taken by pro photographers are offered throughout the journey as well.
For tour prices, transportation and availability:
---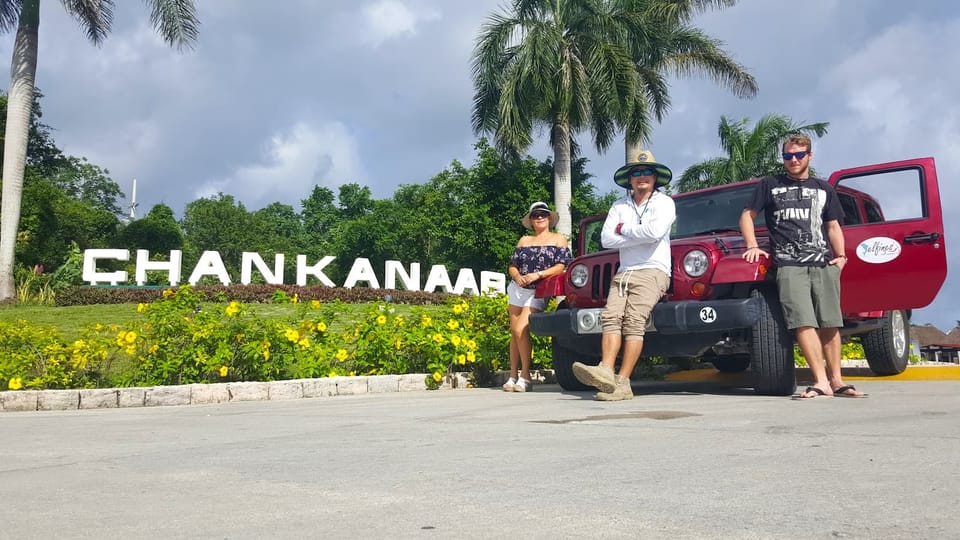 Tour Highlights
:
---
Duration: 6 hours
Departure: Varies, depending on the port/dock you choose
Departure Time: Varies (many options available)
Includes: 

Bilingual guide, t

equila tasting, c

ooler with beers, water and soda in the Jeep, entrance fees,

 s

norkel guide and equipment, g

as and mileage
The ATV tours are an absolute blast, but you should know that the Mexican Caribbean can get very hot and humid! Some people prefer a more plush way to travel, which is what you'll get with the luxury Jeeps on the Half-Day Private Jeep Tour and Eco Park Tour. Not only do they have air conditioning but they also have a stocked cooler with beer, water, and soda!
As we've almost come to expect from the area, the tour guides are incredibly personable, knowledgeable, and know how to get everyone to have some fun!
Your first stop will be at a tequila tasting, which really is the right way to start off any Mexican tour. Once there, you'll learn all about the distilling process of one of Mexico's most famous spirits. Of course, you'll also be able to taste their creations, too!
Once you've thoroughly enjoyed the tequila, you'll set off to Cozumel's east side to a virgin beach. As you can imagine, this spot allows for incredible photos and videos – just make sure that you also take in the gorgeous vistas without your camera, too.
Next up, is Punta Sur Eco Park, which is full of sights to see.
You'll see El Caracol, or "The Observatory", which whistles when strong winds blow through it, signaling to the Maya that a hurricane was near. This was important, as anyone who's been to the Caribbean knows how quickly weather can change.
You'll also see a beautiful lagoon with crocodiles (don't worry, you'll be at a safe distance), a navigation museum, and incredible sea and jungle views from a lighthouse.
If that weren't enough, you'll then go over to the renowned Chankanaab Park where you have access to the ocean, a botanical garden, Mayan archaeological area, pool, and a sea lion show!
For tour prices, transportation and availability:
---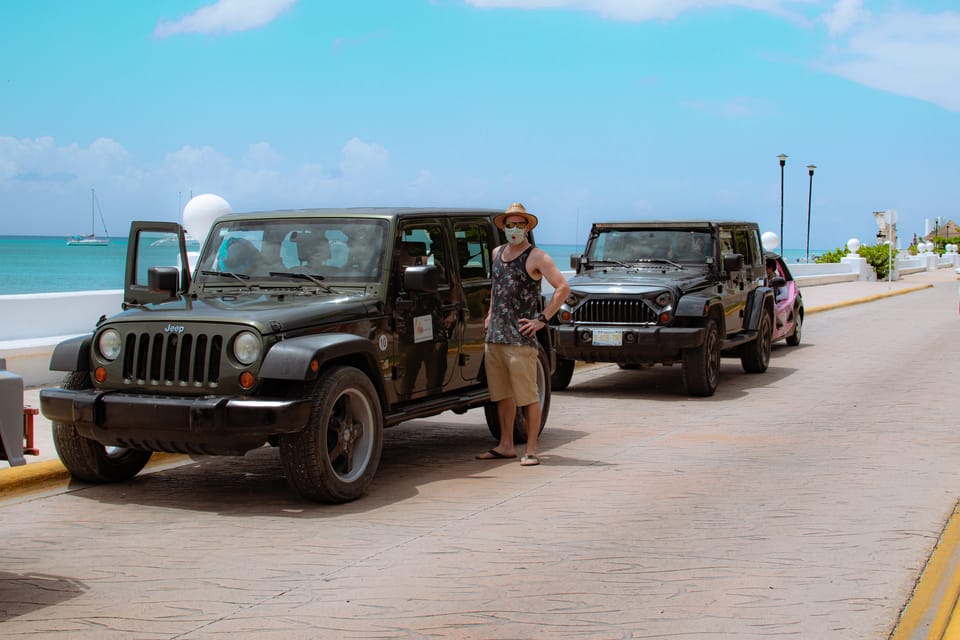 Tour Highlights
:
---
Duration: 5 hours
Departure: Puerta Maya/International Pier, meet at Plaza Maya. For Punta Langosta, the entrance to Starbucks on the plaza
Departure Time: Varies
Includes: 

Shared transportation by 4-passenger jeep, c

ertified guide, s

top at the Punta Sur Ecological Park, v

isit to the Punta Celarain lighthouse, l

unch at a beach club, o

ptional swimming/snorkeling (snorkeling gear included), t

equila tour and tasting, w

ater, soda, and beer, g

as and mileage
The Cozumel Jeep Safari with Beach Lunch and Snorkeling tour is one of those experiences that make you feel like you're in a movie. You'll travel all over the island to see Mayan ruins, eco parks, enjoy delicious eats, and so much more. By the time you're done with this 5-hour tour, you're sure to sleep well!
Hop into a cool Jeep as either a passenger or driver, so long as you're 18+ and have a valid driver's license! You'll have professional guides there to lead you along the right path, traveling over the rugged roads of Cozumel. We found the Jeeps to be in excellent condition, both inside and out, and are incredibly comfortable. Not only that, but the large windows offer uninterrupted views of the island.
The bilingual guides will tell you all about the history of the area, and if you have any questions, we're confident they'll be able to answer them. Head to the Punta Sur Eco Park, where you'll learn all about how the park and government manage to conserve this incredible area that's home to countless ruins, flora and fauna, and more.
Afterward, you'll continue on to the Punta Celarain lighthouse, climbing to the top should you choose where you'll get some of the best views of the Caribbean! The lighthouse is also part of a nautical museum, which is quite educational. This area also has the Mayan ruins of El Caracol, which alone, is worth going to see!
After this, you'll head over to the Colombia Lagoon, which is a park consisting of a lagoon connected by an underground tunnel to the sea. This area is great for snorkeling and diving, but even if you don't get in the water, it's a stunning place. Here, you'll get to see the ecosystem which maintains the reef system in the area.
Later on, you'll get to a pristine, white sand beach where you can choose to just relax or snorkel with some tropical sea critters. After all this adventuring, partake in a delicious traditional Mexican lunch with a sea view, and then a tequila tasting.
For tour prices, transportation and availability:
---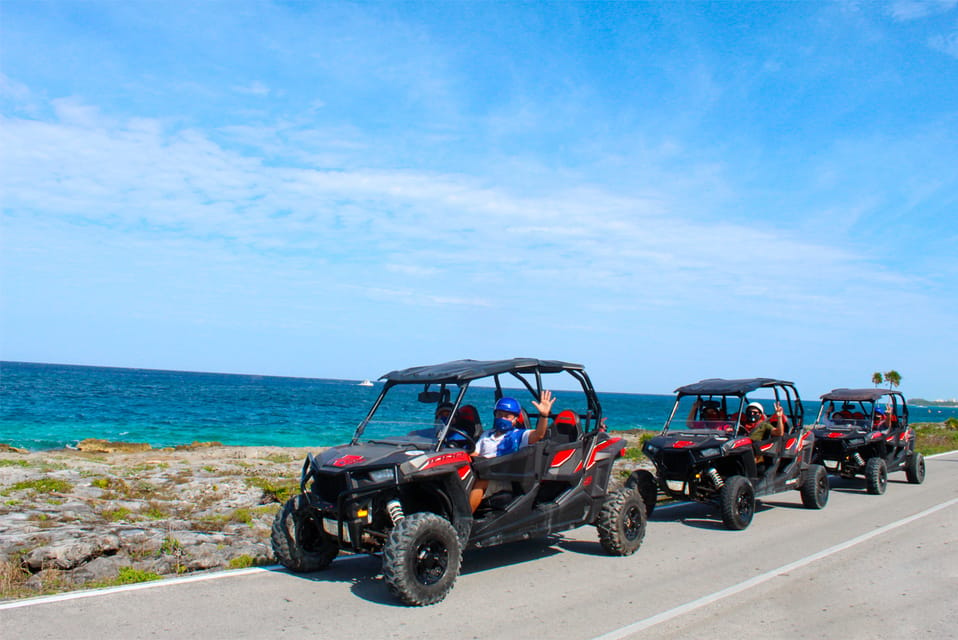 Tour Highlights:
---
Duration: 6 hours
Departure: The exit to the ferry dock, by the "Monumento de las Golondrinas"
Departure Time: Varies
Includes: 

Shared transportation by ATV, g

uide, entrance fees

, f

uel costs
So, we have done ATV tours and Jeep tours so far, but we have yet to cover 4×4 tours. That is, until now, where we'll cover the 4×4 Tour to Mayan Cacao Company and Bee Sancturary! Riding or driving an all-terrain vehicle made for 4 passengers is a ton of fun, and allows you to have a more in-depth experience where there are no windows to separate you from the rich culture and beauty the island has to offer.
This 6-hour tour sure packs a lot in, and we can assure you that you won't even have time to think of boredom. After you meet up with your guide, they'll provide you with a safety briefing along with tips for how to best navigate your ATV. You'll also be provided with any safety equipment at this time.
You'll make a stop at The Mayan Cacao Company, which is full of interesting attractions. Here, you'll be able to visit a real Mayan house, where you will learn all about their day-to-day life, traditions, gardening techniques, and more.
The gallery tells many stories, including where cocoa started and was discovered, how the Mayans used the beans as currency, and how chocolate was reserved at this time for the local emperors and priests. You will see how chocolate is produced, which will have you questioning why Hershey's bars are considered to be chocolate!
Next up, you'll get to see the Mayan Bee Sanctuary where you'll walk through a lush path to the jungle sanctuary after being "purified" by a local shaman. This is done to remove any subconscious negativity you may hold against bees and maintain a peaceful atmosphere.
You'll get to learn just how powerful honey is, and how it is used in various methods of healing. Along with that, they'll teach you about stingless bees and how important they are to the Mayans.
After this, you'll head to El Pescador, where you'll enjoy a flavorful, authentic Mexican Caribe lunch. The views here are incredible, and at this point you can choose to relax on the beach or even take a swim!
For tour prices, transportation and availability:
---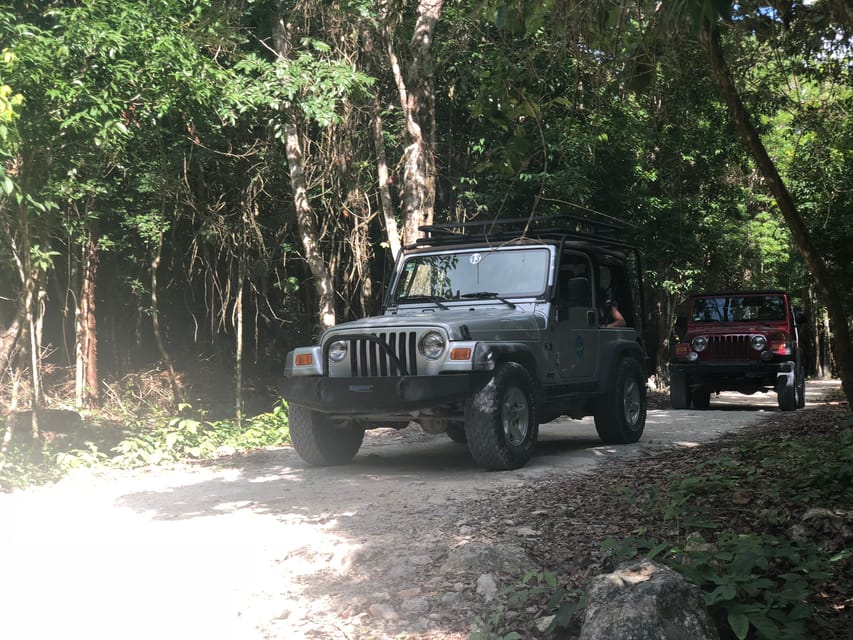 Tour Highlights:
---
Duration: 5 hours
Departure: Varies, depending on cruise terminal
Departure Time: Varies
Includes: 

Water, l

ocal guide, s

norkel equipment, entrance fees
We're back again with another Jeep tour! This time we bring you the Mayan Jungle Jeep Ride to Jade Caverns and Snorkel tour! Just like the others, either you or another person in your group will take control of the wheel to head out into a jungle adventure. You'll navigate around twisting paths, lush forests, while you head to El Cedral: home to the oldest Mayan ruins on the island.
You'll meet your guide at a central location, depending on which cruise terminal you select. They'll offer a brief about driving on the island and what you can expect. Just the drive is a blast, and it's the perfect choice for everyone from the adrenaline junkie to the homebody.
Once you reach El Cedral, you'll get to learn all about the interesting history of the pueblito. Once the capital of the island, it was discovered by the Conquistadors in 1518. The Spaniards in the 1500s, and the US Army Corps of Engineers during WWII, destroyed much of the Mayan architecture, including temples. However, there are still ruins remaining that are must-sees.
You'll next make a stop at the Jade Caverns, where you'll visit a cenote. Here, you can choose to just relax and take in the experience, or jump right into the cenote! Once you're all dried off, you'll climb back into your Jeep and head onto an off-road journey through the jungle.
Once you're out of the jungle, you'll go to a renowned tequila distillery where they'll teach you about its history and just how they make the tequila. After this, you'll make a stop at Tortugas Beach Club, where you'll snorkel around Dzul-Ha reef.
For tour prices, transportation and availability:
---
Your Travel Guide to Cozumel
It's not just snorkeling that you can enjoy in Cozumel, but there are some details about a vacation in this sun-lover's dreamland that you should know before you start buying plane tickets and booking accommodations. Let's look at when you should go, how you can get around, and more.
When to Visit Cozumel
The best time to visit Cozumel is between mid-February and mid-July. During this time, the temperatures aren't scorching but you will see plenty of sunshine and warmth. You will also be avoiding hurricane season and the rainy season.
During the warm, dry season mentioned above that you want to visit during, there are some time periods you want to avoid, however. Of course, if you can only stay a few days, try to stay mid-week as prices will be lower and you can avoid weekend crowds. Also, try to avoid the Spring Break rush of college students in the area.

Getting Around Cozumel
While you can choose to rent a car, if you'd like, the expense really isn't necessary and if you aren't familiar with the area, it can be a bit hectic trying to get around in an unfamiliar city in an unfamiliar country via car.
If you want wheeled transportation, you can always take taxis, which are very popular, or if you are trying to sightsee, there are many moped rentals since they are widespread around hotels and especially around attractions.
However, the best way to get around Cozumel is still going to be on foot. You can take your time to look around, take in the many sights, sounds, and wonder food smells of the city and take as many pictures as you would like. So, be sure to bring good walking shoes and wear them often.

Staying Safe in Cozumel
Whenever you are on vacation to a hot tourist spot in another country, you want to take certain safety precautions.
Always keep your head about you: this means partaking in adult beverages to have fun but not going overboard so that you can keep your wits, not showing off expensive cameras or flashy jewelry, and always having identification on you.
If you will be enjoying the snorkeling tours and other outdoor sports, it is a good idea to also invest in traveler's health insurance just in case of accidental injury or if someone in your family or group gets sick.
You want to know that you can be seen by a local doctor or at a hospital and not end up with a medical bill for a simple visit.

What to Pack for Your Trip to Cozumel
Be sure to bring walking shoes as well as sandals for the beach. You also want to bring a beach bag that can get sand in it or is made of mesh so it won't hold sand at all. Have beach clothes as well as everyday walking around clothes.
You might also want to bring a set or two of nicer clothes in case you want to visit a nicer restaurant or two or even one of the many clubs around Cozumel.

Saving Money While in Cozumel
Most attractions, restaurants, small vendors, and more will take both pesos, which is the local currency in Cozumel, as well as the American dollar. However, if you pay in pesos, you will most likely be getting a better deal.
If you take money out at an ATM, you will be getting pesos anyway so there's no need to change them over to dollars even though you may be more comfortable paying for things that way and will know more about how much you are paying for things.
The best bet is to download an easy-to-use app onto your smartphone that will allow you to quickly convert pesos to your currency of choice so you know exactly how much you are spending on things in a currency you are familiar with.
Try to avoid spending money on the piers as most of them are tourist traps. Because all of the cruise lines unload on the piers, most of those tourists spend a lot of money there and the locals know this so the prices are higher.
You're better off spending money closer to downtown. However, when on your snorkeling tours, this might not be avoided so bring as much as you can with you, like your sunscreen, sunglasses, etc. Most of them will provide snacks and drinks or a way to purchase them.

Knowing Local Customs
Because this is a tourist spot, most locals know English, or at least enough to communicate with the tourists. However, it will really help if you can know at least a few phrases.
Hola – Hello
Adios – Goodbye
Please – Por favor
Thank you – Gracias
Knowing a few local phrases will help put you in the good graces, so to speak, with the locals you interact with, even if you are just buying a bottle of water.
This area is very conservative so you won't find any nude beaches. Even untying the strings on the back of your bikini so you don't have tan lines is frowned on. This is even if you are lying face down and tie them before getting back up. Make sure you are decent at all times.
It's not really a custom but tourists shouldn't drink the tap water. You can get very sick. Even use bottled water to brush your teeth.
It's Time to Pack Your Trip to Cozumel!
Are you ready to spend some time in the sun? The resorts, beaches, fun attractions… and yes, even your snorkeling tour adventure… is awaiting you in Cozumel. So, get packing!
---
I hope this guide was helpful for finding the best Cozumel jeep and ATV tours to fit your needs. If you want to comment or recommend a tour I didn't include, please use my contact form to get in touch.
Remember; be safe, and stay within your limits and most of all enjoy your time in Cancun!
The Cozumel Private Jeep Tour with Lunch and Snorkeling is our Editor's Choice