Boston may not be as glittery as New York City, or as opulent as Paris, but it is absolutely the perfect place to visit if you'd like to immerse yourself in the cradle of American history.
Every time I visit, I fall more in love with the way the wind tousles my hair and the salty sea air fills my lungs. Towering skyscrapers contrast legendary landmarks like the Old North Church and Fenway Park, creating beautiful images you have to see to believe.
If you want to experience it in one of the best ways possible, I highly recommend checking out these top Boston Harbor dinner and sunset cruises. History, beauty, and adventure intermingle here, from the infamous Boston Tea Party to harbor island mysteries – there's something for everyone.
Best Boston Harbor Sunset & Dinner Cruises
| | Boston Harbor: Gourmet Brunch or Dinner Cruise | Boston Harbor Champagne Sunset Sail | Signature Spirit of Boston Lunch Cruise |
| --- | --- | --- | --- |
| | Best Dinner Cruise | Best Sunset Cruise | Best Lunch Cruise |
| | | | |
| | | | |
| Departure: | 60 Rowes Wharf, Boston | 70 Rowes Wharf, Boston | 200 Seaport Blvd. Boston |
| Start: | 7:00 PM | 7:30 PM | 12:00 PM |
| Duration: | 2 - 3 hours | 2 hours | 2 hours |
| Includes: | Buffet brunch or 3-course dinner, coffee, tea, iced tea, onboard DJ and dance floor | 2-hour sunset sail tour, Captain and crew, complimentary water | 2-hour lunch cruise, All-you-can-eat buffet, DJ entertainment, Coffee, tea and iced tea, taxes and fees |
| | | | |
---
Quick Answer: The 7 Best Boston Harbor Cruise Tours For 2023
---
Boston Harbor Cruise Reviews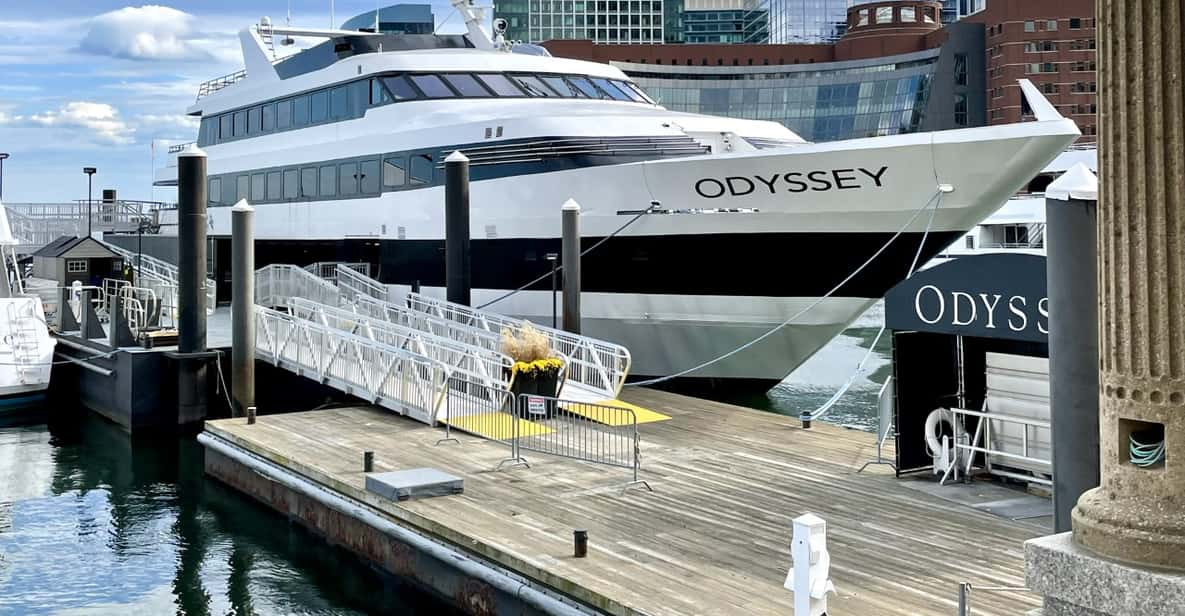 Tour Highlights
:
---
Duration: 2 – 3 hours
Departure: 60 Rowes Wharf, Boston
Departure Time: 7:00 PM
Includes: Buffet brunch or 3-course dinner, coffee, tea, iced tea, onboard DJ and dance floor
Starting things off on the right foot, we have one of the most popular tours of its kind in all of Boston. The Boston Harbor: Gourmet Brunch or Dinner Cruise Tour is perfect for those who are looking to enjoy life, and perhaps get down to some danceable tunes on board!
If you've just landed in the city or its your first time there, this is a perfect introduction to the shimmering waters and the interesting architecture which surrounds it.
Once you arrive to your comfortable boat, you'll be escorted on board where you'll get to hang out and relax for a while and enjoy being greeted by the captain and crew.
I felt like the staff was top-notch, with an elegant and charming atmosphere and incredible attention to detail and customer service. As you meet them, you'll have a photo taken to capture the moment by the ship's professional photographer.
Once seated at your private table, the stage is set for a culinary adventure that honestly was a pleasant surprise.
Expand To See MoreSee Less

The executive chef is simply a genius, creating a gastronomic symphony consisting of a 3-course plated dinner (you can also opt for a lavish buffet brunch if you're looking for a morning tour).

Whatever you choose, you can count on each dish dancing on your taste buds, showcasing the chef's creativity and dedication to using fresh, quality ingredients.

However, the food, combined with the panoramic views of Boston's skyline, seeing the iconic Bunker Hill, and the impressive USS Constitution were all amazing!

The live DJ put on songs to get everyone dancing, and with the Odyssey's three climate-controlled decks, there are plenty of ways to enjoy the view and the entire experience.
100% refund for cancellations within 24 hours of tour experience
---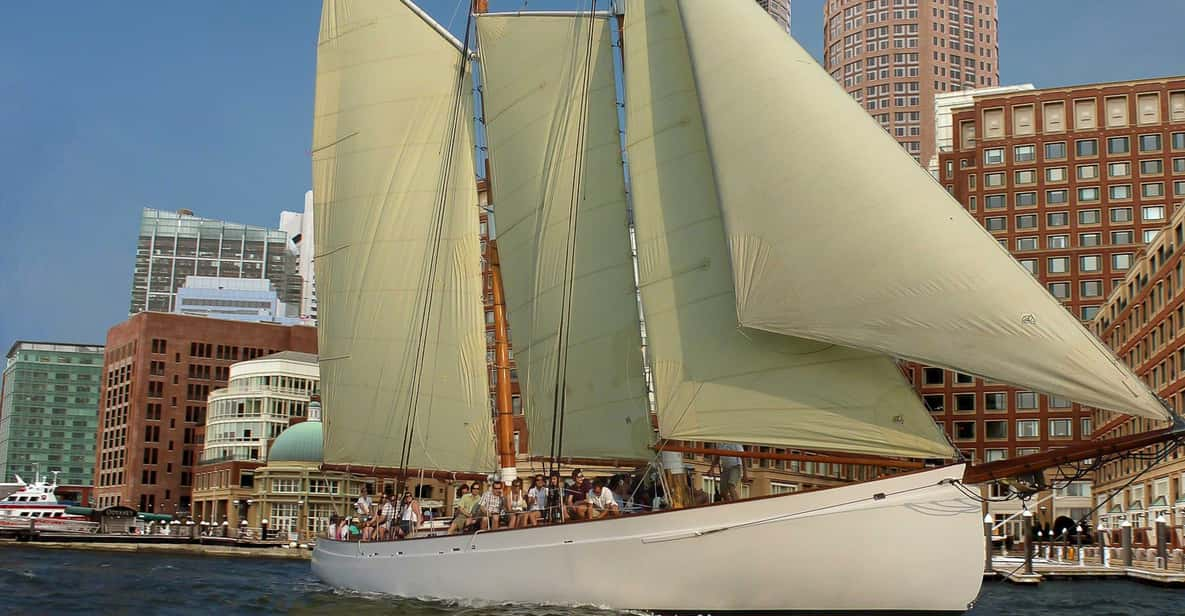 Tour Highlights
:
---
Duration: 2 hours
Departure: 70 Rowes Wharf, Boston
Departure Time: 7:30 PM
Includes: 

2-hour sunset sail tour, 

Captain and crew,

complimentary water
The allure of the open sea, gentle sway of a boat, and the warm setting sun on the skin is always appealing when you're in Boston. On this next tour, you'll feel like you're being transported back in time on an elegant 80-foot classic Schooner.
The Boston: Harbor Champagne Sunset Sail from Rowes Wharf is a fantastic way to enjoy a celebratory evening with that special someone, or a wonderful precursor to a delicious dinner onshore. This sightseeing sunset cruise is romantic, yet engaging enough to bring children along, too!
As the sails catch the evening breeze, you'll be able to fully relax onboard and enjoy the sprawling Boston skyline while settling in and enjoying either complimentary water, beer, wine, or champagne.
Soft drinks are also available to purchase, which I did feel like should have been free of charge, but it wasn't a big deal. However, I was really impressed by the vessel itself: the Adirondack III, which offered mesmerizing views.
Expand To See MoreSee Less

You'll get to see all kinds of historic sites, from the Boston Fish Pier to the Moakley Federal Courthouse – each one being a testament to the city's rich heritage.

The graceful vessel was super smooth, making the thoughtfully-curated selection of beverages that much more enjoyable as we journeyed on. What really made the experience special, though, was the attentive crew who regaled us with tales of the sea.

You'll learn all about the Charleston Navy Yard, Waterfront Park, the secrets of Boston Harbor, and more, as you pass each location. As the sun starts due set, it casts beautiful gold and amber across the horizon, making it perfect for some selfies against the Boston skyline!

Don't forget to take snaps of Castle Island, the Donald McKay Monument, and the nature, itself!
100% refund for cancellations within 24 hours of tour experience
---
Tour Highlights
:
---
Duration: 2 hours
Departure: 200 Seaport Blvd. Boston
Departure Time: 12:00 PM
Includes: 2-hour lunch cruise, All-you-can-eat buffet, DJ entertainment, Coffee, tea and iced tea, taxes and fees
Instead of going out to lunch somewhere on land, why don't you try something exclusively "Boston" and enjoy dining right on the water where so many important moments from American history occurred?
The Signature Spirit of Boston Lunch Cruise Tour will take you to a world of breathtaking historic city views with a laid-back and fun-filled ride like no other.
This tour perfectly melds history, beautiful sites, and tasty eats with professional staff that are there to ensure you have a fantastic experience right from the get-go!
Arrive at the Seaport World Trade Center, where you'll board the beautiful vessel that features multiple decks for you to enjoy different kinds of views.
After exploring the decks, you can find your way to a table against the panoramic windows and get ready for an amazing lunch buffet! It is all-you-can-eat and I found everything but the desserts to be exceptional (the desserts aren't bad, just nothing special).
As you glide through the waters, get ready to pass by the World Trade Center, the site where rebels started the Boston Tea Party, where the Boston Massacre claimed the lives of many colonists, and more.
Expand To See MoreSee Less

One of the coolest parts of the tour, for me, was seeing the World War II Naval destroyer, the USS Cassin Young, along with the USS Constitution, known lovingly as "Old Ironsides".

You'll hear all about the oldest fully-commissioned naval vessel in the world, as well as Fort Independence, and the Tobin Memorial Bridge: a symbol of progress. Head up to the top deck, where you can get some fresh air and views that stretch out as far as the eye can see.

This makes for some fantastic videos and photos, with no obstructions to block your field of vision. Oh, and if you feel like getting your groove on, there is a live DJ on board spinning all kinds of fun tunes! You can choose to get out on the dancefloor or simply focus on the amazing views all around you as you cruise on.
100% refund for cancellations within 24 hours of tour experience
---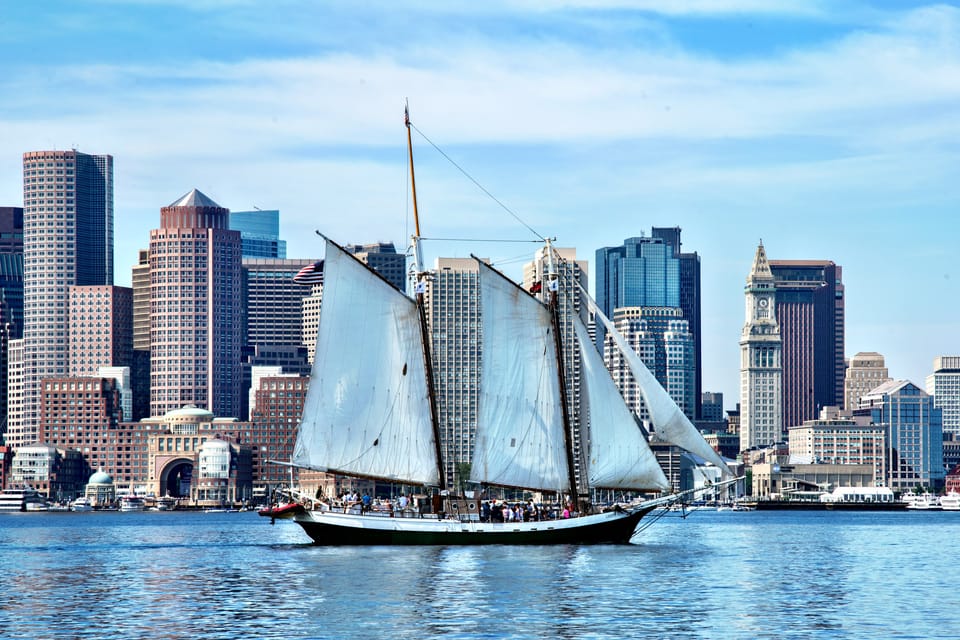 Tour Highlights
:
---
Duration: 1.5 to 2 hours
Departure: 1 Central Wharf, Boston
Departure Time: 6:00 PM
Includes: Cruise, learn how to hoist sails properly
How would you like to be whisked away on a sailing experience that will ignite your sense of wonder and take you on a historic journey through Boston Harbor's legendary waters?
With the Boston: Sunset Tall Ship Harbor Cruise Tour, you'll be transported to a bygone era by boarding either the majestic Schooner Liberty or the nimble Liberty Star.
See and learn all about the Boston skyline, the iconic harbor, and the various neighborhoods' backgrounds all from the prime viewing location right on the water, as the sun is setting!
Upon arrival to the harbor, you'll be greeted by the captain and crew and can even help the crew hoist the same old-school way! It's not for the faint of heart, but it is a fun activity that most people won't have done before!
Either way, enjoy the cool breeze and help out or relax, enjoy a drink, and watch as the others struggle to haul the massive sails! Everyone is incredibly friendly and you can tell that they truly enjoy sharing the experience and their knowledge with visitors.
Expand To See MoreSee Less

If you select the Liberty Star ride, it will be 1.5 hours, while the Liberty Clipper will be a bit longer, at 2 hours long. If you'd like, you can even take a turn at the helm and get an idea of what it's like to steer such a massive vessel!

While no coolers or BYOB is permitted and while there is no food served on board, you can bring your own food and make a picnic while cruising along and taking in all the sites!

As you cruise along, the captain and crew will tell you all about the rich and rather dramatic history of Boston and its harbor. Take photos and enjoy the magnificent views of the Boston skyline, with its array of architectural marvels, where the Prudential Tower and John Hancock Tower rises proudly out over the water.
100% refund for cancellations within 24 hours of tour experience
---
Tour Highlights
:
---
Duration: 2 hours
Departure: 6:00 PM
Departure Time: Central Wharf, Boston
Includes: Free exercise if you help the crew hoist those sails, Sales tax, unique view of the Boston skyline, Sunset Cruise of Boston Harbor on one of the famous Tall Ships
This next 2-hour tour has proven to be some of the most fun you can have while in Boston! The Sunset Sailing Cruise on a Tall Ship in Boston Harbor Tour also gives you the option of sailing out on the 67-foot Liberty Star or the 125-foot Liberty Clipper, where you will be able to enjoy interesting stories, views, and a beautiful experience.
This classic sailing adventure will take you away from the hustle and bustle of the city and go back in time, with plenty of fresh air and sunshine!
Start off by making your way over to the Central Wharf, where you'll meet up with the captain and crew before boarding. You get to choose if you'd like to help the crew by grabbing a line and hoisting up the sails, or relaxing and watching the fun take place in front of you.
If you have any questions, they're more than happy to fill you in on technique or anything else you may want to know. I loved how much space there was onboard, with plenty of different viewpoints to catch the surrounding harbor and skyline views.
This is a great way to spend an afternoon before grabbing dinner and watching the sunrise from one of the best vantage points possible. As you cruise on, you'll pass important sites such as Fort Independence, East Boston, the Charlestown Navy Yard, and much more.
As you pass each location, the crew will recount interesting anecdotes and fun stories that only enrich the experience, overall. Should you get thirsty or want a little snack, they sell both at the ship's galley bar, too.
100% refund for cancellations within 24 hours of tour experience
---
Tour Highlights
:
---
Duration: 1.5 to 2 hours
Departure: 60 Rowes Wharf, Boston
Departure Time: Variety of times available
Includes: Unique tour
This is the perfect way to create a fun and relaxing time when in the city, especially if it's your first time in Boston.
The Sightseeing Day Sail around Boston Harbor Tour is one of the best ways to get the "lay of the land" in a short amount of time, so you can further explore the ones that caught your attention later on.
With smooth sailing, interesting historical accounts, an environment perfect for all ages, and fantastic views, you definitely need to consider this tour!
I will say that this is one of the more "basic" tours in terms of food and entertainment such as live music and dancing, but that didn't detract at all from our experience. In fact, for history buffs (particularly regarding American history), I found this to be one of the most interesting options out there!
Your tour will start off by you and your party heading to Rowes Wharf, where you'll board a replica of a pilot schooner which was so impressive!
After boarding, you'll have plenty of time to ask the captain and crew any questions you may have about the vessel, their jobs, or the city, itself. I loved how knowledgeable and friendly everyone was, which made it feel like you were simply hanging out with friends.
You do get to choose between either a 1.5-hour or 2-hour tour, which I felt were both timed and planned nicely.
There is a water cooler available to fill reusable bottles, so remember to bring one if you plan on hydrating. There is also a card-only bar on board where you can enjoy wine, beer, and plenty of soft drinks. With various start times available, you're sure to be able to fit this tour in, no matter what your schedule looks like!
100% refund for cancellations within 24 hours of tour experience
---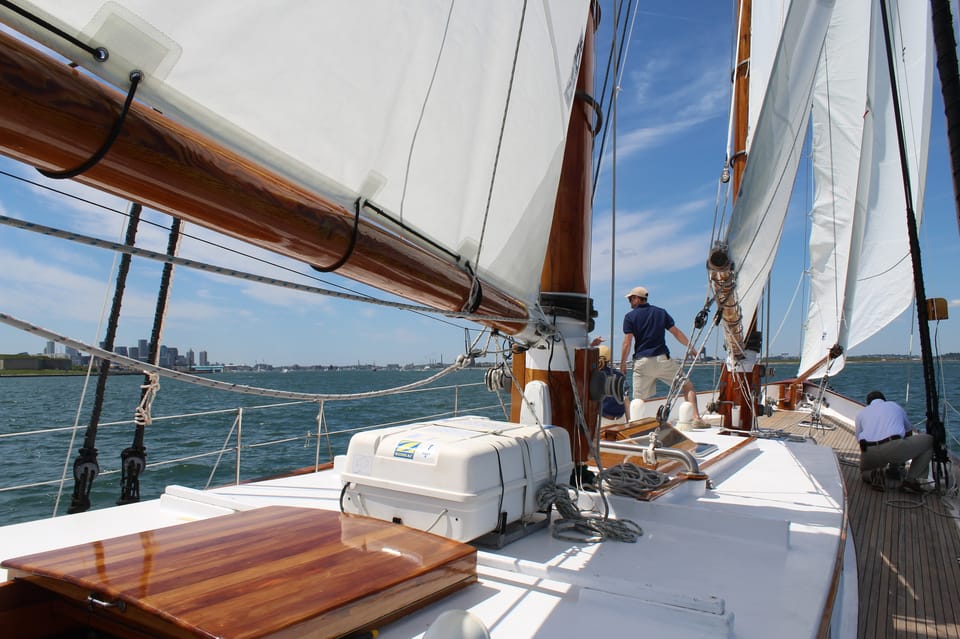 Tour Highlights
:
---
Duration: 1.5 to 2 hours
Departure: 70 Rowes Wharf
Departure Time: 1:00 PM or 3:00 PM
Includes: 

1.5 or 2-hour sailing cruise (depending on option selected), 

Captain and crew, 

Complimentary soda and water
Prepare to throw out any mundane plans you may have had and instead, embark on an exhilarating voyage that will completely redefine your perception of Boston.
The Boston: Downtown Harbor Sailing Cruise Tour will ship you and your party off on a sailing adventure that's perfect for the entire family, no matter the age or background of the participants.
You'll get to experience the 80-foot pilot schooner, the Adiondack III, which gives you insane views of Beantown and its downtown area that you're sure to fall in love with.
Meet up with your captain and crew at Rowes Wharf and hop onboard so you can be escorted around and find the perfect spot to soak it all in. Feast your eyes on a panorama packed full of iconic landmarks that you may already know about from movies or school.
From the storied Boston Fish Pier to the rather imposing Moakley Federal Courthouse at Fan Pier, you'll get to see history and culture literally unfolding as you sail on by.
Expand To See MoreSee Less

As you pass each area, the crew will fill you in on any interesting anecdotes as well as more well-known stories about them. I was particularly captivated by the majestic Castle Island, which was known for all kinds of important battles fought and victories won, here.

If you're into maritime heritage at all, you'll love seeing the historic Charleston Navy Yard and hearing fascinating tales about the people who frequented it and special events that occurred here.

The Waterfront Park is a beautiful green haven that offers a bit of a break from the busy city streets, along with the New England Aquarium which you may choose to explore more later on. If you would like any recommendations, I found the captain and crew to be practically experts on the matter.
100% refund for cancellations within 24 hours of tour experience
---
FAQs About Boston Harbor Cruises
Q: How much do Boston Harbor cruises cost?
A: The prices of Boston Harbor Cruises vary depending on the type, duration and season. A short one-hour sightseeing cruise is about $35, while a three-hour dinner cruise will cost about $70.
Q: When do Boston Harbor cruises operate?
A: Boston Harbor Cruises operate from April to November, with some exceptions depending on the weather and demand. The schedules and frequency of the cruises will vary on the time of year.
Q: What can I see and do on a Boston Harbor cruise?
A: On a Boston Harbor Cruise, you can see and do many things depending on your interests and preferences. You can enjoy stunning views of the city skyline, historic landmarks, islands and lighthouses from the water. You can learn about the history and culture of Boston and its harbor from live narration or audio guides. If you get lucky you might some marine wildlife like whales, dolphins or seals. You can savor delicious food and drinks on board a lunch or dinner cruise.
Q: What are the types of harbor boat tours & cruises?
Historic Sightseeing Cruise: A one-hour cruise that covers the history and highlights of Boston and its harbor, such as the USS Constitution, Bunker Hill Monument, Old North Church and more.
Whale Watching Cruise: These three-hour cruises will take you to Stellwagen Bank National Marine Sanctuary, one of the world's most active marine sanctuaries, where you can see whales, dolphins, seals and seabirds.
High-Speed Thrill Boat Cruise: Codzilla, a 45-minute cruise that features a 70-foot speed boat with a toothy paint job, an original soundtrack and a lot of splashing. You can expect to get wet and have fun on this ride.
Buffet Lunch or Dinner Cruise: These two or three-hour cruises have a buffet-style meals, live music, dancing and panoramic views of the city and the harbor. You can choose from different dining vessels, such as the Boston Odyssey or the Spirit of Boston.
Sunset Cruise: These 90-minute cruises showcase the beauty of Boston at dusk. Enjoy a cocktail while listening to some music and watching the sunset.
Sites Seen
Boat Comfort
Value
The Boston Harbor: Gourmet Brunch or Dinner Cruise is our Editors Choice for the best Boston harbor cruise.

User Rating:

Be the first one !